« Will WaPo's Liz Sly Admit Error in Light of Tablet Article? | Main | Watch CAMERA Panel on UK Media, European Antisemitism »
March 11, 2015
Where's the Coverage? Israel the Best Country in the MidEast for Women

Sunday, March 8, was International Women's Day, when, according to organizers, "thousands of events are held throughout the world to inspire women and celebrate achievements."
So, it is a bit surprising, given the news media's focus on the Middle East, that there was no coverage of the fact that, according to a World Economic Forum report, Israel ranks as the best country in the Middle East for women. A Google news search turned up nearly 8.4 million stories on International Women's Day, but the press did not find this fact newsworthy.
The media did not mention that in educational attainment and health and survival, there is virtually no gender gap in Israel. They were silent on the fact that among technical and professional workers in Israel, women surpass men.
Meanwhile, how does Palestinian Authority President Mahmoud Abbas' Fatah party celebrate the achievement of women? By celebrating a female terrorist, Dalal Mughrabi, who led the Coastal Road massacre, an attack which killed 37 Israeli civilians, including 12 children, and wounded 70.
Palestinian Media Watch (PMW) reports that an image of Mughrabi with text glorifying her attack was posted by Fatah on its official Facebook page, even inflating the number of victims. PMW notes:
In 2010, the PA dedicated a square in Ramallah to Dalal Mughrabi, who led the attack, by naming it after her. That square was also chosen this year by Fatah for a public event taking place today, celebrating its killing of Israeli civilians:

"We will mark the anniversary of the heroic coastal operation (i.e., the Coastal Road massacre), which was led by Martyr (Shahida) Dalal Mughrabi, and the deaths as Martyrs of Dalal and her heroic friends, at 3:30 p.m. across from Martyr Dalal Mughrabi Square in Ramallah." [Facebook, "Fatah - The Main Page," March 10, 2015]

Palestinian Media Watch has documented that the Palestinian Authority and Fatah present Dalal Mughrabi as a role model for Palestinians, and especially for Palestinian girls, naming at least three girls' schools after her. Last year, PA TV commemorated Mughrabi by visiting one of the schools. One student said: "My life's ambition is to reach the level that the Martyr fighter Dalal Mughrabi reached."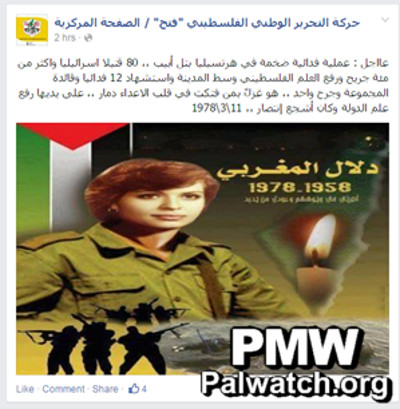 Posted text: "Urgent: A huge self-sacrificing operation (Fida'i - operation, i.e., terror attack) in Herzliya, Tel Aviv (i.e., the Coastal Road attack in 1978). 80 Israelis killed and over 100 wounded. The Palestinian flag was raised at the center of town. The commander of the cell [Dalal Mughrabi] and 12 self-sacrificing fighters (Fedayeen) died as Martyrs (Shahids), and one was wounded. She [Dalal Mughrabi] raised the flag of the [Palestinian] state, and this was the most courageous victory, March 11, 1978."
This celebration of murder also deserves media attention. And yet… Where's the coverage?

Posted by SC at March 11, 2015 05:46 PM
Comments
Guidelines for posting
This is a moderated blog. We will not post comments that include racism, bigotry, threats, or factually inaccurate material.
Post a comment