« For NY Times' Overseas Readers, Paris Kosher Market Attack Just a "Claim" | Main | In '48 War, the Jews "Didn't Want These People to Leave the Village" »
January 21, 2015
Where's the Coverage? Satellite Shows Iran's Long Range Nuke-Capable Missile

The Times of Israel reports:
Iran has built a 27-meter-long missile, capable of delivering a warhead "far beyond Europe," and placed it on a launch pad at a site close to Tehran, an Israeli television report said Wednesday, showing what it said were the first satellite images of the missile ever seen in the West.

It stressed that the missile could be used to launch spacecraft or satellites, but also to carry warheads.
Given that Iran is in negotiations with the "P5+1" (the five permanent members of the UN Security Council –the U.S., France, Great Britain, China and Russia– plus Germany) aimed at keeping the Islamic Republic from obtaining a nuclear weapon, a missile capable of carrying such a weapon is a big deal. Yet, none of the major news outlets have covered it.
Given that President Obama in his State of the Union address threatened to veto proposed bi-partisan legislation that would impose sanctions on Iran should the negotiations between Iran and the P5+1 fail to come to a successful conclusion by June of this year, a clear weapons program is a newsworthy political development as well. But, the mainstream media is silent.
Senator Bob Menendez (D-NJ), ranking member of the Senate Foreign Relations Committee has said, "Iran is clearly taking steps that can only be interpreted as provocative. Yet the Administration appears willing to excuse-away any connection between these developments and signs of Iran's bad faith in negotiations." Menendez went on:
The more I hear from the administration and its quotes, the more it sounds like talking points that come straight out of Tehran. And it feeds to the Iranian narrative of victimization, when they are the ones with original sin: An illicit nuclear weapons program going back over the course of 20 years that they are unwilling to come clean on.
Certainly Iran's production and implementation of a missile system capable of carrying a nuclear warhead is a development worthy of reporting. It is a national security story. And when a senior Senator takes a President from his own party to task, it is a major political story as well. And yet… Where's the coverage?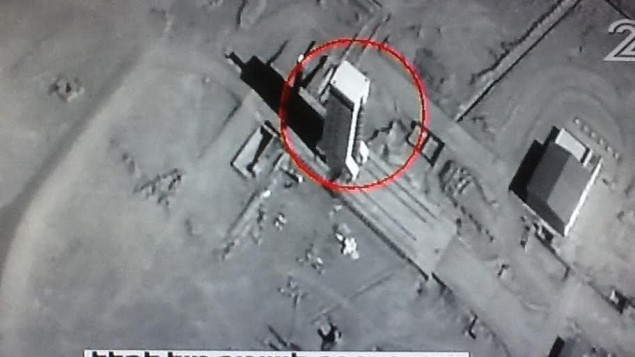 A satellite image shown on Israel's Channel 2 news, January 21, 2015, said to show a new long-range Iranian missile on a launch pad outside Tehran. (Channel 2 screenshot)
br>
Posted by SC at January 21, 2015 06:54 PM
Comments
MORE INSANITY FROM OBUMA'S REGIME!
Posted by: Deborah at January 23, 2015 10:01 PM
Guidelines for posting
This is a moderated blog. We will not post comments that include racism, bigotry, threats, or factually inaccurate material.
Post a comment