« On Death Threats, Haaretz Cartoons and Charlie Hebdo | Main | Blame the writers, Bossypants, blame the writers »
January 12, 2015
Reuters Disparages Benjamin Netanyahu's Show of Support for Parisian Jews as "Gauche"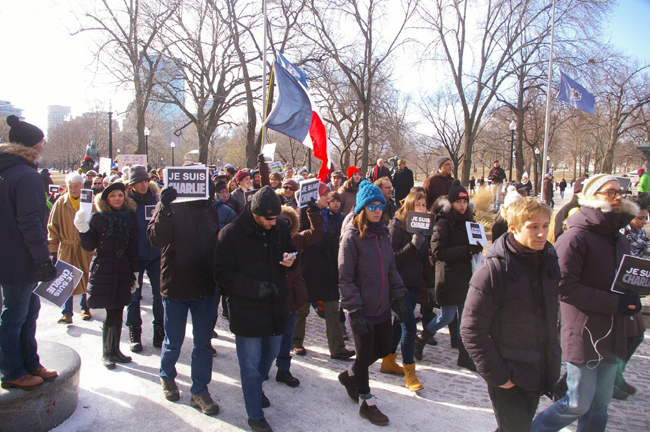 On Sunday, January 12, 2015 several hundred people gathered on Boston Common to protest the recent terrorist attacks in Paris. The event was organized by the city's French Consulate.
Without even the courtesy of a grace period for the burial in Israel of the Jewish victims, Reuters has wasted no time producing a hit piece against Israeli Prime Minister Benjamin Netanyahu.
The authors set up their attack on Netanyahu by quoting "the particularlly stern" Rabbi Menachem Margolin, the head of the European Jewish Association, who dismisses Netanyahu's call for Jews to emigrate to Israel, saying, "Anyone familiar with the European reality knows that a call to Aliyah is not the solution for anti-Semitic terror."
The article then calculates that "Only a few French Jews move to Israel each year -- last year 7,000 out of the 550,000-strong community. That number is expected to rise to more than 10,000 in 2015, in part because of last week's attacks."
So, according to Reuters, 1 out of every 80 French Jews departing France for Israel in just a single year somehow qualifies as "only a few."
The next paragraph injects more blatant politicking, stating, "Helping more of the Jewish diaspora migrate to Israel remains a central policy of the right-wing government, which faces elections in March."
Although the authors of the piece apparently don't know this, encouraging immigration to Israel is not a "right-wing" policy, it is an essential component of Zionism shared across the mainstream political spectrum.
The article's authors, Luke Jackson and Tom Henegan, conclude their piece, published just days after the murder of six French Jews, by disparaging Netanyahu's "behavior" as "gauche." The behavior they apparently refer to includes his participation in the march against terrorism and his impassioned speech at the main synagogue in Paris.
Yes, how gauche it must appear to these reporters and their editor, Giles Elgood, with their heightened sensitivity to etiquette and politesse, for the leader of the Jewish state to demonstrate in-person his support for French Jews who have been targeted by the terrorists because they are Jews.
How gauche indeed.
Posted by SS at January 12, 2015 11:15 AM
Comments
because he is not viewed like any other leader that is y it seems 'gauche'
Posted by: emes at January 13, 2015 10:02 AM
Funny that you picked up on that; I read it yesterday and was furious at the stereotypical remark that Jews and Israelis in particular are very pushy and that Netanyahu exemplified that by pushing himself to the head of the line "where he didn't belong".
As if Abbas did belong after what happened. Reminds me of killing your parents and then throwing yourself on the mercy of the court because you are an orphan!
Posted by: alan cooper at January 15, 2015 02:13 PM
Guidelines for posting
This is a moderated blog. We will not post comments that include racism, bigotry, threats, or factually inaccurate material.
Post a comment