« In '48 War, the Jews "Didn't Want These People to Leave the Village" | Main | Iran's Geopolitical Pincer »
January 22, 2015
Memo to Martin Marty and Scott Appleby: You Got Played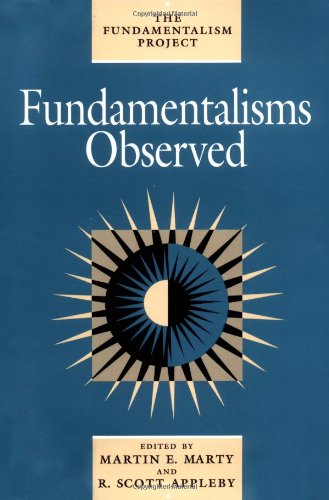 Last week, in a piece about Christiane Amanpour's misuse of the word "activist" when describing the Charlie Hebdo murderers, Snapshots highlighted how a book published in 1997, Islamic Activism and U.S. Foreign Policy, downplayed the radical Islamist agenda and the violent agenda of a group called Jama'at-i-Islami, a Pakistani organization founded by Islamist radical Sayyed Mawdudi in 1941.
The book, written by Scott W. Hibbard and David Little, portrayed Jama'at-i-Islami as a grassroots organization that relies on "constitutional and legal means for achieving its goals." The book portrayed the organization's founder, Sayyed Mawdudi as a man whose ideas were "revolutionary" but whose methods were "evolutionary."
In the same entry, Snapshots reported that in fact, Jama'at-i-Islami was responsible for terrible massacres during Pakistan's civil war and that Mawdudi was in fact, a radical who "called on his followers to fight (and kill) in an effort to impose their understanding of God's will on their fellow citizens. Mawdudi's followers used his writings to justify their violence."
Hibbard and Little deserve criticism for downplaying the violence of Jama'at-i-Islami and the radicalism of its founder Sayyed Mawdudi, but they are not the only folks who sanitize the violent agenda of Jamaat-i-Islami and its founder Mawdudi.
Hibbard and Little's mistake is that they relied on an essay that appeared in an influential book, Fundamentalisms Observed for their information about Mawdudi and Jama'at-i-Islami.
This book, published by the University of Chicago Press in 1991 was the first text issued by "The Fundamentalism Project," a six-volume study produced with great fanfare under the aegis of the American Academy of Arts and Sciences. (The Fundamentalism Project has its own entry in Wikipedia.)
The book, edited by Martin Marty from the University of Chicago and Scott Appleby from Notre Dame, received lot of play and praise when it was first published. Writing in The Christian Century, the house organ for mainline Protestantism (where incidentally, Marty served as senior editor for many years), Robert Wuthnow declared that the text provided a "valuable overview of some of the most important religious developments of our time."
Another commentator declared that the book's "individual contributions are of exemplary quality" that provide "sometimes brilliantly distilled synopses of their respective subjects."
Such praise cannot, however, describe the book's treatment of the previously mentioned Jama'at-i-Islami and its founder, Sayyed Mawdudi.

In the book's essay on Islamic fundamentalism in South Asia, Mumtaz Amhad, a scholar who teaches at Hampton University in Virginia, described Jama'at-i-Islami's actions during the 1971 war in very benign terms. He writes about the alliance between Jama'at-i-Islami and the Pakistan military during the war:
In pursuit of its firm belief that the defense of the territorial integrity of the Pakistani state was a religious obligation, the Jamaat collaborated with the military government throughout the East Pakistan crisis. Its workers and followers among students organized themselves in the paramilitary unit of Al-Badr and fought side by side with regular Pakistan army troops…
What Ahmad leaves out is that during the 1971 civil war is that Al-Badr perpetrated massacres of Bengali intellectuals as part of an effort to deprive the emerging state of Bangladesh of the elite class it needed to succeed as a nation state. Jama'at-i-Islami members who joined Al Badr did not merely fight "side by side with regular Pakistan army troops." They carried out a deliberate plan of mass murder.
In 2013, the New York Times published an article about death sentences imposed on two members of Jama'at-i-Islami for the murder of 18 Bengali intellectuals during the 1971 war. The article reports that "The so-called intellectual killings took place in 1971, from Dec. 10 to 15, when it had become all but certain that Bangladesh would win independence from Pakistan. The three-judge tribunal called the killings 'elitocide.'"
It should be noted that Human Rights Watch condemned the tribunal that sentenced the two men to death for an alleged bias in favor of the prosecution, but there is no doubt that mass killings took place during Pakistan's civil war and that they were perpetrated by members of Jama'at-i-Islami. Estimates peg the number of people killed in East Pakistan (now known as Bangladesh) as high as 3 million.
The mass killings perpetrated by Jama'at-i-Islami are a crucial bit of history that most scholars and policy makers would want to know in an introductory essay about the organization, but Ahmad omits any reference to them.
Then there is Ahmad's treatment of riots that took place in Lahore in 1953. These riots, which resulted in the deaths of hundreds of Ahmadiya Muslims (who adhere to beliefs regarded as heretical by Sunni and Shia Muslims), were instigated in large part by the writings of Sayyed Mawdudi who declared them to be infidels who should not be allowed to serve in Pakistan's government.
When Ahmadiya Muslims achieved positions of power in the Pakistani government, Muslim leaders in Pakistan convened a meeting that called on their followers to engage in "direct action" against the government in support of an ultimatum demanding that the Ahmadiya be declared a non-Muslim minority in Pakistan and that Pakistan's foreign minister (and other Ahmadiya adherents) be removed from their posts.
This call for direct action and the accompanying ultimatum laid the groundwork for pogroms that were put down by the imposition of martial law by the Pakistan government. What Ahmad does not reveal to his readers is the role Mawdudi and Jama'at-i-Islami played in instigating these pogroms.
Here is what Ahmad wrote about Jama'at's involvement with the Lahore Riots of 1953:
At a time when the Jamaat-i-Islami wanted to focus all its attention on the issue of an Islamic constitution, it was drawn into the anti-Ahmadiya movement launched by the ulama in 1953. This movement subsequently degenerated into widespread and violent anti-Ahmadiya riots. The ulama demanded that the government declare the Ahhmadis—a heretical sect founded by Mirza Ghulam Ahmad (d. 1908), who claimed to be a prophet and the promised Messiah—to be outside the pale of Islam. The Jamaat wholeheartedly endorsed this demand but was reluctant to launch a popular movement on the issue, fearing that this would sidetrack the fundamental issue of writing an Islamic constitution. [Sayyed] Maududi published a book on the Ahmadiya question, arguing that since the sect had denied one of the fundamental beliefs of Islam, the finality of the prophethood of Mohammad, it was no longer part of the Muslim ummah and thus deserved to be declared non-Muslim. However, Maududi disassociated himself and his party from the mob violence against the Ahmadhis and asked the government to resolve the issue peacefully. The government nevertheless considered Maududi's book provocative. Martial law was imposed in Lahore and Maudid and a few other ulama [Muslim leaders] were arrested on the charge of inciting people to violence. A military court tried and sentence Maududi to death.

[Author's note: The death sentence was later commuted to life imprisonment, and Mawdudi was released from prison three years later.]
With this passage Ahmad relays, without challenge, Mawdudi's defense as it was presented to a Court of Inquiry charged with investigating his role the 1953 Lahore riots.
The story is that Mawdudi and his organization were unfairly blamed for the riots – which were started not by Jama'at-i-Islami, but by other Muslim groups in Pakistan. Mawdudi and Jama'at-i-Islami were "drawn into" the mayhem but did not cause it.
Balderdash.
The official report issued by the Court of Inquiry in 1954 found that Mawdudi and Jama'at-i-Islami bore a large measure of responsibility for the riots and ensuing deaths they caused. They were not "drawn into" the riots. Mawdudi and Jama'at-i-Islami incited them.
Mawdudi and the organization he led argued before the Court of Inquiry that they were innocent because they did not take part in a Jan. 18, 1953 meeting of Pakistani Muslim leaders that called for "direct action" against the government. But the court heard testimony from other sources indicating that this meeting was in fact attended by Mawdudi's personal representative, Maulana Sultan Ahmad.
The Court of Inquiry reported that even if Mawdudi or his representative did not participate in meetings in which "direct action" was contemplated, it still bore some responsibility because at no point did Mawdudi or his group express opposition to the call for action.
To nail this point down, the Court of Inquiry reports that at a February 26, 1953 meeting of Muslim leaders, Maulana Sultan Ahmad (Mawdudi's personal representative) "did not dissociate himself" from preparations for the impending riots.
Furthermore, Mawdudi helped precipitate the violence by distributing an anti-Ahmadiya tract, "Qadiani Masala," on March 5, 1953. The day before he released this text, a mob beat a police superintendent to death outside a mosque that had become the scene of anti-Ahmadiya agitation. ("Qadiani" is a derogatory term for Ahmadiya Muslims.)
In one notorious passage of this book, Mawdudi describes Ahmadiya Muslims as "like a cancer eating up and gradually consuming the vitals of the Muslims society."
And the day after Mawdudi released this 40-page tract – March 6, 1953 – an Ahmadiya mosque in Lahore was set on fire and Ahmadiya adherents were set upon throughout Pakistan. Many were killed.
Compare this chronology with Ahmad's description of Mawdudi's actions: He "published a book on the Ahmadiya question."
Ahmad omits the religious slur present in the book's title.
He omits any reference to the notorious "cancer" passage.
And he fails to mention that the book was published the day before a pogrom.
All this might help to explain why the Pakistan government, in Ahmad's words, "considered Maududi's book to be provocative."
The Court of Inquiry reports that once the government started firing on rioters (who were ransacking Ahmadiya businesses and killing people) and imposed martial law, Mawdudi condemned the government for its oppressive policies and called on officials to "negotiate" with the rioters. In other words, Mawdudi portrayed the rioters – who were killing their Ahmadiya neighbors and looting their homes and businesses – as victims.
How does Ahmad report this turn of events? By reporting that Mawdudi "asked the government to resolve the issue peacefully."
There is little doubt that Mawdudi harbored great hostility toward the Ahmadis. According Abdul Basit Shahid, a prominent Ahmadiya leader in Pakistan, Mawdudi met with Ahmadiya leaders prior to the riots and told them, "Amend your doctrine or else you will be crushed." (Shahid's testimony can be seen here at about 15 minutes, 25 seconds into the video.)
In any event, Jama'at-i-Islami was not simply "drawn into" the anti-Ahmadiya movement, as Ahmad states. The organization helped initiate it and the riots that ensued. And Mawdudi did not try to stop the riots, as Ahmad states; he provoked them and then tried to distance himself from their aftermath.
Here is the judgment of the Court of Inquiry on the role Mawdudi played in the 1953 riots:
The impression that one gets from the evidence about his attitude […] is that he was anticipating the whole system of administration to crumble down and expressing his glee over the expected discomfiture and surrender of Government. And when all this is taken into consideration with the avowed object of Jama'at-i-Islami to seize power, because, according to it, this is the most effective way of achieving its object of establishing religious institutions under the Sovereignty of Allah, no doubt is left in one's mind that what was happening had the complete approval of the Jama'at.
Given that the Ahmadiya community has itself been the target of Islamist violence, it is no surprise that the community's leader in Israel, Sheikh Muhammad Sharif Odeh condemned the terror attack that took place at Har Nof Synagogue in Jersualem in November, 2014.
The upshot is this: Mumtaz Ahmad, a prominent Islamic scholar in the U.S. engaged in an irresponsible whitewash of Jama'at-i-Islami and its founder Sayyed Mawdudi.
Ahmad's whitewash made its way into the mainstream academy with the help of his editors Martin E. Marty from the University of Chicago and Scott Appleby from Notre Dame. These two scholars let Ahmad's egregious whitewash appear in a prestigious, high-profile text presented to the academy as an authoritative and comprehensive assessment of religious fundamentalism.
Now some readers might ask: Does it really matter that book on fundamentalism published in 1991 got it woefully wrong about the Jamaat-I-Islami and omitted crucial information about the organization's founder?
That's a question to direct at the friends and relatives of the people who were murdered in Lahore in 1953 and in East Pakistan in 1971.
Posted by dvz at January 22, 2015 05:08 PM
Comments
Guidelines for posting
This is a moderated blog. We will not post comments that include racism, bigotry, threats, or factually inaccurate material.
Post a comment