« As Four Jews Buried, MSNBC's Ayman Mohyeldin Redirects Back to Palestinians | Main | For NY Times' Overseas Readers, Paris Kosher Market Attack Just a "Claim" »
January 20, 2015
New York Times: Miss Lebanon, Israel's Latest Arab Victim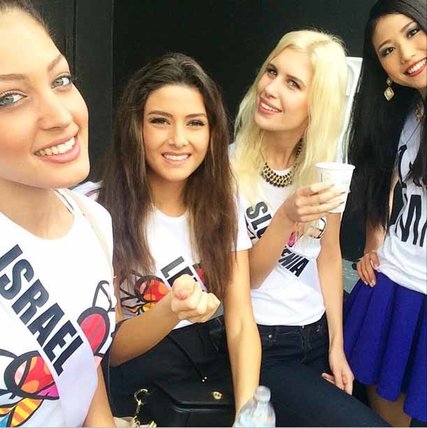 New York Times: Miss Israel Doron Matalon (left) puts Miss Lebanon Saly Greige (second from left) in the "bind" of being photographed with an Israeli
"Strengthen the coverage of Palestinians. They are more than just victims, and their beliefs and governance deserve coverage and scrutiny," advised Margaret Sullivan, public editor at The New York Times, in a recent column on the paper's coverage of Israel and the Palestinians.
She might just as well have been writing about the paper's treatment of any Arabs in conflict with Israel, not just Palestinians. Her observation would certainly apply to the paper's coverage of Miss Lebanon, Saly Greige, who recently distanced herself from a photograph in which she appeared with Doron Matalon, Miss Israel.
"Miss Israel's Selfie Puts Another Miss in a Bind" is The New York Times headline, casting the Lebanese beauty as the hapless, helpless victim of Miss Israel, the real player in this drama, responsible for sowing discord by daring to inject herself into (her own) selfie with Ms. Greige, too delicate to be seen with her.
Indeed, Miss Greige herself addresses her failed attempts not to fall victim to the bombastic Miss Matalon: "Since the first day of my arrival to participate to Miss Universe, I was very cautious to avoid being in any photo or communication with Miss Israel," she noted on her Facebook page in defense of her appearance in the offending image. "I was having a photo with Miss Japan, Miss Slovenia and myself, suddenly Miss Israel jumped in, took a selfie, and put it on her social media."
While it is Lebanese anti-Semitism and anti-Israel sentiment which place Miss Lebanon in a "bind," The Times fingers the young Israeli woman as responsible for the situation in which a Lebanese woman refuses to be photographed with an Israeli. A 2011 Pew opinion poll found that only 3 percent of Lebanese hold positive views of Jews, and, according to an Anti-Defamation League survey, 78 percent of Lebanese hold anti-Semitic views.
Blaming the Israeli for discord, and exonerating the Arab side, isn't confined to just the beauty queen drama.
Of the military conflict between Israel and Lebanon, Anne Barnard writes:
Officially, a state of war has persisted between Israel and Lebanon since 1948. The creation of Israel, and the ensuing war, flooded Lebanon with Palestinian refugees. Israel invaded Lebanon several times, and ultimately occupied parts of the south until 2000. It fought a war with Hezbollah in 2006.
Barnard notes that Israel's creation "flooded Lebanon with Palestinian refugees" and that "Israel invaded Lebanon," but she ignores that Lebanon was among several Arab armies which attacked the nascent Jewish state in 1948. Had Palestinian Arabs and neighboring Arab states, including Lebanon, not attacked the new Jewish state, would there have been a flood of refugees to Lebanon? The journalist likewise includes not a word about the Palestine Liberation Organization's creation of a state within a state in southern Lebanon, where it established a base from which it attacked Israeli civilians for decades. Nor does she note any Hezbollah violence against Israelis and Jews, both in Israel and abroad.
Posted by TS at January 20, 2015 07:50 AM
Comments
You guys are too much.
There is no journal or any other entity for that matter that can be free of the nit-picking and cherry-picking of facts and events that you devote to The new York Times.
By repeating these so-called "shortcomings" over and over again you are in the lead in giving credence to the nonsensical notion that The Times, their reporters etc... probably down to those who deliver the paper are somehow anti-Israel. You know... "The big lie repeated over and over again..."
I wonder if Arutz-7 could stand up to the same type of scrutiny.
Stanley Kaplan
Posted by: Stanley Kaplan at January 22, 2015 12:01 PM
Maybe Ms Lebanon would prefer to be photographed with her Hezbola buddies?
Posted by: Leon Kushner at January 22, 2015 05:48 PM
The Arab countries, including Lebanon's, attack on Israel at its birth, in 1948, forced the persecuted Jews from Arab land to leave their ancestral home for 26 centuries. I was born in Iraq, my mother tongue is Arabic and grew up in the Islamic culture and history.
In 1949, as a jew at 19, I had to smuggle out of Iraq fearing torture, prison or excution for being accused of Zionism. I became a homeless penniless refugee, just like the Palestinian homeless penniless refugees, caused by the Arab countries attack on Israel. The only difference, I and hundred of thousand Jews from Arab lands knew we will never be back to our Arab countries of birth. We refused to believe and act as victims. We built future in any host country where we started our new homes.
Looking at what is happening now, to the non Muslim Christian, Yazidies, Koptic turkemans, Chadlisies and other minorities, I, my children, grandchildren and all the Jews who fled from Muslin countries feel so lucky. We are out of this Islamic terror, black hole, which knows no bound or time limit.
Posted by: Joseph Samuels at January 22, 2015 07:31 PM
what is that supposed to mean - be careful not to be seen with an Israeli? What kind of Miss Universe is this? Not congenial for sure? What do the other women think that the Jewishness is going to rub off on them? How hideous and hateful.
Posted by: BB at January 24, 2015 10:46 PM
Guidelines for posting
This is a moderated blog. We will not post comments that include racism, bigotry, threats, or factually inaccurate material.
Post a comment