« Hamas Concealed Combatant Fatalities in Summer 2014 War | Main | HarperCollins Erases Israel, Then Corrects »
January 05, 2015
John Allen, Jr. Misinforms in Newly Established Website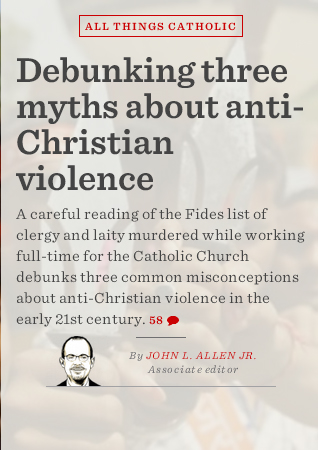 John Allen, Jr., former Vatican correspondent for the National Catholic Reporter, is now the lead reporter for Crux, a website that describes itself as devoted to "covering all things Catholic.�
John Henry, the new owner of the Boston Globe, recruited Allen away from NCR. The Globe established Crux in toward the end of 2014. A business brief announcing the site's establishment described the new site as "anchored� by Allen's reporting.
In a recent article published on Crux, Allen took a list of Catholic missionaries killed in the field during 2014 and used it as a basis for an article titled "Debunking three myths about anti-Christian violence.� Fides, the Vatican's news agency, prepared the list of missionaries killed in the course of their work.
A teaser to the article states, "A careful reading of the Fides list debunks three common misconceptions about anti-Christian violence in the early 21st century.�
In his report, Allen acknowledges up front that list is not a "complete index of anti-Christian violence, just clergy and laity murdered while working full-time for the Catholic Church.�
But then, oddly enough, Allen draws conclusions from the text as if it represents what's happening to Christians worldwide. And while he's at it, he uses the word "myth� to describe a straw man argument he knocks down in the course of the article.

The straw man argument that Allen knocks down is that "That Middle East is not the only place where Christians are at risk, and radical Islam is not the only threat.�
To demonstrate that this is a myth, Allen reports that of the 26 victims killed in 2014, only two were killed by militant Muslim groups.
"That observation does not minimize the danger posed by forces as ISIS and Boko Haram, but it does make a simple point: Radical Islam could disappear tomorrow, and it would not mean Christians are safe,� he writes.
First off, who has ever said that the Middle East is the "only place where Christians are at risk� and that radical Islam is the "only threat�? Groups like Voice of the Martyrs and Open Doors and Christian Solidarity International have been around for a long time and were alerting people to the mistreatment of Christians long before the recent spate of anti-Christian violence took place in the Middle. Voice of the Martyrs, for example was founded during the Cold War, and started its work by addressing the mistreatment of Christians behind the Iron Curtain.
And the mistreatment of Christians in North Korea and China has been on the agenda of Christian rights activists for years.
And while Christians are mistreated worldwide, the reality is that if radical Islam disappeared tomorrow, Christians would be a lot safer than they are now.
There has never been a point in history where Christians have been 100 percent "safe" but today we are in a historical era where Christians are being killed in huge numbers and eradicated in the region of its birth.
In the past year, thousands of Christians have been killed in Iraq, Syria and Nigeria. Churches have been burned and Christians are even being threatened with violence tomorrow. The vast majority of violence against Christians is perpetrated by jihadist murderers. They killed a lot more than just two Catholic missionaries.
Christians in the Middle East are not just being persecuted; they are being ethnically cleansed.
That is why groups like Voice of the Martyr's, Open Doors, and Christian Solidarity International are drawing attention to the problem. They are not propounding a myth, they are responding to a real crisis, one that currently dwarfs the violence against Christians elsewhere in the world.
The premise of Allen's article is, to put it mildly, bizarre in light of his previous reporting on anti-Christian violence. Allen addressed the problem in a 2011 article for National Catholic Reporter about the appointment of Archbishop Edwin O'Brien as Grand Master of the Holy Order of the Holy Sepulchre of Jerusalem, an organization that provides substantial financial backing to the Catholic Archdiocese of Jerusalem.
In the 2011 article, Allen recounted the problems facing Christians in the Middle East (which have only gotten worse since 2011) and expressed hope that Archbishop O'Brien will become the "'tip of the spear' for a far more concentrated and effective global Catholic response to the realities facing Christians in today's Middle East.�
So here it is: In 2011, John Allen, Jr. highlighted the threat to Christians in the Middle East and called on a more "concentrated and effective global Catholic response� to the problem.
In 2015, after thousands of Christians have been murdered at the hands of jihadists, Allen downplays the threat to Christians in the Middle East.
He does this by portraying a miniscule data set as somehow representative of what's happening to Christians in the world when in fact its not (his caveat notwithstanding). And he uses a straw man argument to portray people concerned about this threat as promoting a "myth.�
Allen is not demolishing a myth, he is helping to create one that justifies inaction in the effort to protect Christians in the Middle East.
In 2011, Allen lamented this inaction.
In 2015, Allen is telling a story that justifies it.
Why?
Posted by dvz at January 5, 2015 02:33 PM
Comments
Guidelines for posting
This is a moderated blog. We will not post comments that include racism, bigotry, threats, or factually inaccurate material.
Post a comment