« Hamas Still Hamas, Says Will Never Recognize or Relinquish "Even an Inch" of Israel | Main | An Update on the Bloodied Shoe Tweets »
December 18, 2014
Will Journalists Sharing Misinformation on Twitter Correct?
We get it. It's really, really easy to share someone else's Twitter posts — just a quick copy and paste, or a click on the retweet button. One imagines it's even easier to share if the post in question refers to Israeli violence and if you're a journalist with "unnecessary buttons" and a "distaste for Israel," as Matti Friedman put it.
Admitting an error, on the other hand, is not always the easiest thing to do. But journalists have responsibilities, not least among them a responsibility to correct after inadvertently misinforming their audience.
When Dutch journalist Harald Doornbos, in a failed attempt at fact-checking, stated that a heart-wrenching photo of a small, bloody shoe circulating on Twitter was from Gaza and not, as many had claimed, from a recent attack in Pakistan, he simply replaced one error with another. Despite the implication that what was pictured was evidence of a Palestinian casualty at the hands of Israel, the photo was actually of an Israeli girl's shoe, taken after she was injured in a Palestinian rocket attack on the Israeli city Ashkelon.
And as CAMERA-affiliate BBC Watch pointed out, his inaccurate tweet was shared by BBC journalist Rana Jawad, retweeted to her nearly 16,000 followers.
She wasn't the only reporter to misinform readers with Doornbos's tweet. So did France 24's Julien Pain.
"@HaraldDoornbos: This picture going around social media is not from #Peshawar #schoolattack but #Gaza : pic.twitter.com/6lNZP8J9bC" #obs

— Julien Pain (@JulienPain) December 16, 2014
And so did Rena Netjes of the Dutch radio station BNR.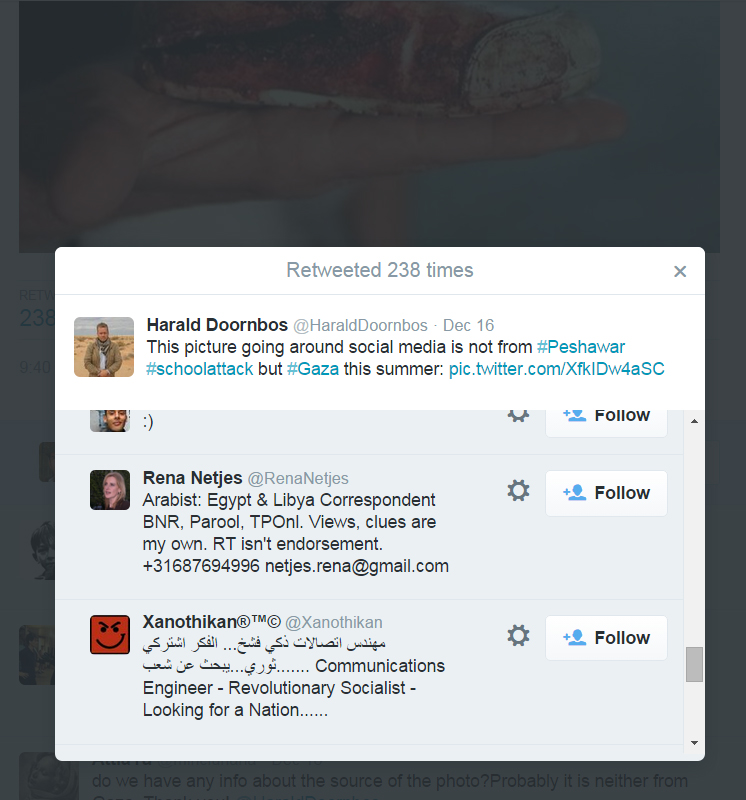 Mistakes happen. And mistakes left all four journalists (and perhaps others) in a position to demonstrate their adherence to journalistic norms calling for in accuracy and clear, forthright corrections when needed. So what did they do?
As of this writing, Doornbos, the originator of the misinformation, faded away as commenters under his tweet pointed out the actual source of the photo. He never informed to his 40,000 Twitter followers that the information he had shared was inaccurate, nor even deleted his tweet.
Jawad and Pain, both of whom were notified of the error they shared, have not yet updated their readers. (Though neither appears to have posted on Twitter since being notified, so the possibility remains that they haven't yet seen the corrective information.
After CAMERA informed her of the misinformation, Netjes strangely replied that it was CAMERA that got it wrong:
Nope. You @CAMERAorg please remove your false accusation: http://t.co/xWOTTLt3o5

— Rena Netjes (@RenaNetjes) December 18, 2014
A CAMERA researcher asked for clarification, and documented that she did indeed share the inaccurate information:
Please do explain. Did you not retweet the false claim that shoe pic was "from…Gaza," when it's actually from Israel? @RenaNetjes @Cocoamok

— Gilead Ini (@GileadIni) December 18, 2014
Here's a screenshot. You did retweet. And I didn't see correction—maybe it was in Dutch? @RenaNetjes @Cocoamok pic.twitter.com/A1mW98ORQ7

— Gilead Ini (@GileadIni) December 18, 2014
Netjes replied that she did share a link to the BBC story explaining the origins of the photo.
@GileadIni @Cocoamok My point to retweet was that it wasn't from #peshawar. I later put the BBC article for the whole story

— Rena Netjes (@RenaNetjes) December 18, 2014
But it appears from an examination of her Twitter timeline that the only place she linked to the BBC story was in her tweet claiming CAMERA got it wrong — which would mean we got it right, and more importantly, would mean that she has never informed all her readers of the false information she had passed on to them earlier.
So far, not so good. But fortunately it's never too late to clear the record. Will the four journalists do the right thing and broadcast a clear correction to all of their readers?
Posted by GI at December 18, 2014 04:14 PM
Comments
Please note that Mister Harald Doornbos does not only refuse to delete/correct Tweet.
He is now telling lies (in Dutch) that he "deleted" tweet.
A very peculiar approach by him again as his tweet is NOT deleted.
Posted by: On Elpeleg at December 18, 2014 06:59 PM
Guidelines for posting
This is a moderated blog. We will not post comments that include racism, bigotry, threats, or factually inaccurate material.
Post a comment