« Fracking Strikes an Unexpected Blow at Iran | Main | Degeneration of a New York Times Headline, Part II »
December 24, 2014
National Geographic Misidentifies Judaism's Holiest Site
The Independent is the latest media outlet to correct the false claim the Western Wall is Judaism's holiest site. It follows earlier corrections at The Washington Post, Haaretz, and the BBC, among others.
Judaism's holiest site is the Temple Mount, the site of the first and second Jewish temples which housed the Holy of Holies (the inner sanctuary where the Ark of the Covenant was located). The Western Wall, a retaining wall of the Temple Mount compound, obtained its holy status due to its proximity to the Holy of Holies. The National Geographic Society, with its focus on archeology and history, and which prides itself on being "one of the largest nonprofit scientific and educational institutions in the world," should know this.
Yet it too recently misidentified the Western Wall as Judaism's holiest site.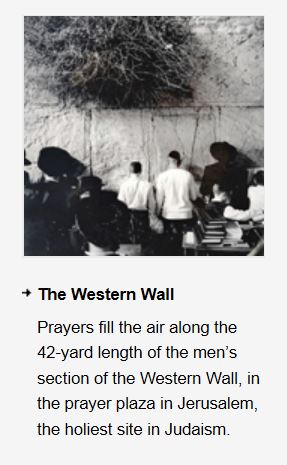 Stay tuned for news of a correction.
In addition, as one reader points out, a paragraph in the accompanying article ("Blessed. Cursed. Claimed," by Paul Salopek) contains the following insidious nugget:
Weeks later, yet another round of Palestinian-Israeli fighting would flare. Rockets would scratch the skies. Israel would invade nearby Gaza.
Employing a common double standard, Salopek uses passive language to describe Palestinian belligerence (rockets "scratch") versus active language for retaliatory Israeli strikes (Israel "invades"). And he erases Hamas out of the equation entirely.
Hat/tip RD
Posted by TS at December 24, 2014 06:13 AM
Comments
Guidelines for posting
This is a moderated blog. We will not post comments that include racism, bigotry, threats, or factually inaccurate material.
Post a comment