« Oslo Promises That Never Were | Main | Will Journalists Sharing Misinformation on Twitter Correct? »
December 17, 2014
Hamas Still Hamas, Says Will Never Recognize or Relinquish "Even an Inch" of Israel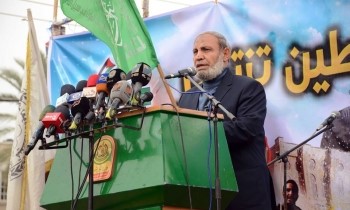 Remember when it was all the rage for some journalists to pretend Hamas recognizes Israel and wants a two-state solution, never mind what the Islamist group's own leaders repeatedly and consistently said to the contrary?
There was The New York Times, which told us that a Hamas leader, in the words of its headline, "Calls for Two-State Solution." (No, he didn't.)
And don't forget The Guardian, chroniclers of the "news" that Hamas "agrees to Israeli state." (Wrong again.)
Alas, it seems Hamas leaders were never close readers of those newspapers. The organization stubbornly has continued to be clear about its ideology, as it did again just a few days ago. Over to you, MEMRI:
Speaking at a December 12 rally in Khan Younes, Hamas political bureau member Mahmoud Al-Zahhar said: "Anyone who thinks that we will recognize the existence of the [Zionist] entity or the 1967 borders is deluded... Palestine stretches from the Egyptian border in the south to Lebanon in the north, and from Jordan in the east to the Mediterranean sea in the west, and we will never recognize anything less than this." He added: "If part of our land is liberated, we will establish our state in that part without relinquishing even an inch of the rest. Just as we liberated Gaza and established a genuine administration in it, [with] an army and security apparatuses that defend us, rather than the Israeli enemy [unlike those of the PA], we will do the same in the West Bank, as a prelude to attaining all of Palestine."
Posted by GI at December 17, 2014 05:18 PM
Comments
Guidelines for posting
This is a moderated blog. We will not post comments that include racism, bigotry, threats, or factually inaccurate material.
Post a comment