« Where's the Coverage? Israeli Arabs Prefer Israel to Palestinian Authority | Main | NY Times Again Whitewashes Palestinian Violence »
December 01, 2014
Former AP Journalist Matti Friedman On the 'Israel Story'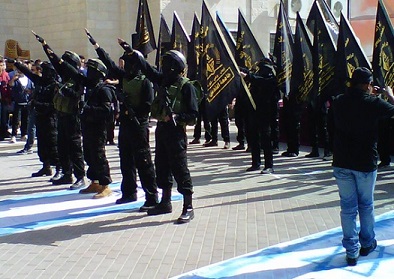 AP decided that images like this one, from a November 2013 anti-Israel rally at Al-Quds University in Jerusalem, were not newsworthy (Photo courtesy of Matti Friedman)
Following up on his earlier seminal piece in Tablet on obsessive and distorted journalistic coverage of Israel and the Palestinians, former AP reporter and editor Matti Friedman writes yesterday in The Atlantic that the "pipeline of information from this place is not just rusty and leaking, which is the usual state of affairs in the media, but intentionally plugged." Excerpts from The Atlantic essay follow:
During the Gaza war this summer, it became clear that one of the most important aspects of the media-saturated conflict between Jews and Arabs is also the least covered: the press itself. The Western press has become less an observer of this conflict than an actor in it, a role with consequences for the millions of people trying to comprehend current events, including policymakers who depend on journalistic accounts to understand a region where they consistently seek, and fail, to productively intervene. . . .

Confusion over the role of the press explains one of the strangest aspects of coverage here—namely, that while international organizations are among the most powerful actors in the Israel story, they are almost never reported on. Are they bloated, ineffective, or corrupt? Are they helping, or hurting? We don't know, because these groups are to be quoted, not covered. Journalists cross from places like the BBC to organizations like Oxfam and back. The current spokesman at the UN agency for Palestinian refugees in Gaza, for example, is a former BBC man. A Palestinian woman who participated in protests against Israel and tweeted furiously about Israel a few years ago served at the same time as a spokesperson for a UN office, and was close friends with a few reporters I know. And so forth. . .

[Following the 2008-09 Gaza war] a Jerusalem-based group called NGO Monitor was battling the international organizations condemning Israel after the Gaza conflict, and though the group was very much a pro-Israel outfit and by no means an objective observer, it could have offered some partisan counterpoint in our articles to charges by NGOs that Israel had committed "war crimes." But the bureau's explicit orders to reporters were to never quote the group or its director, an American-born professor named Gerald Steinberg. In my time as an AP writer moving through the local conflict, with its myriad lunatics, bigots, and killers, the only person I ever saw subjected to an interview ban was this professor. . . .

When Hamas's leaders surveyed their assets before this summer's round of fighting, they knew that among those assets was the international press. The AP staff in Gaza City would witness a rocket launch right beside their office, endangering reporters and other civilians nearby—and the AP wouldn't report it, not even in AP articles about Israeli claims that Hamas was launching rockets from residential areas. (This happened.) Hamas fighters would burst into the AP's Gaza bureau and threaten the staff—and the AP wouldn't report it. (This also happened.) Cameramen waiting outside Shifa Hospital in Gaza City would film the arrival of civilian casualties and then, at a signal from an official, turn off their cameras when wounded and dead fighters came in, helping Hamas maintain the illusion that only civilians were dying. (This too happened; the information comes from multiple sources with firsthand knowledge of these incidents.)
Posted by TS at December 1, 2014 02:55 AM
Comments
I read with interest 'How the Media makes the Israel story'
It is time that Israeli/jewish journalists stopped moaning and writing endless articles on verbal and pictorial terrorism by the world,s media. It is time we started fighting back. Hasbara doesnt work ,apologisies dont work sorry doesnt work Hamas use children as human shields doesnt work.
Broadcasting in English works......It worked so well during the Gaza
war that the British public not only believed every picture and story as told by the BBC Cnn etc they opened their wallets and threw their hard earned cash directly at the Children of Gaza/ Hamas . Israel needs to broadcast live in English from TA now.Once broadcast you cannot un-broadcast. It is no good 1 month later to rebut an incident such as the boys shot on the beach...nobody cares they were killed on TV by Israelis end of.....Israel can broadcast in English before Channucah with the right financing
Israel has top journalsits like yourself.With your help we can turn the myth the the Jews run the world media into a reality...
Full Business plan available for Tovnews24
Posted by: Carolyn Mandelson at December 1, 2014 02:36 PM
Guidelines for posting
This is a moderated blog. We will not post comments that include racism, bigotry, threats, or factually inaccurate material.
Post a comment