« NY Times Again Whitewashes Palestinian Violence | Main | Are Declining Oil Prices Iran's Achilles Heel? »
December 02, 2014
AFP Ignores Hezbollah's Attacks Against Civilians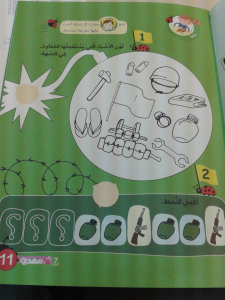 A page from Hezbollah's "Mahdi" Magazine for preschoolers (photo from Khaled Alameddine's blog, hat tip Elder of Ziyon
In a rare look at Hezbollah incitement geared towards children, French wire service Agence France Presse ignores the terror group's attacks against civilians ("In Hezbollah children's magazine, not fairies but fighters"). Today's article about a Hezbollah "Mahdi" Magazine for children, which includes glorification of a suicide bomber and coloring pages of grenades and automatic weapons, states:
The group carries out numerous attacks against Israeli forces during their 22-year occupation of Lebanon, which ended in 2000 with a withdrawal that Hezbollah claimed as a victory.

In 2006, Hezbollah's abduction of two Israeli soldiers prompted a massive military response by the Jewish state, but it failed to deal a death blow to the militant group.
Despite AFP's selective reporting, Hezbollah's attacks have not only been limited to Israeli military targets. Among Hezbollah's many attacks against civilians was the March 17, 1992 bombing of the Israeli embassy in Buenos Aires, in which 29 were killed and more than 200 wounded; the July 18, 1994 bombing of the Buenos Aires Jewish community center, in which 86 were killed and more than 200 were injured; and the firing of countless rockets against communities in northern Israel, including on Nov. 28, 1995, March 30, 1996, Aug. 19, 1997, Dec. 28, 1998, June 24, 1999, and April 9, 2002.
In addition, while AFP mentions Hezbollah's abduction of two Israeli soldiers in 2006, it ignores the fact that at the same time Hezbollah was kidnapping the soldiers, it was also bombarding Israel's northern towns with rocket fire.
Indeed, on the day of the attack, AFP itself reported (July 12, 2006):
The claim [that Hezbollah captured two Israeli soldiers] came after intense cross-border clashes that left at least four Israeli civilians wounded, according to Israeli military sources.

Hezbollah fighters fired dozens of Katyusha rockets and mortar rounds on the disputed Shebaa Farms border area, security sources said.

There was also a barrage of fire on northern Israel at the other end of the frontier close to the Mediterraenan [sic] coast, the sources added.
Additional Hezbollah activities ignored by AFP include attacks on American troops and hijackings of international flights. (See CAMERA's "Timeline of Hezbollah Violence.")
Posted by TS at December 2, 2014 05:38 AM
Comments
Posted by: Barry Meridian at December 5, 2014 02:05 PM
Guidelines for posting
This is a moderated blog. We will not post comments that include racism, bigotry, threats, or factually inaccurate material.
Post a comment