« A Moment of Silence For the Terrorists | Main | NY Times Public Editor Tackles Israeli-Palestinian Coverage »
November 21, 2014
Youtube User Combines Copyright Infringement and Anti-Israel Vandalism
This is getting weird. Really weird.
It's one thing to take copyrighted material – in this case a detective series produced by the British Broadcasting Company – and post it on Youtube.
It's another thing altogether to vandalize that video by pasting anti-Israel propaganda into the video so that you can foist your ideas on unsuspecting viewers.
But that is what one Youtube user, who goes by the moniker "Justice4All," has done. He has posted a number of episodes of the British television show "Midsomer Murders" on Youtube and posted propaganda for the Palestinian Solidarity Campaign.
Here's proof: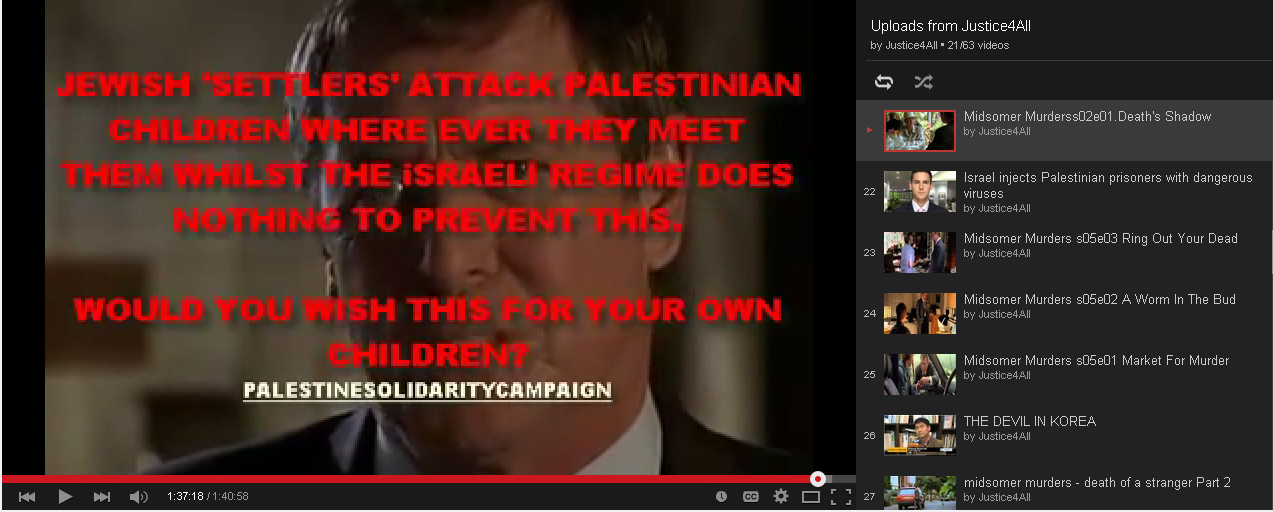 How ironic. Not only is "Justice4all" a copyright thief, he (or she) is a vandal (and an anti-Israel kook to boot).
For those who are interested, Midsomer Murders show is produced, by the way, by ITV.
Posted by dvz at November 21, 2014 04:38 PM
Comments
Guidelines for posting
This is a moderated blog. We will not post comments that include racism, bigotry, threats, or factually inaccurate material.
Post a comment