« Youtube User Combines Copyright Infringement and Anti-Israel Vandalism | Main
November 24, 2014
NY Times Public Editor Tackles Israeli-Palestinian Coverage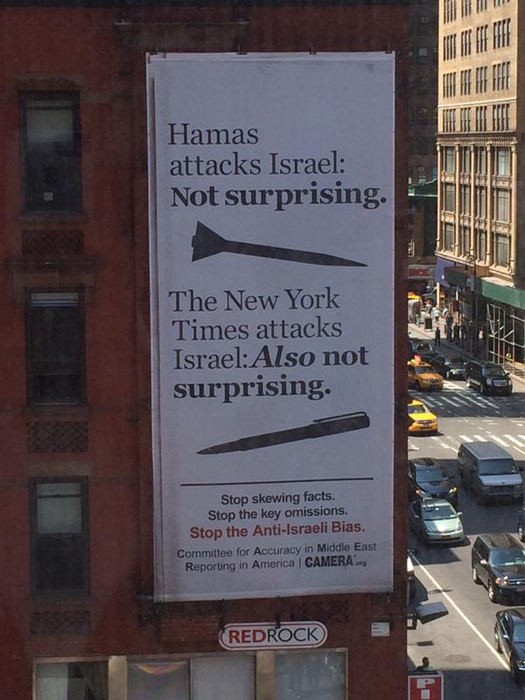 Margaret Sullivan, public editor for The New York Times, yesterday tackled the thorny topic of the paper's coverage of Israel and the Palestinians ("The Conflict and The Coverage"). By way of background, Sullivan mentions CAMERA's three-story billboard facing the newsroom at the The Times.
The Times is biased, both sides charge. The Jerusalem bureau chief, Jodi Rudoren, somehow manages to be — as the critics would have it — both wildly anti-Israel and practically a tool of the Israeli government.

One organization, Camera, even pays for a billboard across the street from the Times building to accuse the paper of regularly attacking Israel. And pro-Palestinian websites like The Electronic Intifada have detailed the ways in which, as they see it, Times coverage fails to do justice to an outcast people. Many readers have castigated me for not jumping into the fray to represent their position. I have searched for a way to write something useful and productive amid all this emotion and criticism, and have — until now — put it off.
Sullivan lays out a number of recommendations, among them:
Diversify. Strengthen the coverage of Palestinians. They are more than just victims, and their beliefs and governance deserve coverage and scrutiny. Realistic examinations of what's being taught in schools, and the way Hamas operates should be a part of this. What is the ideology of Hamas; what are its core beliefs and its operating principles? What is Palestinian daily life like? I haven't seen much of this in The Times.
The above recommendation addresses one of CAMERA's primary concerns about Times coverage: that the paper consistently exonerates Palestinians of any culpability for the conflict and downplays their incitement.
Nevertheless, concerning Sullivan's focus particularly on Hamas incitement, CAMERA's Gilead Ini tweets: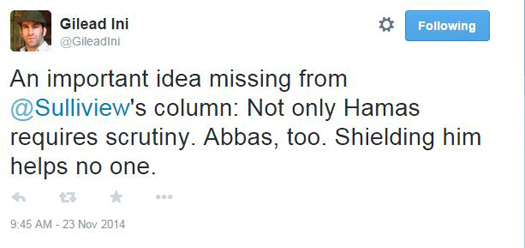 Another noteworthy element of Sullivan's column is a comment she cites by international news editor Joseph Kahn:
I asked Joseph Kahn, the top editor for international news, about this context complaint.

"I hear that criticism a lot," he said. But, he said, behind it are "people who are very well informed and primed to deconstruct our stories based on their knowledge." The Times does not hear this complaint, he said, from readers who are merely trying to understand the situation.
In other words, according to Kahn, uninformed readers who are unaware of the facts do not object to Times coverage. This he finds reassuring?
In a related development, Jodi Rudoren and this CAMERA writer both spoke at the same conference at Bar-Ilan University yesterday on the international media's coverage of the summer conflict between Hamas and Israel. The Jerusalem Post reports:
But the day's most contentious figure was New York Times Jerusalem bureau chief Jodi Rudoren, who drew criticism from members of the crowd as well as fellow panelists.

"I was going to bring my Kevlar vest, but I left it in the hopes of a good dialogue," she said before beginning her talk.

She said Israeli media culture is characterized by "myopia where each partisan looks at the articles or the TV reports focusing on the parts that they think offend their narrative or their arguments."

She singled out the advocacy group Committee for Accuracy in Middle East Reporting, known as CAMERA.

"They are not for accuracy in Middle East reporting, they are for promoting the Israeli point of view," she said, adding that it is "perfectly within their right" to pursue that mission.

Speaking at a later panel, CAMERA's Israel director, Tamar Sternthal, said Rudoren's remarks "misrepresented" the organization's strategy and goals. She went on to criticize the New York Times coverage of Israel, pointing out what she said were skewed headlines such as "Palestinians are suspected as two Israelis die in knife attacks," referring to the Har Nof attack. [sic. CAMERA note: That headline was regarding the earlier stabbings of Almog Shiloni and Dalia Lemkus.]

She also mentioned other incidents when, she said, CAMERA exposed unfair coverage in The Wall Street Journal and Los Angeles Times.
Posted by TS at November 24, 2014 05:37 AM
Comments
Guidelines for posting
This is a moderated blog. We will not post comments that include racism, bigotry, threats, or factually inaccurate material.
Post a comment