« International Law Expert Says Gaza Not Occupied | Main | LA Times' Double Standards on Jerusalem »
November 14, 2014
Juden Raus! Norway Anti-Racist Group Demands Exclusion of Jews From Kristallnacht Commemoration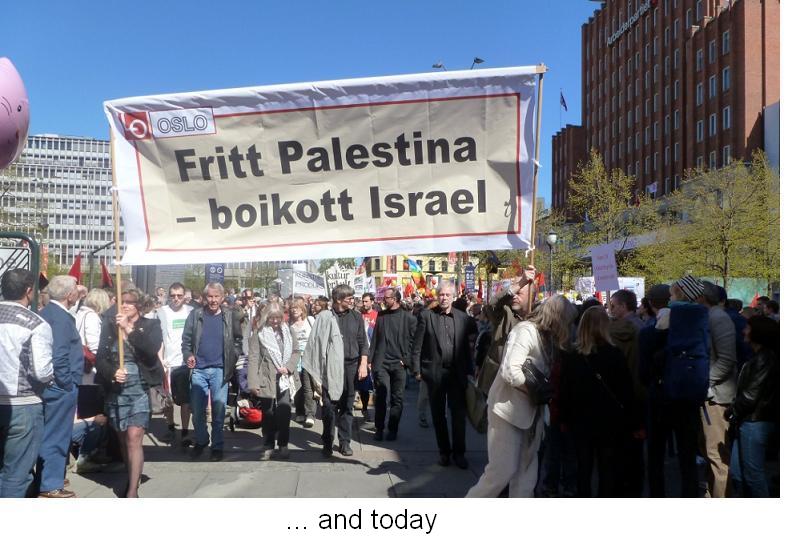 In recent years, anti-Zionist radicals have schemed to transform Holocaust commemorations into occasions to demonize Israel and implicitly, most Jews. Often, as was the case several years ago with an event at Northeastern University in Massachusetts, the schemers found willing collaborators and dupes among event organizers. In Norway, where anti-Zionism and anti-Semitism are two sides of the same coin, a self-described anti-racist organization, SOS racisme, used its position as an organizer of an event to commemorate Kristallnacht to demand that Zionists (a.k.a. Jews willing to show up as unabashed Jews) be barred from participating.
A letter sent to the organization's European headquarters in Paris and published on-line from Erez Uriely, who signed as the Director of the Norwegian Israel Center Against anti-Semitism (NIS), states the following:
Dear Executives of the SOS Racisme,

We hereby ask for your kind assistance in the following matter.

During the commemoration of the Crystal Night in Oslo, 9 November this year, the Norwegian branch of SOS Racisme, as a main sponsor of the arrangement, acted to prevent a group of Jews to participate in the official commemoration arrangement the way they have done for nearly 60 years, by gathering in prayer under the Israeli flag wearing kipa and talit. To prevent these Jews and a few of their Norwegian friends (about 15 persons) from participating according to Jewish tradition, the sponsor, SOS Rasisme, told the police that this group had in mind to impair the arrangement, and thus had this group, of mainly old and partly disabled people, removed from the city centre by the police under threat of imprisonment if they did not obey. The police told them that mortally dangerous people would be in the streets during the arrangement, and that precaution therefore had to be taken also for their personal safety.It is important to underline that this group of Jews had no intention of making any kind of separate demonstration against the official arrangement; they carried no banners or slogans, and they represented no particular organizations.
SOS Racisme was founded in France and bills itself as the largest anti-racist organization in Europe. It has chapters in a number of European countries. A recent chief executive officer of the Norwegian branch, Kjell Gunnar Larsen, was arrested in April 2014 and charged with embezzling funds for the past ten years. The organization has also come under scrutiny as a result of in-fighting in which ousted members claim the organization was taken over by Marxist-Leninist-Maoists, a veritable radical-left trifecta.
It was only last year that the French branch of SOS Racisme joined with other groups to combat anti-Semitism on Twitter. What appears to be happening here is an example of far-left extremists taking over a vulnerable organization and using it to promote their anti-Zionist/anti-Jewish agenda. This is not uncommon. In the United States, an academic group, the American Studies Association, was taken over by similarly-minded radicals and used to pass an anti-Israel resolution. In this case, the organization was discredited, but far-reaching damage is done when formerly scholarly or humanitarian organizations are taken over and used for nefarious purposes by extremists.
It might be recalled that Kristallnacht was a government inspired and directed pogrom against Germany's Jewish community. It punctuated the isolation of the Jews from German society and heralded their eventual mass murder in lands occupied by Germany several years later. The irony is inescapable that this group seeks to do to the Norway's Jewish community what the Nazis intended to do when they organized Kristallnacht - namely to ostracize it.
The most recent reports on the controversy indicate that those in charge of the event did not agree to exclude Jews and as a result SOS Racisme boycotted it. However, a vocal critic of Israel will be speaking at it. A similar commemoration in Denmark turned into a fundraiser for Gaza. The trend here is unmistakable. Expect Holocaust commemorations to increasingly be turned into venues to express contempt towards Israel and solidarity with enemies of the Jewish people.
Posted by SS at November 14, 2014 11:19 AM
Comments
Posted by: Anonymous at November 15, 2014 10:13 AM
Guidelines for posting
This is a moderated blog. We will not post comments that include racism, bigotry, threats, or factually inaccurate material.
Post a comment