« United Arab Emirates' List of Terrorist Groups Makes Waves | Main | Jerusalem Terror: A Rorschach Test for Buzzfeed »
November 18, 2014
In CNN Headline on Jerusalem Terror, Integrity is Another Casualty
As another Palestinian terrorist brutally cuts short the lives of innocent Israeli civilians going about their daily lives -- in this case, the victims were Jewish worshippers carrying out their morning prayers in a busy synagogue -- yet another major news source publishes a headline casting the murderers as the victims.
Last month, when a Palestinian driver slammed his vehicle into a crowd of pedestrians, killing two, the initial AP headline was: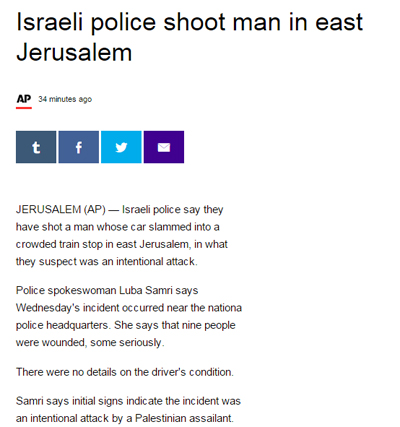 Similarly, following the brutal terror attack this morning in which two armed terrorists massacred worshippers in their prayer shawls and phylacteries in the Jerusalem neighborhood of Har Nof, the initial headline was: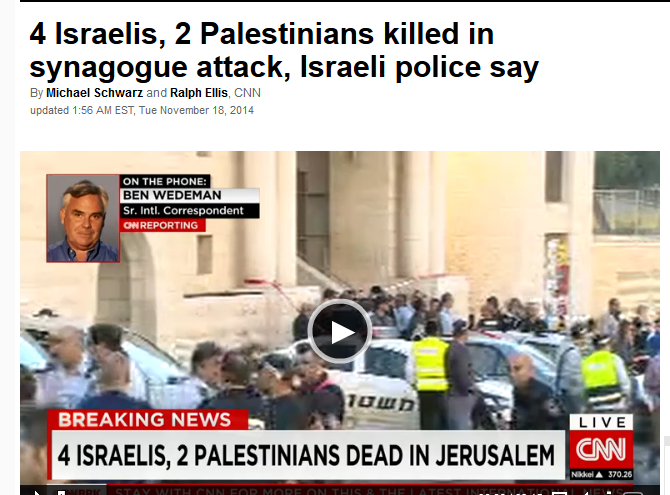 Shortly later, the relatively improved headline was:
The headline's passive language, however, still fails to note that Palestinians killed the Israelis.
The New York Times, too, is displaying its usual skittishness about headlines clearly stating Palestinians carried out violence.

Perhaps maybe the roof caved in due to a structural flaw? Or maybe there was a gas leak? The casual reader who only skims headlines is missing the two critical elements a headline is supposed to convey: who (Palestinians) and what (killed).
Of course, Times headlines are not always so oblique about violence in the Israeli-Palestinian context. For instance, last week the paper's clear headline was:

And so The Times' double standard lives on through yet another Palestinian attack against Israeli civilians. Palestinians kill, and The New York Times' obscures.
Posted by TS at November 18, 2014 03:17 AM
Comments
There are calls to remove Ben Wedeman from Israel.
This guy knew exactly what he was doing by lying and making it like Israel attacked Arabs.
Wedeman wanted to cover up this atrocity of Palestinians slaughtering Jews praying.
Its sickening to think, this Pallywood liar is reporting everyday for CNN to make up lies like this. Israel needs to kick him out ASAP.
Just Google this from yesterday.
Demand to Revoke CNN Reporter's Press Pass for Attack Headline
Headline presenting Har Nof massacre as 'Israeli police shot two Palestinian civilians' crosses red line for Samaria leader.
By Uzi Baruch and Tova Dvorin
First Publish: 11/18/2014
Posted by: Ken Kelso at November 19, 2014 10:29 AM
Guidelines for posting
This is a moderated blog. We will not post comments that include racism, bigotry, threats, or factually inaccurate material.
Post a comment