« October 2014 | Main | December 2014 »
November 25, 2014
Where's the Coverage? Israeli Arabs Prefer Israel to Palestinian Authority

The mainstream media relishes reporting on a proposed bill being debated in Israel that would identify the Jewish state as the nation-state of the Jewish people. News outlets are falling over themselves to quote the bill's critics and Israel's critics, regurgitating the tired accusations about Israel's broken or failing or stained democracy and how anti-Arab and racist Israel must be.
But, they are utterly silent about a new poll released by Israel's Channel 10 News and conducted by the Statnet Research Institute, headed by Israeli Arab statistician Yousef Makladeh. Israel Today reports:
Makladeh asked fellow Arabs plainly and clearly: "Under which authority do you prefer to live, Israel or the Palestinian Authority?"

A full 77 percent of respondents chose Israel.
The vast majority – over three quarters – of Israeli Arabs prefer to live under the "racist" "apartheid regime" of Israel rather than under the Palestinian Authority.
According to The Jerusalem Post:
Prof. Sammy Smooha, a sociologist from the University of Haifa, told the Post that the survey's findings appear reasonable.

Smooha points out that his own annual opinion survey, the Index of Arab-Jewish Relations in Israel (based on a random representative sample of 700 face-to-face interviews of those 18 and up, taken in fall 2013), shows that 63.5% of Arabs said Israel is a good place to live.

It also found that only 20.9% of the Arabs are willing to move to a Palestinian state.
These facts seem to undermine the popular media narrative. Is that the reason we're forced to ask… Where's the coverage?
Posted by SC at 06:02 PM | Comments (1)
November 24, 2014
World Vision Issues Vague Statement About Violence in Jerusalem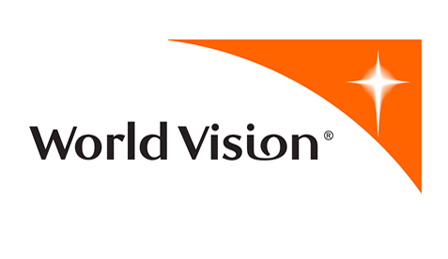 World Vision, a $2 billion Christian charity that promotes child welfare in poor countries throughout the world, has recently issued a putatively "balanced" press release about the escalating violence in Jerusalem. The undated release (which does not appear to have any links to it on World Vision's media page) is not as hostile toward Israel as WV materials have been in the past, but it is problematic nonetheless. It reads in part as follows:
Less than a week ago, a village mosque north of Ramallah was burned down and believed to have been a settler attack on Palestinian Muslims. On Tuesday, five Israelis were killed, and several others wounded, by two Palestinians armed with a pistol, axes and knives at a synagogue in West Jerusalem during a time of prayer. World Vision condemns such acts of terror and religious violence, and shares the grief of those who mourn the passing of all who have died in the violence of recent weeks.
To people unfamiliar with the events of the past week, this passage above appears to be a responsible, even-handed response to violence in Jerusalem, but in reality, it serves to obscure what responsible commentators would confront head-on: The role the allegedly "moderate" Palestinian Authority has played in encouraging violence against Israel and Jews prior to the synagogue attack.

World Vision does not address reality but instead, offers a chronology that suggests that the attack against the synagogue was in retaliation for the act of arson against the mosque.
This should not come as a surprise, however.
World Vision bills itself as an "advocacy" organization, but does not direct its advocacy at the misdeeds of Palestinian leaders who have engaged in a campaign of incitement against Israel and Jews that has undermined the ability of Arabs to live peacefully next door to Jews.
This incitement, which has echoes of the hate spewed by the Grand Mufti of Jerusalem in the 1930s, simply cannot be ignored by people intent on promoting the welfare of children in Palestinian society.
Teaching children to hate is a violation of their human rights. It's simply not a problem that World Vision, which allegedly "advocates" on behalf of children, can reasonably ignore. But if WV addresses the problem, it doesn't draw much attention to its efforts.
By way of comparision, World Vision has promoted Internet safety for children in Palestinian society. It remains silent about hate speech on Palestinian Television – much of it directed at children in the Gaza Strip.
If World Vision can address the issue of Internet safety, why can it not also address the issue of hate incitement in Palestinian media which clearly has a negative impact on children?

Posted by dvz at 03:28 PM | Comments (1)
'Tiny Tunisia' Joined by U.A.E. -- Israel Still Big
"Tiny" Tunisia returned to the pages of The Washington Post, this time joined by the "tiny" United Arab Emirates. As for Israel, much smaller than either Tunisia or the U.A.E., its size apparently still lacks newsworthiness.
As CAMERA pointed out two years ago this month, The Post found it important to tell readers that at least eight countries geographically larger than Israel, including Tunisia, were "tiny," without reminding them of the Jewish state's comparative—and stragetically vulnerable—smallness of. Make that nine.
In a front-page article headlined "A Quiet, Potent Ally to U.S.; American generals call the UAE 'Little Sparta' for its ability and willingness to fight" (November 9), Post correspondent Rajiv Chandrasekaran writes "as a tiny nation on the Arabian Peninsula comprising seven sometimes-fractious emirates led by different royal families, the UAE could have opted to go the way of other small [emphases added] countries in its neighborhood by building a modest military focused on domestic security and instead turning to the regional powerhouse—Saudi Arabia—for protection from Iran and other external threats."
Instead, its leaders have bought "the most advanced weapons the Emirates can obtain" and "chosen to use what it has acquired."
The UAE's land mass is 32,000 square miles, approximately four times bigger than Israel's. Its population, estimated at close to five million (less than half are citizens) is smaller than Israel's eight million plus.
As for Tunisia, in The Washington Post, it's still tiny. In an Op-Ed headlned "Tunisia, a democratic anomaly" (October 27), the newspaper's deputy editorial page editor, Jackson Diehl, wrote that "nowhere did the voting matter more, however, than in tiny [emphasis added] Tunisia—the North African state where the Arab revolutions began nearly four years ago, and the only place where civil war or a renewed dictatorship has not been the result."
Two days later in The Post, Tunisia grew from tiny to "small." Correspondent Kevin Sullivan's news feature, "How Tunisia's Arab Spring has fueled the Islamic State; New religious freedoms, then a crackdown, have stirred radicalism" (October 29) informed readers that "Tunisia, a small North African country of 11 million people, has become the largest source of foreign fighters joining the Islamic State and other extremist groups in Syria and Iraq…"
As we noted previously, Tunisia's 63,170 square miles makes it eight times larger than Israel, with at least three million more people. Israel has the land area of New Jersey but is just four miles wide west of Jerusalem in the 1949 armistices lines and barely nine just north of Tel Aviv. Regardless, news media run the newsworthiness of Israel's geographic "tinyness" and vulnerability in the Middle East through the distorting filter of "big Israel oppressing tiny Palestinians." So long as they do, readers, viewers and listeners will lack the context necessary to understand the conflict.
Posted by ER at 02:12 PM | Comments (0)
NY Times Public Editor Tackles Israeli-Palestinian Coverage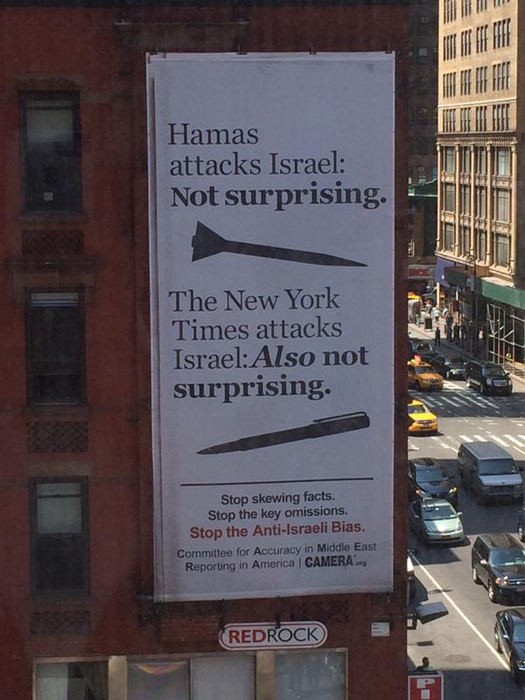 Margaret Sullivan, public editor for The New York Times, yesterday tackled the thorny topic of the paper's coverage of Israel and the Palestinians ("The Conflict and The Coverage"). By way of background, Sullivan mentions CAMERA's three-story billboard facing the newsroom at the The Times.
The Times is biased, both sides charge. The Jerusalem bureau chief, Jodi Rudoren, somehow manages to be — as the critics would have it — both wildly anti-Israel and practically a tool of the Israeli government.

One organization, Camera, even pays for a billboard across the street from the Times building to accuse the paper of regularly attacking Israel. And pro-Palestinian websites like The Electronic Intifada have detailed the ways in which, as they see it, Times coverage fails to do justice to an outcast people. Many readers have castigated me for not jumping into the fray to represent their position. I have searched for a way to write something useful and productive amid all this emotion and criticism, and have — until now — put it off.
Sullivan lays out a number of recommendations, among them:
Diversify. Strengthen the coverage of Palestinians. They are more than just victims, and their beliefs and governance deserve coverage and scrutiny. Realistic examinations of what's being taught in schools, and the way Hamas operates should be a part of this. What is the ideology of Hamas; what are its core beliefs and its operating principles? What is Palestinian daily life like? I haven't seen much of this in The Times.
The above recommendation addresses one of CAMERA's primary concerns about Times coverage: that the paper consistently exonerates Palestinians of any culpability for the conflict and downplays their incitement.
Nevertheless, concerning Sullivan's focus particularly on Hamas incitement, CAMERA's Gilead Ini tweets: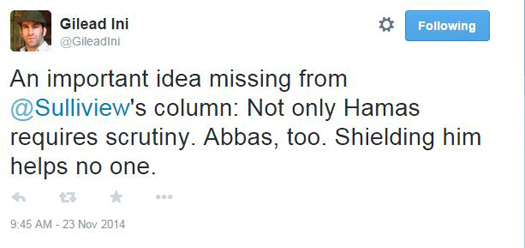 Another noteworthy element of Sullivan's column is a comment she cites by international news editor Joseph Kahn:
I asked Joseph Kahn, the top editor for international news, about this context complaint.

"I hear that criticism a lot," he said. But, he said, behind it are "people who are very well informed and primed to deconstruct our stories based on their knowledge." The Times does not hear this complaint, he said, from readers who are merely trying to understand the situation.
In other words, according to Kahn, uninformed readers who are unaware of the facts do not object to Times coverage. This he finds reassuring?
In a related development, Jodi Rudoren and this CAMERA writer both spoke at the same conference at Bar-Ilan University yesterday on the international media's coverage of the summer conflict between Hamas and Israel. The Jerusalem Post reports:
But the day's most contentious figure was New York Times Jerusalem bureau chief Jodi Rudoren, who drew criticism from members of the crowd as well as fellow panelists.

"I was going to bring my Kevlar vest, but I left it in the hopes of a good dialogue," she said before beginning her talk.

She said Israeli media culture is characterized by "myopia where each partisan looks at the articles or the TV reports focusing on the parts that they think offend their narrative or their arguments."

She singled out the advocacy group Committee for Accuracy in Middle East Reporting, known as CAMERA.

"They are not for accuracy in Middle East reporting, they are for promoting the Israeli point of view," she said, adding that it is "perfectly within their right" to pursue that mission.

Speaking at a later panel, CAMERA's Israel director, Tamar Sternthal, said Rudoren's remarks "misrepresented" the organization's strategy and goals. She went on to criticize the New York Times coverage of Israel, pointing out what she said were skewed headlines such as "Palestinians are suspected as two Israelis die in knife attacks," referring to the Har Nof attack. [sic. CAMERA note: That headline was regarding the earlier stabbings of Almog Shiloni and Dalia Lemkus.]

She also mentioned other incidents when, she said, CAMERA exposed unfair coverage in The Wall Street Journal and Los Angeles Times.
Posted by TS at 05:37 AM | Comments (4)
November 21, 2014
Youtube User Combines Copyright Infringement and Anti-Israel Vandalism
This is getting weird. Really weird.
It's one thing to take copyrighted material – in this case a detective series produced by the British Broadcasting Company – and post it on Youtube.
It's another thing altogether to vandalize that video by pasting anti-Israel propaganda into the video so that you can foist your ideas on unsuspecting viewers.
But that is what one Youtube user, who goes by the moniker "Justice4All," has done. He has posted a number of episodes of the British television show "Midsomer Murders" on Youtube and posted propaganda for the Palestinian Solidarity Campaign.
Here's proof: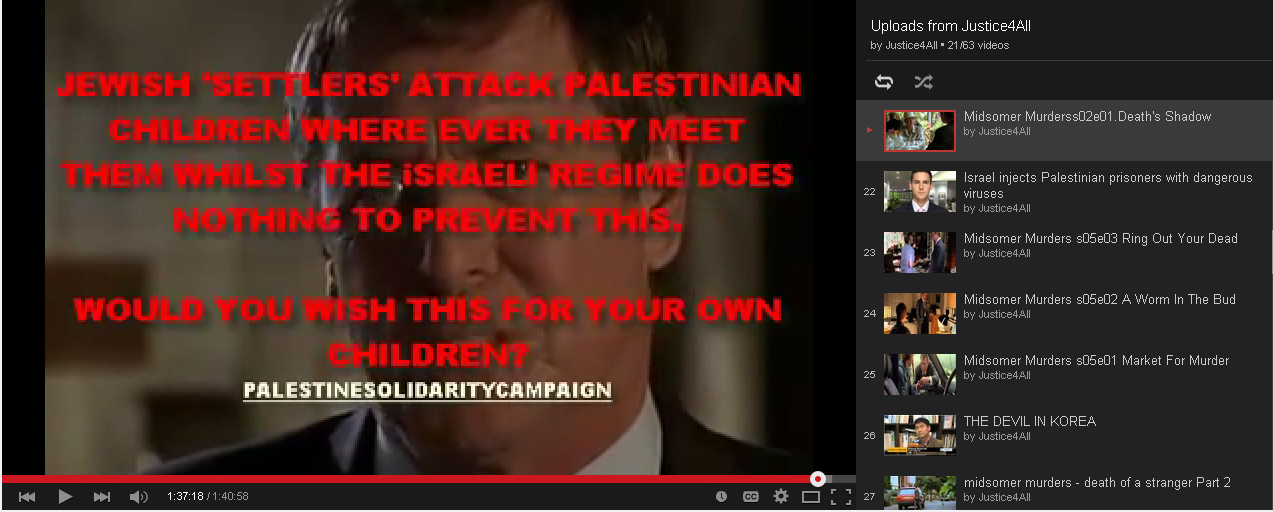 How ironic. Not only is "Justice4all" a copyright thief, he (or she) is a vandal (and an anti-Israel kook to boot).
For those who are interested, Midsomer Murders show is produced, by the way, by ITV.
Posted by dvz at 04:38 PM | Comments (0)
November 20, 2014
A Moment of Silence For the Terrorists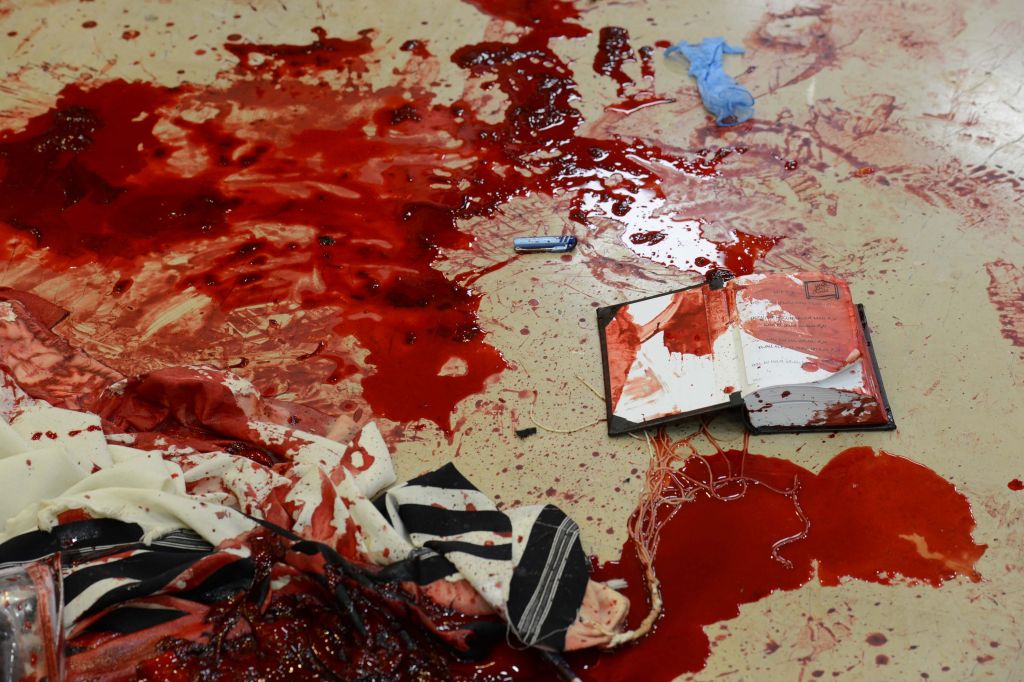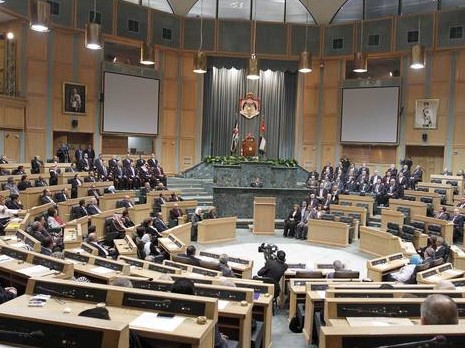 The Times of Israel and a few other publications report that the Jordanian Parliament observed a moment of silence for the perpetrators of the Jerusalem synagogue massacre. It will be interesting to see if this is confirmed in other news media. It will also be interesting to see if this event garners any mention in the mainstream media including The New York Times.
Jordan was the second Arab state to make peace with Israel and it is the state with which the Israeli leadership has the closest relationship. It also boasts a population that is virulently anti-Semitic. A recent ADL survey of global anti-Semitism ranked Jordan eighth in the world in the proportion of its population that holds anti-Semitic views, with 81 percent of the population falling into that category.
The visceral hostility of Jordan's population toward Israel and toward Jews in general is an issue that the media is loath to cover and that officials avoid. But avoiding problems doesn't make them go away.
Posted by SS at 02:03 PM | Comments (2)
Noah Browning's Shocking Moral Equation
A tweet posted by Reuters correspondent Noah Browning in the aftermath of the synagogue bloodbath revealed an appalling callousness to the loss of Jewish lives, as well as a shocking obtuseness in his understanding of events.
This was posted just hours after the savage butchery that left four Jewish worshipers and a young police officer dead and others blind, comatose or severely injured.
Perhaps Browning believed he was revealing an unconventional but clever insight by comparing a damaged Quran, whose burning he unquestioningly attributed to Jews, with a prayer book soaked in blood shed by Palestinian terrorists. But what his outrageous moral equation actually revealed was his own cold-hearted disdain both for Jewish lives and for journalistic integrity.
In fact, the circumstances of the fire at the mosque where the Quran was found were uncertain and debated. While Palestinians blamed the fire on a "Price Tag" arson attack by Jewish extremists, an investigative reporter raised questions about the cause of the fire when he discovered a burnt fuse box and nearby space heater at the site -- commonly evidence of an electrical fire.
Perhaps Reuters should reconsider entrusting its coverage of the Palestinian-Israeli conflict to a reporter with such lack of judgement and understanding.
Posted by RH at 12:01 PM | Comments (0)
Palestinians Butcher Israelis, Wall Street Journal Pivots to Blaming Israel
Joshua Mitnick and Nicholas Casey, correspondents for the Wall Street Journal, have long evidenced a bias favoring the Palestinians in their reporting on the Israeli-Palestinian conflict. But in recent months this bias has spun out of control. In a deluge of articles on the upsurge in violence around Jerusalem starting in October, Mitnick and Casey have struck a monotonic chord that always points to Israeli actions and policies as the problem.
Even after the most recent case in which two Palestinians butchered four rabbis praying in a synagogue readers are not spared the usual spin. On November 20, page A10 of the Journal published two articles on the violence encompassing nearly the entire page. The top-of-the-page headline states, "Israel Destroys Home of Car-Attack Suspect."
The entire thrust of the article is to condemn Israel for "reviving an internationally condemned demolition policy." In mantra fashion, each paragraph begins with a harsh Israeli action or a criticism of Israeli action.
Paragraph two starts with "Prime Minister Benjamin Netanyahu threatened a harsh response..."
Paragraph three starts with a description of the action taken by Israeli soldiers against the family of one of the terrorists.
Paragraph four starts with "The demolition marked the return of one of israel's m ost controversial policies..."
Paragraph five starts with "The U.S. views home destruction as counterproductive..."
Paragraph six starts with "Palestinians and rights groups say home demolitions aren't a deterrent and only encourage families to seek revenge, fueling a vicious cycle."
Paragraph seven starts with a quote from a pro-Palestinian leftist group B'Tselem, "You cannot punish people for other people's actions."
Where is the discussion of the Palestinian actions; relentless official incitement to violence based on instilling in its youth a vengeance-driven sense of victimization; Muslim religious doctrine that fuels intolerance of Jews. The failure to attribute Palestinian responsibility to the current violence indicates a patronizing, soft-bigotry on the part of Mitnick and Casey toward the Palestinians.
The second article "Jerusalem's Jews and Arabs are Fearful after Massacre" provides more of the same one-sided coverage. It opens with the claim that "A heightened sense of fear and division gripped both Jews and Arabs of this city..." Except that in reality, there is not parity here. There have been two innocent Arab victims versus sixteen Israeli ones (fourteen Jews and two Druze) in Jerusalem and the West Bank since June when three Israeli teenagers were kidnapped and murdered. The deadly violence and the murderous provocation is overwhelmingly on the Arab side and has been consistently for many years.
Mitnick and Casey then engage in revisionist history as they contend that the "current crisis has been in the making since Israel captured the city's eastern districts from Jordan in the 1967 war..." They have chosen a convenient starting point, as the chronology of Arab violence against Jews in Jerusalem in the 1920s, 1930s, 1940s apparently doesn't count. Why not point to the ethnic cleansing of Jews from eastern Jerusalem in 1949 as the starting point?
Mitnick and Casey allege that it was the Israeli leader's neglect of Palestinian neighborhoods that is to blame. The incitement to hating Jews and the persistent urging by Palestinian leaders to engage in violence doesn't make it into their account. Nor does praise for the terrorists as "martyrs" from the most influential institutions in Palestinian society matter. In fact, Palestinian President Mahmoud Abbas made a point of praising the attempted assassin of Jewish activist Yehuda Glick as a "martyr." Such topics reside in a black hole that neither Mitnick nor Casey has the inclination to grapple with. It might require them to push beyond the boundaries of their comfort zone in blaming Israeli authorities.
It would be bad enough if these unbalanced articles were presented in an editorial or opinion piece. But what makes Mitnick's and Casey's articles particularly detestable is that their one-sided account is offered under the guise of reporting the news.
The Wall Street Journal can do better.
Posted by SS at 11:15 AM | Comments (2)
November 19, 2014
CBS This Morning Flubs Important Detail About Synagogue Attack
CBS This Morning flubbed an important detail about yesterday's attack at a synagogue attack that left five people dead. In the introduction to a correspondent's report about the attack, CBS journalist Norah O'Donnell reported that "It happened at a contested religious site in Jerusalem."
The Kehilat Yaakov Synagogue where the attack took place is no such thing. The Har Nof neighborhood where the synagogue is located is in the western part of Jerusalem. It is not a "contested religious site."
Update: CBS News has removed the video in question.

Posted by dvz at 02:22 PM | Comments (2)
November 18, 2014
Where's the Coverage? Hezbollah Terrorists Active in South America

Peruvian authorities will charge a Lebanese man, Mohammed Amadar, arrested last month in Lima after he confessed to being a member of Hezbollah and had been found with traces of TNT on his hands and in his apartment.
The Times of Israel wrote:
The suspect was reportedly gathering intelligence on Jewish institutions and places frequented by Israeli hikers. Authorities said that they were questioning Amadar to learn more about his intended targets.

According to a report in Haaretz, citing the local La Republica newspaper, Amadar arrived in Peru in November 2013 and married a woman with both Peruvian and American citizenship just two weeks later. The couple left for Brazil, and then returned to Peru earlier this year.

Peruvian authorities were tipped off to Amadar's alleged activities by the Israeli intelligence service Mossad, and he was questioned after returning to Peru.

Authorities kept him under constant surveillance, discovering that neither he nor his wife worked, but received Western Union money transfers, a method often used by Hezbollah.
And Reuters reported:
The United States has designated Hezbollah a foreign terrorist organization since 1997, and U.S. officials have sought to limit the group's operations in South America.

They have expressed concern in particular about Iran supporting Hezbollah activities around the triple border area of Paraguay, Argentina and Brazil.
Yet, despite the Reuters story and the coverage in the local and Israeli press, no major media outlets reported this story.
As the negotiations continue between Iran and the P5+1 (the permanent members of the United Nations Security Council – the United States, France, the United Kingdom, China and Russia – plus Germany) on the extent to which Iran will be allowed to continue its nuclear program, Iranian-backed terrorists are operating in America's back yard. This doesn't warrant reporting in mainstream media outlets? Of course it does. So… Where's the coverage?
Posted by SC at 04:10 PM | Comments (0)
CNN Apologizes for Problematic Headline
Earlier today, we pointed to CNN's headline about the Palestinian terror attack on a Jerusalem synagogue, which failed to make any distinction between the perpetrators and the victims.
CNN, we noted, eventually changed the headline from "4 Israelis, 2 Palestinians killed in synagogue attack, Israeli police say" to the somewhat more descriptive "4 Israelis killed in synagogue attack, Israeli police say." The current headline, even more detailed but still in the passive voice, reads "Israel: 4 dead after men with knives, gun attack Jerusalem synagogue."
To its credit, CNN has also apologized for its initial headline. According to the Jerusalem Post, the network has explained that
As CNN updated its reporting on the terrorist attack on the synagogue in Jerusalem earlier today, our coverage did not immediately reflect the fact that the two Palestinians killed were the attackers. We erred and regret the mistake.
Posted by GI at 02:30 PM | Comments (5)
Jerusalem Terror: A Rorschach Test for Buzzfeed
Jon Passantino writes in Buzzfeed this morning:

Why the scare quotes? Mr. Passantino, what do you call it when Palestinian attackers wielding axes, knives and guns mow down worshippers in a crowded synagogue still wrapped in their prayer shawls and phylacteries?
Posted by TS at 05:18 AM | Comments (2)
In CNN Headline on Jerusalem Terror, Integrity is Another Casualty
As another Palestinian terrorist brutally cuts short the lives of innocent Israeli civilians going about their daily lives -- in this case, the victims were Jewish worshippers carrying out their morning prayers in a busy synagogue -- yet another major news source publishes a headline casting the murderers as the victims.
Last month, when a Palestinian driver slammed his vehicle into a crowd of pedestrians, killing two, the initial AP headline was: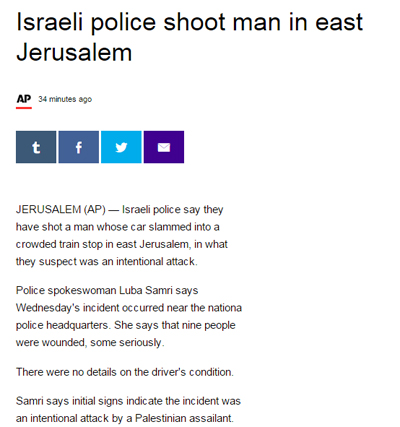 Similarly, following the brutal terror attack this morning in which two armed terrorists massacred worshippers in their prayer shawls and phylacteries in the Jerusalem neighborhood of Har Nof, the initial headline was: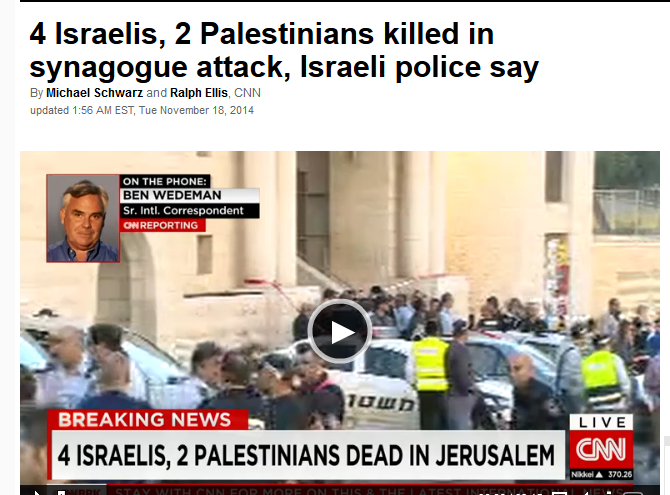 Shortly later, the relatively improved headline was:
The headline's passive language, however, still fails to note that Palestinians killed the Israelis.
The New York Times, too, is displaying its usual skittishness about headlines clearly stating Palestinians carried out violence.

Perhaps maybe the roof caved in due to a structural flaw? Or maybe there was a gas leak? The casual reader who only skims headlines is missing the two critical elements a headline is supposed to convey: who (Palestinians) and what (killed).
Of course, Times headlines are not always so oblique about violence in the Israeli-Palestinian context. For instance, last week the paper's clear headline was:

And so The Times' double standard lives on through yet another Palestinian attack against Israeli civilians. Palestinians kill, and The New York Times' obscures.
Posted by TS at 03:17 AM | Comments (1)
November 17, 2014
United Arab Emirates' List of Terrorist Groups Makes Waves
On Nov. 16, 2014, the United Arab Emirates [UAE] published a list containing what it considers to be terrorist groups.
Notably, the list includes the Council on American Islamic Relations [CAIR], which has had relations with American law enforcement groups like the FBI and has had involvement with American schools. Also included was the Muslim America Society [MAS], which is active on college campuses.
Here is the official translated announcement and list.
It will be interesting to see how much coverage this gets in the mainstream media.
Posted by SS at 05:08 PM | Comments (0)
November 16, 2014
International Business Times Headline Fail
The International Business Times tripped up on this headline last week:
Yehuda Glick, the target of attempted murder, is an activist who campaigns for Jewish prayers rights on the Temple Mount, Judaism's holiest site. He has not been involved in any violence, nor does he belong to any banned or militant group which would qualify him as a "militant." The reporter, Lewis Dean, accurately identified Glick as "Temple Mount activist Yehuda Glick."

Here's Glick explaining his vision, including equal access to the Temple Mount site for Muslims, Christians and Jews. Also, below is a clip of Glick praying for peace on the Temple Mount together with Muslim worshippers.
CAMERA has requested a correction. Stay tuned for an update.
Posted by TS at 07:55 AM | Comments (0)
LA Times' Double Standards on Jerusalem
Palestinian actions not fueling violence? A condolence letter from Palestinian President Mahmoud Abbas to the family of Mu'ataz Hijazi, the attempted murder of Yehuda Glick (Image courtesy of the
Meir Amit Intelligence and Terrorism Information Center
)

Recent Los Angeles Times' coverage the Temple Mount's importance in Islam and Judaism is marred by a double standard.
Two articles in the last week have noted that the contested site is "the third-holiest site in Islam," but at the same time they neglected to note that it is also the most sacred site in Judaism.

Laura King and Batsheva Sobelman wrote in Thursday's print edition:


Jewish activists' calls to lift the prayer ban have fueled the Palestinian fear that Israel is trying to take over the plateau, which includes Al Aqsa mosque, the third-holiest site in Islam.
Similarly, King and Solbelman reported the next day:
Al Aqsa mosque, which is in the hilltop compound, is considered the third-holiest site in Islam. Jews revere the mount as the site of their ancient temples.
If an article notes that the Temple Mount is Islam's third holiest site, then it should also note that it is Judaism's most sacred site.

In the past, Batsheva Sobelman has correctly reported on this issue. Most recently, on Oct. 31, she commendably reported: "Temple Mount is considered the holiest site in Judaism, and Al Aqsa is regarded as the third-holiest site in Islam."

In a separate glaring omission, the two articles of last week point to "growing Jewish presence in parts of the city the Palestinians seek to make the capital of their future state" as fueling growing tension and violence in Jerusalem. (In the other article, the wording is "the enlargement of Jewish enclaves in traditionally Arab parts of the city has been a source of growing anger.")
The articles fail to note that, in addition, increased Palestinian incitement, including originating from President Abbas' own government, has fueled tension and violence. For instance, days before the attempted murder of Rabbi Yehuda Glick, Abbas himself has declared that "all means must be used to prevent Jews from going up to the Haram."

Posted by TS at 06:44 AM | Comments (1)
November 14, 2014
Juden Raus! Norway Anti-Racist Group Demands Exclusion of Jews From Kristallnacht Commemoration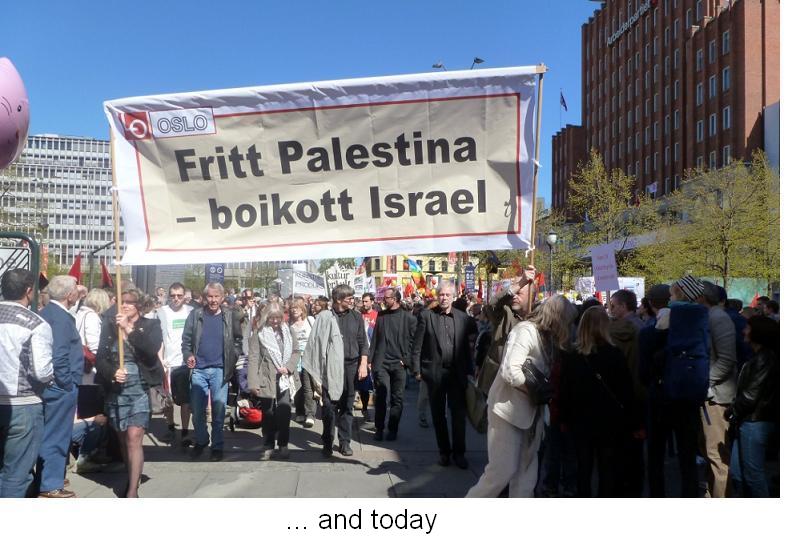 In recent years, anti-Zionist radicals have schemed to transform Holocaust commemorations into occasions to demonize Israel and implicitly, most Jews. Often, as was the case several years ago with an event at Northeastern University in Massachusetts, the schemers found willing collaborators and dupes among event organizers. In Norway, where anti-Zionism and anti-Semitism are two sides of the same coin, a self-described anti-racist organization, SOS racisme, used its position as an organizer of an event to commemorate Kristallnacht to demand that Zionists (a.k.a. Jews willing to show up as unabashed Jews) be barred from participating.
A letter sent to the organization's European headquarters in Paris and published on-line from Erez Uriely, who signed as the Director of the Norwegian Israel Center Against anti-Semitism (NIS), states the following:
Dear Executives of the SOS Racisme,

We hereby ask for your kind assistance in the following matter.

During the commemoration of the Crystal Night in Oslo, 9 November this year, the Norwegian branch of SOS Racisme, as a main sponsor of the arrangement, acted to prevent a group of Jews to participate in the official commemoration arrangement the way they have done for nearly 60 years, by gathering in prayer under the Israeli flag wearing kipa and talit. To prevent these Jews and a few of their Norwegian friends (about 15 persons) from participating according to Jewish tradition, the sponsor, SOS Rasisme, told the police that this group had in mind to impair the arrangement, and thus had this group, of mainly old and partly disabled people, removed from the city centre by the police under threat of imprisonment if they did not obey. The police told them that mortally dangerous people would be in the streets during the arrangement, and that precaution therefore had to be taken also for their personal safety.It is important to underline that this group of Jews had no intention of making any kind of separate demonstration against the official arrangement; they carried no banners or slogans, and they represented no particular organizations.
SOS Racisme was founded in France and bills itself as the largest anti-racist organization in Europe. It has chapters in a number of European countries. A recent chief executive officer of the Norwegian branch, Kjell Gunnar Larsen, was arrested in April 2014 and charged with embezzling funds for the past ten years. The organization has also come under scrutiny as a result of in-fighting in which ousted members claim the organization was taken over by Marxist-Leninist-Maoists, a veritable radical-left trifecta.
It was only last year that the French branch of SOS Racisme joined with other groups to combat anti-Semitism on Twitter. What appears to be happening here is an example of far-left extremists taking over a vulnerable organization and using it to promote their anti-Zionist/anti-Jewish agenda. This is not uncommon. In the United States, an academic group, the American Studies Association, was taken over by similarly-minded radicals and used to pass an anti-Israel resolution. In this case, the organization was discredited, but far-reaching damage is done when formerly scholarly or humanitarian organizations are taken over and used for nefarious purposes by extremists.
It might be recalled that Kristallnacht was a government inspired and directed pogrom against Germany's Jewish community. It punctuated the isolation of the Jews from German society and heralded their eventual mass murder in lands occupied by Germany several years later. The irony is inescapable that this group seeks to do to the Norway's Jewish community what the Nazis intended to do when they organized Kristallnacht - namely to ostracize it.
The most recent reports on the controversy indicate that those in charge of the event did not agree to exclude Jews and as a result SOS Racisme boycotted it. However, a vocal critic of Israel will be speaking at it. A similar commemoration in Denmark turned into a fundraiser for Gaza. The trend here is unmistakable. Expect Holocaust commemorations to increasingly be turned into venues to express contempt towards Israel and solidarity with enemies of the Jewish people.
Posted by SS at 11:19 AM | Comments (1)
November 13, 2014
International Law Expert Says Gaza Not Occupied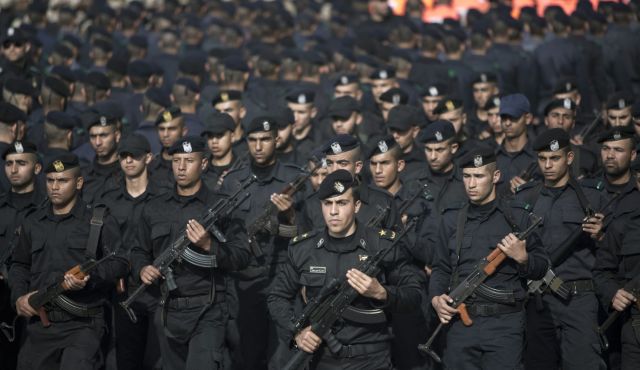 Hamas gunmen who control the Gaza Strip

We've commented before on the unquestioning acceptance by some journalists of the view that the Gaza Strip remains occupied even after Israel's pullout, despite disagreement within the scholarly community about the question. Eugene Kontorovich, Yuval Shani, Eyal Benvenisti, Ruth Lapidoth, Elizabeth Samson, Solon Solomon, Benjamin Rubin, Avi Bell, and Justus Reid Weiner have all argued the territory is no longer under Israeli occupation.
In a piece in the Washington Post's Volokh Conspiracy today, Kontorovich elaborates on "Why Gaza is not remotely occupied," as his headline puts it.
An occupation is traditionally defined as a power exercising "effective control" over the territory in a way that displaces the prior government. The occupying power is expected to provide law and order, essential services, and all the basic functions of government – and is thus required to have the kind of control that allows for that. As the ICJ has put it, occupation requires a territory to be "actually placed under the authority of the hostile army." There has never been a finding of a such "remote" occupation, lasting nine years after the end of physical occupation and in the presence of a distinct and hostile local government. Indeed, even puppet governments are not considered occupation by the puppet master.
You can read more, including how the recent precedent of Uganda v. Congo should inform views of the Gaza situation, at the source here.
Update: And definitely don't miss part II of Kontorovich's argument, in which he explains how, according to the problematic logic used by some, Gaza actually occupies Israel.
Posted by GI at 04:07 PM | Comments (1)
Where's the Coverage? Joint Chief Chairman Declares "Israel Went to Extraordinary Lengths" to Protect Gaza Civilians

Discussing Operation Protective Edge at a forum at the Carnegie Endowment for International Peace in New York City, Chairman of the Joint Chiefs of Staff, Martin Dempsey stated:
I actually do think that Israel went to extraordinary lengths to limit collateral damage and civilian casualties.

[…]

In this kind of conflict, where you are held to a standard that your enemy is not held to, you're going to be criticized for civilian casualties.
To their credit, Reuters reported this speech and The Volokh Conspiracy, a blog affiliated with though not under the editorial control of The Washington Post, ran a piece. It was covered in niche publications as well as the Jewish and Israeli press, but none of the major news outlets reported this remarkable admission.
Especially since it was already published by Reuters, it would have been easy for news media to report on America's top general stating unequivocally that Israel went to extraordinary lengths to prevent civilian casualties in Gaza. But they didn't.
The Times of Israel wrote::
Dempsey listed Israel Defense Forces measures such as the "roof-knocking" and the dropping of warning leaflets as part of their attempts to protect civilian lives.

"The IDF is not interested in creating civilian casualties. They're interested in stopping the shooting of rockets and missiles out of the Gaza Strip and into Israel," Dempsey argued.

The American general recounted that an American delegation visited Israel three months ago to learn lessons from the conflict, "to include the measures they took to prevent civilian casualties and what they did with tunneling."

Dempsey's statements stand in stark contrast to a recent Amnesty International report accusing Israel of displaying "callous indifference" in attacks on family homes in the densely populated coastal area.
Naturally, the Amnesty International report critical of Israel was widely reported in such major outlets as The New York Times, The Los Angeles Times, USA Today, Time Magazine, Newsweek, The Guardian and many more. Yet, when it comes to something positive - and true! - about Israel… Where's the coverage?
Posted by SC at 09:31 AM | Comments (3)
November 12, 2014
NY Times Headlines: A Study in Contrasts
When it comes to double standards in coverage about Israelis versus Palestinians, The New York Times delivers without fail.
Yesterday we noted how New York Times editors modified what had been a clear headline about a fatal Palestinian attack ("Palestinian Stabs Israeli Soldier at Tel Aviv Train Station") in order to downplay Palestinian violence. The result was:

Note the passive language ("Palestinians are suspected") which downplays Palestinian culpability, as does the formulation that the Israelis "die," as opposed to "are killed." Moreover, editors inserted the word "suspected," though Islamic Jihad and Hamas had already confirmed that the culprits were Palestinian.
Compare yesterday's sanitized language about Palestinians stabbing Israelis to today's straightforward headline about Israeli forces shooting a Palestinian:

Israeli forces just kill. Unlike Palestinian killers, they're not "suspected."
Matt Seaton, a staff editor for The New York Times opinion page, recently tweeted that the paper, which has run a series of Op-Eds charging Israeli society at large as essentially racist, would dedicate space to Palestinian racism as "soon as they have [a] sovereign state to discriminate with."
Will Times headline writers also hold Palestinians to the same standards as Israelis only once there is a Palestinian state?
Posted by TS at 04:06 AM | Comments (0)
November 11, 2014
Snapshot of NY Times Headline Bias
What a difference 16 hours makes in the life of a New York Times headline about Palestinian violence.
Shortly after a Palestinian stabbed to death Israeli soldier Almog Shiloni yesterday outside a Tel Aviv train station, the straightforward headline was "Palestinian Stabs Israeli Soldier at Tel Aviv Train Station." The headline clearly identified the perpetrator (a Palestinian), what he did (stabbed), and his victim (an Israeli soldier).
The headline in today's International New York Times, an edition which has an earlier deadline, is consistent with the original, clear wording: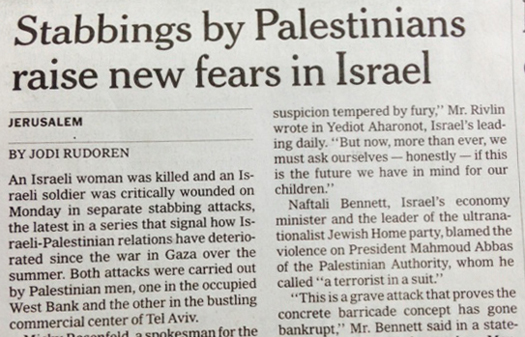 Apparently, the clear identification of a Palestinian as being responsible for a violent attack was uncomfortable for one or more Times editors.
The article's headline now appears online as:

This is also the headline that appears in print in the domestic edition of The New York Times, which has a later deadline than the international paper.
A glance at the Newsdiff site, which tracks changes made to news headlines, reveals the striking evolution of The Times headline. A snapshot of the Newsdiff log tracking the changes is below, with the newer headlines at the top:
The first, clearer headline is active ("Palestinian stabs"), while the passive language in the newest headline ("Palestinians are suspected") downplays Palestinian culpability. The first headline states as fact that a Palestinian was responsible for the stabbing. According to the latest version , Palestinians are only "suspected."
In the current headline, Israelis "die," they are not "killed," language which again downplays Palestinian responsibility for violence.
The headline isn't the only aspect of the story which underwent transformations which served to downplay Palestinian culpability for violence. The first paragraph of the international edition reports as fact that Palestinians were responsible for the two stabbings: "Both attacks were carried out by Palestinian men. . . "
In the later domestic edition, the fact that Palestinians carried out the attacks was downgraded to an Israeli assertion: "An Israeli soldier and a woman were killed on Monday in separate stabbing attacks that the authorities attributed to Palestinian men . . ."
What is the justification for The Times' caution in identifying the assailants as Palestinians? By yesterday afternoon, hours before editors inserted the term "suspected" into the headline, Islamic Jihad already claimed responsibility for the second deadly attack in which Dalia Lemkus, 26, was murdered. Regarding the first attack, Hamas spokesman Husam Badram readily attributed it to Palestinians, saying that the killing of soldier Almog Shiloni "reflects the tenacity of our people to resist the occupation and move against the crimes [committed] in al-Aqsa and in Jerusalem."
See also: "How Dumb are New York Times Headline Writers?"
Posted by TS at 03:41 AM | Comments (4)
November 07, 2014
ICC Declines to Pursue Charges Against Israel in Mavi Marmara Incident
The official statement released by the Prosecutor of the International Criminal Court:
Following a thorough legal and factual analysis of the information available, I have concluded that there is a reasonable basis to believe that war crimes under the jurisdiction of the International Criminal Court ("ICC" or the "Court") were committed on one of the vessels, the Mavi Marmara, when Israeli Defense Forces intercepted the "Gaza Freedom Flotilla'' on 31 May 2010. However, after carefully assessing all relevant considerations, I have concluded that the potential case(s) likely arising from an investigation into this incident would not be of "sufficient gravity" to justify further action by the ICC. The gravity requirement is an explicit legal criteria set by the Rome Statute.
The Israeli government welcomed the decision to close the case although it expressed

reservations with respect to some of the legal reasoning and several incautious statements in the Prosecutor's report.
Posted by SS at 03:54 PM | Comments (0)
November 06, 2014
PLO Directive to Media: Do Not Use Term "Temple Mount"
For years now, Palestinians and Muslims have been attempting to erase the perception among the public of Jewish connection to the Temple Mount and to Jerusalem. Their latest attempt involves a directive from the PLO National Affairs Department to journalists directing all international media to desist from using the term "Temple Mount" and replace it instead with the term "Al Aqsa Compound":
All international media representatives are advised to adhere to international law and correct any other existing terminology used. The Al-Aqsa Mosque compound is not a disputed territory and all other terms, therefore, are null and void.
It remains to be seen which international media outlets will dutifully follow these marching orders.
Posted by RH at 11:12 AM | Comments (6)
November 05, 2014
Where's the Coverage? Hamas Leader's Wife Treated in Israel

Last year, the media ignored the fact that Hamas Prime Minister Ismail Haniyeh's granddaughter was treated for a serious illness in Israel. Since then, Haniyeh's daughter was hospitalized at Tel Aviv and his mother-in-law was treated in Jerusalem.
Similarly, the press paid no attention to the fact that Mahmoud Abbas' wife underwent surgery in Israel even as the search was ongoing for the three Israeli teens kidnapped by terrorists and later found murdered.
And now again, the mainstream media refuses to report another story of extraordinary Israeli compassion, even for the families of the Jewish state's most vociferous enemies. The Jewish Press reports that the sister of deputy Hamas leader Moussa Abu Marzouk is receiving medical care in Israel:
Halamiya Shecata, age 60, is currently in critical condition at an Israeli hospital where she has been treated several times before for her cancer, military sources said.

For years, the Coordinator of Government Activities in the Territories (COGAT) has allowed Palestinian Authority Arabs from Gaza, Judea and Samaria to enter Israel for humanitarian and medical reasons. Each week a list of those with special needs is approved after review of each individual case.

Family connections do not apply, claims the COGAT in speaking with media.
Only the Jewish, Israeli and some niche press outfits have covered this news.
Remember, Hamas is a terrorist group sworn to the destruction of Israel and Jews around the world. It engaged in armed conflict with the Jewish state only a few months ago, continues to fire missiles and mortars at Israel and has created a labyrinth of underground tunnels intended to launch terrorist attacks against Israeli soldiers and civilians. Further, the group's charter states:
• "Israel will exist, and will continue to exist, until Islam abolishes it, as it abolished that which was before it." [From the words of] The martyr, Imam Hasan al-Banna', Allah's mercy be upon him.

• …our fight with the Jews is very extensive and very grave, and it requires all the sincere efforts. It is a step that must be followed by further steps; it is a brigade that must be reinforced by brigades upon brigades from this vast Islamic world, until the enemies are defeated and Allah's victory is revealed.

• The Islamic Resistance Movement is a distinct Palestinian movement that is loyal to Allah, adopts Islam as a way of life and works to raise the banner of Allah over every inch of Palestine.

• …the Islamic Resistance Movement aspires to realize the promise of Allah, no matter how long it takes. The Prophet, Allah's prayer and peace be upon him, says: "The hour of judgment shall not come until the Muslims fight the Jews and kill them, so that the Jews hide behind trees and stones, and each tree and stone will say: 'Oh Muslim, oh servant of Allah, there is a Jew behind me, come and kill him,' except for the Gharqad tree, for it is the tree of the Jews."

• In the face of the Jewish occupation of Palestine, it is necessary to raise the banner of jihad.

• "Say to the unbelievers: You will surely be defeated and gathered in Hell. Most terrible shall be your resting-place." (Koran, 3:12)
And yet, Israel provides medical and humanitarian treatment to even the families of the terrorist leaders. What other nation does this? And… where's the coverage?
Posted by SC at 11:57 AM | Comments (0)
November 04, 2014
Where's the Coverage? Egypt Demolishes Homes Near Gaza
Israel's announcement it planned to construct new apartments in existing Jewish neighborhoods of eastern Jerusalem, building that would not displace nearby Arab residents, drew a Palestinian-Jordanian call for a U.N. Security Council "emergency meeting," a State Department reprimand and some full-blown news coverage. One example appeared in The New York Times ("Netanyahu Expedites Plan for More Than 1,000 New Apartments in East Jerusalem," online Oct. 27, 2014, in print the following day).
Never mind that Jerusalem has been the religious and national heart of Judaism and the Jewish people for 3,000 years, or that since reunification under Israeli control in 1967 the city's Arab population has grown faster than its Jewish sector. New housing for Jews is controversial, and therefore newsworthy.
No so controversial or newsworthy, apparently, was Egypt's demolition of dozens of homes by explosives and bulldozers along the Egyptian-Gaza Strip boundary. Cairo's military government acted after Islamic extremists killed 33 soldiers at a Sinai Desert checkpoint and, according to some accounts, escaped by tunnel into Gaza.
The action reportedly signaled removal of 10,000 residents from approximately 800 houses in a few days. In mainstream news media it generally rated a news brief—when covered at all. For example, The Washington Post's print edition ("Egypt: Army razes homes along Gaza border," October 30) reduced a 742-word, 17-paragraph Associated Press' dispatch and accompanying photograph ("Army blows up homes, Egyptians evacuate near Gaza," online at The Post October 29) to 157 words and five paragraphs in print, with no picture.
Apartments for several thousand Jews in eastern Jerusalem, to be constructed as part of a years'-long process—headlines. Dynamiting and bulldozing the homes of 10,000 Egyptians so Cairo can establish a buffer zone against Islamic terrorists alleged supported from the Gaza Strip—small print and not much of it.
Where's the coverage?

Posted by ER at 01:39 PM | Comments (0)
Updated: Wall Street Journal Inflates UN Figure For Destoyed Gaza Homes
Nov. 19 Update: WSJ Responds, the Report is Correct
Today, an editor from The Wall Street Journal gave a detailed response to CAMERA's correction request. The editor points out that this UNRWA reports cites 100,000 damaged or destroyed homes. In addition, the OCHA report that CAMERA previously cited (see below for our original, mistaken report) noted that, according to the initial assessment, 20,000 housing units, or six percent of the housing stock was damaged or destroyed. In addition, the report stated, "Current estimates indicate that 29 per cent of Gaza's total housing stock has been affected, which is more than double the initial estimate." CAMERA regrets the error.
Nov. 4 -- In an Oct. 30 article ("100,000 Gazans still homeless as winter approaches, Says U.N."), The Wall Street Journal overstates the United Nations' figure for the number of homes destroyed or severely damaged this summer in Gaza by 500 percent.
The Journal reports:
In fact, the September 2014 Humanitarian Bulletin for the U.N.'s Office for the Coordination of Humanitarian Affairs states, "According to initial estimates, 20,000 housing units, nearly six per cent of the housing stock, were severely damaged or destroyed during the hostilities. . . "
Stay tuned for an update about a correction.
Posted by TS at 05:21 AM | Comments (0)