« How David Sheen Lies About Israel | Main | After Suspected Terror Attack Against Israelis, Early AP Headline Reported: "Israeli Police Shoot Man in East Jerusalem." »
October 20, 2014
How Max Blumenthal Lies About Israel
Moments ago, we posted an item about anti-Israel activist David Sheen's brazen mistranslation of Benjamin Netanyahu, a lie he used to shamefully draw an analogy between the Israeli prime minister and the Nazis.
Not to be outdone, fellow extremist Max Blumenthal is likewise spreading blatant lies on Twitter about Israeli prime ministers:
@damianjread he made those remarks to Molodet activists.

— Max Blumenthal (@MaxBlumenthal) October 18, 2014
The comment was made in support of, and in elaboration of, another Twitter user's claim that Ariel Sharon had said:
It is the duty of Israeli leaders to explain to public opinion, clearly and courageously, a certain number of facts that are forgotten with time.

The first is that there is no Zionism, colonialism, or Jewish state without the eviction of the Arabs or the expropriation of their land.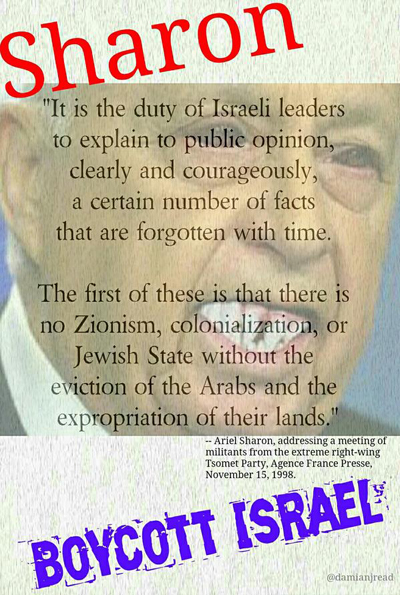 The classy image Blumenthal approvingly commented on, which appears above, claims the quote was reported by wire service Agence France Press on November 15, 1998. When Blumenthal was asked on Twitter to provide substantiation for the quote, he remained silent. When Twitter users informed him that the quote appeared to be a hoax, he again failed to reply, and did not delete or amend his tweet.
As Anthony Julius reported several years ago pointed out on the (now defunct) Z-Word blog, the quote
is taken from an op-ed column in the Israeli daily newspaper Yediot Ahronot of July 4 1972. At the time, Ariel Sharon was head of the IDF's southern command. Even given Israel's relatively open political culture, it would have been surprising to find him publicly calling for the eviction of Arabs from their homes and for the expropriation of their land.

He did not do so (though it is common enough in anti-Zionist discourse falsely to attribute blood-curdling statements to him). Yeshayahu Ben-Porat, a journalist and commentator, in fact wrote the words. In the column from which the quotation has been taken, Ben-Porat called on the government to recognise honestly the implications of occupation.
Nurit Baytch, who had quickly raised doubts about the false quote, noticed that the Twitter user Max Blumenthal supported has previously spread anti-Semitism on Twitter — for example, an image in which Facebook is hilariously described as "Nosebook" and its Jewish founder was depicted as an octopus with a long hook nose.
Posted by GI at October 20, 2014 03:26 PM
Comments
Thank you for exposing Max and his lying comment.
To really show how Max will lie for Palestinian terrorists, you must read this.
Max Blumenthal tried to say a Thai worker massacred the Fogel family in Itamar 3 years ago.
Even after it became known that 2 Palestinian terrorists committed the massacre, Blumenthal made excuses for these Arab terrorists.
Max is a sicko who turns a blind eye to Palestinian mass murderers.
Here's the lying article Max wrote.
Just Google.
After Itamar: Exploring the cynical logic that makes everyone a target
Max Blumenthal on March 15, 2011
Posted by: Ken Kelso at October 21, 2014 10:28 AM
His business should read: Professional Liar.
Posted by: Hannah at October 21, 2014 10:40 AM
I have not seen any indication that Max has anything in his life aside from obsessive hatred of Israel. Day in and day out he fights against the Zionist evil doers, oblivious to what his deranged obsession has already cost him and his father in terms of their career. Quite sad and pathetic really.
Posted by: Hal at October 26, 2014 12:46 AM
Best honest news reporting on internet
Posted by: Morton Bramson at November 8, 2014 09:35 AM
Guidelines for posting
This is a moderated blog. We will not post comments that include racism, bigotry, threats, or factually inaccurate material.
Post a comment