« To Slam Israel, a New York Times Op-Ed Deceives Its Readers | Main | Abbas' 'Dangerous Grandstanding' Nailed by Washington Post »
October 06, 2014
Richard Falk Teams with Al-Jazeera America to Vilify Israel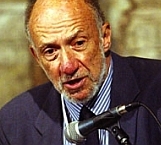 Professor and former U.N. official Richard Falk's latest anti-Israel fantasy is posted on Al-Jazeera America's Website. It contains his usual abundance of misinformation about Israel. It has not (yet) aired on the network's TV channel.
Why would a news network put out the welcome mat for an unreliable individual like Falk? Al-Jazeera America's coverage of Israeli-related news is predominantly biased against Israel which is not surprising since the network's owner/operator is the government of Qatar, which has supplanted Iran as the primary funder of Hamas, the U.S.-designated terrorist group ruling the Gaza Strip that is dedicated to the destruction of Israel and genocide of Jews.
In the posting, Falk characteristically hurls invective and malicious distortions such as "recent vicious attack on Gaza" while failing to point out the viciousness of Hamas rocket attacks on Israeli citizens and omitting mention that Israel has gone to extraordinary lengths to minimize casualties among the Hamas ruled populace.
Likewise, he mentions "charges of genocide directed against Israel in connection with [Operation] Protective Edge" for which there is not an iota of proof while omitting any mention that Hamas is a genocidal organization according to its own charter.
Disappointingly, on Oct. 6, 2014 Yahoo Website contained a favorable teaser linked to Falk's Al-Jazeera America posting.
How far out is Falk? He's even endorsed the conspiracy theory that America was behind the 9/11 attack at the Pentagon and World Trade Center known to have been perpetrated by Muslim Arabs.
Yahoo should consider apologizing for its October 6, 2014 Falk teaser.
Posted by MK at October 6, 2014 01:20 PM
Comments
Guidelines for posting
This is a moderated blog. We will not post comments that include racism, bigotry, threats, or factually inaccurate material.
Post a comment