« Where's the Coverage? Israel's Enemies = America's Enemies | Main | NYT Gets It Wrong on ISIS »
September 04, 2014
Why is Religious Freedom Group Still Downplaying Mistreatment of Christians in Iran?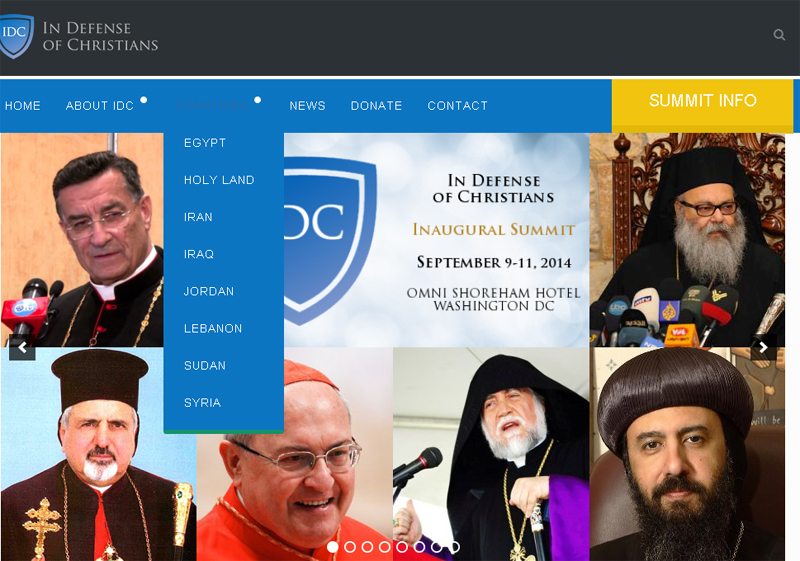 A few days ago, Snapshots posted an entry about the newly established organization "In Defense of Christians,� which is hosting a summit next week in Washington, D.C. about the mistreatment of Christians in Muslim-majority countries in the Middle East.
The organization's focus is primarily on Christians in the region, but its website says that it is devoted to promoting the cause of religious freedom and the welfare of all religious minorities in the region.
Interestingly enough, the organization's website mentioned the plight of Baha'i but made no mention to their country of origin, Iran, where they are brutally mistreated along with Christians, Jews and Muslims.
This prompted Snapshots to ask a pretty obvious question: Why did In Defense of Christians, an organization ostensibly created to promote the cause of religious freedom make no mention whatsoever of Iran, which is one of the worst abusers of religious freedom in the world?
The organization's website did not even include Iran in a drop down menu listing the countries that were on its radar.
Well, sometime in the past few days, that has been rectified. The drop-down menu on the organization's website now includes a link to Iran and Sudan, another country where religious minorities are brutally mistreated.
Hold the Hallelujahs.
If you click on the link to Iran, you'll see that In Defense of Christians provides the following information about religious freedom in Iran:
For people who can read between the lines, this does not qualify as an honest assessment of the sad state of affairs in Iran, but a shameful effort to downplay the regime's horrible record regarding religious freedom.
By reporting that the government guarantees "Christian minorities certain rights� In Defense of Christians is not promoting religious freedom as a principle, but is obliquely suggesting that the Iranian governments imposition of dhimmi status on Christians somehow qualifies as the protection of freedom of religion in that country. That's not how it plays out in reality.
Not by a long shot.
In 2011, the World Evangelical Alliance's Religious Liberty Commission warned that Christians and other religious minorities were likely to experience increased oppression in the years ahead. The report read in part, as follows:
The [Iranian] constitution grants equal rights to all Iranians irrespective of ethnicity, color, or language – but not irrespective of religion. All basic freedoms are subject to Islamic principles – as the State interprets them. All non-Muslim Iranians are required to mention their religion on census forms. Non-Muslims cannot work in the government or commissions in the armed services. There is a provision for minority representation in the parliament, but the Christian quota is only for the Orthodox denomination, and not for Protestants or Roman Catholics. For admission in universities, all students must pass a test in Islamic theology.

Worse, a Muslim can kill a non-Muslim in Iran and get away with it by paying blood-money, which too can be waived off by courts, without any jail term. If a Muslim kills a Baha'i or an "apostate,� authorities will not take any action, as if they were not human beings. And if a non-Muslim man has sexual relations with a Muslim woman, he faces death.
It appears the commission's prediction that things will get worse for Christians in Iran have come true. In 2013, the U.S. State Department reported the following:
The [Iranian] constitution states that all laws and regulations must be based on undefined "Islamic criteria� but protects certain aspects of religious freedom for members of some but not all religious minorities. In practice, the government severely restricted religious freedom, and there were reports of imprisonment, harassment, intimidation and discrimination based on religious beliefs. There were continued reports of the government charging religious and ethnic minorities with moharebeh (enmity against God), "anti-Islamic propaganda,� or vague national security crimes for their religious activities. Those reportedly arrested on religious grounds faced poor prison conditions and treatment, as with most prisoners of conscience. The frequent arrest and harassment of members of religious minorities continued during the year, following a significant increase in 2012. There continued to be reports of the government imprisoning, harassing, intimidating, and discriminating against people because of their religious beliefs. The constitution states that Ja'afari Shia Islam is the official state religion. It provides that "other Islamic denominations are to be accorded full respect� and officially recognizes only three non-Islamic religious groups, Zoroastrians, Christians, and Jews, as religious minorities. Although the constitution protects the rights of members of these three religions to practice freely, the government imposed legal restrictions on proselytizing and regularly arrests members of the Zoroastrian and Christian communities for practicing their religion. The government occasionally vilified Judaism. The government considers Bahais to be apostates and defines the Bahai faith as a "political sect.� The government prohibits Bahais from teaching and practicing their faith and subjects them to many forms of discrimination not faced by members of other religious groups.

Government rhetoric and actions created a threatening atmosphere for nearly all non-Shia religious groups, most notably for Bahais, as well as for Sufi Muslims, evangelical Christians, Jews, and Shia groups not sharing the government's official religious views. Bahai and Christian groups reported arbitrary arrests, prolonged detentions, and confiscation of property. Government-controlled broadcast and print media continued negative campaigns against religious minorities, particularly Bahais. All religious minorities suffered varying degrees of officially sanctioned discrimination, particularly in the areas of employment, education, and housing. Bahais continued to experience expulsions from, or denial of admission to, universities.
There is no way that In Defense of Christians can square its bland and dishonest statement about the status of Christians in Iran ("some persecutions have been documented�) with what is actually happening in that country, unless of course, "some persecutions� actually means "a systematic campaign of persecutions."
So we are left with a question similar to the one we asked a couple of days ago: Why is In Defense of Christians still downplaying the mistreatment of Christians in Iran, even after making a gesture of acknowledging the problem?
What is going on here?

Posted by dvz at September 4, 2014 04:24 PM
Comments
I have not been able to find much information about In Defense of Christians, but from this and vagueness about its purpose/beliefs, I am inclined to think it is a front for Palestinian Liberation Theology. I might add Ted Cruz's experience at the conference adds to my suspicion.
Posted by: Anonymous at September 11, 2014 10:47 AM
Actually it says numerous persecutions, not some. You also have to remember that vulnerable people are in these countries and can be persecuted for comments made on sites by others. Do we want more persecution all for the sake of drama?

DVZ responds: IDC changed the text after Snapshots pointed out the problem with the original statement. The blog entry includes a screenshot of the original language. Did you not see it?
And if people are put in danger by people speaking out, then why is IDC talking at all?
Posted by: Kathy at September 11, 2014 01:18 PM
Dexter: very prescient.
Look how Ted Cruz was just shouted down. IDC is totally a an Iranian front group.
Posted by: wayne at September 11, 2014 05:40 PM
Guidelines for posting
This is a moderated blog. We will not post comments that include racism, bigotry, threats, or factually inaccurate material.
Post a comment