« USA Today, not The Guardian, Gets 'State Land' Story Right | Main | Israeli Tactics Greatly Reduced Gaza Civilian Casualty Rates »
September 18, 2014
Washington Post Readies Palestinian-American Clan for Close-Upside Down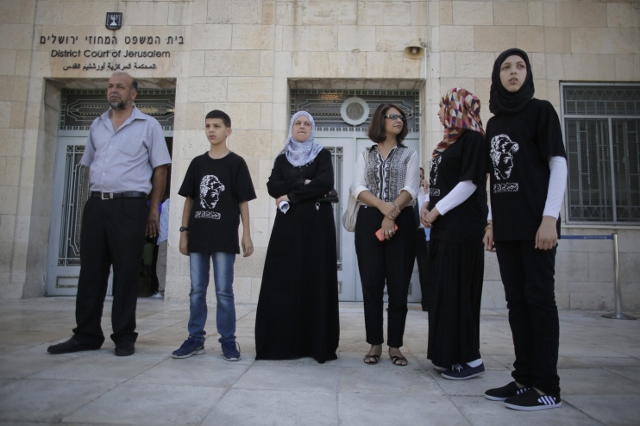 The Washington Post's report on hardships and arrests of family members of Muhammad Abu Khieder, the Palestinian Arab teenager slain in Jerusalem following the murder of three Jewish youths ("Slayings, protests, arrests vex Palestinian clan with strong U.S. ties", Sept. 2, 2014) withheld until near its conclusion key information.
Leo Rennert, a former White House correspondent and Washington bureau chief for McClatchy Newspapers, pointed out that the dispatch, by Post correspondent Anne Marie O'Connor, "paints the family's painful travails in 26 paragraphs spread over more than a half page with a headline that reads: 'Palestinian clan tested by ordeal in Jerusalem – Sprawling Abu Khieder family, which has strong U.S. ties, has endured a killing and many arrests'."
According to Rennert, "O'Connor describes in her lead 'an old and respected Palestinian clan that welcomes American cousins' to Jerusalem for family reunions. But sadly, this 'established middle-class family' now has been engulfed 'in riots, beatings and arrests.' " ("WaPo's Tolerance of Palestinian Violence", American Thinker, Sept. 5, 2014). So focused was the article on the family struggles that it almost didn't mention the reasons Israeli authorities arrested various family members. Rennert asks:
"So what gives? Why all these arrests? It's a bit of a mystery."
He observed that The Post mentioned one abu Khieder member threw firecrackers at police but did not explain why members were arrested.
As Rennert wrote: "Finally, in the 19th and 20th paragraphs, O'Connor belatedly sheds a bit more light on the throwing of rocks as she recounts that after the killing of Mohammad Abu Khieber, Palestinian 'protesters responded with rocks and Molotov cocktails.' Asks Israeli police spokesman Mickey Rosenfeld: 'Why was an American citizen involved in a full-scale riot and throwing stones, and arrested with six other students who were also wearing kefiyeh, and some of them armed with knives?'
"Which finally and much too late brings readers to the nub of all those arrests. It's the violence. But by then," Rennert suspected "most readers have long since switched to other articles in The Post's September 4 edition."
Rennert charged that The Post delayed on connecting the Khieder family to violent protests, and asserted that the paper "camouflages with all sorts of irrelevancies" its obscuring of key facts.
"Thus, the headline informs us that a Palestinian clan is enduring an ordeal, that it's a sprawling family with strong ties to the U.S., that it is enduring a 'killing and many arrests.' But no mention in a lengthy headline that the same family and other Palestinians have used violent tactics with lethal weapons to express their grief or protests."
Was The Washington Post okay with rock throwing by Palestinian Arabs at Israeli police and other security forces as a protest tactic? Rennert said that the newspaper's headline key words, "slaying, protests, arrests, vex Palestinian clan," suggested that the answer was yes. -- Ziv Kaufman

Posted by ER at September 18, 2014 03:27 PM
Comments
It is ironic that your blog's guidelines for posting comments reads, "This is a moderated blog. We will not post comments that include racism, bigotry, threats, or factually inaccurate material.", when in fact that is precisely what your blog does in an effort to debunk all of the aforementioned 'sins'.
Posted by: Steve Wenick at September 19, 2014 06:55 AM
Guidelines for posting
This is a moderated blog. We will not post comments that include racism, bigotry, threats, or factually inaccurate material.
Post a comment