« Is the Goal Victory or Achieving Mission Success? | Main | J Street Funded Representatives Oppose Iron Dome »
September 08, 2014
Turning the Tables on Israel's Critics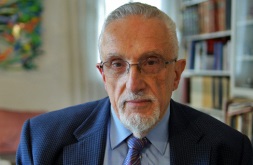 Manfred Gerstenfeld
Author, scholar and specialist in the study of campaigns demonizing Israel, Manfred Gerstenfeld seven years ago launched the ingenious blog Bad News from The Netherlands which continues to make an important point powerfully. If news media ONLY (or nearly only) report the negative stories about a nation, readers will inevitably gain the impression that nation is bad. As he describes in a September 3, 2014 Jerusalem Post column, his device was to focus on Holland where Israel is often given rough media treatment and simply to post stories in blog form every day about the shortcomings of that country, its corruption, discrimination, sloth, violence and general failure to operate as a wholesome, just society.
Begun in 2007, the Bad News blog now has 2,800 entries and reading it underscores the experience ordinary news consumers may have in reading about Israel in stridently negative and biased news outlets. However much one may hold positive views about Holland (or Israel), immersion in endless stories about misconduct has an impact.
Gerstenfeld writes:
Some foreign experts and I use the blog's items in lectures and articles both in Israel and abroad, to illustrate media bias. Its main use, however, is to be able to show experts and foreign journalists, within two minute of conversation, how the demonizing of Israel works. Many reactions I got were surprising. Irrespective of which seven negative items were up on the front page, a number of them told me that after reading this blog, the Netherlands would not be a country they would want to visit. I would argue that they knew that the blog only contains negative items. They replied that this did not matter – since as these news items are true, they would not want to go the Netherlands.

Such reactions to the blog taught me, once again, how strong the force of negative exposure is, and that it often cannot be compensated for by positive publicity, however much effort is made in that direction.
The exercise is valuable for anyone who doubts the importance of reducing, correcting and preventing distortions that may poison perceptions.
Posted by AL at September 8, 2014 03:46 PM
Comments
Guidelines for posting
This is a moderated blog. We will not post comments that include racism, bigotry, threats, or factually inaccurate material.
Post a comment