« Why is Religious Freedom Group Still Downplaying Mistreatment of Christians in Iran? | Main | Is the Goal Victory or Achieving Mission Success? »
September 05, 2014
NYT Gets It Wrong on ISIS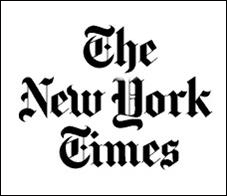 In a Sept. 4, 2014 article about the murder of Steven J. Sotloff, The New York Times reported the following:
Moshe Yaalon, the Israeli defense minister, on Wednesday signed a declaration outlawing ISIS though there has not been any indication of activity by the group in Israel or the Palestinian territories.
The Times got it wrong. ISIS activity has been documented in the Gaza Strip. Writing in The Gatestone Institute in Early July, Khaled Abu Toameh reported the following:
Last month, Hamas sent its policemen and militias to disperse a rally organized by ISIS followers in the Gaza Strip to celebrate the recent "military victories" of the terrorist group in Iraq. Hamas prevented local journalists from covering the event as part of its attempt to deny the existence of ISIS in the Gaza Strip. … Earlier this year, masked militiamen in the Gaza Strip posted a video on YouTube in which they declared their allegiance to ISIS. The militiamen are believed to be members of a radical Islamist salafist group that has been operating in the Gaza Strip for the past few years. … At the funeral of two Islamists killed by the Israel Defense Forces last week in Gaza, funeral-goers carried flags and banners of ISIS.
That's not all.
Another article published by JNS in August cited Egyptian Newspaper Al Masry Al Youm, which, according to JNS reported that "15 ISIS terrorists were arrested by Egyptian security forces trying to enter Gaza from the Sinai. Eyad al-Bazam, a spokesman for Hamas, has flatly denied the reports, calling them 'blatant lies' and part of an Egyptian smear campaign against Hamas."
ISIS may not have a huge presence in the Gaza Strip, but The Times' assertion that there "has not been any indication of activity by the group in … the Palestinian territories" does not hold water.
There are signs of ISIS activity in the Gaza Strip.
Posted by dvz at September 5, 2014 01:29 PM
Comments
Just a bit correction:
Sept 24, 2014 ? Today is Sept 06 2014.
DVZ: Thanks!
Posted by: Maurice at September 5, 2014 09:10 PM
Guidelines for posting
This is a moderated blog. We will not post comments that include racism, bigotry, threats, or factually inaccurate material.
Post a comment