« In International NY Times, Palestinian Refugees Forever Young | Main | USA Today, not The Guardian, Gets 'State Land' Story Right »
September 17, 2014
NY Daily News Photo Bias
A headline yesterday in The New York Daily News is perfectly straightforward -- "New Mortar Fire From Gaza Strikes Israel During Ceasefire" -- but photo editors nevertheless had trouble selecting an appropriate image. Though Israel had just been hit from fire from Gaza, editors selected four images of debris and devastation in the Gaza Strip, some of them from last month.
Editors did not include a single image relating to yesterday's mortar attack on Israel, or to any of the more than 4,500 rocket and mortar attacks on the Jewish state over the summer.
The headline and most prominent image follow:
In addition, a photo gallery accompanying the article includes the following three images:

A Palestinian family takes shelter amid the rubble of their destroyed house in Khan Younis.

A Palestinian family looks from the window at the rubble of the collapsed 15-story Basha Tower following early morning Israeli airstrikes on Aug. 26.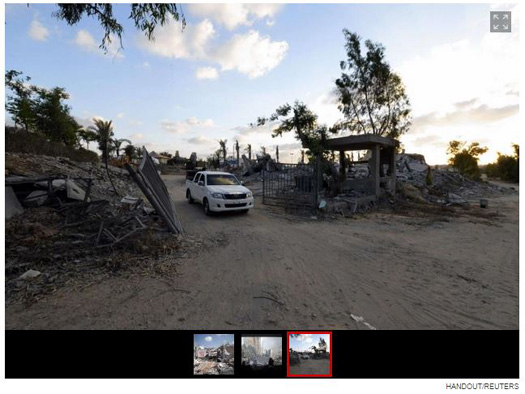 A car exits the Bisan City Zoo in the northern Gaza Strip Sept. 12.
What exactly is the newsworthiness and relevance of a car exiting a zoo in the northern Gaza Strip to a mortar attack on southern Israel?
Though photo editors may not have been able to find an image of this particular mortar attack which caused no damage or injuries in this case, there was no shortage of images of the results of rocket and mortar attacks from August.
Posted by TS at September 17, 2014 04:18 AM
Comments
Guidelines for posting
This is a moderated blog. We will not post comments that include racism, bigotry, threats, or factually inaccurate material.
Post a comment