« Revealing the Truth About the Gaza Conflict Piece By Piece | Main | Why is New Religious Freedom Group Silent on Abuses in Iran? »
September 02, 2014
3 "Health Workers" Killed in Israeli Strike Exposed as Terrorists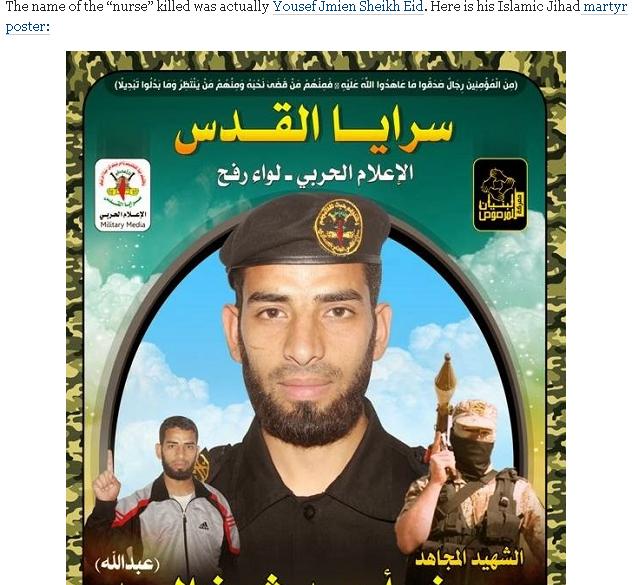 The Algemeiner on September 2, 2014 published an article exposing three "heath workers" killed in an Israeli missile strike as Islamic Jihad operatives. The Algemeiner piece reproduces the original report from the Palestinian Center for Human Rights [PCHR], one of the better known non-governmental "human rights" groups in Gaza that western news media occasionally cite. PCHR's entry on Aug. 2 stated,
At approximately 15:30 (August 1), Israeli warplanes bombarded an ambulance of the Ministry of Health. As a result, 3 health workers were killed: 'Aatef Saleh al-Zameli, 42, the driver; Yousef Ejmai'an al-Zameli, 33, a nurse; and Yousef Jaber Darabih, 25, a volunteer paramedic.
The Algemeiner published the martyr photographs of the "driver," "nurse" and "volunteer paramedic" proudly posted on the web site of the terrorist group, Islamic Jihad, in their military garb.
Posted by SS at September 2, 2014 12:52 PM
Comments
Guidelines for posting
This is a moderated blog. We will not post comments that include racism, bigotry, threats, or factually inaccurate material.
Post a comment