« July 2014 | Main | September 2014 »
August 28, 2014
Mennonites and Quakers Leave Churches for Middle East Peace
The changes have been made with little fanfare, but two of the more radical anti-Israel organizations that supported Churches for Middle East Peace are no longer listed on the group's roster.
The two groups are the Mennonite Central Committee and the American Friends Service Committee. A phone call to one of the organizations confirms that both the AFSC and the MCC left the CMEP in the past few weeks.
The CMEP is well-known for its tendency to issue one-sided condemnations of Israel while remaining silent about war crimes and human rights abuses perpetrated by Arab and Muslim countries in the Middle East.
Prior to the departure of AFSC and MCC, two other institutions had left CMEP's roster – the Catholic Conference of Major Superiors of Men's Institutes, and the Maryknoll Office for Global Concerns. These two organizations were listed on the organization's roster in the middle of 2013 but are no longer listed.
As a result of these departure's, CMEP's roster has shrunk from 25 members in mid-2013 to 21 members today.
The departure of the MCC and the AFSC was confirmed by the organization's executive director, Warren Clark.
The decline in CMEP's membership is reflected in the screenshots posted below. The first is from the Wayback Machine's snapshot of the CMEP's membership roster taken on April 15, 2013.
The second is the screenshot of CMEP's roster taken today (Aug. 28, 2014).
Introduction to CMEP's Roster in April 2013
Introduction to CMEP's Roster in August 2014
Posted by dvz at 04:56 PM | Comments (2)
The Moral Emptiness of Those Who Use the Holocaust to Libel Israel
Alvin Rosenfeld, professor of English and Jewish Studies and director of Institute for the Study of Contemporary Antisemitism at Indiana University, addresses the disturbing phenomenon of self-proclaimed Holocaust survivors arrogating moral authority from their status as victims to turn public opinion against Israel. In his piece, "Moral Emptiness of Holocaust Survivors Who Took on Israel," appearing in the Forward, Rosenfeld discusses the recent advertisement in The New York Times by a group of "Holocaust survivors and descendants of survivors" who cast Israelis as the new Nazis, threatening genocide against the Palestinians.
Rosenfeld establishes that "Jews deriding and defaming other Jews" is not new and provides an anecdote about Hitler and his cohorts taking pleasure in observing such a spectacle.
Rosenfeld gets right to the point in exposing what motivated the Times advertisement,
Israel's war with Hamas has exacted many casualties, but nothing remotely like "genocide" is taking place in Gaza. Why, then, charge Israel with a crime of this kind and magnitude? Those who are on to the rhetoric of "anti-Zionism" will instantly recognize this language for what it is: a collection of familiar political clichés employed time and again by the purveyors of anti-Israel vilification.
It is important to point out that only a portion of the 327 signators to the letter accusing Israel of Nazi-like aggression are actually Holocaust survivors, many more have tenuous connections.
Rosenfeld offers sage advice on how one can be alert to such twisted moral posturing,
Whenever someone begins a sentence with the words "as a Jew…," what follows is likely to be full of political posturing and should be met with skepticism. The same often holds true when someone opens a sentence with the kindred formula, "as a Holocaust survivor…."
What should one take away from this grotesque misappropriation of conscience?
According to Rosenfeld,
Sanctioning such propaganda by stamping it with the moral authority that supposedly belongs to Holocaust survivors does not turn these lies into truth. What it does instead is expose as fraudulent the claims of certain Holocaust survivors and their kin to possessing an enlarged moral and political consciousness. In fact, it is unlikely that many people emerged from Hitler's camps ennobled or enlightened. To believe otherwise and to arrogate to oneself as a "survivor" or a relative of a "survivor" some special access to wisdom and virtue is, as IJSN's ad shows, little more than moral pretense.
Posted by SS at 04:16 PM | Comments (1)
Where's the Coverage? Media Miss Hamas' Admission of Kidnapping
After the June, 2014 kidnapping of three Jewish teenagers in the West Bank, Israel was accused of exploiting the incident first to crack down on Hamas (Palestinian Islamic Resistance Movement) and then, as Hamas and other terrorist groups intensified mortar and rocket fire into Israel, to launch Operation Protective Edge against the Gaza Strip.
The facts indicate otherwise. Scouring the West Bank in search of the missing boys, Israel arrested 350 Palestinian Arabs, most of them Hamas members or suspected members, some recently released as part of Israeli-Palestinian negotiations.
In retaliation for the arrests and apparently because one of its Gaza-to-Israel infiltration tunnels had been exposed—not to mention disrupting what Israel hoped was a search-and-rescue mission—Hamas increased rocket fire. Israel hit terrorist targets in retaliation.
Some news media claimed that there had been no proof that Hamas had been responsible for the kidnappings. For example:
"Beyond Netanyahu's accusations of Hamas responsibilities, there is no evident link between the abduction and the Hamas leadership in the Gaza Strip" ("Israel debates action over deaths", The Miami Herald, July 1, 2014)

Also:
"[Israeli Prime Minister Benjamin] Netanyahu did not publicly cite specific evidence tying Hamas to the kidnapping, and Israeli military officials refused to do so ("Netanyahu Says Three Were Taken by Hamas", The New York Times, June 15, 2014) .
But Hamas officials subsequently confirmed Netanyahu's charge by claiming responsibility for the abduction:
"A recording of a top Hamas official admitting the terror group was behind the June kidnapping and slaying of three Israeli teens in the West Bank emerged Wednesday [August 20], representing the strongest evidence yet of Hamas involvement in the attack.
"Sheikh Saleh al-Arouri, a senior Hamas religious figure, is heard on the video saying that he 'blessed the heroic action' which was 'carried out by the al-Qassam Brigades'—the armed wing of Hamas. This action, 'the kidnapping to Hebron of the three settlers,' was an 'operation spoken of far and wide,' al-Arouri added" ("Top Hamas sheikh admits to June kidnapping of Israeli teens", The Times of Israel, Aug. 20, 2014) .
Qatar-based Hamas political chief Khaled Mashaal confirmed Al-Arouri's acknowledgement ("Mashaal admits Hamas members killed Israeli teens", The Times of Israel, Aug. 23, 2014) .
Yet, The Washington Post did not mention confirmation by group leaders of Hamas' role in the kidnappings-murders. Neither did The New York Times.
The Washington Times published only a three-paragraph brief discussing the admission by al-Arouri ("Senior Hamas leader admits kidnapping Israeli teens," Aug. 22, 2014). The Miami Herald reported the confession by Hamas, quoting al-Arouri saying:
"Allah has chosen and willed that a large battle would be ignited" ("Hamas admits kidnapping Israeli teens", Aug. 21, 2014) .
The Washington Post did publish a half-page article covering hardships Gazans experienced due to the fighting ("Gaza factories hit hard in conflict", Aug. 21, 2014) one day after reports of Al-Arouri's admission, two days before other media noted Mashaal's acknowledgement . The Post article overemphasizes its subject. Gaza Strip factories would not have been hit at all had Hamas not launched hundreds, then thousands of mortars and missiles into Israel and built tunnels meant to facilitate mass kidnappings and murders of Israelis.
The Post's narrow focus and exaggerated emphasis on Gaza's economy failed to mention how the fighting started. The connection between the hardships imposed on the Arabs of the Strip by Hamas' terror attacks against Israel, which forced six million Israelis to be able to reach bomb shelters within 15 to 90 seconds of alarm sirens sounding, was buried.
Palestinian Arabs were quoted bemoaning the destruction and blaming Israel, with no reminder to readers that they were not free to do otherwise. Hamas punishes dissidents it labels "collaborators" and, in fact, reportedly murdered several dozen Gazans it so accused a few days before the late August ceasefire. The organization regularly threatens and intimidates Gazans and, directly or indirectly, journalists.
In such an environment it is impossible to report comprehensively. This means news media should remind audiences that they are not getting the full picture. Reporting that Israel did not provide evidence to support its initial charge of Hamas responsibility for the kidnappings but downplaying or failing outright to cover the group's confirmation when it came is another example of that failure to report comprehensively.—Ziv Kaufman

Posted by ER at 02:13 PM | Comments (0)
August 27, 2014
Former AP Reporter Pens Devastating Media Critique
Matti Friedman
Matti Friedman's powerful and troubling analysis of what's wrong with journalism when Israel is under the microscope (August 26, 2014, Tablet) should be mandatory reading in journalism schools. Entitled "An Insider's Guide to the Most Important Story on Earth," the piece notes at the outset that:
The lasting importance of this summer's war, I believe, doesn't lie in the war itself. It lies instead in the way the war has been described and responded to abroad, and the way this has laid bare the resurgence of an old, twisted pattern of thought and its migration from the margins to the mainstream of Western discourse -- namely hostile obsession with Jews. The key to understanding this resurgence is not to be found among jihadi webmasters, basement conspiracy theorist, or radical activists. It is instead to be found first among the educated and respectable people who populate the international news industry;
Friedman touches on the serious distortions so often detailed by CAMERA, including hugely disproportionate focus on relatively modest faults of the Jewish state and at the same time journalistic neglect of the suffering of millions across the globe and of their tormentors.
He makes the key point that, contrary to what might appear to be intense journalistic interest in the plight of the Palestinians, reporters actually do not have real curiosity about the breadth and depth of that community. Only as Palestinians intersect with Israel do they come into view -- not for themselves. He writes:
If you follow mainstream coverage, you will find nearly no real analysis of Palestinian society or ideologies, profiles of armed Palestinian groups, or investigation of Palestinian government. Palestinians are not taken seriously as agents of their own fate. The West has decided that Palestinians should want a state alongside Israel, so that opinion is attributed to them as fact, though anyone who has spent time with actual Palestinians understands that things are (understandably, in my opinion) more complicated.
Framing of the story of what's happening in Israel further skews the reality and misleads news consumers. As Friedman notes,
"A knowledgeable observer of the Middle East cannot avoid the impression that the region is a volcano and that the lava is radical Islam, an ideology whose various incarnations are now shaping this part of the world. Israel is a tiny village on the slopes of the volcano."
Other logical framing of the region would cast Israel with other minority groups. But
The Israel story is framed to seem as if it has nothing to do with events nearby because the "Israel" of international journalism does not exist in the same geo-political universe as Iraq, Syria, or Egypt. The Israel story is not a story about current events. It is about something else.
Posted by AL at 05:52 PM | Comments (4)
August 25, 2014
"Holocaust in Gaza" Hyperbole
According to Yahoo News, "The political chief of Hamas has called on President Barack Obama to intervene with the Israeli government ... to stop a 'holocaust' against the Palestinians."
Meshal's alarming statement might go unrecognized as the moral perversion that it is if one only read the The New York Times, with its flow of news dispatches and Op-Eds devoted to the situation in Gaza. Even the slaughter in Iraq and Syria and numerous seething conflicts from Ukraine to Africa do not slow the deluge of articles and opinion pieces conveying the message that Israel is guilty of reckless destruction and probably war crimes in its response to Hamas's rocket fire.
In such an environment emerged the outrageous paid advertisement appearing in The New York Times National edition on Aug. 23, 2014, bearing the signatures of some 300 individuals wrapping themselves in the mantle of "Jewish survivors and descendants of survivors of the Nazi genocide" and accusing Israel of committing a "massacre" and of ongoing "occupation" and "colonization of historic Palestine."

Leave aside for the time being this grotesque abuse of the historical consciousness of the genocide of the Jewish people in order to promote a new campaign to isolate and demonize Jews and set the stage for a repeat of past horrors. It is also instructive to look at the raw numbers of real campaigns of massacre and genocide and contrast them to the situation in Gaza (and the West Bank) in order to comprehend the deceit, the anti-historical mendacity of those who would use the language of mass murder and victimization to promote a new blood libel against the Jewish state and people.
Here are some numbers to digest:
From June 22, 1941 until May 8, 1945, about five and a half million Jews perished as a result of the German-inspired genocide against the Jews. That calculates to 3,890 Jewish children, women and men put to death every single day for 1414 days. This slaughter was in turn a hot spot within a conflagration driven by German supremacism that took 35 million lives in Europe alone, amounting to nearly 25,000 war-related deaths every single day for 1414 days.
Now if this comparison seems too jarring for New York Times' cultivated readers - let's not forget the Times never gave the Holocaust of European Jewry the sort of front page coverage it gives to Gaza - let's turn the dial down two orders of magnitude and look at the most violent conflict currently raging in the Middle East. In Syria and Iraq over the past three and a half years, at least 250,000 children, women and men have perished in civil conflicts, amounting to nearly 200 human beings per day for 1260 days. Low by World War II standards, but still an alarming number.
Now let's look at the conflict between Israel and Hamas that provokes relentless criticism of Israel in The New York Times and compelled hundreds of alleged Holocaust survivors and their descendants (as if being a descendant of a Holocaust survivor bestows some sort of unique moral authority) to sign a letter decrying Israel's alleged "massacre" and accuse its Jewish citizens of calling for "genocide" and imitating "neo-nazis." All the while, these same signators ignore, or even deny, actual documented incitement to commit genocide against the Jews voiced by supporters of Hamas.
In almost 50 days of escalated hostility between Israel and Hamas, just over 2000 Gazans have died. That amounts to about 40 per day in circumstances where terrorists insinuate themselves among Gazan civilians to launch rockets at Israeli cities, intentionally drawing Israeli return fire on to civilians.
Some will argue that the conflict deserves such attention because of its persistence over time and resistance to any resolution. So addressing that argument in a numerical fashion, in the 14 years since the beginning of the Second Intifada about 8,000 Palestinian fatalities have occurred due to conflict with Israel. That calculates to about one and a half Palestinian fatalities per day. The total number of Palestinian fatalities in 14 years equals about 2 days of the Jewish toll during the Holocaust period and about one morning's worth of the death toll for Europe as a whole during World War II.
The Palestinian death toll is not remotely comparable to any "genocides," large-scale "massacres" of entire populations or campaigns of "ethnic cleansing" that have occurred in numerous places around the world over the last century. But that doesn't stop anti-Israel activists, academics and self-proclaimed anti-Zionist Holocaust survivors and their acolytes from using those terms and news services like The New York Times and the BBC from giving them the exposure they crave.
For a numerical comparison, the scale of violence of the Israeli-Palestinian conflict would be most comparable to the persistent low-intensity violence seen among urban minority populations of stable western societies.
Characterized by brief escalations of violence interrupting extended periods of relative quiet enforced by vigilant Israeli security, the conflict between Israel and Palestinian terrorist groups has produced an overall violent death rate of the combined West Bank and Gazan populations over the last 14 years of under 20 violent deaths per 100,000 population per year; a figure lower than the violent death rates in many American cities during the 1980s and 1990s and in some cities to this day.
In fact, the violent death rates in Gaza and the West Bank are considerably lower than rates experienced over the years in urban African-American communities in major American cities like Washington DC, Detroit, New Orleans, St. Louis, Chicago and during the 1980s and 1990s in New York City, which recorded violent death rates as high as 50-100 per 100,000 population per year. Another way of putting this: African-American residents of many major American cities experience about a 3 to 5 times higher risk of dying from random urban violence than a Palestinian in the West Bank or Gaza from Israeli military responses to terrorism.
When was the last time someone - who was taken seriously - invoked incendiary terms like "genocide" "massacre" or "ethnic cleansing" to describe the level of violence visited upon African-Americans in urban America ?
Posted by SS at 03:02 PM | Comments (5)
August 22, 2014
Amira Hass's Flawed Analysis of Gazan Civilian Casualties
On Aug. 22, 2014, Haaretz published an analysis piece by Amira Hass, "How many Palestinian civilians is a single militant worth?" claiming that 76.8% of the 2090 documented fatalities in the recent hostilities between Israel and Hamas were civilians. Hass discusses the controversy over the proportions of the fatalities in the Gaza Strip that are civilians and militants. Israel claims that Hamas is concealing the true number of combatants in order to generate international outrage at Israel. But Hass counters that this strategy "contradicts the deep Palestinian and Hamas ethos of pride over those who were killed fighting the Zionist enemy."
She then delves into the crux of the controversy, that a disproportionate number of the fatalities, admitted to by the Palestinians themselves, are male and young males at that. Hass writes,
Some journalists have challenged UN and Palestinian categorizations, asserting that the number of young men killed in Gaza was relatively high compared to their size within the population. The conclusion is that most of the men killed – and they are the right age to be engaged in militant activity – were indeed militants.
According to Hass,
This conclusion is faulty in not being aware that public space in Palestinian society in general and in Gaza in particular is appropriated mainly by men. The men go to the mosque early in the morning and the evening; only men go to funerals; men sit outside their homes on hot days and watch World Cup games, and men are the ones who run out to retrieve the wounded and dead immediately after an attack or go to get water during an attack. So, it is natural that the number of men killed would be higher relative to the population, and not only because this is the right age to join in the fighting.
Hass's argument is fractured and falls apart under scrutiny.
1) She asserts that the high proportion of males is due to their higher propensity for public spaces, but she offers no evidence that the Israelis preferentially target public spaces where crowds of men might routinely assemble. Without offering evidence that the Israelis indiscriminately target public spaces - independent of situations in which the presence of combatants have been confirmed - her assertion has no value. In fact, there is evidence pointing to the opposite conclusion. In light of the more than 5000 targeted missiles and thousands of artillery shells fired by the Israelis and only 2,000 Gazan fatalities that resulted, the evidence strongly indicates that the Israelis make every effort to avoid firing into public spaces occupied by random people. If Israeli air strikes and artillery shelling were routinely striking public spaces in a wanton manner simply to inflict casualties, the fatality count would be much higher.
2) While she offers an explanation - unsubstantiated as it is - why there are many more male fatalities than female, her explanation fails to address the age pattern of the fatalities. There is a spike starting at the age of 17 and peaking in the early to mid 20s which then rapidly diminishes. This pattern is more credibly explained by combatants than it is by Hass's observations that males attend mosques, funerals and hang out watching the World Cup.
3) She also ignores a crucial issue, that of distinguishing combatants in an urban environment where combatants do not categorically don uniforms. Under such circumstances, a so-called non-uniformed "civilian" who comes to the aid of a wounded combatant or serves as a look out or approaches soldiers despite warnings assumes a questionable status.
4) And finally, there is the issue of civilians serving as human shields. This is a separate issue from the discussion of disproportionate young males among the fatalities, but is crucial to the overall discussion of Gazan civilian fatalities.
In conclusion, Hass's attempt to discredit Israeli claims that combatants contribute a far higher portion of the fatalities than the Palestinian groups admit is not at all convincing.
Posted by SS at 02:21 PM | Comments (4)
UN Claims 191,369 Killed in Syrian Civil War
The United Nations published its updated figures on the number of deaths caused by the three-and-a-half year Syrian civil war: 191,369. The release of the updated statistics was a relatively low-key affair. It did not prompt calls for mass demonstrations throughout Europe and the United States in sympathy for the beleaguered Syrian people; nor did it generate expressions of heightened outrage or demands for tribunals and investigations from international human rights groups or UN organizations. Such actions are strictly reserved for the situation in Gaza, where over the same time frame over 2,000 have died as a result of recurring hostilities between Israel and Hamas.
According to the Associated Press, the UN's top human rights official, Navi Pillay, "criticized the world's 'paralysis' over the fighting in Syria, which 'has dropped off the international radar' in the face of so many other armed conflicts around the world." That would be the same Navi Pillay who recently criticized the United States for failing to assist Hamas in obtaining the same missile defense system as that developed by the Israelis.
Posted by SS at 01:48 PM | Comments (0)
August 21, 2014
Has New York Magazine Learned Its Lesson Not to Rely on Biased Reporters?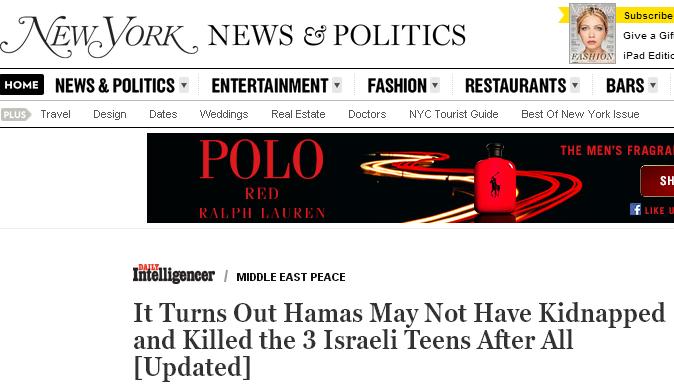 On July 25, New York Magazine published an article by Katie Zavadski casting doubt on Israeli assertions that Hamas was responsible for the kidnapping and murders of three Israeli teens, Gilad Shaar, Naftali Frenkel, and Eyal Yifrach, in June, 2014. Now that Hamas has publicly come out and admitted they did it, Zavadski has had to backtrack, repeating the statement issued by Hamas itself on Aug. 21, 2014,
"The popular will was exercised throughout our occupied land, and culminated in the heroic operation by the Qassam Brigades in imprisoning the three settlers in Hebron," al-Arouri said at a conference in Istanbul. "This was an operation from your brothers in Qassam undertaken to aid their brothers on hunger strike in (Israeli) prisons."
Zavadski placed the responsibility for her initial misinformed piece on the sources she relied upon, Sheera Frankel of Buzzfeed and Jon Donnison of the BBC, writing on Aug. 21,
The circumstances of the incident, which sparked Israel's Operation Protective Edge, have been subject to much debate. Israel immediately blamed the militant group, which controls the Gaza strip, but Qatar-based Hamas leader Khaled Meshaal denied that the group's involvement. Veteran correspondents Jon Donnison and Sheera Frenkel both reported that Israeli intelligence had no concrete links between Hamas and the kidnappers, who are said to belong to a clan that frequently operates outside of Hamas control. Yet later, Israeli officials said they had concrete evidence of the link between the group and the kidnapping.
It is to Zavadski's credit that she posted the Hamas admission and did not try to brush over her initial article. She had already begun to walk back her July 25 piece in an update on Aug. 7, 2014 discussing proof offered by Israel. Zavadski has written some of the more insightful pieces for the New York Magazine on the conflict. Her article on why so many of the casualties in Gaza are children offered the important point that those under 18 represent nearly half the population and that if Israel was firing indiscriminately they would account for half the casualties, which they clearly don't.
However, there is still the lingering issue of why she relied upon Frankel and Donnison in the first place, as both have displayed a consistent anti-Israel bias that undermines their credibility as reporters. This speaks to a media culture that is all too willing to ascribe credibility to journalists who inject their anti-Israel bias into their reports.
Frankel's Buzzfeed tweets are frequently misleading and based on unsubstantiated sources.
Donnison's anti-Israel bias was exposed in March 2013 when he rushed to accuse Israel of killing the baby son of Omar Mashrawi, a Palestinian BBC staffer. After the UN Human Rights Council - itself a serial basher of Israel - investigated and concluded that Israel was not responsible for the baby's death, Donnison refused to retract his accusation against Israel.
The New York Magazine article on July 25 cast doubt on Israel's claim that Hamas was behind the kidnappings and pinned the blame for the escalation of violence on Israel implying that Israel used the incident as a pretext to escalate hostilities with Hamas. This was the line pushed by Frankel.
Now that she has egg on her face for relying on the two biased journalists, will Zavadski continue to rely on Frankel and Donnison? Or will she buck the pressure to slant stories against Israel and get her information from reliable correspondents who don't inject their anti-Israel agenda into their reports.
Posted by SS at 11:54 AM | Comments (0)
August 20, 2014
That Porous 'Siege' of the Gaza Strip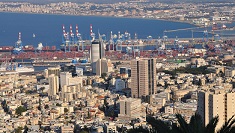 The word "siege" is often used by news media referring to Israel's partial blockade of the Gaza Strip. The description has become commonplace despite its tendency to echo misleading Palestinian allegations. For example:
A Daily Star (Beirut) article was titled "Lifting siege vs. disarmament clouds Gaza talks" (Aug. 13, 2014 ). The Economist misused the word by writing that "[t]o stop the fighting Hamas must promise not to fire its rockets into Israel. But in return Israel should agree to honour an agreement dating to 2012 to lift the siege that has immiserated Gaza's inhabitants since 2007 in an effort to enfeeble Hamas ("Israel and Gaza: Stop the rockets, but lift the siege," July 26, 2014).
But in terms of the transit of goods into and a large number of people out of the Strip, there is no siege.

In his blog, "Haifa Diary," Stuart Palmer explained what's wrong with journalists' parroting the Palestinian "Gaza siege" mantra: "Not only do food, medicine, fuel and aid enter freely at all times, but in peacetime, commodities and consumer goods of every type are transferred daily from Israel to Gaza through the land crossing.
"The types and amounts of consumer goods are determined by Palestinian merchants and depend primarily on market forces in Gaza. For the more affluent, Gaza offers a variety of consumer opportunities, from a modestly-sized mall to upscale restaurants. Even during the latest hostilities in Gaza, an international journalist reported on shopping at one of Gaza's supermarkets, which offered ("The Myth of an Israeli Siege on Gaza", "Haifa Diary", Aug. 12, 2014) "all kinds of goods".

Hardly a siege. There is a partial blockade imposed by Israel and Egypt following the takeover by Hamas of the Gaza Strip in 2006 and its violent ouster of Palestinian "unity government" partner Fatah in 2007,. The blockade is a response to, not a cause of terrorist attacks by Hamas, Palestinian Islamic Jihad and other Muslim fundamentalist groups in the Gaza Strip.
The maritime blockade is legal under international law. As Palmer explains:
"In 2011, a special panel convened by U.N. Secretary-General Ban Ki-moon examined the maritime blockade. The U.N. panel found both the naval blockade and its enforcement, including in international waters, to be legal. This panel of experts emphasized that all assistance to Gaza should be transferred only through the designated land crossings.
"The panel also found that Israel had legitimate security concerns regarding violence by Hamas and that weapons trafficking to Gaza permitted Israel to enforce a naval blockade. Repeated attempts to smuggle dangerous weapons via the sea--including powerful long-range rockets from Iran--attest to the fact that the maritime blockade is an essential security measure."
In response to continued terrorist infiltration attempts including construction of an elaborate tunnel network, the launching of thousands of mortars and rockets by Hamas and other groups into Israel and pervasive anti-Israel, antisemitic incitement, an Israel siege might make sense. Instead, large volumes of humanitarian aid and consumer goods enter Gaza and tens of thousands of Gazans are admitted to Israel for medical treatment annually.
"While Israel faces a serious threat from terrorists in Gaza, it still allows the supervised movement of people into Israel," the Haifa Diary pointed out. "In the first five months of 2014, approximately 60,000 individuals entered Israel from the Gaza Strip. Many of these were patients and their escorts who received medical treatment in Israel and elsewhere, while large numbers of Gazan businessmen and merchants also visited Israel."
Meanwhile, diarist Palmer adds, "Gaza's existing resources are systematically abused by Hamas for its own nefarious goals. Enormous amounts of money are used for procuring and producing weapons, training and funding terrorists, building terror infrastructures and for the enrichment of Hamas' leaders. Almost unimaginable quantities of cement were diverted from the construction of housing, schools and hospitals to building an underground city of terror tunnels and bunkers for Hamas members."
Such is the Israeli "siege" of the Gaza Strip. Under it the territory's Hamas rulers have survived up to now, with cash first from Iran, then Qatar, to arm and training thousands of gunmen. They've acquired technology and material from Iran and Syria for an arsenal (before Operation Protective Edge) of 10,000 or more rockets and missiles. Imported too were building materials for numerous fortifications and tunnels. Simultaneously, jihadis infiltrated from Gaza into Egypt.
In World War II, the Warsaw Ghetto was under siege. So was Leningrad. The Gaza Strip is subject to something much less. For accuracy's sake--that is, for journalistic precision--call it a partial blockade. Hamas and other Palestinian apologists have reason to repeat the "siege" cliché; reporters have a duty to be skeptical. -- Ziv Kaufman


Posted by ER at 03:40 PM | Comments (2)
Washington Post Ventures from Gaza to Cover Israel
News coverage of Operation Protective Edge mainly focused on casualties in the Gaza Strip, missiles launched at Israel and tunnels built by Hamas. There was comparatively little attention to the lives and hardships of Israelis, especially those who resided close to Gaza. So The Washington Post's feature "I want to come back but, I'm afraid" (Aug. 14, 2014) was a noteworthy gesture toward balance.
The article commented that "[f[or the past month, 'frontline communities' such as Nahal Oz and a neighboring kibbutz, Kfar Aza, resembled ghost towns. Most residents fled what had become a combat zone, with Israeli artillery whooshing above them and Gaza rockets flying the other way, sometimes landing on rooftops or in gardens and schoolhouses."
After Hamas took over the Gaza Strip in 2006, the southern Israeli town of Sderot and nearby kibbutzim have endured a rain of mortars and rockets that was under-reported by news media. Despite Israel's complete withdrawal from Gaza in 2005, Palestinian complaints of "Israeli occupation" and Israel's "siege" (a partial blockade aimed at limiting importation of material useful to Hamas and other terrorist groups) tended to draw the bulk of news reporting.
Without better balanced coverage, audiences don't learn what life has been like on the Israeli side of the armistice line or the reasons for military operations conducted by Israel. (CAMERA has noted previous examples of more comprehensive coverage such as "Exhibit A: USA Today's Well-Balanced Gaza Reporting", July 15, 2014).
The Post 's feature helped make real to readers the experiences of Israelis near Gaza. "People are so tired of living as refugees in their own country," said Noam Stahl, 47, a plastics consultant and resident of Kfar Aza who was born and raised in the kibbutz.
The Post showed how Palestinian terror attacks affected the residents of Israel's south wherever they were in their own country:
"Residents patiently answer questions about why they don't move somewhere safer, as if it were so obvious it needs no explanation. Where in Israel is safe?
"'In Tel Aviv, five years ago, people were afraid if they got on a bus it would explode,' Stahl said. 'Jerusalem was the same. At Kiryat Shmona in the north, for 15 years they had Katyusha rockets come at them from Lebanon. If I decide it's no longer safe to live here, if I take my family and move elsewhere in Israel, who can guarantee we won't be the target of a terrorist attack in our new home?'"
Stahl depicts Israel's situation as it is. Israel bashers sometimes falsely describe the Gaza Strip as an "open air prison". Such loaded language would not accurately describe Israel but the Jewish State is surrounded by countries and terrorist groups who have been seeking its destruction and since its inception in 1948. Perhaps more media attention to this enduring hostility and its effects on Israelis, less uncritical attention to Palestinian grievances and claims of Israeli oppression would help readers understand the conflict.
The Post's "I want to comeback, but I'm afraid," accurately described the situation for many residents of southern Israel . In doing so it informed readers of another side to the Arab-Israeli conflict—better, the Arab-Islamic conflict with Israel—too little discussed: the impact on Israelis. Other media outlets should take note. -- Ziv Kaufman
Posted by ER at 02:46 PM | Comments (0)
August 19, 2014
Where's the Coverage? ALS Patients Live Longer in Israel than Anywhere in the World

You may have seen a number of your Facebook friends posting videos of themselves being doused with buckets of ice water. You probably have heard of the "Ice Bucket Challenge." This is an incredibly successful campaign by the ALS Association to raise awareness and donations for the fight against the disease commonly referred to as Lou Gehrig's Disease.
Numerous celebrities, musicians, athletes and public figures have participated including LeBron James, NFL Commissioner Roger Goodell, Jennifer Lopez, Justin Bieber, Gwen Stefani, Mark Zuckerberg, Bill Gates, Jimmy Fallon, Chris Christie and others. The campaign has garnered millions of Twitter mentions, over a million videos posted on Facebook along with tens of millions of "likes," and news coverage. Plenty of news coverage. A Google news search of "ice bucket challenge" turned up almost 24 million hits.
But the news stories miss one fact: ALS patients in Israel live longer than anywhere else in the world. Two to four times as many patients survive past the 10-year mark. Israel Hayom reports:
A study encompassing data collected from Israel for the first time found that the survival rate among Israelis suffering from Lou Gehrig's disease (amyotrophic lateral sclerosis) is two to four times that of patients in other countries.

In global terms, between 5 and 10 percent of ALS sufferers survive more than 10 years after being diagnosed. But in Israel, 20 percent of ALS patients survive longer.
If it doesn't fit with the media's negative depiction of Israel, it doesn't get press attention. If it can't be twisted to defame Israel, it won't make it to the front page of the New York Times. When it comes to the fact that Israel is at the forefront of medical research and treatment… Where's the coverage?
New England Patriots owner Bob Kraft, coaches and players take a team-wide ice bucket challenge.




Posted by SC at 08:30 PM | Comments (2)
Hypocrisy Is Thy Name, Condemning Israel Thy Game

Victor Davis Hanson, historian with the Hoover Institution at Stanford University, has again hit the nail right on in comparing the Gaza Strip versus Cyprus ("Occupation hypocrisy: Gaza vs. Cyprus," Washington Times, Aug. 13, 2014).
Hanson points out how the West yawns in uninterest about Turkey's brutal occupation of the northern portion of the Mediterranean island of Cyprus since 1974 – while it's continuously agitated over Israel's self-defense measures against deadly threats like that from Hamas and other Palestinian terrorists in Gaza:
Turkish troops still control nearly 40 percent of the island — the most fertile and formerly the richest portion. Some 200,000 Greek refugees never returned home after being expelled from their homes and farms in Northern Cyprus ... Thousands of settlers were shipped in by the Turkish government to occupy former Greek villages and to change Cypriot demography. ... Why, then, is the world not outraged at an occupied Cyprus the way it is at, say, Israel?

[...]

Greeks in Cyprus and mainland Greece together number less than 13 million people. That is far less than the roughly 300 million Arabic speakers, many from homelands that export oil, who support the Palestinians.

No European journalist fears that Greek terrorists will track him down should he write something critical of the Greek Cypriot cause. Greek Cypriots would not bully a journalist in their midst for broadcasting a critical report the way Hamas surely would to any candid reporter in Gaza.

[...]

We see such hypocrisy when the West stays silent while Muslims butcher each other by the thousands in Afghanistan, Iraq, Lebanon, Libya and Syria. Only when a Westernized country like Israel inflicts far less injury [in response to thousands of terrorist mortar and rocket attacks and infiltration tunnels] to Muslims does the West become irate.


[...]

Israel is inordinately condemned for what it supposedly does because its friends are few, its population is tiny, and its adversaries beyond Gaza numerous, dangerous and often powerful.

And, of course, because it is Jewish.
In other words, as Hanson notes, aggression and its continuing consequences on the part of Turkey, a large Muslim country with a geographic and demographic foothold in Europe, barely rates comment from Western countries. This is so — even when the object of Turkish aggression is a European state, Greece. But Israel's invasion against Islamic terrorists in the Gaza Strip provokes criticism from the United States, a "war crimes" investigation by the United Nations, a threat to withhold future arms shipments by the United Kingdom and a general wave of hatred including mob attacks on French synagogues and beatings of individual Jews in several European countries.
If hypocrisy were a coin, its two sides would be anti-Zionism and antisemitism.
Posted by MK at 02:53 PM | Comments (1)
Middle Class Terrorists and Sixteen-Year-Old Soldiers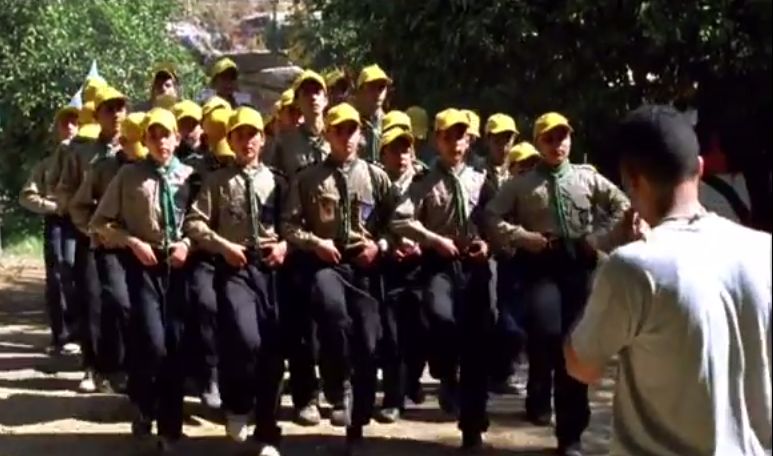 The rising tide of extremism in the Middle East has brought to the surface some realities that are too often obscured by formulaic media coverage of the region's conflicts.
An article in the Algemeiner, Islamic State Fighter: Hezbollah and the Jews Are Next, describes who are drawn to join Islamists groups from relatively stable societies in the West. It may surprise those conditioned by the usual bromides emphasizing conditions of poverty and few economic opportunities.
According to the report, Prof. Meir Litvak of the Department of Middle Eastern History at Tel Aviv University,
"most of them are not poor; no economic crisis pushed them into despair. Not at all. These youngsters are middle class...They're attracted to whatever is the most 'anti' to whatever is in front of them," he said. "And radical Islamic fundamentalism represents it – [opposition] to the 'totally rotten and corrupt America'...These young people are highly alienated from their environment."
The professor's observations are consistent with previous studies profiling suicide bombers, that found on average they had more years of education and often came from relatively comfortable economic circumstances.
An article, appearing in the Christian Science Monitor on Aug. 18, 2014, discloses that Hezbollah has sent adolescents as young as 16 years old into battle. The article documents the funeral of a 16- year-old fighter killed in Syria last month.
As Hezbollah resorts to using children, it would be no surprise if Hamas also had no compunction about doing the same. It has after all utilized women, children and intellectually handicapped individuals as suicide bombers. In light of the much publicized body counts of children provided by the Gazan Health Ministry and repeated without qualification by western media as innocent victims of indiscriminate Israeli military operations, such information should encourage some scrutiny as to whether these counts include some underage combatants.
Posted by SS at 12:31 PM | Comments (0)
August 15, 2014
About That "N"
By now it's pretty clear that Abu Bakr Al-Baghdadi, the leader of the Islamic State (IS), which has taken over much of central and northern Iraq is guilty of genocide. The man is a killer as are his followers. Thousands of Assyrian Christians have been murdered and driven from their homes, as have many members of another religious group, the Yazidis, who have been driven to the mountains to avoid further destruction.
Numerous reports indicate that hundreds of Yazidis have been killed, some buried alive and the women who have survived these massacres have been sold into sexual slavery.
Shiite and Sunni Muslims have also been murdered in large numbers by IS.
Rev. Dr. Mark Durie, an Anglican Priest from Australia and expert on jihad, dhimmitude and Islamic doctrine regarding non-Muslims, summarizes the state of affairs as follows:
In northern Iraq religious genocide is reaching end-game stage. Islamic State (IS) soldiers, reinforced with military equipment originally supplied by the US, are driving back Kurdish defenders who had been protecting Christians and other religious minorities. While hundreds of thousands of refugees have been fleeing into Kurdistan, around 40,000 Yazidis and some Christians are trapped on Mount Sinjar, surrounded by IS jihadis. (Yazidis are Kurdish people whose pre-Christian faith derives from ancient Iranian religious traditions, with overlays and influences from other religions.)

The Assyrian Aid Society of Iraq has reported that children and the elderly are dying of thirst on Sinjar. Parents are throwing their children to their deaths off the mountain rather than see them die of thirst or be taken into slavery by IS.

The IS jihadis are killing the men they capture. In one recent incident 1500 men were executed in front of their wives and families. In another incident 13 Yazidi men who refused to convert to Islam had their eyes plucked out, were doused with gasoline and burned alive. When the men are killed, captured women and children are enslaved to be used for sex, deployed as human shields in battle zones, or sold to be used and abused as their new owners see fit.
Today, noted Middle East Analyst Walid Phares reported the following on his Facebook page: "Massacres of Yazidi in Koch district by Jihadists took place today. Men executed, women taken. Genocide continues..."
Instead of trying to hide their atrocities, IS has posted videos of its misdeeds on the Internet in an effort to terrorize its enemies in both the Middle East, Europe and North America.
One of the more horrifying aspects of IS violence is the manner in which it has openly declared its violent intentions. When IS invaded Mosul, it painted the letter "N" in Arabic on the homes of Christians.
N stands for Nazarene, which is a reference to Jesus' hometown in the Galilee (where sadly enough, Christians are, even today, intimidated (but thankfully not murdered) by radical Muslims. Such things happen in Muslim countries, but not Israel, which helps explain why growing numbers of Christians are joining the IDF.)
In Iraq, the "N" painted on someone's home was a clear sign that the inhabitants will be targeted for violence.
In an effort to express solidarity with the religious minorities who are being murdered en masse by IS, people are posting different versions of that "N" on their Facebook and Twitter accounts.
Some Jews, for example, have posted a "N" surrounding a Yellow Star, a reminder of the Holocaust, on their Twitter and Facebook pages.
Changing one's profile image is a small gesture, but given the amount of time journalists and policy makers spend on the Internet, it helps remind them that people are paying attention to what is happening to religious and ethnic minorities suffering the effects of Islamist violence in the Middle East. It is simply not an issue they can continue to ignore.
In the short term, the N is a demand for the protection against IS violence.
In the long term, it will be a reminder that the perpetrators of the genocide we are witnessing today must be brought to justice.

Posted by dvz at 01:35 PM | Comments (0)
August 13, 2014
USA Today Headline Bias on Attack, Cease-Fire
The article:
Palestinians break cease fire. Palestinians hit Israel with 5 rockets. Israel then strikes back by hitting terror sites. Egypt and Palestinians announce that both Israel and the Palestinians agree to renewed cease-fire.
The headline?
8/14 update: USA Today's print headline came much closer to capturing the story: "Israel, Gaza fighting as negotiations continue; Rockets launched, 'terror sites' targeted." The skewed online headline has not been changed.
Posted by GI at 10:04 PM | Comments (3)
Where's the Coverage? Palestinian Activist: "Hamas Paved the Road for the Death of our People"

Bassem Eid is director of the Palestinian Human Rights Monitoring Group, a veteran Palestinian Arab human rights activist. Recently he wrote a column, "Hamas needs the Palestinians' deaths in order to claim victory," stating:
For more than 26 years, I have dedicated my life to defending human rights. I have seen wars, terror, and abuse. Yet this past month – from the kidnapping and murder of three Jewish boys, thru the kidnapping and murder of Mohammed abu Khdeir, and to the war in Gaza – has been the most politically and emotionally difficult month of my life.

[…]

And yet, as a Palestinian, I must acknowledge: I am responsible for some of what has happened. As a Palestinian, I cannot deny my responsibility for the death of my own people.

The majority of Palestinians has opposed firing rockets into Israel. The Palestinians have understood that these rockets will achieve nothing. Palestinians have called on Hamas to stop firing on Israel and to try to negotiate with the Israeli occupation. But Hamas has never considered Palestinian needs – only its own political interests. And so they have continued to fire rockets at Israel, knowing full-well what the result would be: Hamas paved the road for the death of our people. We knew that Hamas was digging the tunnels that would lead to our destruction.

[…]

But Hamas leaders are more interested in their victories than in the lives of their victims. Indeed, Hamas needs these deaths in order to claim victory. Death of its own people empowers Hamas, enabling it to accrue more money and more arms.

Hamas has never been interested in liberating the Palestinian people from the occupation. And Israel could never destroy the infrastructure set up by Hamas. Only we, the Palestinian people, could dismantle it.

What could we have done? The residents of the Gaza Strip had the responsibility to rebel against Hamas rule. Yes, Hamas' control is deadly and people have been afraid to express their dissatisfaction with its rule and mismanagement. And yet, we abdicated our own responsibility to ourselves.

We knew this. And we let it happen.

[…]

The lesson is that we must rid ourselves of Hamas and completely demilitarize Gaza. Then we will open up the border crossings. I say this as a loyal Palestinian and because I care for my own people.
Naturally, this is a voice that you have not heard in the mainstream media. This is a narrative that you have not read in the popular press. The analysis is infinitely reasonable. The writer is thoroughly credible. And yet… Where's the coverage?
Human Rights Activist Bassem Eid
Posted by SC at 03:47 PM | Comments (4)
Meet the Latest UN Arbiters of War Crimes in Gaza
The UN Human Rights Council (HRC) -- not known for their fairness and objectivity toward Israel-- has appointed a new panel of judges to decide whether or not human rights abuses, war crimes or violations of international law have taken place by either side in the Gaza confrontations. Of course, the last time the notoriously biased HRC did something like this , the resulting investigation and report were so biased and unreliable that the lead investigator, Richard Goldstone, ultimately reconsidered and recanted.
So who are the new arbiters appointed by the HRC?
William Schabas, a Canadian international law expert, was chosen to lead the panel. Schabas is well known for his anti-Israel comments and has decided, well in advance of any investigation that Israel's leader is to blame. Here is a video of Mr. Schabas, publicized by UN Watch, which is demanding that Schabas recuse himself or be fired because of his pre-existing bias.
Then there is Doudou Diene, who served as United Nations Special Rapporteur on contemporary forms of racism, racial discrimination, xenophobia and related intolerance between 2002—2008. His 2007 report on Islamophobia was deemed "seriously flawed" by the International Humanist and Ethical Union (IHEU).
The third member of the panel, Amal Alamuddin,,a British lawyer who has achieved celebrity as George Clooney's fiancée, has declined to participate.
Posted by RH at 03:46 PM | Comments (0)
Spoerl Captures Insanity of Hamas Coverage in New Hampshire Union Leader
Joseph Spoerl, Ph.D., Professor of Philosophy at St. Anselm's College in New Hampshire
Joseph Spoerl, Ph.D., a professor of philosophy at St. Anselm's College in New Hampshire, highlights a huge problem in the coverage enjoyed by Hamas during the ongoing conflict in Gaza. In a piece published today in the New Hampshire Union Leader, Spoerl puts forth the following scenario:
Imagine that [during World War II American and British reporters had sent back a steady stream of news stories and photos highlighting the plight of German civilians: photos of ruined homes and apartment blocks, wailing women and children, overwhelmed hospitals and so forth. Suppose, further, that these reporters never mentioned anything about the ugly ideology of Hitler and the Nazis, their genocidal hatred for Jews, their plans for world conquest, their persecution of political opponents, etc.

We would all agree that reporters acting in this way would be guilty of a serious breach of journalistic ethics. They would be actively misleading their audience by telling only a small portion of the truth.
Spoerl observes that such a scenario is taking place today as reporters highlight the suffering of the residents of the Gaza Strip without addressing the agenda of the fascist organization that controls the territory. "As absurd as it sounds, the imaginary scenario sketched out here has been unfolding before our very eyes in the Gaza strip over the past month."
He concludes his piece as follows:
Hamas is an imperialistic, totalitarian political movement driven by genocidal hatred for Jews — in short, an Islamic Nazi Party. It exists beside the world's only Jewish state, a liberal democracy.

No aspect of the conflict is more important, or more ignored by the mainstream media, than this one.
Read the whole thing here.

Posted by dvz at 03:43 PM | Comments (3)
Carter Shills Again for Hamas
Former President Jimmy Carter continues to promote Hamas (the Palestinian Islamic Resistance Movement) as a legitimate political actor. In an article co-written with former Irish president Mary Robinson in Foreign Policy, Carter urged Western states to recognize Hamas as a diplomatic partner.
"Only by recognizing its legitimacy as a political actor—one that represents a substantial portion of the Palestinian people—can the West begin to provide the right incentives for Hamas to lay down its weapons" ("Carter wants West to recognize Hamas", (USA Today, Aug. 6, 2014).

This is nothing new for the one-term former president. After Israel's December 2008–January 2009 Operation Cast Lead against Hamas in the Gaza Strip, Carter took to the editorial pages of The Washington Post to claim falsely that Israel was starving Gazans, Hamas' smuggling tunnels were "defensive" in nature and that Hamas was attempting to maneuver politically in good faith ("Carter Shills for Hamas, January 10, 2009).
Now Carter and Robinson—the latter also was U.N. High Commissioner on Human Rights and an organizer of the U.N.'s notorious 2001 Durban Conference against Racism that featured an explosion of anti-Semitism—want the world to recognize as legitimate an Islamist organization with genocidal goals. Hamas' charter calls both for the destruction of Israel and war against the Jewish people.
Aaron David Miller, a former senior U.S. Arab-Israeli negotiator and now a resident scholar at the Wilson Center in Washington, D.C. itemized the likely consequences of heeding Carter and Robinson: "[F]ollowing Carter's advice to recognize Hamas would alienate Israel, undermine Palestinian Authority President Mahmoud Abbas, a more moderate figure who governs the West Bank, and anger the Egyptians" ("Carter wants West to recognize Hamas", USA Today, Aug. 6, 2014).
A Wall Street Journal editorial also took a more realistic view of Hamas' motives and aims: "Hamas may also believe it can repeatedly go to war against a militarily superior foe because Israel has never exacted a fatal price. Hamas's aggression serves its political purposes, while Palestinian casualties serve its propaganda purposes.
"Those goals are furthered when Western governments call for mutual restraint, as if both sides are equally responsible for the violence. 'We're continuing to convey the need to de-escalate on both sides,' State Department spokeswoman Jen Psaki said … a plea that has no effect on Hamas but pressures Israel to pull its punches" ("The Next Gaza War," The Wall Street Journal, July 9, 2014).

President Barack Obama, in contrast to Carter, said, "I have no sympathy for Hamas. I have great sympathy for ordinary people who are struggling within Gaza." Obama also was quoted as saying "I have consistently supported Israel's right to defend itself, and that includes doing what it needs to do to prevent rockets from landing on population centers and, more recently as we learned, preventing tunnels from being dug under their territory that can be used to launch terrorist attacks." ("Obama: 'I Have No Sympathy for Hamas'," Huffington Post, Aug. 6, 2014).
Ex-president Bill Clinton recently condemned Hamas' tactics and asked "[h]ow could they put rockets in a school to follow a deliberate strategy to force the deaths of their own civilians so as to make Israel look bad in the world?" ("Bill Clinton Slams Hamas For Using International Money To Dig Tunnels; And Store Rockets in Schools," The Yeshiva World, Aug. 3, 2014).

Carter's attempt to legitimize the terror group is consistent with his history of attempting to undermine Israel, epitomized by his 2006 work, Palestine: Peace Not Apartheid, which was rebutted by CAMERA's 2007 monograph Bearing False Witness: Jimmy Carter's Palestine: Peace Not Apartheid.
An editorial in The Washington Times summed up Carter's animosity toward the Jewish state:
"Mr. Carter's enmity toward Israel is consistent and long-standing. He has held a grudge against the friends of the Jews since Ronald Reagan, winning a record percentage of the Jewish vote, defeated him decisively in 1980… Once turned out of office, Mr. Carter made nursing the grudge a full-time job. He collected slurs against the Jewish state and put them in a toxic book in 2007 called 'Palestine: Peace Not Apartheid.' Even the title was meant to insult Israel" ("The pariah president", The Washington Times, Aug. 11, 2014).
The real question about Jimmy Carter's Middle East views is not why he's blindly hostile toward Israel, but rather at this late date, why some news media imagine them worth covering. -- Ziv Kaufman

Posted by ER at 03:17 PM | Comments (0)
Somebody Better Tell Steve Kirschbaum He's Not Speaking on Behalf of USW 8751
>
John Shinn, regional director for the United Steel Workers District Four, may need to admonish the leadership of one of his locals, USW 8751, (which represents school bus drivers in the city of Boston), about how they portray themselves at anti-Zionist, antisemitic (and Anti-American) rallies like those that took place in Boston during the month of July, culminating in a celebration of Al Quds Day on July 25, 2014.
Yesterday, Snapshots posted a statement from Shinn stating that two leaders from the USW Local 8751 who attended an Al Quds rally in Boston did so in their personal capacity and were not representing the local or the international to which they belong. He stated that "any members of USW Local 8751 who participated in that event were doing so solely on their own behalf and in no capacity representing our union or its international leadership.
Shinn better tell that to Steve Kirschbaum

At one of the previous anti-Israel rallies that took place in Boston during July, Kirschbaum, founder, former vice president and chair of USW 8751's grievance committee (and negotiator for the local) introduced himself as follows: "We're here today as labor folks, and from the Steel Workers Local 8751, Boston School Bus Union, currently fighting Veolia Corporation who bankroll the oppression and the exploitation of the Palestinian people and the Arab world." (Emphasis added.)
That's how Kirschbaum introduced himself in a video interview (seen above) with Zara Magazine at an anti-Israel rally that took place on July 19, 2014.
During the video, Zara Magazine posts graphics showing the phrase "United Steel Workers of America" under Kirschbaum's name.
Between Kirschbaum's introduction and the graphic that appeared under his name – on the screen during his speech – viewers would have no reason to believe that he is speaking on his own behalf.
Instead, they'd have every reason to believe he's speaking on behalf of his local, USW 8751.
Kirschbaum's speech, which is worth watching in its entirety, is filled with anti-American and anti-Zionist tropes. He denounces American support for Israel an expression of U.S. imperialism and falsely accuses Israel of perpetrating a "holocaust" against Palestinians.
Invoking Malcom X, Kirschbaum says he will continue to support the Palestinian cause "by any means necessary." (This this is consonant with Kirschbaum's efforts to help broadcast support for an Intifada on Al Quds day.)
And he says all these things after wrapping himself in the mantle of USW 8751.
USW 8751 Vice President Steve Gillis is no slouch when it comes to promoting anti-Israelism (and anti-Americanism). In a speech he gave at the Al Quds rally, he denounced both Israel and America as apartheid settler states and declared Texas and California "Mexican territory" and Massachusetts as "native territory."
Watch the whole thing below.
Posted by dvz at 01:52 PM | Comments (0)
BBC's Gaza Appeal Contradicts Its Own Head Statistician
The BBC web site's Arts and Entertainment section has posted information to publicize its broadcasted appeal for funds for Gaza.
The web page includes an information box claiming that 1875 Gazans have been killed since July 8 and that "85%+" are civilians.
Not even the Hamas-controlled groups reporting casualties in Gaza claim that 85%+ are civilians. Furthermore, this claim is undermined by even a perfunctory analysis of the casualties. Incredibly, it is even repudiated by the BBC's own head statistician on Aug. 8 who wrote,
The point is that it is hard to say with certainty at this stage how many of the dead in Gaza are civilians and how many were fighters.
BBC justifies the Gaza appeal on the grounds that the situation in Gaza meets three requirements
"The disaster must be on such a scale and of such urgency as to call for swift international humanitarian assistance; the DEC agencies must be in a position to provide effective and swift humanitarian assistance at a scale to justify a national appeal; and, there has to be reasonable grounds for concluding that a public appeal would be successful," it said.
Curiously, there are several other humanitarian disasters of greater magnitude occurring in the Middle East region that meet these conditions far more comprehensively; the attempted genocide of Iraqi religious minorities by Islamists with an ideology that shares elements with Hamas and a grinding civil war in Syria. Both of these conflicts have claimed well over 100,000 lives and the perpetrators do not conceal their intent.
Yet, the BBC decided that the situation in Gaza most deserved an Emergency Appeal.
That despite the fact that the Palestinians and Gazans, in particular, will have an inside track on garnering world attention and on benefitting from the continued largesse of the United Nations and international donors as it has for well over 20 years.
No such luck for the Yezidis, the Kurds, the Assyrians or the Chaldeans. Among the donor base responsive to the BBC appeal these people just don't matter much.

Posted by SS at 11:42 AM | Comments (0)
August 12, 2014
Former Foreign Correspondent Critiques Gaza Coverage
In a Washington Times commentary ("Hamas rules," Aug. 6, 2014) Clifford D. May, president of the Foundation for the Defense of Democracies, urges journalists to report more accurately from the Gaza Strip—or acknowledge the obstacles to doing so. He notes the limitations many reporters face in covering the region controlled by Hamas:
"Hamas restricts what journalists in Gaza may film, photograph and even write about. Hamas threatens and intimidates journalists who do not follow what might be called Hamas rules—rules designed to shape media coverage and influence perceptions around the world.

The problem, writes May—a former New York Times foreign correspondent—is that many in the news media fail to disclose to their audiences Hamas' oppressive nature. This basic omission may leave readers, listeners and viewers to assume that coverage from the Gaza Strip is as reliable as that from countries that uphold press freedom, like the United States or Israel. May suggests journalists at least report on their personal experiences once they have left the Strip and returned home.
"Let me say this as clearly as I know how: The journalists covering Gaza are brave. I'm not saying they should be braver — much less reckless. I do think they should be honest with their readers and viewers about the conditions under which they are operating; namely, conditions of coercion, manipulation, restriction and censorship."
He also notes that "on any day, any foreign reporter could be abducted, handcuffed and hooded, while their captors reviewed their dispatches. If not satisfied with what they see, that could be all she wrote — literally."
If that's the case then shouldn't there be a discussion within the media about the overall accuracy of reporting from Gaza? Shouldn't Hamas tactics of influence be something audiences are reminded of periodically? Reports from Gaza—or any society dominated by a single, anti-democratic party—may include not only the unintentional errors and distortions that can creep into news accounts anywhere but also propaganda presented as news, slanted or false information reporters are prohibited from checking adequately, let alone exposing.

May spotlights, among other examples of press intimidation in the Gaza Strip, the threat to John Reed of The Financial Times, "after he tweeted about rockets being fired" from near Shifa hospital and the warning to a television reporter who said he had seen rockets fired into Israel from near his hotel: "In WWII, spies got shot."
On the other hand, May refers to NBC reporter Ayman Mohyeldi, first pulled out of the Strip after apparently one-sided, anti-Israel coverage, then sent back. Mohyeldi tweeted that he was "returning to #Gaza to report. Proud of NBC's continued commitment to cover the #Palestinian side of the story."
"How," May asks, "to interpret that except as an admission that he covers only one side of the story? Can you imagine a reporter saying he was proud his media outlet was committed to covering 'the Israeli side of the story'?"
May also spotlights what he calls hypocrisy and a double standard by some journalists:
"Finally, a few words on more subtle forms of journalistic bias: Early in the current round of fighting, reporters for The New York Times asked an Israeli military spokesman 'about the repercussions of carrying out' operations against Hamas 'during the Muslim holy month of Ramadan'. If it occurred to these reporters to ask Hamas spokesmen about the 'repercussions' of firing missiles at Jerusalem during Ramadan, I missed it."
Many journalists apparently believe that by their presence in the Gaza Strip they are providing—and audiences may assume they are getting—accurate coverage, balanced and in context. Reality is more complicated, the news picture more straightforward. The Gaza Strip is ruled by a terrorist organization; reporters are intimidated and comprehensive coverage is compromised. The press owes it to its audience to say so. -- Ziv Kaufman

Posted by ER at 05:12 PM | Comments (0)
August 11, 2014
Defending Hamas, Jodi Rudoren Suggests Foreign Press Association Spreads "Nonsense"
A New York Times reporter is apparently unhappy with with the Foreign Press Association's criticism of Hamas.
In response to today's FPA statement that slams "the blatant, incessant, forceful and unorthodox methods employed by the Hamas authorities and their representatives against visiting international journalists," Jodi Rudoren, the New York Times bureau chief in Jerusalem, tweeted:
@joshmitnick Every reporter I've met who was in Gaza during war says this Israeli/now FPA narrative of Hamas harassment is nonsense

— Jodi Rudoren (@rudoren) August 11, 2014
It is unclear which and how many reporters Rudoren has met. Presumably she didn't have a chance to meet with Radjaa Abu Dagga, a French-Palestinian reporter who documented Hamas's harassment in an article for Liberation.
Blogger Elder of Ziyon managed to translate an excerpt from the article before Abu Dagga, apparently unconvinced that his treatment at the hands of Hamas was "nonsense," asked Liberation to pull his article.
Correspondent Radjaa Abu Dagga for years divided his time between Paris, where his wife and son live, and Gaza, where his parents live and where he works. On 18 June, when he wanted to cross the Rafah border, an officer banned his way and took his passport like all Palestinians trying to cross into Egypt that day.

After four blocked attempts to leave Gaza without explanation over weeks, the Palestinian journalist was summoned by the security services of Hamas on Sunday. "I received a call from a private number. They summoned me to Al-Shifa Hospital in the Gaza City center," explains Radjaa. He carried with him his two phones, his press card and a small camera.

A few meters from the emergency room where the injured from bombings are constantly flowing, in the outpatient department, he was received in "a small section of the hospital used as administration" by a band of young fighters. They were all well dressed, which surprised Radjaa, "in civilian clothing with a gun under one's shirt and some had walkie-talkies." He was ordered to empty his pockets, removing his shoes and his belt then was taken to a hospital room "which served that day as the command office of three people."

A man begins his interrogation: "Who are you? Who do you call? What are you doing?" "I was very surprised by the procedure," admits Radjaa, who showed him his press card in response. Questions came. They asked if he speaks Hebrew, he has relations with Ramallah. Young Hamas supporters insistently ask the question: "Are you a correspondent for Israel?" Radjaa repeated that only works for French media and a chain of Algerian radio.

It was then that the three men delivered this message: "This is yours to choose. We are an executive administration. We will carry the message of Qassams. You have to stay at home and give us your papers. " Stunned to be covered by the Ezzedine al-Qassam Brigades, the armed wing of Hamas, Radjaa tried to defend himself and especially to understand why such a decision was taken against him. In vain. "It is impossible to communicate with these people," laments the journalist.

He is not the first to undergo this kind of pressure and combatants in front of him did not hide. "They are enraged against the presidency and accused me of collaborating with Mahmoud Abbas," he says. Reporters Without Borders confirms that this is not an isolated case. The organization has indeed been alerted by the threats of Hamas against Palestinian and foreign journalists for their professional activities.
Norwegian journalist Paul Jørgensen yesterday appeared to corroborate Abu Dagga's account. According to Google's translation from the original Norwegian, Jørgensen discusses "strict orders" from Hamas not to document the terror group's violence, and points out that several reporters have been kicked out of Gaza for reporting in a way that displeases the group.
It is hard to believe Rudoren was unfamiliar with Abu Dagga's (widely discussed) article. She certainly knows of it now, as several people brought it, and Jørgensen's comments, to her attention on Twitter. Nonetheless, the Times reporter has yet to clarify for her Twitter followers that the FPA's statement might not be "nonsense" after all.
Posted by GI at 01:16 PM | Comments (0)
August 08, 2014
The BBC -World's Largest Media Organization - Finally Questions Gaza Casualties
The BBC is the world's largest media organization. It devotes enormous resources to reporting news from the around the world. Now we know it even has an in-house statistics department. Yet, it is weeks late in reporting what CAMERA and numerous other organizations have documented about the disproportionate number of young adult males - in the age bands frequently encountered as combatants - among the so-called civilian fatalities in Gaza.
It is a sad commentary on the BBC, that organizations possessing just a tiny fraction of the BBC's vast resources, organizations that in many cases aren't even news organizations and often lack correspondents, figured out weeks ago that the casualty statistics presented by Gazan authorities and their affiliates are misleading and should not be relied upon.
The BBC on August 7, released a report by its head statistician acknowledging the excess representation of young males among the fatalities and underrepresentation of women and children. Even so the report still uses overly cautious language, for example, stating,
There has been some research suggesting that men in general are more likely to die in conflict than women, although no typical ratio is given...
And what organization does the BBC credit with raising questions about the demographics of the casualties? The New York Times, of course, which has been equally tardy in reporting on the question of the proportion of civilian casualties versus combatants.
CAMERA was first to point out the disproportionate number of fatalities among young males of prime combat age more than three weeks ago. Numerous media sources followed suit with their own coverage of this observation. Yet the BBC only seems to have noticed after the Times published its late-in-the-game article a day ago.
A question to ponder with respect to both the BBC's and the Times' sluggishness in discussing the implication of a disproportionate number of young combat-age fatalities: did these two media giants intentionally delay reporting on this topic during the period of heaviest coverage of the conflict in order to allow Hamas and its supporters plenty of time to implant the perception that Israel's response was disproportionate and indiscriminate?

Posted by SS at 01:49 PM | Comments (0)
Chris Cuomo's Terrible Gaffe on Christians in Jerusalem
Note: An update was appended to this post at approximately 5 p.m. Friday, Aug. 8, 2014
First the good news.
And then the bad news.
The good news is that CNN is finally waking up to the extirpation of Christians by radical Islamists in Iraq. And moreover, Chris Cuomo, (shown above), is doing what he can to draw attention to this story.
The bad news is that CNN morning anchor Cuomo does not know what he's talking about when it comes to Christians in Jerusalem.
The Media Research Center captured the evidence of Cuomo's ignorance in a post it published yesterday.

In a segment that aired on Thursday, August 7, 2014, CNN's morning show New Day did a brief segment on the ethnic cleansing of Christians from Qaraqosh, the largest Christian city in Iraq. CNN correspondent Nic Robertson described how tens of thousands of Christians "are now fleeing for their lives" into Kurdish-controlled areas, looking for sanctuary.
It was a brief segment, but had great value because it communicated to the viewers about a humanitarian catastrophe that is taking place.
But then Chris Cuomo undermined its value with the following statement:
Of course the question becomes is who is going to defend the Christians. A large under reported story. The same thing is going on in Jerusalem.
No, Chris, the same thing is not "going on in Jerusalem." Christians are not being forced to flee Jerusalem by the tens of thousands. Christians are not having their heads cut off in the Holy City as they are in Iraq.
In fact, Israel, Jerusalem included, is one of the few places in the Middle East where the indigenous population is growing. In 1949 there were approximately 34,000 Christians living in Israel, the vast majority of them Arabs. Today there are more than 130,000 Arab Christians living in Israel. That's a huge increase and it took place under Israeli control.
The population of Christians in Jerusalem has remained steady since the early 1960s. In 1961, the Jordanian Census reported that in 1961, there were 10,795 Christians living in Jerusalem. In 1967, an Israeli census reported 10,813 Christians living in the city and in 2007 and in 2011, the Jerusalem Institute for Israel Studies reported that there were approximately 14,000 Christians living in the city.
The numbers are not exactly comparable because the city's boundaries have changed over the years, but this doesn't detract from the main point: That Christians in Jerusalem are not being driven from their homes by murderers as they are in Iraq.
Hopefully, Chris Cuomo will learn more as events proceed.
Update: There is hope. Cuomo's timeline on Twitter indicates that he is cognizant of the problems with radical Islam and its hostility toward Israel and is interested in promoting the plight of Christians suffering Islamist violence. See these tweets from August 7, 2014:
Posted by dvz at 01:17 PM | Comments (1)
August 06, 2014
Washington Post Cites CAMERA on Palestinian Casualty Figures
Weighing in on the uncertainty concerning Palestinian casualty figures, Paul Farhi of The Washington Post cites CAMERA's Steven Stotsky ("Reporters grapple with politics, erratic sources in reporting Israeli/Gaza death toll"):
A pro-Israeli group, the Committee for Accuracy in Middle East Reporting in America (CAMERA), last month analyzed two weeks of casualty data released by the PCHR and found that 57 percent of the dead were males between the ages of 17 and 39. While it's unclear whether these men were actually militants, the disproportionate number of young men of prime fighting age suggests that there may be more combatants among the dead than PCHR and other organizations have acknowledged, concluded Steven Stotsky, a senior analyst for CAMERA.

"Journalists have a responsibility to convey this uncertainty to their audiences and not present figures provided by Hamas and Hamas-affiliated sources as unqualified fact," Stotsky wrote.
Posted by TS at 03:30 PM | Comments (2)
NY Times Errs on 'New Settlements'
A New York Times infographic yesterday entitled "A History of Obama-Netanyahu Tensions" erroneously refers to Israeli announcements of "new settlements" in recent years.
The April 2014 item blatantly errs:

But Israel had not announced any "new settlements," not in spring 2014, and not for many years.

Rather, Kerry's comment was in reference to tenders published for 708 new housing units in the Gilo neighborhood of Jerusalem. As Mark Landler reported in The New York Times at the time (April 8, 2014):


While Mr. Kerry said both sides bore responsibility for "unhelpful" actions, the precipitating event, he said, was Israel's announcement of 700 new housing units for Jewish settlers in East Jerusalem.
It is worth noting that in previous rounds of negotiations, such as in Camp David, and again in the 2008 Olmert talks, it was never under consideration to transfer Gilo to the Palestinian Authority. (That the Palestinian leadership has conceded Gilo is clear, for instance, in the Palestine Papers.)

The International New York Times commendably published a correction Nov. 7, 2013 to a nearly identical error. The correction stated:
An article on Wednesday about American efforts to reinvigorate the Middle East peace negotiations stated incorrectly that Israel plans to build 3,500 additional settlements on the West Bank and in East Jerusalem. Israel does not plan more settlements, but it has recently advanced projects for that number of new housing units within existing settlements.
Stay tuned for news of a correction.
For additional New York Times corrections prompted by CAMERA, please see here.
Posted by TS at 01:37 PM | Comments (1)
August 05, 2014
On Hamas Imagery, New Delhi Television Shows West How It's Done
While most of the mainstream Western media hasn't provided even one still photograph of a Hamas fighter, an Indian television station gets the goods. New Delhi Television broadcast and posted online intriguing video of Hamas assembling a launch site and firing a rocket from just outside a Gaza hotel in a crowded civilian neighborhood. The footage was only shared after the NDTV team was out of Gaza and safe from Hamas retaliation.
This report is being aired on NDTV and published on ndtv.com after our team left the Gaza strip - Hamas has not taken very kindly to any reporting of its rockets being fired. But just as we reported the devastating consequences of Israel's offensive on Gaza's civilians, it is equally important to report on how Hamas places those very civilians at risk by firing rockets deep from the heart of civilian zones.
True, it is equally important. Are you taking notes, Western journalists?
Posted by GI at 10:24 AM | Comments (5)
August 04, 2014
Miami Herald Editorial Crystal Clear on Gaza Fighting
A Miami Herald editorial July 28 explained to its readers why Israel rejected U.S. Secretary of State John F. Kerry's ceasefire proposal:
"When Hamas decided to initiate rocket attacks on Israel, it invited the furious reprisal that began earlier this month. Three times since 2006, Israel has responded to aerial assaults on its citizens with fierce counter-attacks, and each time the fighting has come to an inconclusive end that allows its enemies to replenish their arsenals and start planning for the next round.
"For that reason, Israel's Security Cabinet unanimously rejected a U.S. proposal for a ceasefire on Friday, though Israel agreed to a 12-hour pause for Saturday. The images from the funerals of Israeli troops are heart-rending. The scenes of horror and destruction in Gaza, gut-wrenching. No one could wish for the people of Gaza to endure prolonged misery.
"But it was Hamas that wished for the fighting. First, by attacking Israel, and then by rejecting an Egyptian ceasefire proposal because it wanted its own narrow demands addressed first. That included lifting border restrictions and the release of dozens of former prisoners Israel rearrested in a crackdown on the West Bank after the abduction and killing of three Israeli teenagers" ("Israel's Challenge", Miami Herald, July 28, 2014).
The editorial directly blames Hamas for the bloodshed. Unlike other publications that sought a contradictory "even-handed" approach—balancing a democratic country and a terrorist organization with genocidal goals—The Herald weighed defense against aggression. (CAMERA has noted how a New York Times article, for example, made it seem "Hamas and Israel are equally bad—but Israel is worse."
Instead of narrowly focusing on casualties in the Gaza Strip, The Herald's editorial sketched the conflict, touching on its history and explaining Hamas' tactics. Rather than get lost in mistaken interpretations of militarily proportional use of force, the newspaper's editors tell readers the truth about Hamas and note that for any peace-loving sovereign nation, in this case Israel, "the right of self-defense is not negotiable." -- by Ziv Kaufman

Posted by ER at 06:01 PM | Comments (1)
UPDATE: The New York Times Changes Problematic Web Article
Original Posting
In typical New York Times fashion, an online story today spun the events of the day to hide and whitewash Palestinian terrorism and highlight Israeli hostilities, presenting the Palestinian side of a disputed version of events as fact.
The article, by Steve Erlanger, was originally headlined "Israel Suspends (later changed to "Halts") Attack in Parts of Gaza, but Strike Kills Girll." The reporter began the article by stating as fact:
Minutes after Israel began a unilateral and partial cease-fire in Gaza on Monday, the air force struck a house in the Shati refugee camp in Gaza City, killing a girl, 8, and wounding at least 29 others.
Yet several paragraphs later, he suggested that this version of events was disputed:
Ashraf al-Qedra, a spokesman for the Health Ministry in Gaza, said that the strike on the house in Shati took place several minutes after the announced start of the cease-fire, but one Israeli official from the army agency that controls coordination with Gaza told Israel Radio that the strike took place just before the cease-fire began.
Given that the Gazan spokesman and the Israeli official differed on the timing of the strike, it is telling that Times reporter's inclination was to present the Palestinian version of events in the lede as undisputed factt rather than noting that "around the time that a unilateral and partial cease-fire went into effect, the Shati refugee camp in Gaza city was struck....The timing of events is disputed."
More disturbing, however,was the way the terror attack in Jerusalem that killed a Jewish pedestrian and injured three others was hidden in the very llast paragraph of the article, not to mention its complete absence from the headline.
Of course, this is typical for the New York Times, which tends to bury and whitewash accounts of Palestinian aggression and terrorism against Israeli victims. Indeed, the brief account of the Jerusalem attack whitewashes the terrorist's actions and reverses the sequence of events by beginning with his shooting death. Erlanger wrote:
In East Jerusalem, the police shot and killed a local Palestinian who drove a construction vehicle over a pedestrian, killing him, and then knocked over a bus, which happened to be nearly empty, slightly injuring three people.
The aggressor in this version of events is the Israeli police who "shot and killed" the "local" Palestinian who happened to run over a pedestrian and knock over an empty bus. There is no indication that this was a deliberate act of terror rather than just a case of a local Palestinian being shot dead by trigger-happy Israeli police after losing control of a vehicle. When describing a terror attack like this, it would be obviously be more intuitive to start with the death of the innocent victim before the death of the perpetrator. A more objective, journalistic version of events came from the wire services:
AP: "An Israeli-declared temporary cease-fire and troop withdrawals slowed violence in the Gaza war Monday, though an attack on an Israeli bus that killed one person in Jerusalem underscored the tensions still simmering in the region...The lull was broken by the Jerusalem assault, which saw a man ram the front end of a construction excavator into an Israeli bus. Police described the incident as a "terrorist attack," indicating Palestinian involvement."




Reuters: "A Palestinian killed an Israeli and overturned a bus with a construction vehicle on Monday and a gunman wounded a soldier in attacks in Jerusalem that appeared to be a backlash against Israel's Gaza war."




AFP: " One Israeli was killed and five others injured Monday when an excavator rammed into a Jerusalem bus, turning it over before the driver was shot dead by police, officials said. "
Let's hope that the print edition of the newspaper tomorrow will present a more accurate and objective version of today's news events.
Update:
The New York Times updated the online article. The originally problematic sections now more accurately reflect the day's events. The disputed time of the strike on the al Shati refugee camp is now described as follows:
Israel's desired outcome could unravel if Hamas continues to attack Israel — at least 53 rockets were fired on Monday, while Israel had decreed a seven-hour unilateral and partial cease-fire. And Palestinians accused Israel of violating its own cease-fire when the air force struck a house in the Shati refugee camp in Gaza City, killing a girl, 8, and wounding at least 29.

Palestinians said the attack came minutes after the cease-fire, while one Israeli official, Yoav Poli Mordechai from Cogat, the army agency that controls coordination with Gaza, told Israel Radio that the attack was several minutes before. The Israeli military, for its part, said the strike, aimed at "a senior Hamas operative," was at "approximately 10 a.m.," when the cease-fire began.
And the Jerusalem terror attack is now described in this way:
In an ultra-Orthodox neighborhood of Jerusalem on Monday, a Palestinian drove a heavy construction vehicle over a pedestrian, killing him, and overturned a nearly empty bus, injuring three people, before the police shot the driver to death.
Posted by RH at 03:00 PM | Comments (0)
NY Times Speaks Up on Censorship in Gaza Conflict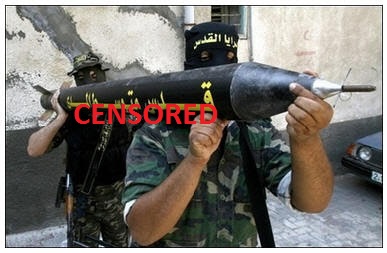 Much has been made recently about Hamas intimidating journalists into keeping silent about the terrorist organization's activity within civilian facilities and into refraining from publishing images of Hamas fighters or weapons. Journalists have deleted tweets about Hamas' exploitation of Shifa hospital. In a Los Angeles Times photo gallery about the conflict now close to 100 images, not a single photo shows Hamas fighters or weaponry. Not a single caption even mentions Hamas.
The New York Times, too, has not escaped scrutiny for its failure to include images depicting Hamas.
Uriel Heilman of JTA helpfully provides a response from Eileen Murphy, The Times' vice president for corporate communications, on the lack of Hamas images in the "Paper of record":
Our photo editor went through all of our pictures recently and out of many hundreds, she found 2 very distant poor quality images that were captioned Hamas fighters by our photographer on the ground. It is very difficult to identify Hamas because they don't have uniforms or any visible insignia; our photographer hasn't even seen anyone carrying a gun.

I would add that we would not withhold photos of Hamas militants. We eagerly pursue photographs from both sides of the conflict, but we are limited by what our photographers have access to.
Hamas terrorists have fired over 3,000 missiles at Israeli civilians since the start of this conflict, many of them from very densely populated neighborhoods where foreign photographers are endlessly photographing devastation. If New York Times' photographers aren't given "access" to shoot these Hamas rocket launching teams, The Times should be saying so loudly and clearly. But it's not.
Finally, though, over the weekend The Times does speak up about censorship in the Gaza conflict. Steven Erlanger reports:
Lieutenant Goldin is a relative of Mr. Yaalon, the defense minister. Mr. Yaalon's grandfather and the grandmother of the lieutenant's father were brother and sister. Mr. Yaalon lectured at Lieutenant Goldin's school.

Israel's military censor had blocked publication of that detail of their family relationship until the death was announced Sunday, concerned that Hamas might try to profit from that knowledge. International journalists must agree in writing to comply with the censorship system to work in Jerusalem; Friday was the first time in more than six years that the censor had contacted The New York Times.
Erlanger, a former Jerusalem bureau chief for The Times, is no stranger to Hamas and its tactics. When he reported from the region, he virtually ignored the story of Palestinian incitement against Jews and Israel. Days after he safely arrived in Paris, he published a serious article on the hate indoctrination taught to Palestinians of all ages, a key element of the conflict.
By treating the two sides with a double standard, by standing by silently as one side relentlessly threatens and intimidates reporters, and at the same time clearly noting (as is reasonable) when Israeli censorship is at play, The Times' continues to demonstrate it has abandoned the basic tenents of serious, professional journalism.
Posted by TS at 10:52 AM | Comments (1)
AP Grossly Understates Iron Dome Interceptions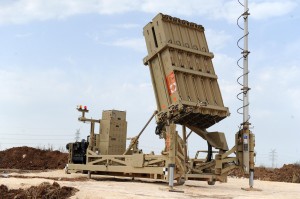 As of Saturday, the Iron Dome intercepted more than 550 rockets fired by Palestinians since the start of "Operation Protective Edge" (Photo from Israel's Ministry of Defense)
In an Aug. 1 Associated Press article, Bradley Klapper grossly understates the number of Palestinian rockets fired at Israel that have been intercepted by the Iron Dome. He wrote:
The money will go to restocking Israel's Iron Dome, which has been credited with shooting down dozens of incoming rockets fired by Palestinian militants over three and a half weeks of war.
As of Saturday (Aug. 2), the Iron Dome has shot down 552 rockets, the army reported.

Following the congressional vote to approve an additional $225 million for the Iron Dome, U.S. Congressman David N. Cicilline (D-RI), a member of the House Foreign Affairs Committee, released the following statement:
Israel has the right to defend itself against any assault on its sovereignty and its people. This emergency funding will help replenish Israel's Iron Dome to safeguard the Israeli people from Hamas rocket fire. Since the beginning of the escalation of violence the Iron Dome has intercepted hundreds of Hamas rockets and saved the lives of innocent civilians. . .
Stating that the Iron Dome shot down "dozens" of rockets, not "hundreds" is a substantive misrepresentation. While AP editors have declined to publish a clarification, they agree that the future reports should correctly reflect that that hundreds of rockets have been intercepted.
Unfortunately, in its live blog Saturday (Aug. 1), the Times of Israel relied on the misleading AP report alleging that the Iron Dome shot down "dozens" of rockets. (Screen capture below.)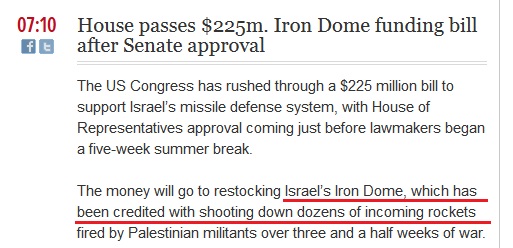 Another post on the same live blog later in the day (17:35) correctly reports that, as of Saturday, the Iron Dome shot down 552 Palestinian rockets. Times of Israel editors have yet to correct the erroneous reference to "dozens" of intercepted rockets.
Posted by TS at 09:27 AM | Comments (1)
August 01, 2014
Updated: United Steel Workers 8751 – A Bus Drivers Union That Supports People Who Blow Up Buses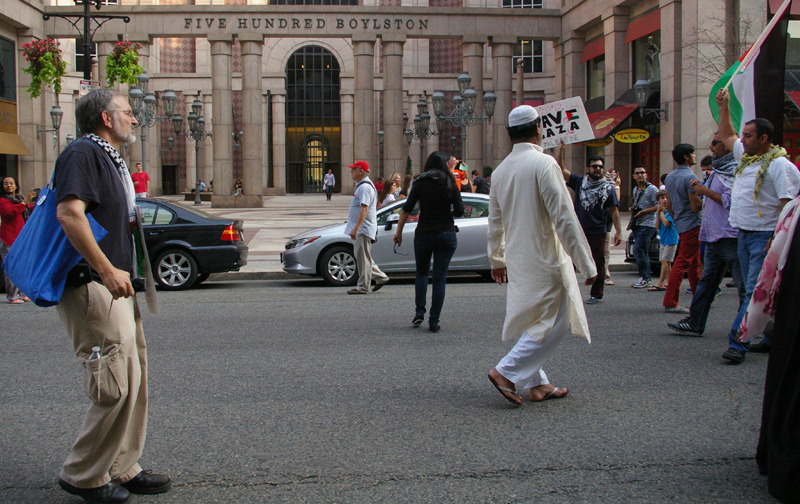 Steve Kirschbaum, founder and Chair of the Grievance Committee Stevan Kirschbaum of United Steel Workers 8751, marches at the front of a parade in downtown Boston in celebration of Al Quds Day on July 25, 2014. Al Quds Day is a celebration inaugurated by Ayatollah Khomeini in Iran in 1979, (the year of the Iranian Hostage Crisis), to show disdain and contempt for the Jewish state. Al Quds Day celebrations are typically a scene of anti-Israel, antisemitic, and anti-American incitement.(Photo: Dexter Van Zile)
Update, Aug. 11, 2014: Kirschbaum is not president of USW 8751, but its founder and Chair of its Grievance Committee. The text of this entry has been changed to reflect that fact. See note below.
Why are the founder and vice president of the union that represents Boston's school bus drivers siding with terrorists who blow up buses?
For the past year or so, United Steel Workers 8751, which represents the bus drivers who bring children to public schools in the city of Boston, has been in an ugly contract dispute. It's fighting with a company called Veolia, which runs the school buses for Boston Public Schools.
In an effort to gain support in its fight with Veolia, which also runs bus lines in Israel, USW 8751 leaders have allied themselves with anti-Zionists in Boston. This is particularly true with USW 8751 founder Steven Kirschbaum and the local's second-in-command, vice president Steven Gillis.
In March USW leaders picketed in support of Students for Justice in Palestine at Northeastern University in March after it was briefly suspended from operating at the school.

SJP was briefly suspended at Northeastern "after years of anti-Semitic vandalism, glorification of terrorist groups, calls for the destruction of Israel, and other actions by NU SJP's leadership, all of which have created a hostile learning environment for Jewish pro-Israel students on campus," Ilya Feoktistov reported at Frontpage Magazine in March 2014. The report continues:
NU SJP emerged as a belligerent presence at Northeastern when its members crashed a Holocaust Awareness Week event in 2011 by whipping out anti-Israel signs and yelling insults at the audience and speakers before storming out.
For a detailed analysis of SJP's activities at Northeastern, go here.
Kirschbaum and Gillis' involvement with anti-Zionism in Boston does not stop with its support for SJP. It was also a major player in the Al Quds Day Celebration that took place at Copley Square on July 25, 2014. During this rally, protesters chanted "Intifada! Intifada! Long Live the Intifada!" Here is a photograph of the aftermath of an attack that took place during the Second Intifada: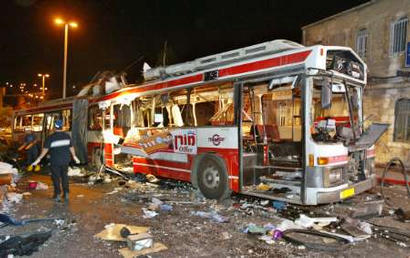 In sum, the Al Quds Rally was an anti-Israel hate fest with protesters carrying signs demonizing Israel with false accusations of genocide and comparisons of Zionism with Nazism, the type of rhetoric Palestinian terrorists have used to justify bus bombings like the one above. Kirschbaum and Gillis were prominent participants in this rally. (For information about this rally, go here.)
Kirschbaum provided advice to Al Quds Day organizers and Gillis carried a loudspeaker during the march, during which protesters called for Israel's destruction. Here are some photos documenting Kirschbaum and Gillis' involvement with the Al Quds Day celebration: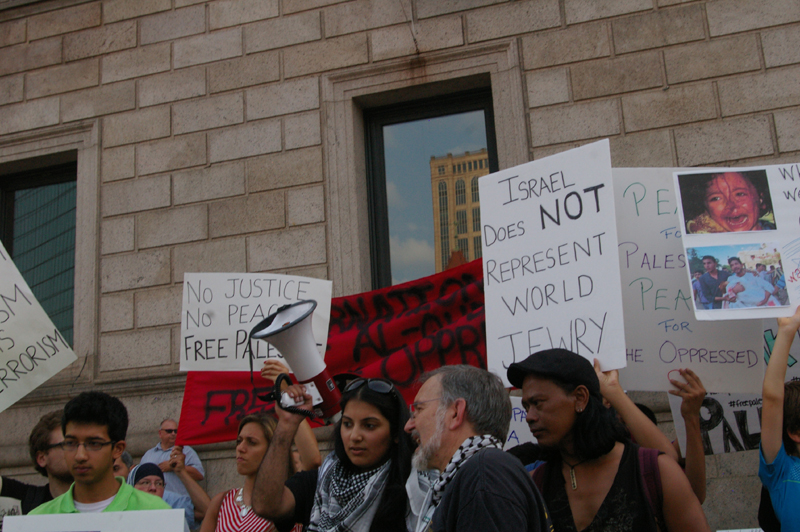 Steve Kirschbaum, founder of United Steel Workers 8751, gives advice to an organizer of the Al Quds rally that took place in downtown Boston on July 25, 2014. (Photo: Dexter Van Zile)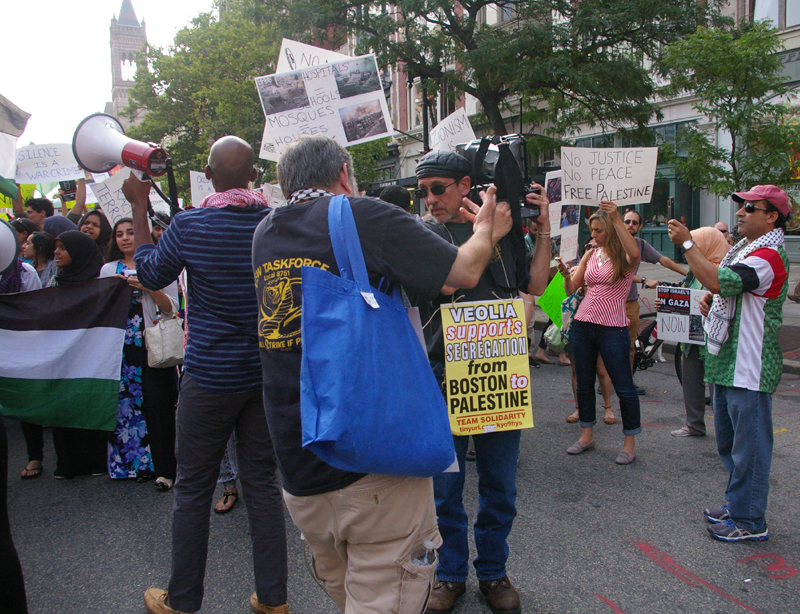 Steve Kirschbaum, founder and chair of the Grievance Committee of United Steel Workers 8751, speaks with local vice president Steve Gillis at the Al Quds rally that took place in downtown Boston on July 25, 2014. (Photo: Dexter Van Zile)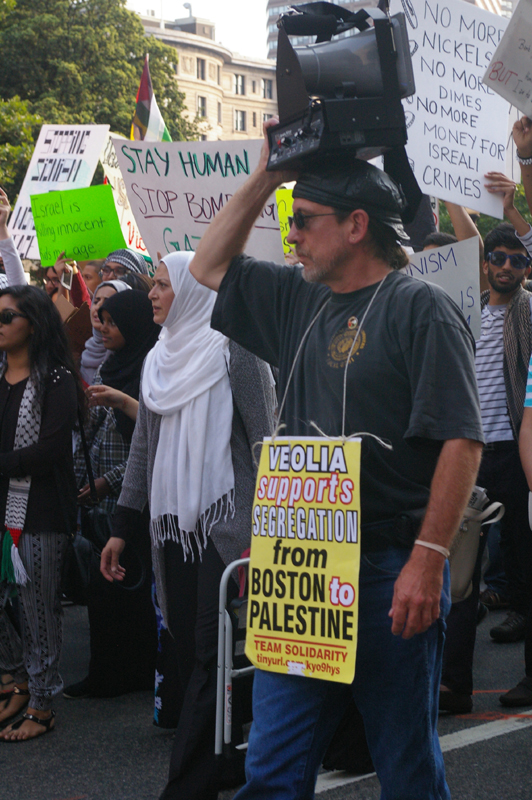 Steve Gillis, vice president of United Steel Workers 8751, assists with the sound at the Al Quds rally that took place in downtown Boston on July 25, 2014. (Photo: Dexter Van Zile)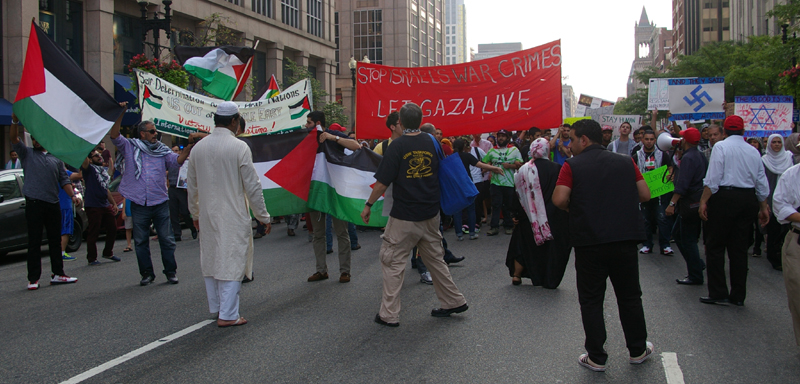 Steve Kirschbaum, founder of United Steel Workers 8751, walking with the crowd at the Al Quds rally that took place in downtown Boston on July 25, 2014. (Photo: Dexter Van Zile)
Conclusion
How can the leadership of USW 8751 participate in an Al Quds Day Celebration in good conscience? The event was inaugurated by Ayatollah Khomeini in Iran in 1979. Celebrations of Al Quds Days have been the scene of anti-Israel, antisemitic and anti-American incitement throughout the world.
For example, Islamists have called for the murder of Jews at Al Quds Day rallies in Toronto. Things weren't so bad here, but hate was clearly on display in Boston.
Why is USW 8751 helping to establish the celebration of such an event in Boston, which has suffered so much at the hands of Muslim extremists? Why is the leadership of USW 8751 allying itself with haters like this?
It's one thing for a union to be in conflict with the company its members work for.
It's another thing altogether for a labor organization to provide moral and institutional support to protesters who broadcast anti-Zionist and antisemitic hate in the streets of Boston.
Note, CAMERA received the following message on Aug. 11, 2014:
Dear editor - This week, an Aug. 1, 2014 article on your website incorrectly concluding that the USW provided "moral and institutional support to protesters who broadcast anti-Zionist and antisemitic hate in the streets of Boston" (http://blog.camera.org/archives/2014/08/united_steel_workers_8751_help.html) was brought to our attention. The USW would like to clarify immediately that our union, which represents about 850,000 workers of diverse backgrounds in a variety of industries throughout the United States, Canada and the Caribbean, does not support any of the anti-Israel, anti-Semitic or anti-American organizations associated with the Al Quds Day event. Further, Steve Kirschbaum is not the president of USW Local 8751, and although Steven Gillis is the local vice-president, any members of USW Local 8751 who participated in that event were doing so solely on their own behalf and in no capacity representing our union or its international leadership. We respectfully ask that the article linked above be removed entirely or amended to reflect that reality. John Shinn, Director - USW District 4
Response: In preparing subsequent articles about Gillis and Kirschbaum's involvment with the Al Quds Day Celebration, the author of this post made numerous efforts to contact USW 8751's office in Roslindale, Mass. and the USW's subdistrict office in Milford, Mass. John Shinn's response is the first contact anyone from the USW has made with CAMERA.
Posted by dvz at 05:09 PM | Comments (4)
Israeli Missile Targets Rockets Launched From Field Next to Hotel
Much of the coverage of the violence in Gaza contains images of maimed and dead Gazan civilians, especially women and children. The implication is that Israel is not taking all the precautions that it could to avoid harming civilians. Less frequently shown is the problem that Israel confronts with rocket launchers positioned next to buildings inhabited by civilians. This clip is an example of refreshing candor. Al Jazeera reporter Nick Shifrin is on the air when an Israeli missile hits a field immediately adjacent to a hotel. Shifrin informs viewers that rockets had been repeatedly launched from this field that is only 40 feet from the hotel.
Posted by SS at 03:52 PM | Comments (1)