« Robert Mackey's "Open Source" Journalism Anything But | Main | Boston Globe Editorial Wrong on Rocket Chronology »
July 23, 2014
Wall Street Journal Reporter Deletes Description of Hamas Using Hospital
The Wall Street Journal's Nick Casey posted to Twitter a description of Hamas's use of Shifa Hospital, but inexplicably deleted the tweet a short while later.
Tablet's Yair Rosenberg, who noticed the disappearance, posted an image of the original tweet, which he suggested was censored because Hamas wouldn't approve of the content. "If you want to understand how Hamas intimidates the media," Rosenberg said on his Twitter page, "read this WSJ photographer's tweet—that he just deleted."
Are Wall Street Journal reporters self-censoring? The newspaper owes its readers an explanation.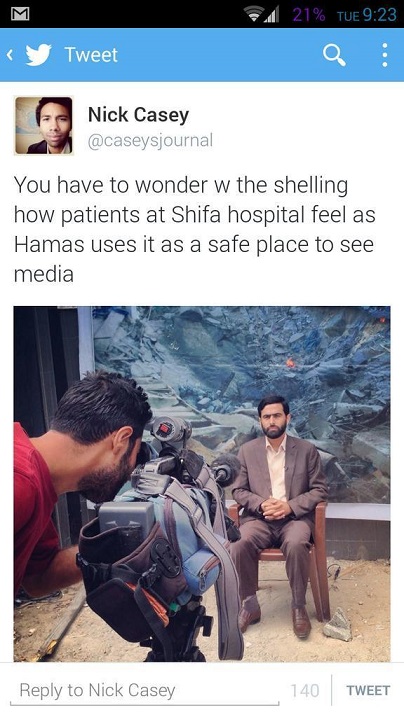 Posted by GI at July 23, 2014 11:03 AM
Comments
UN and others should STOP FUNDING HAMAS.
Hamas leaders have got real rich but much money has been left for buying thousands of missiles
Posted by: lasse at July 26, 2014 05:54 AM
Guidelines for posting
This is a moderated blog. We will not post comments that include racism, bigotry, threats, or factually inaccurate material.
Post a comment