« Palestinians in Hebron Hand Out Pastries in Celebration of "Kidnapping" | Main | Did Newsweek Promote Fake Atrocity Video? Will ISM Produce Video for Inspection? »
July 21, 2014
The Moral Blindness of the World Council of Churches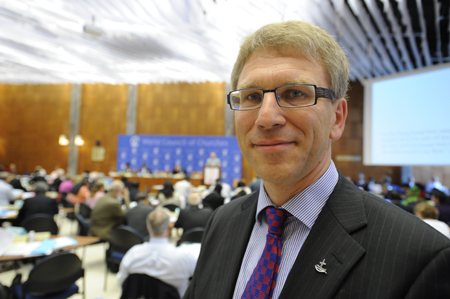 WCC General Secretary Rev. Dr Olav Fykse Tveit
When it comes to interpreting events in relation to Israel, the World Council of Churches consistently demonstrates a mind-boggling moral blindness as it ignores reality, omits facts, and demonizes the Jewish State.
On July 11, 2014 – just four days after Israel commenced Operation Protective Edge in response to the dramatic increase in the number of rockets fired from Gaza at civilian targets in Israel – Rev. Dr. Olav Fykse Tveit, the General Secretary of the WCC, issued a document titled, "Concern over Violence in Gaza."
This declaration begins with the words: "We strongly condemn the indiscriminate attacks by Israeli military on the civilian population in Gaza, as we absolutely condemn the absurd and immoral firing of rockets by militants from Gaza to populated areas in Israel." This opening line uses the egregiously false allegation of "indiscriminate attacks by Israeli military on the civilian population in Gaza" in an attempt to create a non-existent moral equivalency between the actions of Israel and the actions of Hamas.
The Israel Defense Forces have made it very clear: "The operation has one goal: to stop Hamas' incessant rocket attacks against Israel's civilians." In line with that objective, rocket launching sites and buildings containing weapons are targeted for destruction with surgical precision. In order to protect civilian lives, the military gives notice of the intended targets to its enemies through phone calls and text messages, leaflets, and "knocks" on the roof of the targeted building before launching a mission so that civilians have a chance to flee.
One doesn't have to take the word of the Israelis concerning the measures they take to prevent civilian casualties because the Palestinians acknowledge it as well. The Palestinian Representative at the UN Human Rights Council, Ibrahim Khreisheh, said on Palestinian Authority TV on July 9, 2014: "Please note that many of our people in Gaza appeared on TV and said that the Israeli army warned them to evacuate their homes before the bombardment."
Rather than demonstrate concern for the safety of their people, Palestinian leadership has consistently insisted that their civilians ignore the warnings from the IDF and stay in targeted areas. In a statement on Al-Aqsa TV (Hamas) on July 14, 2014, this leadership said:
We call on our Palestinian people, particularly the residents of northwest Gaza, not to obey what is written in the pamphlets distributed by the Israeli occupation army. We call on them to remain in their homes and disregard the demands to leave, however serious the threat may be.
After using all possible means to warn the population, the IDF goes even further. If civilians are spotted in the proximity of a targeted site, the air force abandons air strikes, postponing them until a later date. This video from the cockpits of Israeli planes provides examples of incidents during the current operation in which the personnel involved made the decision to strike particular targets at a later date in order not to endanger civilians.
But these facts are omitted, and as a result, the actions of Israel and the IDF, which are defensive of both Israeli and Palestinian civilians, are demonized.

By way of contrast, Hamas indiscriminately fires rockets at civilian targets throughout Israel, with the goal of causing as many casualties as possible. In addition to targeting civilians – which is a war crime according to international law – this terrorist organization commits a double war crime by using their own people as human shields; an action publicly defended by Hamas spokesman Sami Abu Zhuri on Al-Aqsa TV (Hamas) on July 14, 2014.
The use of their citizens as human shields is strategic and pre-meditated. Knowing that Israel seeks to destroy military targets, Hamas intentionally imbeds those targets among civilians, thereby purposefully endangering their own people. Missile launching sites are located in dense population areas and weapons are hidden in mosques, hospitals and schools. This strategy not only makes it nearly impossible for Israel to strike without endangering civilians, but it provides great propaganda for Hamas when they can show pictures of dead civilians.
These realities stand in sharp contrast to Tveit's false allegation of "indiscriminate attacks…on the civilian population." Indeed, the Israeli Defense Forces are the only military in the world that gives its enemy advance notice of an impending operation. As Colonel Richard Kemp, the former commander of British forces in Afghanistan, said in his testimony before the UN Human Rights Council in October 2009, "During Operation Cast Lead, the Israeli Defense Forces did more to safeguard the rights of civilians in a combat zone than any other army in the history of war."
The documented facts concerning the Israeli method of operation during war refute Tveit's attempt to create a moral equivalency between the actions of Israel and Hamas.
No matter how hard he and the WCC try create one, there is absolutely no moral equivalency between a society that seeks the death of others while glorifying the death of their own, and a society that goes to great extremes to protect the lives of others while fighting in defense of the lives of their own.
This attempt to create a non-existent moral equivalency between Israel and Hamas by ignoring reality and omitting facts only reveals the glaring moral blindness of the World Council of Churches.
-- Tricial Miller, Ph.D.
Posted by dvz at July 21, 2014 02:18 PM
Comments
Guidelines for posting
This is a moderated blog. We will not post comments that include racism, bigotry, threats, or factually inaccurate material.
Post a comment