« Where's the Coverage? Palestinians Want to Eliminate Israel | Main | Aussie Site Engages With Unfounded Headline on 'Revenge Killing' »
July 02, 2014
Huffington Post False Headlines: Air Strikes in West Bank
UPDATE, July 2, 4:55 EST: Huffington Post UK Corrects: No West Bank Airstrikes
A Huffington Post UK headline yesterday falsely claims that the West Bank has been subject to airstrikes. A screen capture of the headline follows: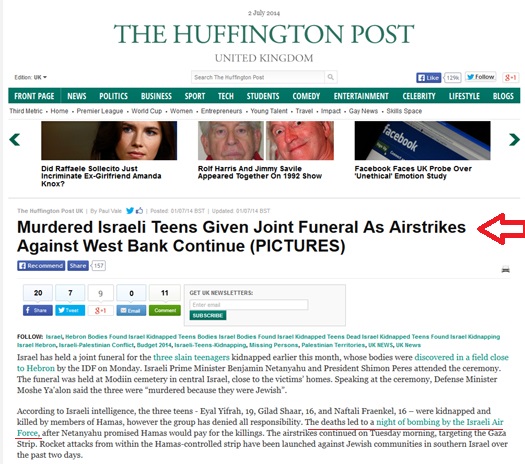 In response to rocket fire emanating from the Gaza Strip into southern Israel over the last several days, Israel has launched airstrikes against targets in that coastal strip. It has not carried out any airstrikes in the West Bank.
In addition, the accompanying article by Paul Vale erroneously reports:
The deaths [of the three Israeli teens] led to a night of bombing by the Israeli Air Force, after Netanyahu promised Hamas would pay for the killings.
But, as previously noted, the airstrikes in the Gaza Strip were a response to the rocket fire coming from there, not to the murder of the three teens. The Huffington Post article is itself hyperlinked to an Associated Press story, also on the Huffington Post site, which notes that the Israeli military said it was rocket fire from the Gaza Strip which led to the airstrikes there:
Early Tuesday, Israel carried out an especially intense series of airstrikes in Gaza, saying it had struck 34 targets across the Hamas-controlled territory. The military said the airstrikes were a response to a barrage of 18 rockets fired into Israel since late Sunday.
The last media outlet to report on non-existent airstrikes in the West Bank was The Financial Times. We urge Huffington Post UK to correct the record, as did The Times.
Posted by TS at July 2, 2014 03:21 AM
Comments
Guidelines for posting
This is a moderated blog. We will not post comments that include racism, bigotry, threats, or factually inaccurate material.
Post a comment