« Wall Street Journal Reporter Deletes Description of Hamas Using Hospital | Main | C-SPAN's SOS Encourages Blaming Israel »
July 23, 2014
Boston Globe Editorial Wrong on Rocket Chronology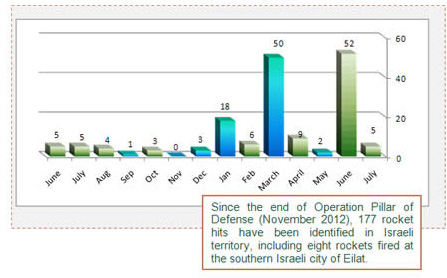 Rocket fire on Israel since June 2013 into early July 2014 (courtesy of the Meir Amit Intelligence and Terrorism Information Center)
The Boston Globe editorial today errs on the chronology of recent rocket attacks against Israel, referring to ". . . . the horrific murder of three Israeli teenagers, and then, after Israeli extremists killed a Palestinian youth, a plethora of rocket attacks by Hamas militants launched from the Hamas-led Gaza Strip."

In fact, the barrage rocket attacks against Israel began well before the Palestinian teenager, Mohammed Abu Khdeir, was killed on July 2. The onslaught started just after the June 12 launch of Israel's "Operation Brother's Keeper" to rescue the three kidnapped teens.

In its June 25 - July 1 report, The Meir Amit Intelligence and Terrorism Information Center noted:


During Operation Brothers' Keeper there was an escalation in rocket and mortar shell fire from the Gaza Strip into Israel's south. This past week 40 rocket hits were identified in the western Negev. Since the beginning of the operation, 52 rocket hits have been identified in Israeli territory (the number does not include rockets and mortar shells that fell inside the Gaza Strip):
The ITIC report further detailed:
On July 1, 2014, five rocket hits were identified. Vehicles and a packing house in one of the towns in the western Negev were damaged. A woman was treated for shock. Fatah's Al-Aqsa Martyrs Brigades claimed responsibility for the rocket fire (Al-Aqsa Martyrs Brigades Facebook page, July 1, 2014). On June 30, 2014, 12 rocket hits were identified. Some of them may have been fired by operatives of Hamas' military-terrorist wing. If Hamas was in fact responsible for rocket fire, it was the first time since Operation Pillar of Defense (November 2012.)
Coverage in The Boston Globe itself confirms that the plethora of rocket attacks during the days preceding the murder of Abu Khdeir. On July 1, The Globe ran a New York Times story which noted: "The military said the airstrikes were a response to a barrage of 18 rockets fired into Israel since late Sunday."
On June 26, The Globe published an Associated Press article by Ian Deitch which stated: "There have also been near-daily rocket attacks from Gaza, prompting Israeli airstrikes in retaliation."
Another Times story published in the Globe June 23 referred to "a week of nightly rocket fire from Gaza into Israel and Israeli airstrikes on the Gaza Strip."
If 40 rocket attacks within a week are not a "plethora," how many rocket attacks are a plethora?
CAMERA has contacted editors to seek a correction. Stay tuned for an update.
Posted by TS at July 23, 2014 01:57 PM
Comments
Posted by: Yisrael Medad at July 24, 2014 02:08 PM
the globe editorial refers to hamas rocket fire. the stories that you quote support the proposition that *maybe* some of the june 30 rockets were fired by hamas. the first rockets known to have been fired by hamas, however, followed the murder of abu khdeir, as reported, and in fact followed the expansion of israeli bombings of gaza on july 7. no mistake here.
Posted by: uri at July 26, 2014 01:38 PM
Guidelines for posting
This is a moderated blog. We will not post comments that include racism, bigotry, threats, or factually inaccurate material.
Post a comment