« June 2014 | Main | August 2014 »
July 31, 2014
CNN's Martin Savidge Supports Hamas Claims on Tunnels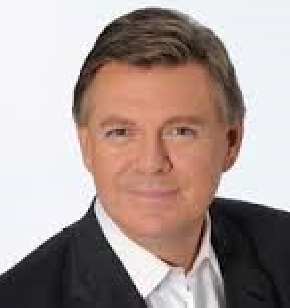 Martin Savidge, CNN Correspondent
On July 29, CNN Tonight broadcast a segment showing a film clip of Hamas terrorists emerging from a tunnel inside Israel. This footage was put out by Hamas, aired on Al Aqsa TV, and showed the terrorists attacking Israeli soldiers. Host Don Lemon asks correspondent Martin Savidge about the tunnels:
Does this [video] make Israel's point about the danger it faces?
Savidge replies, "To a point," before devoting the rest of his time to supporting Hamas' claim that these tunnels into Israeli territory are legitimate tools of war. Savidge asserts:
The other thing that is interesting by this video, Israel has maintained that these are terror tunnels, in other words, tunnels being used to go after the population of Israel. Yet in this attack, it's against a military target. And we know last week, the IDF reported that its soldiers were struck from a tunnel before and that in Gaza they say they're being struck from tunnels.

In each of those cases what I'm pointing out here is that the attacks were on soldiers, which could be considered legitimate targets. So in some ways, this is very compelling in supporting Hamas' argument that, no, these tunnels are being used to wage a war, not to go after civilians. And the video wouldn't seem to dispute that.
The correspondent's understanding of Hamas is shallow and illogical if he truly believes that the video provides "compelling" evidence that Hamas' tunnels are legitimate war tactics.
Hamas has consistently targeted civilians inside Israel with suicide bombings and other terror attacks as part and parcel of its mission to kill Jews, destroy the Jewish State and wage jihad against civilians. Any claim that Hamas is fighting Israel's "occupation" is belied by the continued targeting of Jews well within Israel's pre-67 borders.
Hamas' charter proclaims that its ultimate mission–"no matter how long it takes"-- is to "fight the Jews and kill them" and to replace the Jewish state with an Islamic caliphate.
Hamas rocket and mortar attacks target-- not IDF army posts, but --civilian population centers.
Hamas tunnels have been found to emerge near kibbutzim and in other civilian areas.
The Israeli Shin Bet recently exposed a Hamas plot for a massive attack on civilians via the Gaza tunnels to be carried out on the Jewish New Year.
Hamas leaders have repeatedly declared all Israelis to be legitimate targets.
So why does the CNN correspondent parrot a Hamas propaganda line? Can he actually believe that just because some attacks target soldiers, the terror group which is committed to Israel's destruction would avoid using the tunnels they laboriously dug into Israeli territory to attack civilians?
Posted by RH at 02:51 PM | Comments (0)
Wall Street Journal's 'Purported' Caption on Rocket
A The Wall Street Journal photo caption today suggests that perhaps an Israeli woman has faked a rocket attack on her home in Kibbutz Ein Hashlosha. The page A5 caption reads:
A resident of Kibbutz Ein Hashlosha inspects the damage purportedly caused by rocket fire from Gaza
Unlike several disputed incidents which have caused numerous casualties in Gaza, the fact that Palestinian rockets have targeted and hit Israeli homes is not disputed. As Hamas spokesman Fawzi Barhoum warned earlier this month, Hamas is targeting every Israeli home: "This is not the time for quiet. We have a bank of various targets. An Iron Dome [missile battery] will be needed in every Israeli home."
So why "purported?" If it wasn't a rocket attack which damaged this woman's home, what was it? A cooking experiment that went wrong? A "work accident" involving a home-made rocket? (No, that would be in Gaza.) Self-inflicted damage so as to deceive photographers into believing that her home was struck by a Palestinian rocket, when in fact it wasn't? The Journal doesn't say.
When it comes to an Israeli strike on Gaza, however, there's nothing "purported" about that. A photograph of the aftermath of an Israeli air strike in Gaza appears on the top of the same page, across four columns. (The photograph of the "purported" rocket damage is three columns wide.) Here is the Gaza caption:
Palestinians carry injured men through the streets after an Israeli strike on the embattled Gaza City neighborhood on Shujaiyeh on Wednesday.
Perhaps, like their colleague Carolyn Cole, the photo editors at the Wall Street Journal, are careful to treat all claims about Israeli attacks as fact and all facts about Palestinian attacks as suspect.
Posted by TS at 11:54 AM | Comments (1)
July 29, 2014
What The Local Media Missed: Days of Rage in Boston
Marchers parade in downtown Boston in celebration of Al Quds Day on July 25, 2014. Al Quds Day is a celebration inaugurated by Ayatollah Khoemeini in Iran in 1979, (the year of the Iranian Hostage Crisis), to show disdain and contempt for the Jewish state. (Photo: Dexter Van Zile)
For the past few weeks, Boston has been the scene of several anti-Israel rallies. Protesters at these rallies have demonized Israel and its supporters in some pretty ugly ways. The rallies have been organized by a loose coalition of activists from groups such as Grassroots International and Jewish Voice for Peace. LGBTQ activists, union members and activists from the local Muslim community have also participated in these rallies.
Local television stations and newspapers have inaccurately described the participants at these rallies as "pro-Palestinian."
The message espoused by activists at these rallies is not "pro-Palestinian," but anti-Israel and in some instances, anti-Jewish. In addition to promoting the cause of Palestinian nationalism, they have demonized Israel, called for its destruction, and whitewashed acts of terror perpetrated by Hamas, a genocidal organization dedicated to Israel's destruction. And in some instances, protesters carried signs that were explicitly antisemitic. As the images posted below reveal, the notion that Israel is a pariah state became an increasingly important theme as the rallies progressed.
While one pro-Israel protester was assaulted on July 11, 2014, the hostility evident in the streets of Boston has, thankfully not approached what we have seen in Los Angeles, Berlin or Paris, where violence has erupted. Nevertheless, the animus evident at these events in Boston has been ratcheted up with each successive rally and march.
The first rally, a pro-BDS event which took place on July 9, 2014, was marked by the usual chants of "From the River to the Sea, Palestine will be free," an implicit call for Israel's destruction. The most recent rally, a celebration of "Al Quds Day," protesters carried signs equating Zionism with Nazism.
Below is a compendium of photos taken at five anti-Israel rallies that took place in Boston during July 2014.
Taken as a whole, the photos will demonstrate that the message espoused at these rallies is anti-Israel, anti-democratic and in some instances, antisemitic. Activists are using their right to free speech in the U.S. to front for Hamas, an organization that is fundamentally hostile to the values that serve as the basis for American civil society. They are also assailing the legitimacy of a liberal democracy in the Middle East.
And they are assailing it because it is the Jewish homeland. This is not human rights or peace activism; it is anti-Zionism.
And when these folks speak anti-Zionism, they speak hate.
July 9, 2014 – Park Street Station and Downtown Boston
The first rally took place on Wednesday, July 9, 2014, the day after Israel began Operation Protective Edge. This pro-BDS rally began at Park Street Station on Boston Common and then wound its way through the streets of downtown Boston. Activists protested in front of Macy's which sells Sodastream products, Veolia, which operates a bus line in Israel, and TIAA-KREFF, which has been the target of BDS activists.
The rally was organized by a number of groups including The American Friends Service Committee, Jewish Voice for Peace, Boston Feminists for Liberation, and Black and Pink, which in addition to advocating for the rights of LGBTQs serving time in prison, calls for the abolition of the "prison industrial complex." A representative of United Steel Worker's Local 8751 also played a prominent role in this rally/march, speaking in front of the offices of Veolia and TIAA-KREFF. Approximately 120 people attended at this rally.
Compared to some of the signs displayed at later rallies, the signage at this rally was pretty tame, but slogans chanted at this event included "From the River to the Sea, Palestine will be free," which is an explicit call for Israel's destruction. Protesters also chanted, "Hey Israel, whaddya say, how many kids did you kill today?" and "Gaza must have food and water, Israel, Israel stop the slaughter." (An article providing from details about the rally can be seen here.)
Here are some photos from the rally.
A woman carries a sign protesting the bombing of the Gaza Strip on July 9, 2014. (Photo: Dexter Van Zile)
Protesters chant at an anti-Israel rally at Park Street Station in Boston on July 9, 2014. (Photo: Dexter Van Zile)
Activists protest in front of Macy's in Boston on July 9, 2014. (Photo: Dexter Van Zile)
Andre Francois from United Steel Workers Local 8751 addresses the crowd at an anti-Israel rally in Boston on July 9, 2014. USW 8751 represents public school bus drivers in Boston. (Photo: Dexter Van Zile)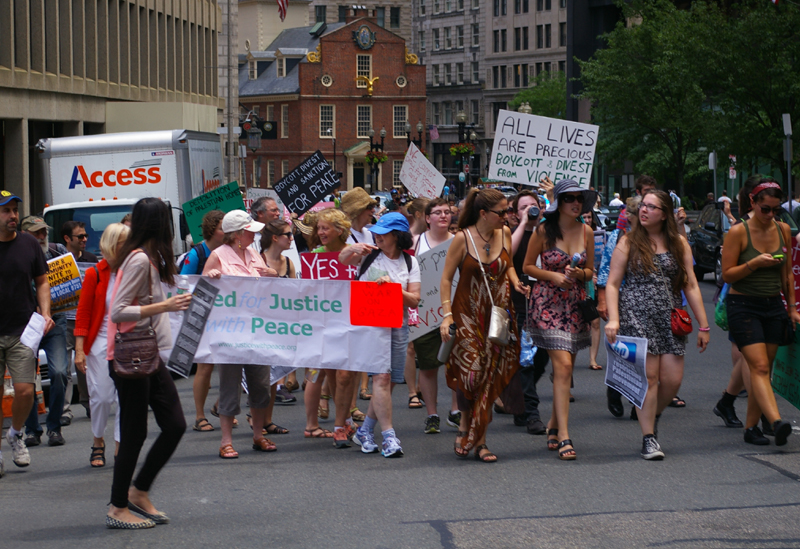 Protesters on the march during an anti-Israel rally in Boston on July 9, 2014. (Photo: Dexter Van Zile)
July 11, 2014 – Israeli Consulate, Boston
Another rally took place in front of the Israeli Consulate in downtown Boston on July 11, 2014. Unlike the first rally, this rally prompted a counter-protest of approximately 15 pro-Israel activists one of whom, CAMERA intern Chloe Valdary, was assaulted by an anti-Israel protester. (A video of the assault can be seen here.) These protesters were also "swarmed" at this rally. One hundred or so people attended this event.
The signs and the slogans at this rally were largely the same as those displayed and chanted at the rally held two days previous. There was a smattering of pro-BDS signs and a number of signs that followed the [Alleged Israeli Action] ≠ [Moral Good]" formula.
There were, however, hints of the increased hostility to come with the presence of one sign stating that "Israel murders children daily!" Another stated "Genocide ≠ Self Defense."
Below are photos of the some of the signs displayed at the July 11, 2014 rally.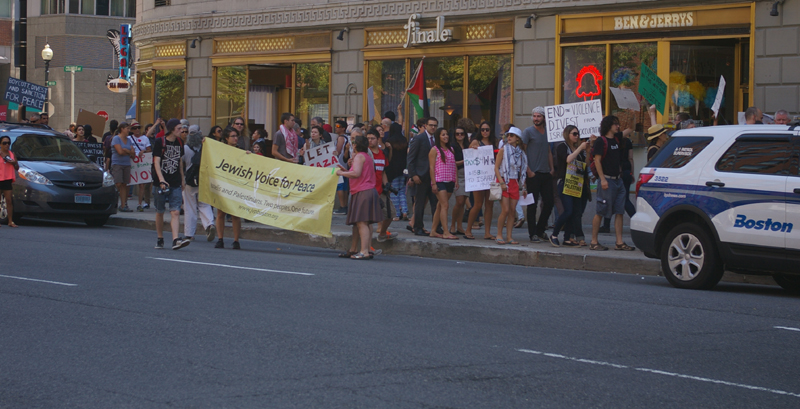 The July 11, 2014 rally was organized and led by Jewish Voice for Peace. (Photo: Dexter Van Zile)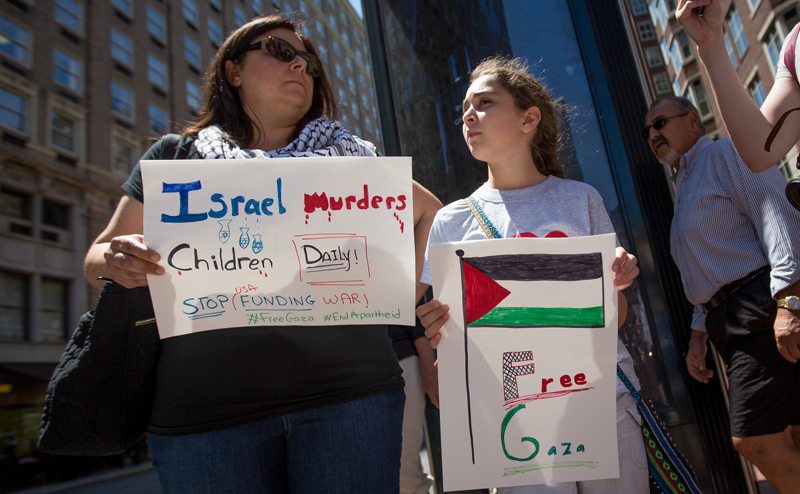 A woman displays a sign accusing Israel of murder across the street from the Israeli consulate in Boston on July 11, 2014. (Photo: Elan Kawesh)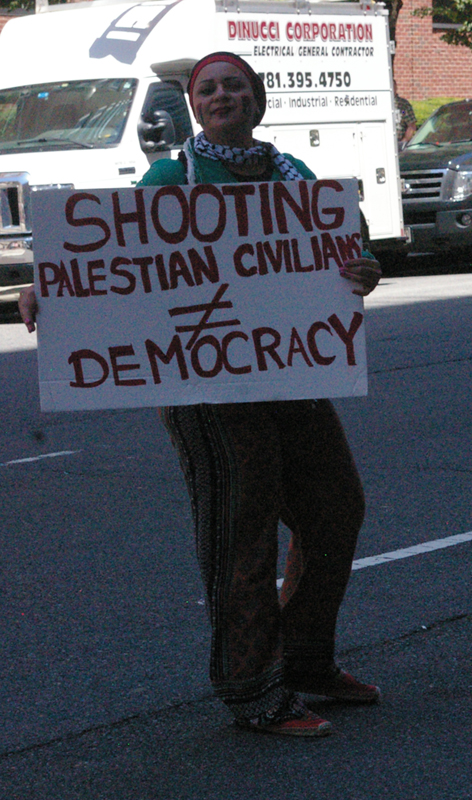 A protester outside the Israeli Consulate on July 11, 2014. (Photo: Dexter Van Zile)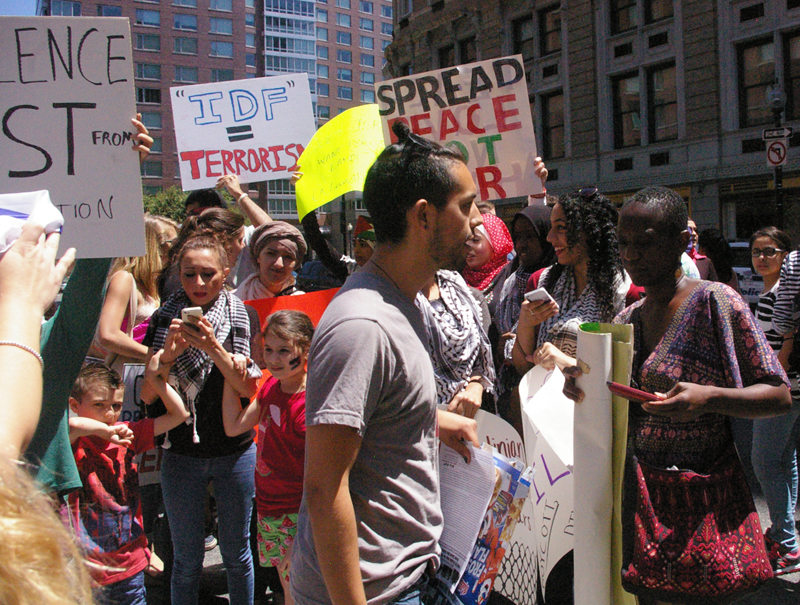 Across the street from the Israeli consulate in Boston on July 11, 2014. (Photo: Dexter Van Zile)
The protester to the right carries a sign accusing Israel of genocide across the street from the Israeli Consulate in Boston on July 11, 2014. (Photo: Chloe Valdary)
July 17, 2014 – Copley Square
On July 17, 2014, anti-Israel protesters gathered in Copley Square, just near the finish line of the Boston Marathon, the scene of a terrible act of terrorism that took place on April 15, 2013. At this rally, protesters chanted "Intifada! Intifada! Long Live the Intifada!. (This slogan by the way, which was not heard at the previous rallies, has been chanted at the two subsequent rallies documented below.)
Israel's status as the Jewish state was an important theme at this rally. Carrying signs declaring themselves to be Jewish, protesters expressed their opposition to Israeli actions. Between 170 and 200 people attended this rally. Here are some photos from the rally.
One protester carries a sign effectively calling for Israel's destruction, while another carries a sign stating he is neither pro-Israel, nor pro-Palestinian but merely "pro-peace," 2014. (Photo: Dexter Van Zile)
A protester at Copley Square on July 17, 2014 . (Photo: Dexter Van Zile)
Protesting Israel at Copley Square on July 17, 2014. (Photo: Dexter Van Zile)
A protester announcing Jewish opposition to Israel's attack on Hamas at a rally taking place at Copley Square on July 17, 2014. (Photo: Dexter Van Zile)
A self-declared Jew announcing her opposition to Israel's attack on Hamas at a rally taking place at Copley Square on July 17, 2014. (Photo: Dexter Van Zile)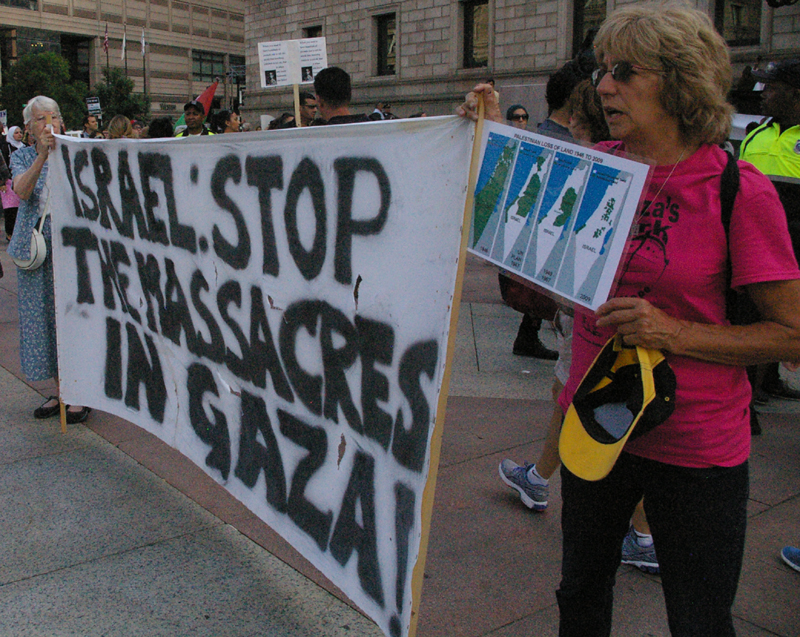 A banner at Copley Square on July 17, 2014. (Photo: Dexter Van Zile)
July 22, 2014 – Copley Square
Several hundred activists gathered in front of Trinity Episcipal Church facing Copley Square in Boston on July 22, 2014. At this rally, one speaker expressed contempt for the argument that Israel should be supported because it exhibits tolerance toward gays and lesbians. Israel cannot be pinkwashed, and its "apartheid wall" cannot be pinkwashed he stated. Additonally, anti-Zionist Jews from Neturei Karta showed up in force at this rally.
A new theme introduced in the signage at this rally was an alleged equivalence between fighting in Gaza and the Holocaust.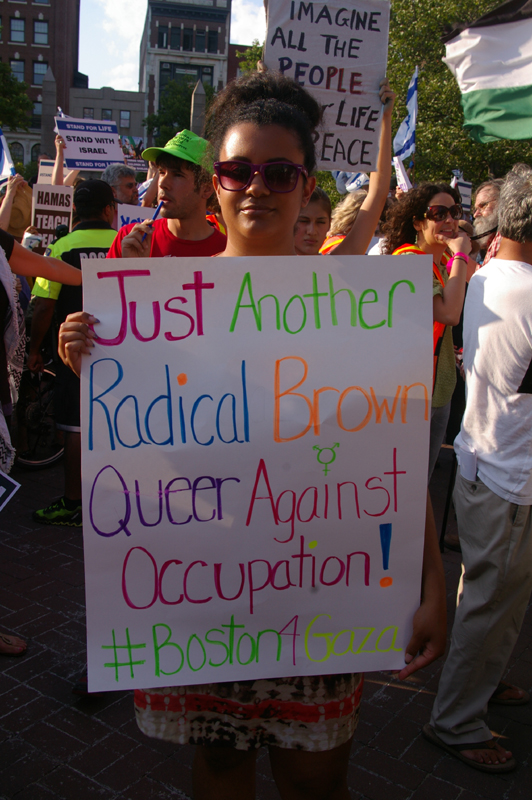 A protester condemning the occupation at an anti-Israel rally on July 22, 2014. Note: Israel withdrew from the Gaza Strip in 2005. (Photo: Dexter Van Zile)
Protesting against Israel on July 22, 2014. (Photo: Dexter Van Zile)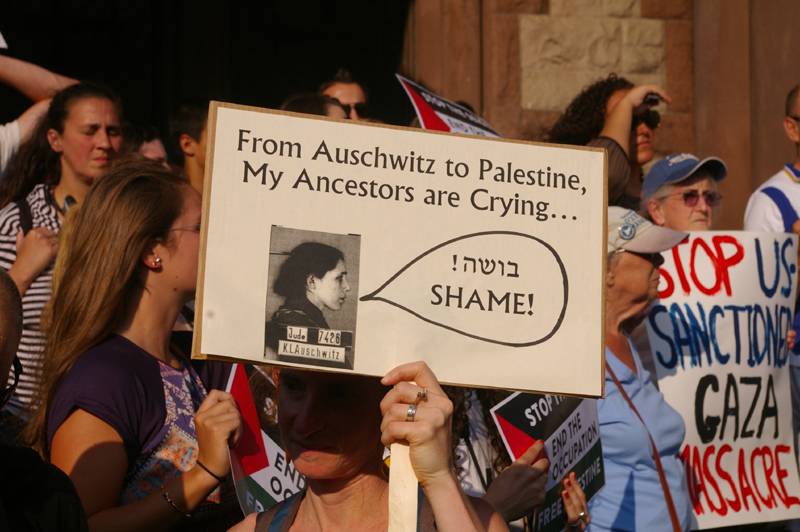 A comparison between the Gaza Strip and Auschwitz at an anti-Israel rally held in Copley Square in Boston on July 22, 2014. (Photo: Dexter Van Zile)
Another reference to the Holocaust at an anti-Israel rally that took place in downtown Boston on July 22, 2014. (Photo: Dexter Van Zile)
Members of the anti-Zionist group Neturei Karta were in attendance at an anti-Israel rally in Boston on July 22, 2014. (Photo: Dexter Van Zile)
Yet another reference to the Holocaust at an anti-Israel rally in Boston on July 22, 2014. (Photo: Dexter Van Zile)
An accusation of genocide at an anti-Israel rally that took place in downtown Boston on July 22, 2014. (Photo: Dexter Van Zile)
July 25, 2014 – Al Quds Day in Boston
Between 200 to 300 anti-Israel protesters gathered on the steps of the Boston Public Library on July 25, 2014 to participate in a local celebration of Al Quds Day. Al Quds Day is a celebration incorporated by Ayatollah Khoemeni in 1979 to promote hostility toward Israel. These events have been the scene of hateful antisemitic slogans in cities throughout the world.
Jewish Voice for Peace publicized the event on its website.
One prominent player at this rally was Steve Kirschbaum, founder of United Steel Workers Local 8751. USW 8751 represents the bus drivers who work for the Boston School Department. Kirschbaum serves as chairman of the local's Grievance Committee and is one of the local's negotiators.
At this rally, Israel was portrayed as a rogue, pariah state. Zionism, the Jewish assertion of the right to a sovereign state, was portrayed as a singular malevolant source of suffering in the world. False accusations of genocide and comparisons between Zionism and Nazism were also on display. It was a hateful display that received little, if any coverage in the local media.
Here are photos of some of the signs in display at the Al Quds Day celebration.
A protester at the Al Quds Day rally in Boston on July 25, 2014. (Photo: Dexter Van Zile)
A protester accuses Israel of genocide and terror at a rally in Boston on July 25, 2014. (Photo: Dexter Van Zile)
Israelis are described as "mass killers" and "skillfull hunters" in this sign displayed at the Al Quds Rally held in Boston on July 15, 2014. (Photo: Dexter Van Zile)
Signs from the Al Quds Day Rally in Boston on July 25, 2014. (Photo: Dexter Van Zile)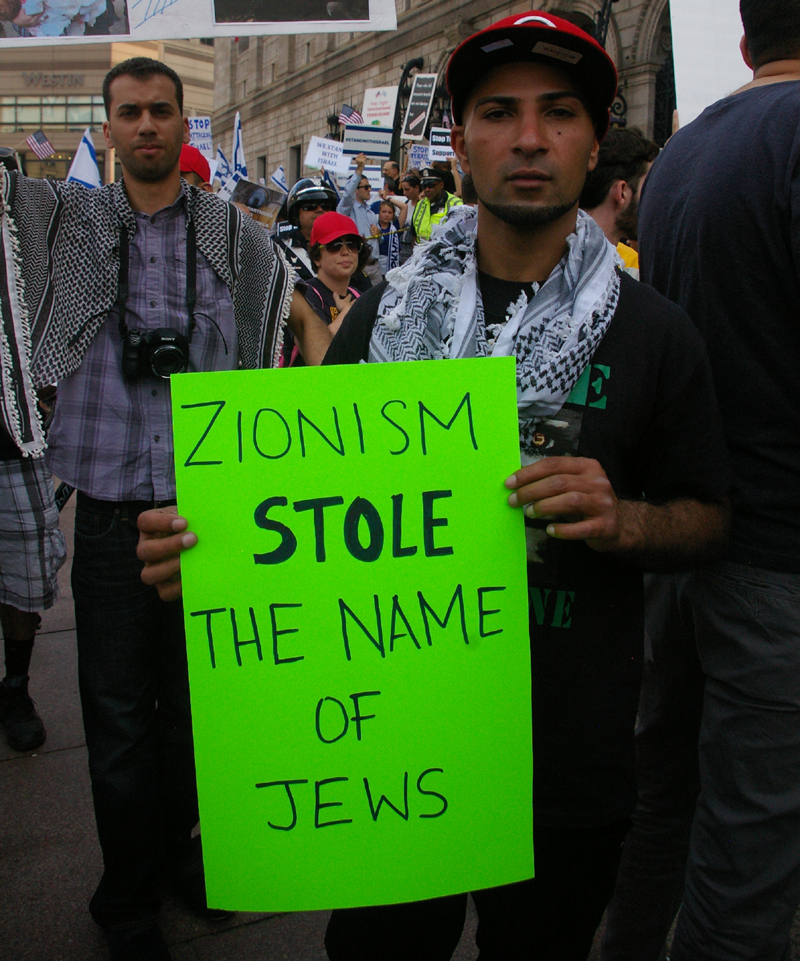 Anti-Zionism on display in Boston on July 25, 2014. (Photo: Dexter Van Zile)
A young man leads the crowd in a chant at the July 25, 2014 Al Quds Day celebration in Boston. (Photo: Dexter Van Zile)
Steve Kirschbaum, left, founder of the United Steel Workers Local 8751 surveys the crowd at the Al Quds Day celebration in Boston on July 25, 2014. USW 8751 represents public school bus drivers in Boston. Kirschbaum is chairman of the local's Grievance Committee and was elected to it's negotiating committee.(Photo: Dexter Van Zile)
This sign portrays Zionism as a singular obstacle to world peace. (Photo: Dexter Van Zile)
Celebrating Al Quds Day in Boston, July 25, 2014. (Photo: Dexter Van Zile)
Israeli soldiers described as vampires at the Al Quds Day Rally in Boston on July 25, 2014. (Photo: Dexter Van Zile)
The crowd, July 25, 2014. (Photo: Dexter Van Zile)
A protester warns of a potential genocide in the Middle East. It does not appear she was referring to events in central Iraq. (Photo: Dexter Van Zile)
After chanting for about an hour, the celebrants of Al Quds Day took to the streets of Boston. (Photo: Dexter Van Zile)
One sign put a swastika on the Israeli flag. (Photo: Dexter Van Zile)
One protester equated Zionism with Nazism at the Al Quds Day rally in Boston on July 25, 2014. (Photo: Dexter Van Zile)
Another protester accused Israel of perpetrating a Holocaust against the Palestinians. (Photo: Dexter Van Zile)
This protester broadcast antisemitic propaganda in two languages. (Photo: Dexter Van Zile)
Conclusion
As the photos above show, the so-called peace and justice community in the city of Boston has a problem. Its leading lights have helped promote ugly hostility toward Israel and its supporters. At several recent rallies, protesters falsely accused Israel of genocide, ignored Hamas' war-crimes and worked to portray Jewish self-determination as a singular source of suffering in the Middle East. The hostility has only gotten worse as the rallies have progressed.
These hostility displayed at these putative "peace" rallies cannot be excused, justified or explained by the tragic deaths currently taking place as a result of fighting between Israel and Hamas in the Gaza Strip. The underlying emotion at these rallies is hate toward the very notion of Jewish sovereignty and hate toward Jews who support Israel.
If these protesters were serious about promoting peace and human rights, they would have confronted the terrible acts of violence perpetrated by ISIS in Syria and Iraq, where thousands of people have been turned into refugees and hundreds, if not thousands, of young men have been murdered, and in some instances, have had their heads cut off.
These atrocities have largely gone unnoticed by the activist organizations that organized these days of rage in Boston. They have, however, held more than five anti-Israel rallies in the last month alone.
This is not about peace. This is not about justice. And it's not about human rights.
It's about hate.
And lots of it.
Posted by dvz at 06:17 PM | Comments (3)
Hamas Intimidates Press in Gaza Strip
Does intimidation of journalists by Hamas distort coverage of Israel's "Operation Protective edge" in the Gaza Strip? The Times of Israel reported that it "confirmed several incidents in which journalists were questioned and threatened. These included cases involving photographers who had taken pictures of Hamas operatives in compromising circumstances—gunmen preparing to shoot rockets from within civilian structures, and/or fighting in civilian clothing—and who were then approached by Hamas men, bullied and had their equipment taken away.
"Another case involving a French reporter was initially reported by the journalist involved, but the account was subsequently removed from the Internet." ("Hamas threatening journalists in Gaza who expose abuse of civilians," July 28, 2014). Reporting from areas of Gaza under Hamas control is somewhat like reporting from Syria, Iran, China or other closed or partially closed societies. In such place press freedom is a privilege granted by those in power to further their ends, not a right upheld by democratic authorities. This means reports from Gaza under Hamas rule must be considered with some skepticism.
The Times of Israel further reported that: "And it [Hamas] has emphatically limited reporters' access to aspects of Hamas operations that would reflect to its detriment. One example of this relates to Gaza's Shifa hospital, the [Israeli] official added. "We know that downstairs there is a Hamas command and control center and that Hamas leaders are hiding there. No reporter is allowed to go anywhere downstairs. They're only allowed to work upstairs to take pictures of casualties, the pictures that Hamas wants them to take."
An earlier report by The Jerusalem Post noted that "Several journalists from around the world reported seeing rockets fired from civilian areas in Gaza in recent days, and received threatening tweets in return accusing them of 'informing' the IDF" ("Gaza reporters' tweets: Hamas using human shields", July 24, 2014) Those tweets were followed by threats:
"Another account, @longitude0 wrote: 'You are a cretin. Are you working for the IDF' and "in WWII spies got shot.' "
More tweets by journalists reveal intimidation attempts:
"On Sunday, Janis Mackey Frayer, a correspondent for Canada's CTV, tweeted that, while in Gaza City's Shejaiya's neighborhood, she 'saw several Hamas gunmen.
'One passed dressed in a woman's headscarf ... tip of a gun poked out from under cloak.'
She received threats similar to those sent to other reporters."
In another example, "Harry Fear, a journalist from the UK reporting from Gaza for RT (formerly Russia Today) television, tweeted last week: 'Early morning Gaza rockets were fired into Israel. A well-known site in W. Gaza City, near my hotel, was among the origins, confirm locals.'
Fear then took on the critics, tweeting soon after that he rejects 'loaded complaints that I "informed" Israel about the specifics of Gaza military sites.... These sites are well-known among locals and internationals here.
'Should a journalist only report the noise and ferocity of Israel's attacks & not the sounds of Gaza's rockets? Both terrify people,' he tweeted.
Later that day, Fear tweeted: 'Al-Wafa hospital has been hit in the last while; injuries reported—this is the hospital with human shields.' "
Treating press coverage from Gaza under Hamas influence as equivalent to that from open societies, including Israel and the United States, is potentially misleading. Audiences should understand the implicit warning label attached to coverage from societies under intimidation. -- by Ziv Kaufman
Posted by ER at 04:51 PM | Comments (1)
LA Times Letter Error: Michael Bloomberg Took Private Jet
Prime Minister Binyamin Netanyahu greets former New York mayor Michael Bloomberg at Ben-Gurion Airport, July 23, 2014. Photo: HAIM ZACH/GPO

Jean-Claude Demirdjian of Los Angeles, a retired Boeing 747 captain whose letters are frequently published in The Los Angeles Times, writes today:
Israeli Prime Minister Benjamin Netanyahu's statement last week about the Federal Aviation Administration's brief ban on U.S. flights to Israel — that "there's no reason whatsoever for the mistaken FAA decision to instruct American planes not to come here" — is wrong. ("FAA caution on Israel flights reflects concern after Ukraine incident," July 23)

Although Netanyahu believes that the rocket that landed near Ben Gurion International Airport does not make the airport unsafe, he should know that the U.S. Air Force planes that transport Secretary of State John Kerry, contrary to passenger airliners, are equipped with anti-missile defenses. And former New York Mayor Michael Bloomberg was willing to take a calculated risk by flying in his own plane to Israel.

Commercial airline passengers, on the other hand, have a right to assume that there is no risk of being blown out of the sky. The FAA acted within its mission to provide the safest air travel possible.
Except that Former Mayor Bloomberg, himself a former pilot, did not fly in his own plane to Israel. As was widely reported, including also in The Los Angeles Times, Mayor Bloomberg flew to Israel this month on a commercial El Al flight. The Times' Timothy M. Phelps and Rebecca Bratek reported July 24 ("FAA caution reflects downing of airliner"):


Kerry at least gave Israel a psychological boost Wednesday, flying in his government jet into Ben Gurion Airport from Egypt. So did former New York Mayor Michael R. Bloomberg, on El Al.
While Los Angeles Times editors are free to publish challenges to assertions that commercial flights to Ben-Gurion Airport are safe, they are not free to publish factual misinformation. Stay tuned for news about a correction.
1:30 PM EST Update: The Los Angeles Times has promised to publish a correction tomorrow.
Posted by TS at 10:48 AM | Comments (1)
July 28, 2014
Evolution of AFP Coverage of UNRWA School Fatalities
On Friday, we noted that Agence-France Presse reported as fact, in both news articles and photo captions, that an Israeli shell was responsible for at least 15 fatalities in an UNRWA school in the northern Gaza Strip July 24, despite the fact that United Nations Secretary General Ban Ki-Moon himself had said: "Circumstances are still unclear." On Thursday, army officials suggested that an errant Palestinian rocket may have been responsible.
CAMERA staff last week contacted editors to ask if they had information that Ban Ki-Moon did not. If not, they owe their readers a retraction.
While AFP has neither retracted nor produced any substantiation for blaming Israel, today's story does walk back the unequivocal declaration of Israeli responsibility.
Thus, the French wire service reports today:
A controversial incident on Thursday when a UN school acting as a shelter was shelled, killing 15 people, drew fierce condemnation from Palestinian refugee agency UNRWA.

The Israeli army confirmed on Sunday it had hit the school, but said it was a "single errant mortar" round, denying that people were killed "as a result of (army) operational activity.
The footage that the army released (below) which it says shows the single errant IDF mortar which hit the Beit Hanoun school Thursday shows that the weapon fell into an empty school yard. Why did the AFP omit this critical information which is highly pertinent to the murky story?


Likewise, the IDF statement regarding the "single errant mortar" was:"The preliminary inquiry and footage indicate that a single errant mortar landed in the courtyard of the UNRWA school, when it was completely empty." In the AFP's substantial article, there was not room for an additional five more words: "when it was completely empty"?
See also: UK Media Fail to report evidence contradicting presumption of IDF guilt in UN school deaths
Posted by TS at 01:49 PM | Comments (1)
CAMERA's Hadar Sela on BBC Radio
CAMERA's Hadar Sela, Managing Editor of BBC Watch, a CAMERA affiliate, was interviewed on BBC Radio 5 Live about media coverage of the current Israel-Hamas conflict.
Hadar Sela, BBC Watch's Managing Editor, discusses the roles that the mainstream media and social media play in the world of public opinion.
Click here to listen to the interview at 1:51:07 - 1:54:26
Posted by at 01:16 PM | Comments (0)
July 25, 2014
Sheera Frenkel Feeds Twitter Distorted Buzz
Buzzfeed correspondent Sheerah Frenkel sure is able to include a lot of misinformation into a 140 characters!
Earlier today she posted a tweet that read as follows:
Order of events: 3 teens kidnapped->100s of Palestns in WB arrested->revenge attacks on Palestinians->violence along Gaza/Israel border->war
First, the Israeli teens were not just "kidnapped." They were abducted and then immediately murdered on June 12, 2014.
Then she reports that violence along the Gaza/Israel border came after "revenge attacks" on Palestinians. Another misstatement of fact. This previous Snapshots entry reveals that "the barrage rocket attacks against Israel began well before the Palestinian teenager, Mohammed Abu Khdeir, was killed on July 2.
In fact, the increase in Hamas rocket attacks increased soon after the June 12 launch of Israel's "Operation Brother's Keeper" to rescue the kidnapped teens.
She only had 140 characters, but Frankel's order of events omits Hamas' rejection of an Egyptian-proposed ceasefire on July 15, 2014.
It also omits a call for calm issued by Israel prior to initiating operation Protective Edge.
In a passage that has been deleted from an entry posted on Washington Post's blog site on July 8, 2014, William Booth and Ruth Eglash reported that IDF Spokesperson Peter Lerner "told reporters that Israel has offered "calm for calm" but that rocket fire from Gaza escalated in recent days and that now the Israeli military would seek to hit Hamas hard."

Posted by dvz at 02:25 PM | Comments (1)
July 24, 2014
CMEP: Hamas Rocket Fire a "Kind of Political Speech"
Churches for Middle East Peace, an umbrella "peace" organization supported by approximately two dozen Christian churches and para-church organizations in the U.S., sure has a funny way of looking at things.
In a bulletin recently sent out by the organization, the organization gives a run down to the current conflict between Israel and Hamas.
The bulletin, which was titled "Gaza Conflict Escalates" includes the following passage:


Do you get that? Rocket fire into Israel is a kind of political speech, not an act of war. Sending millions of people into bomb shelters is not a war crime.
Nooo! It's political speech! A cry for help! An attention getting gambit!
An expression of deep human need for affirmation on the part of those poor childlike waifs from Hamas who want to differentiate themselves from the Palestinian Authority headquartered in Ramallah!
Somebody get Erick Erickson on the line! The Hamas isn't at war with Israel! Noooo! It's in a sibling rivalry with the more respectable folks in control of the West Bank!
CMEP wants us to believe that this isn't a war between Hamas and Israel. Perish the thought! This is part of an intra-Palestinian rivalry. This is how Palestinians talk to each other, CMEP is telling us, by menacing, and in some instances, killing Jews!
Hamas doesn't need to be confronted in battle! Nooo! It needs a skilled therapist to help its leaders figure out how to communicate with the folks in Ramallah!
Here at Snapshots, we used to think that things would improve at CMEP with the departure of Corrinne Whitlach as the organization's Executive Director.
Warren Clark seemed much more reasonable than his predecessor.
Well, these hopes were in vain.
If a Christian peace organization can't acknowledge that Hamas is a genocidal terrorist organization intent on killing Jews then there's a problem, a real problem.

Posted by dvz at 01:45 PM | Comments (3)
CNN Error: Top US Official Accused Israel of War Crimes
July 30 Update: CNN Corrects: Criticism of Israel from UN, not US, Official
In CNN Newsroom yesterday, Brooke Baldwin mistakenly claims that a top American human rights official accused Israel of war crimes. She erred:
And we are hearing some pretty strong criticism of Israel today. Coming from one of the U.S.'s top human rights officials. The criticism came during an emergency meeting in Geneva.
In fact, no top U.S. human rights official leveled strong criticism of Israel yesterday. The human rights official in question is a United Nations figure, not American. The broadcast immediately goes on to quote Navi Pillay, U.N. High Commissioner for Human Rights:


The right to life of civilians, including children, should be a foremost consideration. Not abiding by these principals amounts to war crimes, and crimes against humanity.
Ms. Baldwin most likely simply misspoke -- but her error is a substantive, egregious one which requires correction.
The United States is a close ally of Israel which has defended the country's right to self-defense in the face of rocket attacks and cross-border. Though American officials expressed concern about civilian casualties in Gaza, none even remotely accused Israel of crimes against humanity. The UN Human Rights Council, and Navi Pillay, on the other hand, have a long record of hostility towards Israel, including bizarre, one-sided condemnations of Israel while ignoring far worse abuses around the world.
CAMERA has contacted editors to request a correction. Stay tuned for an update.
Posted by TS at 11:32 AM | Comments (1)
C-SPAN's SOS Encourages Blaming Israel
C-SPAN's same old Scully indulged anti-Israel callers while the subject was the airliner downed over Ukraine
A July 18 Washington Journal call-in segment hosted by Steve Scully about the Malaysian airliner shot down over Ukraine generated several (more than one-fourth the total) calls from anti-Israel phoners, all of whom were indulged by the host. Scully and C-SPAN, the television network he plays a major role in, routinely tolerate if not encourage callers (and sometimes even guests) in on-air defamation of Jews and the Jewish state. This phenomenon, potentially seen by millions of Washington Journal viewers, is a chronic problem.
Scully mishandled the July 18 anti-Israel calls. This was in keeping with his history of media malpractice regarding such calls, especially his blatant collusion with a March 18, 2014 (7:09 AM) serial anti-Israel caller.
On July 18, Scully blatantly encouraged caller "Darrell" a serial anti-Israel caller who ranted, "…Maybe the Palestinians can get some of those missiles to use on Israel, F-16s that are slaughtering Palestinian everyday, not a peep from the media and people like you. Why don't you do a special on Israel and what they are doing in Palestine?"
Scully agreeably responded: "Well, we have, caller; we brought that up with Shane Harris. It'll be broadcast on Sunday focusing on the incursion of the Israeli military into Gaza. Did you want to watch that program by the way?" Darrell, seemingly pleased, replied, "What time is that on?"
Eliciting only silence from Scully, two other anti-Israel callers asserted mendaciously, "President Nasser of Egypt said in 1952 that they [the Israelis] do not want peace in Israel" and "I do not know what benefit Israel is getting out of killing innocent people."
Another caller complained, "Why are we giving Israel $3 billion a year? We've been giving it to them for years and years for their military. Why are we doing that?"
Typically, Scully, a senior host for a supposed public-service program, expressed no thought as to why America supplies military aid to Israel. Scully missed a chance to make at least four relevant points about the mutually beneficial relationship between America and Israel. First, financial (military only) aid to Israel constitutes only a tiny portion of the federal budget (less than 0.1 percent). Second, Israel is required by U.S. law to spend most (74 percent) of the U.S. aid ($3 billion per year) in the United States for the purchase of military materials which helps create or sustain thousands of American jobs. Third, cooperative arrangements with Israel provide technology benefits to America related to unmanned aircraft, anti-missile defenses, battlefield medical techniques – and intelligence on anti-U.S. as well as anti-Israeli Arab and Islamic radicals.
Fourth and perhaps most important in the long run, Israel, the only Western-style democracy in the Middle East, is a technologically advanced open society with equal rights for Christians and Muslims as well as Jews. Israel has women's equality, an independent judiciary, free press and is the only country in the region where Americans could live as freely as they do at home and one that, absent religious and ethnic prejudice, ought to be an example for the Middle East's many countries now in intra-communal upheaval.
Concerning the July fighting between Hamas, together with other Palestinian terrorist groups based in the Gaza Strip, and the Israelis – Scully and other C-SPAN hosts seemed either unable or unwilling to remind viewers that the Palestinian Arabs in the Gaza Strip and West Bank elected Hamas, a U.S. government-designated terrorist organization, to rule them in 2006, that Hamas ousted its Palestinian Authority Fatah movement partners in a bloody "five-day war" in 2007, or that it and other terrorist groups have launched 10,000 mortars and rockets at Israel since Israel withdrew from the Strip in 2005. Journalism is news in context.
Part of the context of Israel's "Operation Protective Edge" was Hamas' charter, anti-Western in general, genocidal toward Israel and all Jews in particular. Basing itself among noncombatants in Gaza and targeting noncombatants in Israel, these dual war crimes underlying the July fighting, apparently were outside the public affairs focus of C-SPAN's Washington Journal. In any case, the program's cadre of anti-Israel callers, obsessively voicing unreasoned animosity toward the Jewish people and Israel, continued to find the broadcast a hospitable forum.
Failing to discharge its public service responsibilities to promote informed civic involvement, especially where Israel was concerned, amounted to another typical day for C-SPAN and Washington Journal.
Posted by MK at 07:59 AM | Comments (0)
July 23, 2014
Boston Globe Editorial Wrong on Rocket Chronology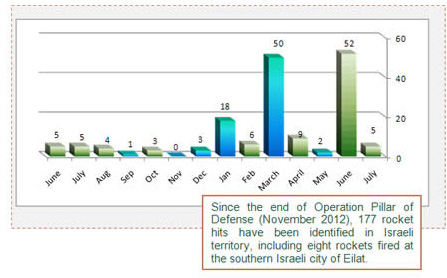 Rocket fire on Israel since June 2013 into early July 2014 (courtesy of the Meir Amit Intelligence and Terrorism Information Center)
The Boston Globe editorial today errs on the chronology of recent rocket attacks against Israel, referring to ". . . . the horrific murder of three Israeli teenagers, and then, after Israeli extremists killed a Palestinian youth, a plethora of rocket attacks by Hamas militants launched from the Hamas-led Gaza Strip."

In fact, the barrage rocket attacks against Israel began well before the Palestinian teenager, Mohammed Abu Khdeir, was killed on July 2. The onslaught started just after the June 12 launch of Israel's "Operation Brother's Keeper" to rescue the three kidnapped teens.

In its June 25 - July 1 report, The Meir Amit Intelligence and Terrorism Information Center noted:


During Operation Brothers' Keeper there was an escalation in rocket and mortar shell fire from the Gaza Strip into Israel's south. This past week 40 rocket hits were identified in the western Negev. Since the beginning of the operation, 52 rocket hits have been identified in Israeli territory (the number does not include rockets and mortar shells that fell inside the Gaza Strip):
The ITIC report further detailed:
On July 1, 2014, five rocket hits were identified. Vehicles and a packing house in one of the towns in the western Negev were damaged. A woman was treated for shock. Fatah's Al-Aqsa Martyrs Brigades claimed responsibility for the rocket fire (Al-Aqsa Martyrs Brigades Facebook page, July 1, 2014). On June 30, 2014, 12 rocket hits were identified. Some of them may have been fired by operatives of Hamas' military-terrorist wing. If Hamas was in fact responsible for rocket fire, it was the first time since Operation Pillar of Defense (November 2012.)
Coverage in The Boston Globe itself confirms that the plethora of rocket attacks during the days preceding the murder of Abu Khdeir. On July 1, The Globe ran a New York Times story which noted: "The military said the airstrikes were a response to a barrage of 18 rockets fired into Israel since late Sunday."
On June 26, The Globe published an Associated Press article by Ian Deitch which stated: "There have also been near-daily rocket attacks from Gaza, prompting Israeli airstrikes in retaliation."
Another Times story published in the Globe June 23 referred to "a week of nightly rocket fire from Gaza into Israel and Israeli airstrikes on the Gaza Strip."
If 40 rocket attacks within a week are not a "plethora," how many rocket attacks are a plethora?
CAMERA has contacted editors to seek a correction. Stay tuned for an update.
Posted by TS at 01:57 PM | Comments (2)
Wall Street Journal Reporter Deletes Description of Hamas Using Hospital
The Wall Street Journal's Nick Casey posted to Twitter a description of Hamas's use of Shifa Hospital, but inexplicably deleted the tweet a short while later.
Tablet's Yair Rosenberg, who noticed the disappearance, posted an image of the original tweet, which he suggested was censored because Hamas wouldn't approve of the content. "If you want to understand how Hamas intimidates the media," Rosenberg said on his Twitter page, "read this WSJ photographer's tweet—that he just deleted."
Are Wall Street Journal reporters self-censoring? The newspaper owes its readers an explanation.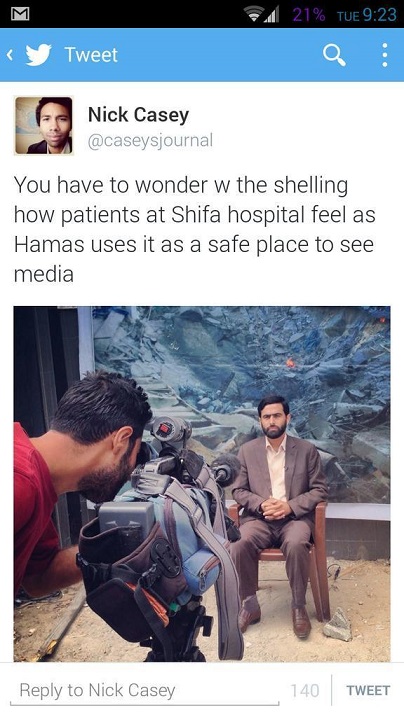 Posted by GI at 11:03 AM | Comments (1)
Robert Mackey's "Open Source" Journalism Anything But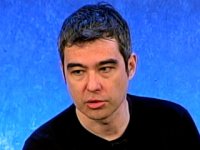 New York Times journalist Robert Mackey has weighed in on the video broadcast yesterday by the International Solidarity Movement and sadly, despite his reporting, we are no closer to the truth of what happened the day the video was made than we were when it was first released.
The video, which was released on July 21, 2014, purports to show the death of a young Palestinian man at the hands of an unseen and unknown sniper. CAMERA and other commentators have raised questions about its reliability suggesting that it may be a faked footage broadcast with the intent of demonizing Israel, AKA, "Pallywood."
Mackey gave the video something akin to a seal of approval in an article published late yesterday that does more to inoculate the video from scrutiny than it does to advance the story.
In his piece, Mackey reports that a Palestinian family discovered the fate of their missing son after seeing the video on Youtube.
Mackey reports that the video

was edited by the International Solidarity Movement Palestine's West Bank media office, which posted the video on YouTube with a headline assigning blame for the shooting to an unseen Israeli sniper. The activists provided 15 minutes 45 seconds of raw footage to The New York Times for review, and although it bears no apparent signs of manipulation, it also offers no clear evidence of the gunman's identity.
The irony is that Mackey's column is published alongside the blog title, "Open Source," but his reporting is anything but. Mackey does not provide any link to the raw footage in questio, does not even describe what the rest of the video shows and expects his readers to trust his judgment as to its reliability.
In his treatment of the video, Mackey does not tell his readers that people have cast doubt on the video itself. He does, however, draw attention to the anti-Zionist publication Electronic Intifada, which calls the alleged shooting a "war crime." He also provides a link to Human Rights Watch which condemns Israel. Why is there no reference to organizations that provide an opposing point of view?
CAMERA, for example, has challenged the reliability of the video, an issue that Mackey addressed in the article, but Mackey provides no acknowledgement of this fact.
He also also omits any reference to the anti-Israel animus exhibited by Joe Catron, the ISM activist who posted the video for the world to see. Catron, readers will remember, has referred to Zionists as "scum" in the Tweet below.

Take a look at that Tweet again. Catron is implicitly calling on his supporters to harass Zionists in both the public and private spheres. This is totalitarian and yet, Mackey refers to Catron as a "human rights activist" a moniker that Catron himself questions in favor of the title "solidarity activist."
Catron makes it perfectly clear he has cast his lot in with the Palestinians and that he hates Israel and its supporters with a purple passion.
Why does Mackey omit this information from his report?
This is "Open Source" journalism? Is he kidding? Mackey is acting more like a filter designed to keep information out of the heads of his readers than a reporter intent on educating them.
Reporters are supposed to "advance" the stories they cover and educate their readers about the credibility of the sources they quote. Instead, Mackey has behaved more like a stenographer and a PR flack for the ISM and Joe Catron, a movement and an activist with some ugly attitudes about Israel.
The challenge remains: Will the ISM post the full, unedited version of the video on the Internet for the world to see or will it merely shop it around to compliant, on-side reporters like Robert Mackey at the New York Times?
If the ISM has nothing to hide, it will post the video, in its entirety, on the internet.
Posted by dvz at 09:10 AM | Comments (2)
July 22, 2014
Did Newsweek Promote Fake Atrocity Video? Will ISM Produce Video for Inspection?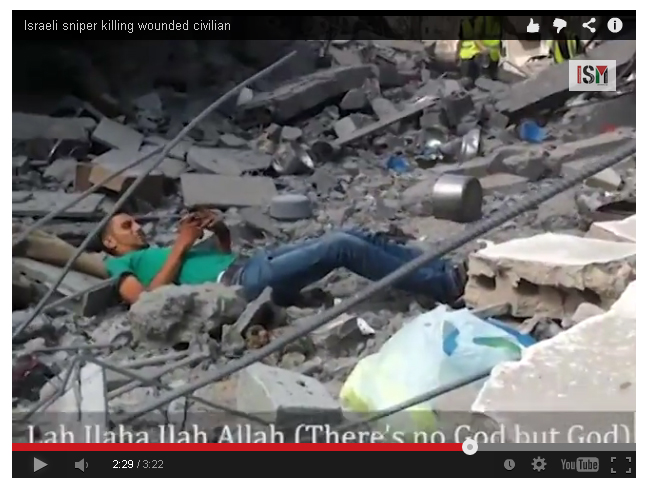 Is this young man a victim of an Israeli sniper?(Screenshot of ISM video)
The International Solidarity Movement, a radical anti-Israel organization that has condoned acts of terror against the Jewish state, is alleging that an Israeli sniper killed a young man in Gaza during the recent fighting between the IDF and Hamas. The ISM posted a video of the alleged sniper attack on its website on July 21, 2014.
Later that day, Newsweek posted an article about the video on its website and quoted ISM activist Joe Catron.
"We all just watched a man murdered in front of us," said Joe Catron, an American ISM activist in Gaza who confirmed his account to Newsweek.

"He was trying to reach his family in Shuja'iya. He had not heard from them and was worried about them. They shot him and then continued to fire as he was on the ground," Catron added.
Catron, who declared an unknown Israeli soldier guilty of murder, is not a disinterested observer, but a radical anti-Israel activist who has appeared a number of times on PressTV, which the ADL describes as "the Iranian government's primary propaganda tool to promote a wide range of pernicious anti-Semitic conspiracy theories in English to a worldwide audience." This ADL report provides extensive background about the hateful antisemitic conspiracy theories that have been broadcast on this network.
According to the ADL report, Catron who appears regularly on PressTV, said the following on the network in 2012: "Well, it appears to me that the United States is, as obviously as we know, co-opted by the Israeli lobby, so is the United Nations and Israel is simply using the United States to buy what it wants..."
Catron's radical anti-Israelism can be seen in a Tweet posted on July 21, 2014:


Newsweek's reliance on Catron as a source, and its failure to disclose his radical hostility toward Israel and its supporters is patently irresponsible given the manner in which anti-Israel partisans have successfully introduced manipulated images and staged video into the Western media. For a discussion of this phenomenon, see Richard Landes' website, "The Second Draft."
Blogger Thomas Wictor has raised some interesting questions about the ISM video in a post he wrote here. Two parts of the video deserve close scrutiny in light of Wictor's challenge.
The jump between the images between 2:23 and 2:24 indicates that some editing has taken place. Wictor writes that "Suddenty [the victim] goes from being beside the cameraman to lying in the only cleared-out space in the rubble." Wictor has a point.
And viewers who look at the the section between 2:27 and 2:30 lends credence to Wictor's assessment that the alleged victim is applying fake blood to his hand. Is it a cell-phone the victim is holding (and if yes, why?) or is it a tube of fake blood as Wictor asserts?
Catron and the International Solidarity Movement have been challenged (on Twitter) to post the original, unedited footage of the event on the Internet. Here is Catron's response:
Accompanying Catron's ad hominem is an offer to provide the unedited video to news outlets. Will Catron and the ISM follow through? Will they make the entire video available (if they get it), for closer inspection by media outlets?
Will Newsweek follow up on the offer? Will other news outlets?

Posted by dvz at 01:20 PM | Comments (7)
July 21, 2014
The Moral Blindness of the World Council of Churches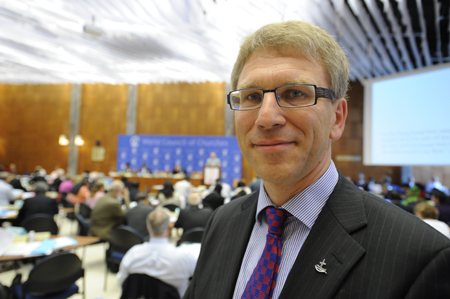 WCC General Secretary Rev. Dr Olav Fykse Tveit
When it comes to interpreting events in relation to Israel, the World Council of Churches consistently demonstrates a mind-boggling moral blindness as it ignores reality, omits facts, and demonizes the Jewish State.
On July 11, 2014 – just four days after Israel commenced Operation Protective Edge in response to the dramatic increase in the number of rockets fired from Gaza at civilian targets in Israel – Rev. Dr. Olav Fykse Tveit, the General Secretary of the WCC, issued a document titled, "Concern over Violence in Gaza."
This declaration begins with the words: "We strongly condemn the indiscriminate attacks by Israeli military on the civilian population in Gaza, as we absolutely condemn the absurd and immoral firing of rockets by militants from Gaza to populated areas in Israel." This opening line uses the egregiously false allegation of "indiscriminate attacks by Israeli military on the civilian population in Gaza" in an attempt to create a non-existent moral equivalency between the actions of Israel and the actions of Hamas.
The Israel Defense Forces have made it very clear: "The operation has one goal: to stop Hamas' incessant rocket attacks against Israel's civilians." In line with that objective, rocket launching sites and buildings containing weapons are targeted for destruction with surgical precision. In order to protect civilian lives, the military gives notice of the intended targets to its enemies through phone calls and text messages, leaflets, and "knocks" on the roof of the targeted building before launching a mission so that civilians have a chance to flee.
One doesn't have to take the word of the Israelis concerning the measures they take to prevent civilian casualties because the Palestinians acknowledge it as well. The Palestinian Representative at the UN Human Rights Council, Ibrahim Khreisheh, said on Palestinian Authority TV on July 9, 2014: "Please note that many of our people in Gaza appeared on TV and said that the Israeli army warned them to evacuate their homes before the bombardment."
Rather than demonstrate concern for the safety of their people, Palestinian leadership has consistently insisted that their civilians ignore the warnings from the IDF and stay in targeted areas. In a statement on Al-Aqsa TV (Hamas) on July 14, 2014, this leadership said:
We call on our Palestinian people, particularly the residents of northwest Gaza, not to obey what is written in the pamphlets distributed by the Israeli occupation army. We call on them to remain in their homes and disregard the demands to leave, however serious the threat may be.
After using all possible means to warn the population, the IDF goes even further. If civilians are spotted in the proximity of a targeted site, the air force abandons air strikes, postponing them until a later date. This video from the cockpits of Israeli planes provides examples of incidents during the current operation in which the personnel involved made the decision to strike particular targets at a later date in order not to endanger civilians.
But these facts are omitted, and as a result, the actions of Israel and the IDF, which are defensive of both Israeli and Palestinian civilians, are demonized.

By way of contrast, Hamas indiscriminately fires rockets at civilian targets throughout Israel, with the goal of causing as many casualties as possible. In addition to targeting civilians – which is a war crime according to international law – this terrorist organization commits a double war crime by using their own people as human shields; an action publicly defended by Hamas spokesman Sami Abu Zhuri on Al-Aqsa TV (Hamas) on July 14, 2014.
The use of their citizens as human shields is strategic and pre-meditated. Knowing that Israel seeks to destroy military targets, Hamas intentionally imbeds those targets among civilians, thereby purposefully endangering their own people. Missile launching sites are located in dense population areas and weapons are hidden in mosques, hospitals and schools. This strategy not only makes it nearly impossible for Israel to strike without endangering civilians, but it provides great propaganda for Hamas when they can show pictures of dead civilians.
These realities stand in sharp contrast to Tveit's false allegation of "indiscriminate attacks…on the civilian population." Indeed, the Israeli Defense Forces are the only military in the world that gives its enemy advance notice of an impending operation. As Colonel Richard Kemp, the former commander of British forces in Afghanistan, said in his testimony before the UN Human Rights Council in October 2009, "During Operation Cast Lead, the Israeli Defense Forces did more to safeguard the rights of civilians in a combat zone than any other army in the history of war."
The documented facts concerning the Israeli method of operation during war refute Tveit's attempt to create a moral equivalency between the actions of Israel and Hamas.
No matter how hard he and the WCC try create one, there is absolutely no moral equivalency between a society that seeks the death of others while glorifying the death of their own, and a society that goes to great extremes to protect the lives of others while fighting in defense of the lives of their own.
This attempt to create a non-existent moral equivalency between Israel and Hamas by ignoring reality and omitting facts only reveals the glaring moral blindness of the World Council of Churches.
-- Tricial Miller, Ph.D.
Posted by dvz at 02:18 PM | Comments (0)
Palestinians in Hebron Hand Out Pastries in Celebration of "Kidnapping"
Hamas has announced that it has captured an Israeli soldier. Ron Prosser, Israel's Ambassador to the United Nations has denied that a soldier has been captured.
The uncertainty surrounding the alleged capture of an Israeli soldier hasn't stopped Palestinians in the Gaza Strip and the West Bank from celebrating. They fired off fireworks in Hebron last night and (you guessed it) have been handing out pastries. Video of the celebration can be seen above. Below is an image of pastries being handed out in Hebron.
Posted by dvz at 11:10 AM | Comments (0)
July 19, 2014
Vox Corrects (Which is Good), But, Still...
Vox, whose motto is "Understand the News," recently posted a brief article about the fight between Israel and Hamas in the Gaza Strip. It's titled "The Israel-Gaza Crisis explained in 11 facts."
At the bottom of the article, readers will find the following correction:
This is a pretty big error to have to correct. The author of the article, Zack Beauchamp, somehow got it into his head that there was a bridge between Gaza and the West Bank.
It's a good thing Vox corrected this error, but the fact that such a correction is necessary raises some serious questions about what is going on at Vox, which describes itself as explaining "Everything you need to know, in two minutes."
Before you can explain something, you have to know something about the subject.
Posted by dvz at 03:02 PM | Comments (0)
July 17, 2014
Hamas Instructs Gazans to Lie About Civilian Casualties, Rocket-fire from City Center
The Hamas government in Gaza is instructing Palestinians to lie about civilian casualties and to refrain from sharing images of Palestinians firing rockets from city centers. MEMRI has translated missives from Hamas Interior Ministry's official web site and social media sites that include the following guidelines:
Anyone killed or martyred is to be called a civilian from Gaza or Palestine, before we talk about his status in jihad or his military rank. Don't forget to always add 'innocent civilian' or 'innocent citizen' in your description of those killed in Israeli attacks on Gaza.
Avoid publishing pictures of rockets fired into Israel from [Gaza] city centers.
You can read the rest of the guidelines here.
Posted by GI at 05:16 PM | Comments (0)
ABC News Does What CBS Won't: Correct the Record
Jeff Fager, chairman of CBS News and producer for the networks flagship newsmagazine should take a cue from his competitors at ABC News.
On Tuesday, July 8 news anchor Diane Sawyer mistakenly referred to a video of Palestinians trying to recover the belongings from the aftermath of an Israeli air strike as Israelis "trying to salvage what they can" after a missile attack from the Gaza Strip. Two days later, on Thursday July 11, the network issued an statement that read as follows:
On Tuesday night "World News" aired a report on the conflict between the Palestinians and Israelis, including attacks from both sides.

In the introduction to the story, we mistakenly identified a family depicted in a still photo.

They are Palestinian, not Israeli.

We regret the error and will correct it.
Later that day, Sawyer said the following to her audience:
And now a note. On Tuesday evening, we made a mistake and I want to put up these pictures again because during an introduction to a story on the conflict between the Israelis and the Palestinians, I misidentified these powerful images. The people in these photos are Palestinians in Gaza in the aftermath of an air strike by Israel, not Israelis, as I mistakenly described them. And we want you to know we are truly sorry for the error.
Writing for The Washington Post, Erik Wimple took note of the correction, stating that Sawyer's "'note' fills the boxes on the gray-bearded journo's ethical corrections list." He runs down all of the requirements:

· Issuing the correction on the same platform on which the mistake ran? Check.

· Disclosing the full extent of the error? Check.

· Taking personal responsibility for the error? Check.

· Apologizing for the error? Check.

Textbook on-air correction? Check.
Sadly, not everyone exhibits the same commitment to correcting the record. It's been more than a year and 60 Minutes has yet to correct an egregious error regarding the security barrier in the West Bank. In April 2012, the news magazine said the barrier completely surrounds Bethlehem. It doesn't.
CBS News exec Fager repeated the error at his church and was called out on his factual misstatement. He said he'd look into it, but to this day, no correction has been made.
In this instance, ABC News exhibited the type of journalistic integrity that Fager and his network pretends to have.
For background about CBS News' failure to correct go here and watch the video below:
Posted by dvz at 01:17 PM | Comments (1)
Anti-Israel Political Cartoonists Pounce on Israel
No sooner does Israel forcefully defend itself from attacks on its civilians coming from Gaza, than the Israel haters crawl out of the woodwork to spew their condemnation. Witness some of the recent political cartoons that have appeared in various media outlets.
As CAMERA's sister organization CIF-Watch pointed out:
Though the evocation of the 'shooting fish in a barrel' meme is the most obvious element of the narrative, even more telling is the more focused depiction of the Israeli soldier's deranged war lust (note the soldier's face) in contrast with the helpless Palestinians (fish and other small creatures). The latter can be seen in the drop of water spit by the fish, representing it seems the benign, harmless nature of Hamas attacks.

Israel, according Turner, isn't merely the aggressor in the war (note the ceasefire agreement in the soldier's hand which he presumably has ignored), but is represented as bloodthirsty, vengeful, and merciless.
In the US, the Cleveland Plain Dealer too published vitriolic cartoons against Israel. Editorial cartoonist Mike Luckovich portrayed a Israel driving a car over a cliff, with Uncle Sam sitting helplessly in the back seat. The driver labeled "Israel" says, "Just because you provide the car and gas doesn't mean you get to be a backseat driver!"

The implication that the US completely supports Israel and therefore should call the shots, that Israel is driving off a cliff and plunging the region into turmoil, that Israel is defying U.S. orders, belongs squarely in the realm of anti-Israel activists who advocate stopping all US aid and blame Israel for everything wrong in the region. These Israel haters do not see the country as an ally of the U.S., do not value the strong, historical bilateral relations between the two countries and their shared strategic goals in the region. They discount the vigorous domestic U.S. support for Israel and its security. Thus the facts do not matter to them, only the feeling that Israel should be blamed.
It is immaterial to them that 3.1 billion dollars of US aid, which is almost all military assistance accounts for only 23-25% of Israel's military funding. Nor does it matter that much of this aid benefits the U.S.. The fact that every country has the right to protect itself from attacks on its civilians, that Hamas has been raining rockets and missiles down on Israeli cities, that Israel is the lone democratic, moral nation in a region that is unravelling in violence is of no matter.
What is disturbing is that a newspaper like the Plain Dealer willingly publishes such tripe. Perhaps even more disturbing, however, is the other political cartoon, penned by Andy Marlette, that was published by the Plain Dealer on the same day, July 16, 2014.

In this cartoon, Moses labeled "Israel" holds the tablets in his hand with the commandments "Thou Shalt Not Kill... ...Kidnap & Torture Children." The cartoon seems to suggest that "kidnapping and torturing children" is a regular action by the Israelites. Never mind that condemnation, excoriation, revulsion and unprecendented calls to severely punish the Jewish perpetrators of the abductors and murderers of an Arab child have poured in from Israeli politicians across the political spectrum, from rabbis of all stripe, representing all sectors of the Jewish community in Israel and from every segment of Israeli society. Never mind that Palestinian media, broadcasts are filled with invocations to murder Jews and Israelis wherever they may be. The singling out of Israel with the false implication that Israeli society as a whole promotes and tolerates the abduction and torture of children reeks not only of anti-Israel bias but, with the inclusion of Moses and the tablets given to the Jews, of anti-Jewish bias as well .
Posted by RH at 11:18 AM | Comments (1)
July 15, 2014
CBS Report Comes Up Empty on Fuel Claim
On CBS This Morning, Holly Williams reported today from Gaza City that Hamas appeared to reject an Egyptian-proposed ceasefire agreement because it did not include the removal of the security-based naval blockade imposed on Gaza since 2007. She says (at around 1:40 into the video, posted above) that the blockade has disrupted the economy "and deprived Palestinians of necessities like fuel and medical supplies." (The text of the segment can be found here.)
However, it is Williams' assertion that is deprived of accuracy. According to a recent report from COGAT, the Israeli authority responsible for the coordination of humanitarian affairs with Gaza, in the first several days of Operation Protective Edge, "some two hundred truckloads of food and essential supplies were delivered into the Gaza Strip" through the Kerem Shalom crossing, including 187,000 liters of gasoline, 526 tons of gas and 12 medical equipment trucks. And on Sunday and Monday, approximately 140 truckloads of general supplies and over 240 tons of gas were delivered into Gaza. While Hamas and other groups sent thousands of rockets into Israel, including the crossing itself, Israel continued to send goods into the coastal territory.
Such deliveries are not only made in times of crisis. From the start of 2014 through July 5, 21,704 trucks carried 536,481 tons of goods into Gaza.

This is far from the first report to repeat the tired trope of Israel denying goods to Palestinians in Gaza – it's not even the first one this week. On July 9, UNRWA spokesman Adnan Abu Hasna alleged during a CNN interview that there was no water or electricity in Gaza.
The previous day, MSNBC's Chris Hayes erroneously characterized Gaza as being "under siege," falsely implying that the enclave is entirely cut off from the outside world. CAMERA's Tamar Sternthal has rebutted both these claims, here and here.
We will see if CBS can buck the trend and correct the error – or, like other media, it comes up empty on the facts.
-- Josh Mellits

Posted by dvz at 11:47 AM | Comments (0)
Hamas Got Rich As Gaza Was Impoverished
An article appearing in Ynet on July 15 by Doron Peskin reveals how leaders of Hamas have become fabulously wealthy at the same time that the Gaza Strip has fallen deeper into poverty and disrepair.
Israel vacated the Gaza Strip in 2005, the Palestinians elected a Hamas government, which in 2007 completed the take-over of the Gaza Strip by violently ejecting the remaining Fatah officials. At the time, many explained popular support for Hamas as unrelated to its hardline stance against Israel. Instead, the conventional wisdom attributed Hamas's electoral victory to its reputation as untainted by corruption in contrast to the corrupt practices of the ruling Fatah party.
The article reveals the rapid accumulation of wealth by the top-echelon of Hamas since taking power. The wealth was acquired both in the old fashioned manner of robber barons, by taxing goods coming into Gaza through the smuggling tunnels, and in the relatively new way by investing in enterprises utilizing funds they secretly control. The article does not explore how much of this wealth indirectly derives from Western aid. The Palestinian economy is heavily subsidized by Western nations and money is fungible.
The accumulation of wealth by those in power at the expense of the general population is an oft-repeated story, but in the case of Hamas and the Gaza Strip there is the additional factor of the constant imploring of the Western world to provide aid to the Gazan population. Such revelations should undermine the credibility of those who blame the Gaza Strip's impoverishment on Israel and contend that if only harsh Israeli restrictions were removed, Gaza would flourish.
The article provides a glimpse of a more cynical reality. While the Hamas government encourages the Palestinian population to dedicate itself to the cause of "resistance," accept self-sacrifice, even to the point of welcoming "martyrdom," Hamas leaders busily conduct real estate deals and shuffle vast sums from one bank account to another for the purpose of enriching themselves and their families.
Posted by SS at 11:29 AM | Comments (2)
NYT's Public Editor Weighs In On Complaints
Margaret Sullivan, public editor for New York Times, today addresses the "deluge" of complaints that her office has received concerning its coverage of Israel and the Palestinians ("A Deluge of Reader Complaints on Israel-Palestine Coverage"). Addressing some of the very points that CAMERA has highlighted, including a false claim in an editorial which required correction, she writes:
My office has received more than 1,000 emails from readers on this topic recently, with protests on both sides, and, in some cases, charges of bias coming from both sides. (The Times is far from alone among major news organizations in receiving strong complaints in this area. Here are treatments of the subject at The Guardian and at National Public Radio.)

Without delving into any larger issues, I will review here some of what I heard the most about from readers, with the intention of returning to this subject in a more substantial way.

1. An article and an editorial that included an error. An editorial picked up on a factual error in a news article, stating that Prime Minister Benjamin Netanyahu of Israel had not responded immediately to the killing of a Palestinian teenager, and that "days of silence" had followed. The Times corrected the error, both on the news pages and the opinion pages. Many readers also objected to The Times's interpretation of a poem quoted in the editorial, saying that its intended meaning was the opposite of that interpretation. . . .

3. Headlines. Readers objected to this headline: "Palestinian Death Toll Nears 100 as Hamas Promises More Attacks on Israel," saying that its construction made it appear that Hamas was responsible for the Palestinian deaths. The headline was later changed to make its meaning clearer, as was another headline that originally appeared as "Missile at Beachside Gaza Cafe Finds Patrons Poised for World Cup." Many readers complained, and I think reasonably, that the headline had the effect of trivializing the attack. Other readers objected to Times headlines that described Israel's military attacks; these readers said that such attacks were responding to rockets launched by Hamas, and that headlines should clearly reflect that. Along with headlines, the display and choice of photographs is a constant source of complaint, on both sides.
CAMERA's critiques of New York Times coverage in recent days include an Op-Ed in The Times of Israel which addressed the editorial's falsehood about Netanyahu and its distorted interpretation of a Hebrew poem ("Faux Fairness at The New York Times") and numerous analyses on CAMERA's Web site: "New York Times Double Standard Strikes Again," "As Hamas Targets Israel, Erlanger and the NY Times Join In," "NY Times Corrects: Netanyahu Immediately Denounced Murder," "NYT Corrects: There Were Jerusalem Clashes," and "NY Times' Page-One Anti-Israel Bias."
The latter addressed this distorted page-one headline ("Israel presses air barrage and Hamas strikes back"), which completely inverted reality:
CAMERA's campaign to combat The New York Times' anti-Israel bias continues through Operation Protective Edge. A comprehensive list of Times corrections prompted by CAMERA is available here.
Posted by TS at 05:51 AM | Comments (1)
CAMERA's Andrea Levin: Essential To Redouble Efforts
In an interview with Times of Israel, Andrea Levin, CAMERA's Executive Director, emphasizes how critical it is for Israel's supporters to advocate for accurate news media coverage, especially now:
From the perspective of CAMERA executive director Andrea Levin, Israel supporters should "actually redouble our work in the information battle," she said.

"Israel's adversaries aren't resting a moment from their efforts to mislead the public and defame the Jewish state," said Levin, whose group frequently blows the whistle on distorted coverage in news agencies including The New York Times and BBC.

"The many voices speaking out on the facts are an invaluable asset in correcting the record continuously and making clear, for instance, that Israel is defending its civilian population in the face of an aggressor that exploits its own women and children as defensive shields," said Levin.
Posted by TS at 05:30 AM | Comments (2)
Where's the Coverage? NYT, Others Ignore Attacks on Paris Synagogues

The New York Times and other major American media outlets have completely ignored attacks this past weekend on three Paris-area synagogues, one involving a firebomb and another which left hundreds of Jews trapped for hours and several injured. According to a JTA report posted on Times of Israel:
A firebomb was hurled at a synagogue near Paris, part of a string of anti-Semitic incidents in Western Europe coinciding with Israel's assault on Hamas in Gaza.

The firebomb went off Friday night at the entrance to the synagogue of Aulnay-sous-Bois, a northeastern suburb of the French capital, according to the National Bureau for Vigilance Against Anti-Semitism, or BNVCA. No one was hurt and the fire resulted in minor damage, Le Monde reported.

On July 8, the day that Israel launched Operation Protective Edge against Hamas in Gaza, a man described as having a Middle Eastern appearance assaulted a Jewish 17-year-old girl on a Paris street near the Gare du Nord train station by spraying pepper-spray on her face, BNVCA also reported.

The girl, identified by her initials, J.L., wrote in her complaint to police that the man, who was in his 20s, shouted: "Dirty Jewess, inshallah you will die."
Regarding a separate attack this past Sunday, Times of Israel reported:
Clashes erupted in Paris on Sunday as thousands of people protested against Israel and in support of residents in the Gaza Strip, where a six-day conflict has left 166 Palestinians dead.

Several thousand demonstrators walked calmly through the streets of Paris behind a large banner that read "Total Support for the Struggle of the Palestinian People".

But clashes erupted at the end of the march on Bastille Square, with people throwing projectiles onto a cordon of police who responded with tear gas. The unrest was continuing early Sunday evening.

Media reports said that hundreds of Jews were trapped inside a synagogue in the area and police units were sent to rescue them.

A person in the synagogue told Israel's Channel 2 news that protesters hurled stones and bricks at the building, "like it was an intifada."

Riot police dispersed the group, with two members of the Jewish community and six officers slightly injured in the ensuing scuffle, the source said.
Those that did cover the attacks include the Guardian (please see analysis from CiF Watch, a CAMERA affiliate), The Independent, Agence France-Presse, and Associated Press. CNN also twice mentioned the attacks yesterday ("At this Hour with Berman and Michaela" and "Wolf".)
BBC Watch, a CAMERA affiliate, notes that BBC failed to cover the Paris-area attacks. Why do so many giants like BBC and The New York Times, along with the rest of the major American publications, deem the string of violent attacks against Parisian Jews not newsworthy? Where's the coverage?
Posted by TS at 04:37 AM | Comments (1)
Reuters Corrects Reference to '100s' of Fleeing Israelis
Reuters has corrected an article from earlier today which grossly understated the number of Israelis in rocket range who have been forced to seek shelter during sirens warning of incoming salvoes launched from Gaza. Still visible in the cached version, the article by Nidal al-Mughrabi and Jeffrey Heller had stated:
In fact, millions of Israelis, from south to north -- not hundreds -- have had to race for shelter in the last week.
To its credit, Reuters has since corrected the misinformation. The article now accurately reports:
But the frequent rocket salvoes have disrupted life as air raid sirens sent people in much of the country racing to shelters.
Posted by TS at 03:59 AM | Comments (0)
July 14, 2014
Where's the Coverage? Palestinian Official: All Hamas Rockets Are War Crimes

In a stunning moment of candor,the Palestinian envoy to the United Nations Human Rights Council states that it would be folly for Palestinians to apply to the International Criminal Court given that "each and every" rocket fired by Hamas is a "crime against humanity." Speaking July 9 on Palestinian Authority TV, Ibrahim Khreisheh also acknowledges that Israel follows proper legal procedures by giving civilians warning about impending airstrikes, while Hamas gives no warning about rocket attacks.
The rare admission, with translations by MEMRI, was reported in Israeli media outlets, and virtually ignored by the Western media, which is frequently obsessed with Palestinian accusations about alleged Israeli war crimes and which has followed the question of the Palestinians joining the ICC.
Now that the Palestinian ambassador to the United Nations has exhorted "people should know more before they talk emotionally about appealing to the ICC" because the Palestinians themselves are grossly in violation of international law, the Western media is mum. As Israel continues to absorb hundreds of rocket attacks, "each and every" one of them "a crime against humanity," and the media carries on with its blinkered discussions about the "lopsided conflict," we ask: where is the coverage of Ibrahim Khreisheh's candid admission?
Posted by TS at 02:59 AM | Comments (1)
July 11, 2014
VIDEO: CAMERA Activist Assaulted at Anti-Israel Protest Rally
Anti-Israel activists showed their true colors near the Israeli Consulate in Boston today. In addition to expressing their contempt for the Jewish state at an anti-Israel rally organized in part by Jewish Voice for Peace, one of the protestors assaulted CAMERA activist Chloe Valdary who was part of a counter protest attended by a number of pro-Israel activists. The woman in the video above declared that "from the river to the sea Palestine will be free" and that Muslims and Christians would someday take possession of Jerusalem and that the "Jews will go to hell, inshallah [God willing.]"
She then knocked an I-phone out of Valdary's hand.
Posted by dvz at 04:31 PM | Comments (0)
July 10, 2014
NPR Suggests Israel Fired 160 Rockets, Hamas Fired 2
The rockets are flying in the Middle East. Yesterday morning, NPR listeners were told that Israel had hit 160 targets. And they were informed that Hamas had fired... two missiles?
The introduction to a July 9 Morning Edition segment described the "violence that unfolded overnight" as follows:
Renee Montagne: Hamas claimed responsibility for two rockets fired at Tel Aviv. Both rockets were intercepted by Israel's Iron Dome missile defense system.

Steve Inskeep: Israel says it has struck more than 160 targets in Gaza. Officials in Gaza say at least three dozen Palestinians have been killed this week.
Not exactly. It is true that at 8:45 AM Israel time – the middle of the night in the US – Israel shot down two Palestinian rockets. But it's also true that from midnight in Israel through the time the Morning Edition program aired on the east coast (4 PM in Israel) 48 rockets struck Israel and another 14 were intercepted by the country's missile defense system. During the week, hundreds more were fired at Israel.
Numerical comparisons can be interesting, but can also be unhelpful if the data is divorced from the details. (What type of targets does Israel try to hit with its rockets? What type does Hamas hope to hit?) But if journalists nonetheless choose to compare numbers, they should be a representative sample, and should certainly compare apples with apples. The comparison of one minute of Hamas rocket fire with one night of Israeli strikes and one week of Palestinian casualties is, at the very least, unhelpful.
This post has been updated to note that the Morning Edition segment aired on July 9, not on July 7. As it was a typographical error, the figures remain correct.
Posted by GI at 05:20 PM | Comments (3)
July 09, 2014
Where's the Coverage? "Moderate" Fatah a Partner in Terror

Even as terrorists in Gaza fire hundreds of rockets and missiles at Israel, the media has not paid much attention to the fact that the genocidal group Hamas is partners in a Palestinian "unity" government with Mahmoud Abbas' Fatah party, which the press frequently characterizes as "moderate."
It comes as no surprise then that the media has ignored the fact that Fatah groups are actively involved in launching rockets at Israeli civilians. Gatestone Institute reports:
Fatah has several hundred militiamen in the Gaza Strip who belong to various armed groups. Some, according to sources in the Gaza Strip, are former members of the Palestinian Authority security forces, who continue to receive their salaries from the Western-funded Palestinian government in Ramallah.

Shortly after Israel launched air strikes against Hamas targets in the Gaza Strip on Monday, Fatah spokesman Fayez Abu Aitah issued an urgent call to his men to take part in "defending the Gaza Strip against Israeli aggression."

[…]

Abu Aitah's call for joining the fight against Israel did not fall on deaf ears. Within minutes, at least two Fatah armed groups announced that they had started firing rockets at the "settlements" of Ashkelon and Sderot, cities inside the pre-1967 borders of Israel.
These are not rogue operators but sanctioned by Fatah leaders. On July 9, Fatah posted a video on their Facebook page, produced by the party's military wing, the Al-Aqsa Martyrs' Brigades. Palestinian Media Watch reports that it warns Israelis in Hebrew to flee or face death:


Narrator: "A message to the Israeli government and the Israeli people: Death will reach you from the south to the north. Flee our country and you won't die. The KN-103 rocket is on its way toward you."
[Facebook, "Fatah - The Main Page", July 9, 2014
Al-Aqsa Martyrs' Brigades' YouTube channel, (in Hebrew) July 9, 2014]

The video shows footage of a man preparing to launch a rocket and close-ups of a rocket being aimed.
The watchdog group also reports that Fatah also posted on Facebook that the military wings of Hamas, Fatah and Palestinian Islamic Jihad are "brothers-in-arms," united by "one God, one homeland, one enemy, one goal." The post included this image of fighters from the three groups:
This is not an isolated posting. Fatah frequently posts similar messages on Facebook and Abbas advisor Sultan Abu Al-Einein posted a call to murder Israelis on his own Facebook page:
Let every hour of the settlers' presence on our land be a source of threat and terror for them. Let us deprive their lives of security, so that the Palestinian land becomes a minefield against the occupation.
Calls to murder Israelis, declarations of unity of purpose with Hamas and Islamic Jihad, threats and even active participation in terrorist rocket attacks are not "moderate." Fatah actively supports and takes part in terrorism against Israelis. Failure to report on this is journalistic malpractice. Where's the coverage?
Watch the Fatah video threatening Israelis with rocket fire here:
Posted by SC at 08:12 PM | Comments (0)
Media Misses Palestinian Professor's Auschwitz Visit

>
In March, Prof. Mohammed Dajani, head of the American studies program at Al Quds University in eastern Jerusalem, led 27 students on a trip to Auschwitz. The unusual visit and the uproar it caused among many Palestinian Arabs were reported by relatively few news media. One correspondent who did highlight Dajani's effort was William Booth, Jerusalem bureau chief for The Washington Post.
Booth wrote that "the trip was explosive news to some, perhaps more so because it took place as U.S.-brokered peace talks between Israel and the Palestinians were in danger of collapse, and emotion surrounding the decades-old conflict is high. Controversy was also heightened by rumors—untrue—that the trip was paid for by Jewish organizations. It was paid for by the German government."
The Christian Science Monitor also found the visit newsworthy ("For Palestinians, empathy with Jewish suffering in Holocaust is complicated," April 28, 2014) and noted, almost in passing, the criticism Dajani received: "While Dajani anticipated some pushback, he was unprepared for the ensuing vitriol. He was lambasted as a traitor who was brainwashing Palestinians so that they would give up their rights; Al Quds was pressured to fire him, even though he led the trip in a personal capacity."
Much of the CSM article emphasized Palestinian Arab suffering, to the point it seemed the newspaper was implying a comparison to the Holocaust. Of Palestinian participants, the paper wrote "but they also saw echoes of their own suffering, including in 1948, when more than 700,000 Palestinians fled or were forced out of their homes amid the chaotic fighting that surrounded Israel's declaration of independence—an event Palestinians refer to as the nakba, or catastrophe.

" 'It's a mixed feeling,' says Hani Smirat, a trainer in conflict resolution who is also studying at Al Quds. 'I need to feel as a human that what happened with Jews is not acceptable, and the other feeling that I face the same situation. So it's a conflict between my story and the other story."
The Monitor inflates the number of Palestinian Arab refugees. It was more likely between 420,000 and 650,000—the former an estimate by a U.N. official on the scene at the time, the latter the difference in Arab population between the last British and first Israeli censuses. It also omits the 800,000-plus Jewish refugees from Arab lands, nearly 600,000 of whom settled in Israel.
More important was the Monitor's failure to note that Palestinian setbacks, then and now, have been largely self-imposed. From rejection of the 1947 U.N. Palestine partition plan for two states, one Jewish, one Arab through joining the Arab states in their losing war against Israel, which led to the Arab refugee problem, to rejection of two-state offers in 2000, 2001, and 2008 Palestinian Arabs—unlike European Jews in the 1930s and '40s, primarily have themselves to blame.
Although they recognized the trip itself as newsworthy, neither The Washington Post nor the Christian Science Monitor followed up to report on the severity of the criticism Dajani received. The Mideast Mirror did, depicting the intolerance Dajani experienced by reporting that "a Palestinian professor had to resign from al-Quds University in Jerusalem because he taught his students about the Holocaust. The courageous Mohammed Dajani received death threats after leading the first organized group of Palestinian university students to Auschwitz." ("Return of the Cycle", The Mideast Mirror, June 30, 2014)
Neither The Post nor the Monitor noted fact that Dajani was forced to resign from Al-Quds University, as reported by The Times of Israel, "Dajani had hoped the university would reject his resignation, sending a 'clear and loud message' to students, faculty, and 'the Palestinian community' that 'the university supports academic freedom and considers my trip as an educational journey in search of knowledge.' However, he was soon informed that the university had accepted his resignation and that it would take effect on June 1." ("Palestinian lecturer who led Auschwitz trip quits after backlash", Times of Israel, June 8, 2014)
Although not a major daily or broadcast network, National Review, a biweekly conservative opinion journal also reported that "[t]he trip was part of a program run in conjunction with Israeli and German universities and designed to promote tolerance, sympathy, and understanding. Many Palestinians understood: They threatened Professor Dajani with death until he resigned. He said he hoped that the university would not accept his resignation and instead stand up for his academic freedom. But they accepted, no doubt with relief." ("The Week," National Review, July 7, 2014)
The Post and CSM deserve praise for covering Dajani's trip. Other media should have done so as well. Failure to report on the trip's aftermath—the widespread, harsh criticism Dajani received, and his resignation from Al Quds, which he had hoped would defend him—by major media in general buried a revealing story about Palestinian readiness to acknowledge not just Jewish suffering but the legitimacy of Jewish claims in the land of Israel.—Ziv Kaufman
Posted by ER at 05:03 PM | Comments (1)
July 07, 2014
NYT Caption Error: No Jerusalem Violence
July 9 Update: New York Times Corrects: There Were Jerusalem Clashes
The caption for a large page-five photograph in The International New York Times yesterday (July 5-6) errs:
Thousands thronged Friday to Shuafat, the East Jerusalem neighborhood where Muhammad Abu Khdeir, 16, was abducted. The Israeli police braced for violence that did not materialize.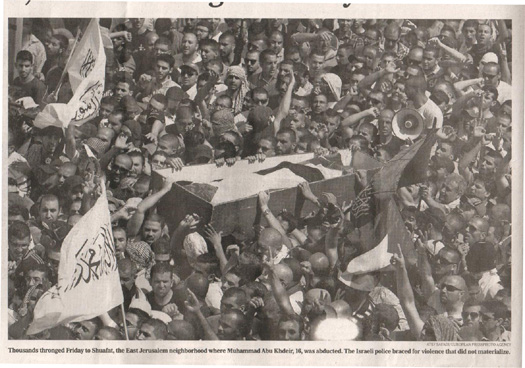 In fact, there was extensive violence in eastern Jerusalem, including Shuafat this past Friday. As the Associated Press reported that day:
Israeli police clashed with rock-throwing Palestinian protesters in Jerusalem on Friday as thousands mourned at the funeral for an Arab teen who Palestinians say was killed by Israeli extremists in a revenge attack. . . .

During the procession, scores of masked Palestinians threw rocks at Israeli police on duty nearby, and they responded with stun grenades, spokesman Micky Rosenfeld said. He said more than 2,000 people attended the funeral.

Rosenfeld said police also clashed with hundreds of Palestinian protesters in other neighborhoods in the eastern part of the city, which has been rocked by violence since Abu Khdeir's burned body was found Wednesday in a forest after he was seized near his home.

At least 13 Israeli officers were injured by rock-throwers, with six taken to the hospital, police spokeswoman Luba Samri said.

The Red Crescent said about 30 Palestinians were hurt by rubber bullets fired by Israeli forces. Dozens of others were treated for tear gas inhalation. ("Clashes break out during Palestinian funeral")
For instance, The Los Angeles Times reported: "After the burial [of Abu Khdeir], Palestinian youths resumed their clashes with the police."
AFP reported July 4: "Before and after Abu Khder was buried in a local cemetery, Palestinians clashed with Israeli police near the procession and elsewhere in annexed east Jerusalem" ("Palestinians bury slain teen, clashes hit E. Jerusalem").
Israeli Police spokesman Mickey Rosenfeld tweeted on Friday afternoon:

In addition, news photographs from that day depict the violence following the funeral, including in Shuafat:

Palestinians run for cover from tear gas fired by Israeli policemen following the funeral of Mohammed Abu Khder, 16, in Shuafat, in Israeli annexed East Jerusalem, on July 4, 2014. Abu Khder, a Palestinian teenager was reportedly kidnapped and killed, triggering violent clashes in east Jerusalem, in an apparent act of revenge for the murder by militants of three Israeli youths. Photo by Saeed Qaq/APAIMAGES_1055.05/Credit:APA IMAGES/SIPA/1407051101 (Sipa via AP Images)

JERUSALEM, July 5, 2014 -- Palestinian demonstrators confront with Israeli policemen during clashes in Shuafat, an Arab neighborhood of northeastern Jerusalem, on July 4, 2014. Hundreds of Palestinians participated in the funeral of 16-year-old Mohammed Abu Khudir, a Palestinian teenager whose body was found in Jerusalem forest on July 2, in Shuafat on Friday. Massive riots in Jerusalem continued on the third day as Palestinian demonstrators hurled rocks at Israeli policemen who responded with tear gas and rubber bullets. Three light rail stations were destroyed by the demonstrators and several entries to Arab communities in east Jerusalem were sealed off by Israeli police. Israeli media believed that the Palestinian teenager was killed by far-right Israelis in retribution for the recent deaths of three Jewish teens kidnapped by militants in the West Bank. (/Li Rui)(ctt)

Palestinian demonstrators confront with Israeli policemen during clashes in Shuafat, an Arab neighborhood of northeastern Jerusalem, on July 4, 2014. Hundreds of Palestinians participated in the funeral of 16-year-old Mohammed Abu Khudir, a Palestinian teenager whose body was found in Jerusalem forest on July 2, in Shuafat on Friday. Massive riots in Jerusalem continued on the third day as Palestinian demonstrators hurled rocks at Israeli policemen who responded with tear gas and rubber bullets. Three light rail stations were destroyed by the demonstrators and several entries to Arab communities in east Jerusalem were sealed off by Israeli police. Israeli media believed that the Palestinian teenager was killed by far-right Israelis in retribution for the recent deaths of three Jewish teens kidnapped by militants in the West Bank. (/Li Rui Xinhua)(ctt)
CAMERA has been in touch with Times editors who promise to look into the caption. Stay tuned for an update about a correction.
Posted by TS at 03:21 AM | Comments (0)
July 03, 2014
Is Presbyterian Divestment About Human Rights or Jewish Sovereignty?
The General Assembly of the Presbyterian Church (USA) voted last month to divest from three companies whose products are used by the Israeli defense establishment because the denomination does not want to profit from human rights abuses.
The GA voted to instruct officials responsible for the PCUSA's investments to sell stock in Motorola Solutions, Hewlett-Packard, and Caterpillar.
Apparently, Israeli self-defense is bad but profiting from censorship in China and the destruction of water supplies in Mongolia is OK.
A quick perusal of the funds owned by the Presbyterian Foundation's New Covenant Growth Fund reveals that in June of 2013, the church was invested in three China-based companies, two of which have questionable human rights records. (The Presbyterian Foundation oversees the endowments of local PCUSA churches and non-pension related investments owned by the denomination. The denomination's Board of Pensions oversees employee pensions.)
According to a report issued on June 30, 2013, the Presbyterian Foundation owned close to $9 million worth of American Depositary Receipts (or ADRs) in Baidu, an internet company that, according to numerous credible reports, blocks Chinese citizens from accessing websites that criticize the Chinese government.
That should sounds like a human rights abuse. In most quarters, free speech is a bedrock human right.
Sadly enough, the company was able to defend against a lawsuit in the United States successfully arguing, bizarrely enough, that it had a first amendment right to censor websites.
The upshot is this. The Presbyterian Church (USA) was, as of June 30, 2013, profiting from censorship in China. And no one in the denomination called on the church to divest from the company responsible.
But that's not all. The Presbyterian Foundation also had, as of June 30, 2013, a small $587,000 stake in China Shenhua Energy, a state-owned energy company which, according to Greenpeace, has used so much water in its coal-to-liquid manufacturing process, that it has caused a drastic drop in water levels, causing surface vegetation to die in Mongolia. It has also polluted water local water supplies.
So here we are. As of June 30, 2013, the PCUSA was profiting from the destruction of natural resources upon which local herders rely for their livelihoods. And no one in the denomination called on the church to divest from the company responsible. Yes, there was a overture calling for the church to divest from fossil fuels – which failed – but no specific calls for the church to divest from the company responsible. (And by the way, there has been little, if any attention in the PC(USA) to the use of slave labor in the Chinese economy.)
"Presbyterians believe firmly that their investments must be in alignment with their values," the denomination tells us.
Are censorship and desertification PCUSA values?
If they aren't, why have there been no overtures targeting these two companies by name for divestment at PCUSA assemblies?
The Presbyterian anti-divestment group, Presbyterians for Middle East Peace, called it exactly right when they reported that "there has been no effort made to divest from companies doing business in China, Iran, Russia, Syria or other nations where there are well-documented human rights abuses, including persecution of Christians."
Snapshots readers are invited to peruse the Presbyterian Foundation's schedule of investments for June 30, 2013 here. There are a lot of companies in the Presbyterian Foundation's portfolio. A quick perusal found two Chinese companies that profit from human rights abuses of one form or another. There are probably others.
But for Presbyterians obsessed with the evils of the Jewish state, they're easy to miss.
It's time to help them out.

Posted by dvz at 10:19 AM | Comments (1)
July 02, 2014
Aussie Site Engages With Unfounded Headline on 'Revenge Killing'
The Australian news site news.com.au boasts:
Australia's number one news site in 2013 and 2014, news.com.au reaches over 3.7m* Australians, delivering extensive breaking news and national interest stories thanks to our team of dedicated journalists plus the strength of the News Corp Australia network.

Our readers want to get to the point of the stories that really matter, so we bring this to them with timely news updates around the clock.

We say what people are thinking and cover the issues that get people talking. We balance Australian and global moments - from politics to pop culture. We live to engage with readers and at appropriate times provide an alternate angle on the news that involves humour when least expected.
Editors apparently seek to engage readers, at the expense of accuracy and accepted norms of journalistic practice regarding news reporting, with a sensationalist and false headline concerning the murders of Eyal Yifrach, Gil-Ad Shaar, and Naftali Frankel and surrounding events.
Today's article is headlined:
The bolded first sentence repeats the falsehood that the Palestinian casualty yesterday was the result of a "revenge killing."
Further down in the otherwise fair and balanced article (for which no byline can be found), there is an additional vague reference to the alleged victim of the so-called "revenge killing":
The man killed on Tuesday was the first casualty since the bodies were found.
Who is this unfortunate victim of an alleged "revenge killing"?
According to Haaretz:
A 19-year-old man was killed Monday night in the West Bank, during an arrest in the Jenin refugee camp. According to an Israel Defense Forces officer, the man was shot after he threw a grenade at soldiers.
(The Associated Press adds that family members maintain that Yosuf abu Zaghah, 20, was carrying eggs when he was killed.)
There is no justification for the tendentious and unfounded labeling of Tuesday's fatality during an arrest operation a "revenge killing."
A note at the bottom of the news.com.au article indicates that the original headline for this piece had been "Murdered Israeli teens laid to rest," a perfectly factual and impartial title.
Meanwhile, the overnight discovery of the body of 16-year-old Muhammad Hussein abu Khdeir of eastern Jerusalem has fueled suspicion that this was a "revenge.killing" by Israelis . The perpetrators have not been identified and there is an ongoing investigation.
The Huffington Post reports:
"We have not yet been able to determine if the motive was nationalistic or criminal," Jerusalem police chief Yossi Parienti said. "We are investigating every possibility."

"I ask Jerusalem residents and everyone else not to jump to conclusions, to wait for developments. There are conjectures and working assessments, we are not hurrying to say one way or another. I ask everyone to show responsibility, understanding and patience."
Posted by TS at 06:00 AM | Comments (0)
Huffington Post False Headlines: Air Strikes in West Bank
UPDATE, July 2, 4:55 EST: Huffington Post UK Corrects: No West Bank Airstrikes
A Huffington Post UK headline yesterday falsely claims that the West Bank has been subject to airstrikes. A screen capture of the headline follows: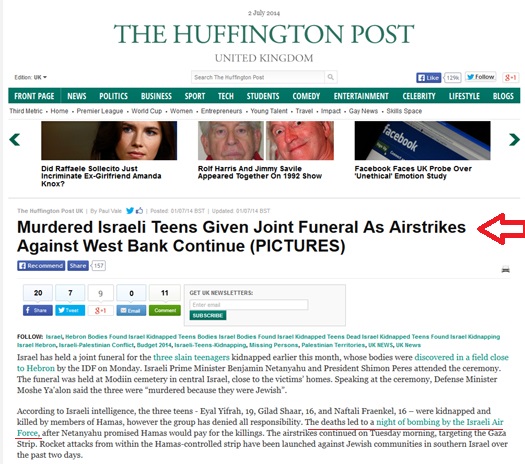 In response to rocket fire emanating from the Gaza Strip into southern Israel over the last several days, Israel has launched airstrikes against targets in that coastal strip. It has not carried out any airstrikes in the West Bank.
In addition, the accompanying article by Paul Vale erroneously reports:
The deaths [of the three Israeli teens] led to a night of bombing by the Israeli Air Force, after Netanyahu promised Hamas would pay for the killings.
But, as previously noted, the airstrikes in the Gaza Strip were a response to the rocket fire coming from there, not to the murder of the three teens. The Huffington Post article is itself hyperlinked to an Associated Press story, also on the Huffington Post site, which notes that the Israeli military said it was rocket fire from the Gaza Strip which led to the airstrikes there:
Early Tuesday, Israel carried out an especially intense series of airstrikes in Gaza, saying it had struck 34 targets across the Hamas-controlled territory. The military said the airstrikes were a response to a barrage of 18 rockets fired into Israel since late Sunday.
The last media outlet to report on non-existent airstrikes in the West Bank was The Financial Times. We urge Huffington Post UK to correct the record, as did The Times.
Posted by TS at 03:21 AM | Comments (0)
July 01, 2014
Where's the Coverage? Palestinians Want to Eliminate Israel

A poll commissioned by The Washington Institute and conducted by a leading Palestinian pollster shows that a clear majority of Palestinians, 60.3%, believe that their main five-year national goal "should be to work toward reclaiming all of historic Palestine, from the river to the sea." That means the elimination of Israel.
According to the think tank:
The poll comprised face-to-face interviews with a standard random geographic probability sample of 1,200 adult Palestinians, yielding results with a 3% statistical margin of error. The responses indicate that fewer than 30% of Palestinians now support a "two-state solution": a West Bank/Gaza Palestinian state in lasting peace with Israel.
Furthermore, only 31.6% of Palestinians agree that if a two-state solution were achieved, it "should be the end of the conflict" while 64% believe "resistance should continue until all of historic Palestine is liberated." And were such a two-state solution reached, 65.2% of Palestinians believe it would be only part of a "'program of stages' to liberate all of historic Palestine later."
This hardly sounds "moderate." And, since it doesn't fit with the popular media narrative that the Palestinians are moderate while the Israelis are "hard-line," it should come as no surprise that this survey has received zero coverage in the mainstream press.
The Israeli press, some blogs and Web sites did cover the story, as did Commentary Magazine which concluded:
This is not what those who have made a career out of blaming Israel for every problem in the Middle East, if not the world, want to hear. But if they want to know what's really going on, they should listen to the Palestinians. If they do, they will understand that there is nothing Israel can do to end this conflict so long as Palestinians are committed to their destruction.
Yes, exactly because they do not fit with the story journalists believe and repeat, these maximalist hard-line Palestinian attitudes are news. So… Where's the coverage?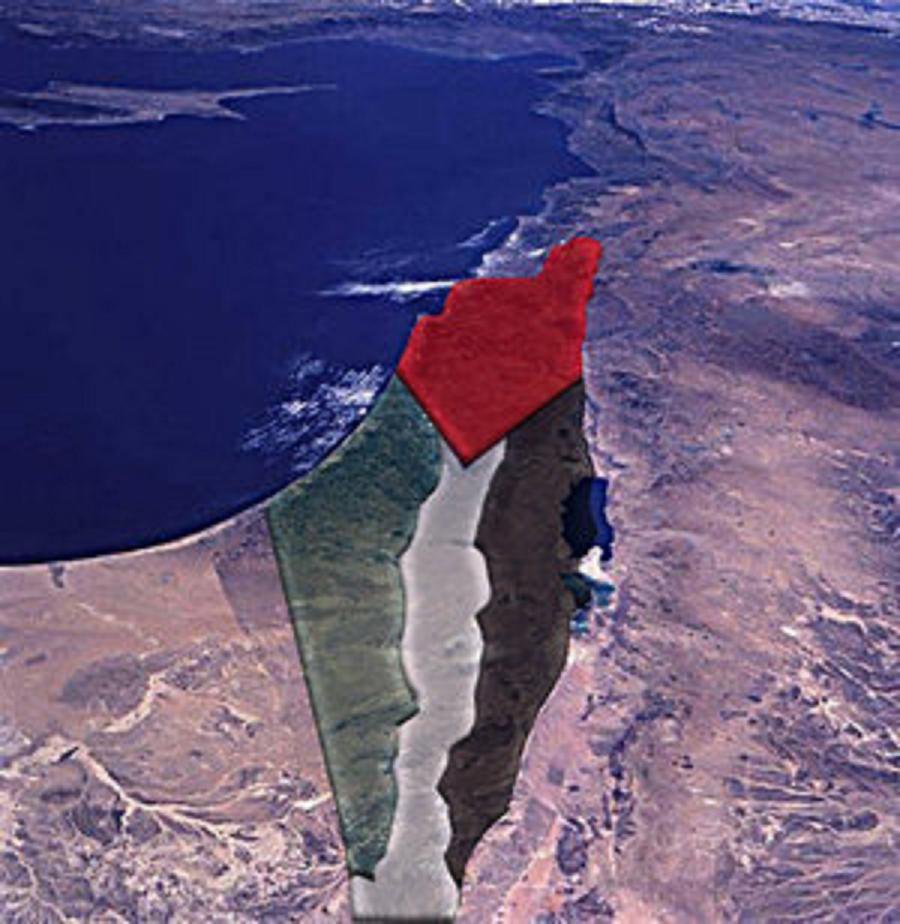 This is how an overwhelming majority of Palestinians would like to see it.
Posted by SC at 07:38 PM | Comments (1)