« Atlantic Using Old Unrepresentative Photo About Hebron | Main | PCUSA's New Moderator Unsettled by CNN Scrutiny »
June 18, 2014
Where's the Coverage? Official PA Social Media Celebrates Kidnappings

It's been almost a week since Israeli teens Eyal Yifrach, Gilad Sha-ar and Naftali Frenkel were kidnapped on their way home, south of Jerusalem. Wednesday, State Department spokeswoman Jen Psaki confirmed that one of the boys is an American citizen. That would be Naftali Frenkel. Yet, with a missing American citizen and the fact that innocent kids on their way home from school were kidnapped, Psaki said, "We urge both sides to exercise restraint and avoid the types of steps that could destabilize the situation."
Both sides.
This seeming indifference to the welfare of these teenagers is not limited to the United States. Far from it. Israel's Ambassador to the United Nations Ron Prosor has assessed that "the world response to the kidnapping is weak." Indeed, Farhan Haq, spokesman for UN Secretary General Ban Ki-moon, even said there is "no concrete evidence" that the three teens were "actually" kidnapped. This apathy has escaped the notice of most of the news media.
Even worse, most of the press has been mum on the celebration of the kidnappings within not just the Palestinian community, but even in the official Palestinian Authority media.
As Palestinian Media Watch has reported, on the social media accounts of Fatah, the party of Palestinian Authority President Mahmoud Abbas:
Fatah is celebrating the kidnapping as a victory. On its official Facebook page, the movement posted a cartoon of a victory sign with three fingers held up instead of two, symbolizing the three kidnapped youths. Accompanying the picture was a smiley with the text, "For your interpretation :)".
This three-fingered salute has been spreading quickly through Palestinian social media, including a hashtag and slogan "three Shalits," referring to Gilad Shalit, a former Israeli soldier kidnapped into Gaza and held for five years until he was traded for over a thousand Palestinian terrorists. According to the Times of Israel:
Al-Quds, a Palestinian news agency, published an article on Wednesday describing the creative ways in which Arabs are celebrating the campaign through personal photographs, shaping the words out of string beans, or even carving them on a Libyan beach.

"The campaign has raised the slogan 'three Shalits' in support of capturing Israeli occupation soldiers and exchanging them for Palestinian prisoners in Israeli jails," the article read.

Yet the mainstream Western media hasn't paid much attention. And there has been silence even on one of the most disgusting posts on Fatah's Facebook page, a cartoon portraying the three boys as rats on fishing hooks.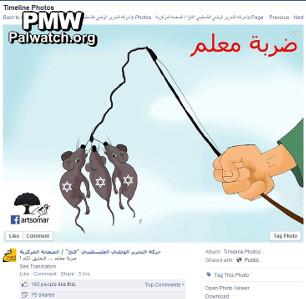 The world yawns as official Palestinian Authority social media celebrates the kidnapping of innocent kids and publishes vile images of the boys as rats. Where's the decency? Where's the indignation? And at the very least… Where's the coverage?
Posted by SC at June 18, 2014 08:56 PM
Comments
Throughout history, Jewish lives are only worthwhile to Jews, and righteous Gentiles.
Posted by: Dr. Doug Finestone at June 21, 2014 11:11 PM
Posted by: Ken Wilson at June 29, 2014 03:55 AM
Guidelines for posting
This is a moderated blog. We will not post comments that include racism, bigotry, threats, or factually inaccurate material.
Post a comment