« CMEP Expresses Outrage on Website Over Uprooted Trees, Nothing about Kidnappings | Main | Where's the Coverage? Official PA Social Media Celebrates Kidnappings »
June 18, 2014
Atlantic Using Old Unrepresentative Photo About Hebron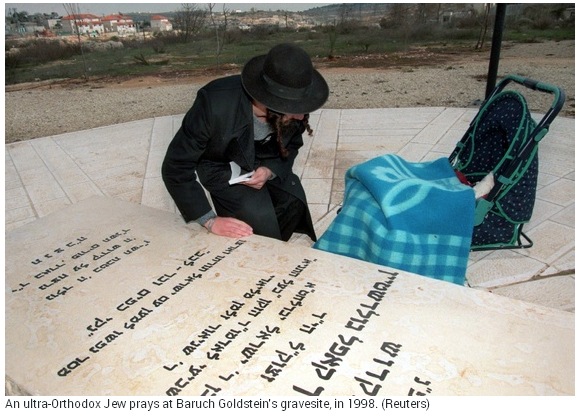 There are a number of problems with Ayelet Waldman's piece, "The Shame of Shuhada Street," that appeared in The Atlantic on June 12, 2014, but one of the most obvious and egregious is the magazine's use of an old photo of Baruch Goldstein's grave. (See photo above.)
Baruch Goldstein was a resident of Kiryat Arba who murdered 29 Palestinians at the Tomb of the Patriarchs in 1994. While most Israelis regarded Goldstein's mass murder as a shameful act, some of his supporters turned his grave into a shrine.
After a court fight, the IDF dismantled the shrine, which was comprised of a large stone circle that encompassed Goldstein's grave. You can see the stone circle in the 1998 photo The Atlantic used to illustrate the article.
The use of this photo, however, is deceptive because as a more recent photo of Goldstein's grave taken by B'Tselem (shown below) reveals that this circular platform has been removed, leaving only a small section of stone at the base of Goldstein's grave.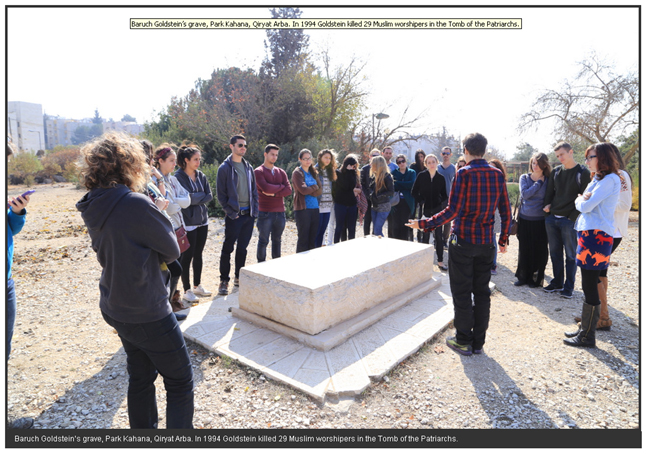 Why did The Atlantic use a photo taken in 1998 for a story published in 2014? Why use a 16-year-old photo that gives the false impression that Goldstein's grave is still a shrine and not simply a gravestone?
This is propaganda, pure and simple, as is much of Waldman's article.

Posted by dvz at June 18, 2014 04:47 PM
Comments
I have a question, which I hope someone can answer. Why is Shudada Street closed to Arabs? I know about the Hebron Protocols 1997, which talked about 80% of Hebron allocated to Palestinian administration and the rest under Israeli administration. In this agreement Shuhada Street was to be open to Arabs as well. Did something happen that led to its closure to Arabs? Another question: What does Shuhada Street stand for? "Shuhada" means what's this? It can also allude to martyrs.
DVZ: Rifle fire and other acts of violence against Israelis living in Hebron prompted the IDF to shut down the street. Many of the store fronts were padlocked to prevent people from coming out and attacking Israelis on the street.
Posted by: ralph dobrin at June 20, 2014 04:18 AM
Guidelines for posting
This is a moderated blog. We will not post comments that include racism, bigotry, threats, or factually inaccurate material.
Post a comment