« May 2014 | Main | July 2014 »
June 29, 2014
LA Times Whitewashes Hamas, Again
While the United States, the European Union and Israel have decided that Hamas is a terrorist organization, responsible for countless suicide bombings, stabbings, shootings and rocket attacks targeting civilians, The Los Angeles Times would rather not say so.
Once again, The Los Angeles Times has whitewashed the terror organization as a "militant" group. The Times reported Thursday:
Unrelated to the strike, prison authorities recently announced that they would withhold newspapers and access to World Cup broadcasts to Palestinian prisoners who are members of the Islamist militant group Hamas.
An earlier article, on Wednesday, concedes that Israel views Hamas as a terror organization, but says nothing about the American or European designation of the group as such:
Hamas, regarded by Israel as a terrorist organization, agreed to the formation recently of an officially nonpartisan Palestinian Authority government in cooperation with the other major Palestinian faction, Fatah.
Similarly, the same reporter, Batsheva Sobelman, wrote June 19:
The new government grew out of a rapprochement between the competing Palestinian factions of Fatah and Hamas. Israel considers Hamas to be a terrorist organization.
A separate recent article, by Paul Richter and Christi Parsons, had no trouble identifying a Nigerian terror group as such, but like Sobelman demurred when it came to properly identifying Palestinian terrorist organizations:
Weapons smuggled out of Libya have been used by insurgents in Mali, by Boko Haram terrorists in Nigeria and by Palestinian militants in the Gaza Strip.
The U.S. and E.U. regard Hamas as a terror organization. Is it that difficult to say?
Posted by TS at 07:33 AM | Comments (1)
June 25, 2014
Where's the Coverage? Abbas Rejects "Trust, Good Will and Mutual Security"

Earlier this month, Manuel Hassassian, the PLO ambassador to the United Kingdom, and Professor Raphael Cohen-Almagor, Founder and Director of the Middle East Study Group at the University of Hull, co-authored an article in Fathom, a quarterly journal published by the Britain Israel Communications and Research Centre (BICOM). In the article, the two declare:
To build genuine peace, it is essential to have trust, good will and mutual security. We believe that if there is a will, there is a way. Peace is a precious commodity and therefore requires a high price for its achievement, reaching a solution that is agreeable to both. The peace deal should be attractive to both, equally. It cannot be one-sided, enforced or coerced.
Among other parameters of a possible deal the two lay out, they explicitly state:
Israel shall recognise the State of Palestine. Palestine shall recognise the Jewish State of Israel.
A Palestinian diplomat recognizes Israel as a Jewish state. That alone should generate media buzz but the mainstream press was entirely silent. That's not all. On the so-called "right of return," the two authors propose:
The 1948 Palestinian refugees will be able to settle in Palestine… but massive refugee return to Israel will not be allowed.
An official of the Palestinian Authority tacitly admits that flooding Israel with Palestinian Arabs is not a viable option. Again, the press should be atwitter. Yet the media did not seem to notice.
However, Mahmoud Abbas did notice. Upon the article's publication, Ambassador Hassassian was recalled and reprimanded. The Telegraph reported:
"Ramallah was very angry with this statement. This is not the position of the Palestinian Authority," said Amal Jadou, head of the PA foreign ministry's European desk. She said Mr. Hassassian had been ordered to report to Ramallah, the West Bank's de facto capital, to give an explanation.
As you can imagine, Hassassian has been backpedaling ever since. After all, trust, good will and mutual security are not consistent with PA policy. And that should be widely reported. But… where's the coverage?
Manuel Hassassian, still PLO ambassador to the United Kingdom?
Posted by SC at 04:39 PM | Comments (1)
June 22, 2014
PCUSA's New Moderator Unsettled by CNN Scrutiny
It is hard not to feel sorry for Heath Rada, the newly elected moderator of the Presbyterian Church (USA). He just got himself elected to one of the most important posts in a very troubled institution and now he has to defend its actions.
Right after the General Assembly of his denomination met in Detroit and approved an overture that instructs his denomination to sell $21 million worth of stock in companies whose products are used by the Israeli government, he appeared on CNN and was asked some pretty direct questions by journalists who miraculously enough, were intent on doing their job!
Rada had a very difficult time responding.
Not only was Rada challenged by his hosts on CNN about the wisdom of the decision to divest from companies that do business with Israel, he was challenged over the sale of some ugly propaganda on PC(USA)'s website.
Rada had to know he was in trouble when he was challenged on the wisdom of divesting from companies whose products are used by Israel. "Do you really think that you've become a peacemaker by alienating Jews here in America and those receiving your message in Israel?"
Rada bumbled through this question by stating that "many of the people with whom I have had personal conversations with recognize that we care deeply [about Presbyterian-Jewish relations]…" It's a laughable assertion refuted by Rabbi Rick Jacobs later in the video who said that the vast majority of American Jews – whom he represents – were offended by the divestment vote. (Yet another example of a Christian leader trying to anoint the leaders of the Jewish community in the U.S. It happens a lot.)
Things got even uglier when the host asked about Zionism Unsettled, a hateful and dishonest text produced by the Israel Palestine Mission Network of the Presbyterian Church (USA), a group of so-called peace activists with a long history of demonizing Israel and American Jews. The host asked how the PC(USA) can profess its love for its Jewish sisters and brothers in light of some of the rhetoric in Zionism Unsettled. "It seems as if the rhetoric at least, does not speak to your love for, as you say, your Jewish brothers and sisters," he asked.

In response Rada invoked a overture passed by the General Assembly in Detroit that stated that Zionism Unsettled does not represent the viewpoint of the PC(USA). Interestingly enough, the overture initially instructed the denomination to stop selling the text, but this section was removed in committee and approved as amended by the General Assembly. Rada said:
"Our General Assembly distanced itself, saying we do not support the statements that were made in Zionism Unsettled. We as a denomination do not affirm that terminology."
The host responded, "But you're still selling it on the Presbyterian USA website. It still is a teaching guide on your website. I looked at it this morning.
Rada admitted "It still is available but there are some elements over which we do not have control. That is being explored right now to see how we're going to handle it."
The host had none of it. "Can you explain how you don't have control? You either sell it or you don't."
Rada stated "it has been on our list. It takes a bit of time. We've been here at the General Assembly. It takes a bit of time for us to move forward on what is going to be continued to be sold and what is not…"
A bit of time?
How much time do the leaders of the PC(USA) in Louisville need to stop selling Zionism Unsettled? It's been a source of controversy for the denomination since its publication early this year.
And Rada should know that. CAMERA sent him a letter about Zionism Unsettled on February 15, 2014. (The text is appended below.)
The upshot is this: It's not going to get any easier for Heath Rada to defend his denomination's actions.
Letter to Heath Rada
Here is the letter to Heath Rada sent on Feb. 15, 2014 via email under the subject "A Note about Zionism Unsettled, the IPMN and the PC(USA)."

Dr. Heath K. Rada
[Address Omitted]

My name is Dexter Van Zile.

I write to you on behalf of the Committee for Accuracy in Middle East Reporting in America (CAMERA). CAMERA is a media-monitoring group that promotes fair and accurate coverage of issues related to the Middle East, with a particular emphasis on the Arab-Israeli conflict. Our work can be seen at www.camera.org. I write to you in your capacity as a member of the Presbyterian Mission Agency Board of the Presbyterian Church (USA).

I write to you about Zionism Unsettled, a text prepared by the Israel Palestine Mission Network of the Presbyterian Church (USA). As you are probably aware, this text has been roundly condemned by leaders of the Jewish community in the United States. They assert, correctly, that the text promotes hostility toward Israel and represents an attack on Jews and Judaism.

One of the more eloquent, and incisive condemnations of this document comes from Rev. Dr. Christopher Leighton, a PC(USA) scholar and executive director of Institute for Christian and Jewish Studies. He describes the text as the modern-day equivalent of the "Zionism is Racism" resolution passed by the UN General Assembly in 1975.


Although the United States played a vital role in exposing the anti-Semitic underpinnings of this resolution and for sixteen years worked valiantly and, ultimately, successfully to rescind this smear campaign, the Presbyterian Church is poised to resuscitate this vicious platform.
Rev. Dr. Leighton's assessment has been confirmed by the people who have welcomed the text. The text has been praised by PressTV, which has been described by the ADL as a promoter of anti-Semitism. It has also been praised by the David Duke's website, davidduke.com. As you are probably aware, David Duke is a well-known anti-Semite. In the weeks ahead, I will be engaging in a detailed analysis of this text, but it suffices to say that promotes false and vile notions of Jewish supremacy. That is why David Duke was jubilant about Zionism Unsettled. (I hope you forgive me for not providing a link to David Duke's website.)

The fact that a Presbyterian-produced text has been lauded by people like this should come as a shock. The fact that this document is actually sold on the PC(USA)'s website brings shame and disgrace on the Presbyterian Church (USA) whose historical antecedents have been a bulwark of American civil society. The question I beg you to ask yourself is simply, "What is going on?"

Sadly, close observers are not surprised that the Israel Palestine Mission Network of the Presbyterian Church (USA) has produced such a text like this. This was where the IPMN was headed since its created by a 2004 vote of the General Assembly.

The organization was charged with educating Presbyterians about the Arab-Israeli conflict, has done nothing of the sort. Instead, it has been a regular source of anti-Semitic and anti-Zionist propaganda which it has directed both at members of the PC(USA) and the general public.

In the past decade, the IPMN has falsely accused Jewish groups of engaging in acts of terrorism in the United State. One of its leaders Noushin Framke, even encouraged Hamas to hold onto Israeli soldier Corporal Gilad Shalit as a bargaining chip in its conflict with Israel.

I could go on, but it suffices to say that the IPMN has helped legitimize anti-Semitic discourse in the United States. And despite repeated communications to PC(USA) officials in Louisville, no one seems intent on reining the organization in. Instead, PC(USA) officials have offered a two-fold response.

First they say have said that the organization operates independently of the PC(USA). And then they have asserted that the organization is just trying to start a conversation.

Both responses insult the intelligence. The IPMN does not operate independently. It is dependent on the PC(USA). The denomination collects funds for the IPMN on its website. The denomination's web store is the one place on the Internet where people can get copies of Zionism Unsettled. The PC(USA) is devoting resources to spreading hate and misinformation.

As far as just trying to start a conversation about Zionism, the PC(USA) has been talking about the Jews and their homeland since 2004. It's not trying to start a conversation, but to degrade the discourse within the PC(USA) about Israel. And it has been hugely successful on this score.

Officials from both the PC(USA) and IPMN have stated repeatedly that the booklet was not paid for with denomination funds, but was paid for solely out of the coffers of the IPMN. This raises an important question: Who gave the IPMN the money it needed to produce this text?

This is a crucial issue for the PC(USA) to address because as far as anyone can tell, the IPMN is operating under the PC(USA)'s tax-exempt 501c3 status (and the IPMN has not filed any documents (990s) with the IRS). Under these conditions, any funds donated to the IPMN are donations to the PC(USA) itself.

The fact that the PC(USA) does not exert any meaningful oversight over the IPMN – as U.S. tax law requires – does not absolve the denomination for ultimately responsibility for the publication of Zionism Unsettled.

In light of all this, I ask that you use your influence as a member of the Presbyterian Mission Agency Board to do the following.

1. Tell the officials who work in Louisville to stop misleading PC(USA) members and the general public about the connection between the PC(USA) and the IPMN. The IPMN is part of the PC(USA) even if denominational officials have failed to provide the necessary oversight to the organization. If the IPMN is operating outside of the denomination's 501c3 status, officials need to say so. If they are operating within the PC(USA) 501c3, that needs to be reported as well.

2. Instruct PC(USA) officials to stop selling Zionism Unsettled on the denomination's store. It qualifies as hate speech.

3. Instruct the PC(USA) officials to apologize for both the publication and distribution of the text and for misleading people about the relationship between the denomination and the IPMN.

4. Initiate a process by which the denomination separates itself from the IPMN as an institution.

By creating the IPMN in 2004 and by assisting it's efforts over the years, the Presbyterian Church (USA) set into motion a regrettable process by which the denomination's "brand" has been damaged. This damage cannot be undone by misleading, vague and, evasive statements about the relationship between the IPMN and the PC(USA).

The damage can only be undone by acts of leadership on the part of denominational officials, which sadly do not seem to be forthcoming. Maybe you can make them happen.

I look forward to your response.

Sincerely,


Dexter Van Zile
Christian Media Analyst
CAMERA
[Note: Rada never responded.]

Posted by dvz at 06:41 PM | Comments (14)
June 18, 2014
Where's the Coverage? Official PA Social Media Celebrates Kidnappings

It's been almost a week since Israeli teens Eyal Yifrach, Gilad Sha-ar and Naftali Frenkel were kidnapped on their way home, south of Jerusalem. Wednesday, State Department spokeswoman Jen Psaki confirmed that one of the boys is an American citizen. That would be Naftali Frenkel. Yet, with a missing American citizen and the fact that innocent kids on their way home from school were kidnapped, Psaki said, "We urge both sides to exercise restraint and avoid the types of steps that could destabilize the situation."
Both sides.
This seeming indifference to the welfare of these teenagers is not limited to the United States. Far from it. Israel's Ambassador to the United Nations Ron Prosor has assessed that "the world response to the kidnapping is weak." Indeed, Farhan Haq, spokesman for UN Secretary General Ban Ki-moon, even said there is "no concrete evidence" that the three teens were "actually" kidnapped. This apathy has escaped the notice of most of the news media.
Even worse, most of the press has been mum on the celebration of the kidnappings within not just the Palestinian community, but even in the official Palestinian Authority media.
As Palestinian Media Watch has reported, on the social media accounts of Fatah, the party of Palestinian Authority President Mahmoud Abbas:
Fatah is celebrating the kidnapping as a victory. On its official Facebook page, the movement posted a cartoon of a victory sign with three fingers held up instead of two, symbolizing the three kidnapped youths. Accompanying the picture was a smiley with the text, "For your interpretation :)".
This three-fingered salute has been spreading quickly through Palestinian social media, including a hashtag and slogan "three Shalits," referring to Gilad Shalit, a former Israeli soldier kidnapped into Gaza and held for five years until he was traded for over a thousand Palestinian terrorists. According to the Times of Israel:
Al-Quds, a Palestinian news agency, published an article on Wednesday describing the creative ways in which Arabs are celebrating the campaign through personal photographs, shaping the words out of string beans, or even carving them on a Libyan beach.

"The campaign has raised the slogan 'three Shalits' in support of capturing Israeli occupation soldiers and exchanging them for Palestinian prisoners in Israeli jails," the article read.

Yet the mainstream Western media hasn't paid much attention. And there has been silence even on one of the most disgusting posts on Fatah's Facebook page, a cartoon portraying the three boys as rats on fishing hooks.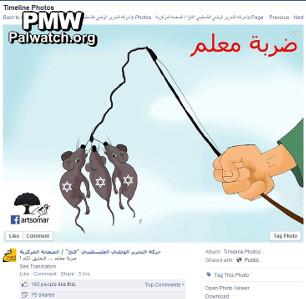 The world yawns as official Palestinian Authority social media celebrates the kidnapping of innocent kids and publishes vile images of the boys as rats. Where's the decency? Where's the indignation? And at the very least… Where's the coverage?
Posted by SC at 08:56 PM | Comments (2)
Atlantic Using Old Unrepresentative Photo About Hebron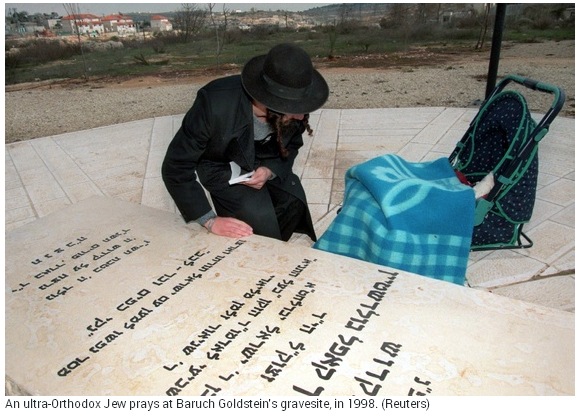 There are a number of problems with Ayelet Waldman's piece, "The Shame of Shuhada Street," that appeared in The Atlantic on June 12, 2014, but one of the most obvious and egregious is the magazine's use of an old photo of Baruch Goldstein's grave. (See photo above.)
Baruch Goldstein was a resident of Kiryat Arba who murdered 29 Palestinians at the Tomb of the Patriarchs in 1994. While most Israelis regarded Goldstein's mass murder as a shameful act, some of his supporters turned his grave into a shrine.
After a court fight, the IDF dismantled the shrine, which was comprised of a large stone circle that encompassed Goldstein's grave. You can see the stone circle in the 1998 photo The Atlantic used to illustrate the article.
The use of this photo, however, is deceptive because as a more recent photo of Goldstein's grave taken by B'Tselem (shown below) reveals that this circular platform has been removed, leaving only a small section of stone at the base of Goldstein's grave.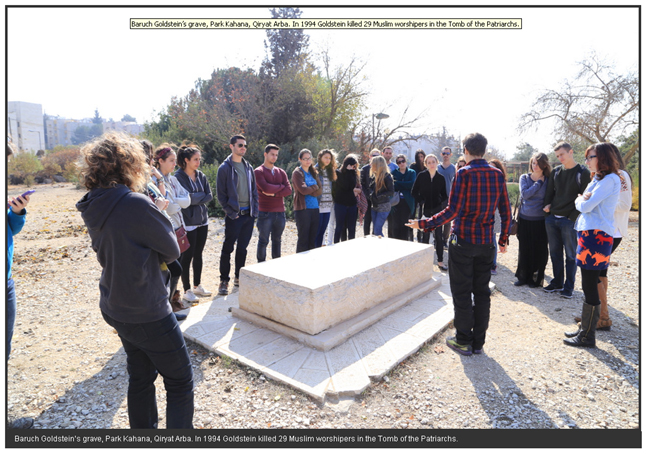 Why did The Atlantic use a photo taken in 1998 for a story published in 2014? Why use a 16-year-old photo that gives the false impression that Goldstein's grave is still a shrine and not simply a gravestone?
This is propaganda, pure and simple, as is much of Waldman's article.

Posted by dvz at 04:47 PM | Comments (1)
CMEP Expresses Outrage on Website Over Uprooted Trees, Nothing about Kidnappings
In the minds of some peace and justice activists in the Christian non-profit community, the destruction of 300 trees is more of an outrage than the kidnapping of three young Jews.
Churches for Middle East Peace (CMEP), an organization headquartered in Washington, D.C. is the best example of this phenomenon.
Just a few weeks ago, CMEP highlighted the destruction of 300 trees by the IDF in a valley near the Tent of Nations, a farm located just outside of Bethlehem.
On May 20, 2014 – the day after the trees were uprooted by the IDF – the organization held a conference call that attracted approximately 134 listeners. After the conference call, CMEP solicited signatures for a petition that it submitted to envoy Martin Indyk on May 29, 2014.
But now that three young Jews have been abducted and been missing for almost a week, CMEP has remained silent about the plight of three young Jews abducted and held somewhere in the West Bank. No conference call, no action item, no mention of the kidnapping, which as of this writing, took place six days ago, on their website. As of this posting, a search for the word "kidnapping" on CMEP's website reveals only two entries – the kidnapping of two Syrian bishops by Islamists in 2013. (See photo above.)
Clearly, the kidnapping is a game-changing event to the various parties involved in the conflict. Tension over the kidnapping could lead to increased violence between the Israelis and the Palestinians.
So, why is the CMEP so quiet about the kidnappings? Yes, the organization has mentioned the kidnapping on its Facebook page, but why no conference call or briefing? Why no action alert? Why no petition to Palestinian leaders calling on them to work for the release of the kidnapping victims?
Posted by dvz at 11:51 AM | Comments (0)
June 11, 2014
Where's the Coverage? Czech President Celebrates Israel

In Paris this week, a Jewish teenager was attacked with an electric Tazer by a group of teens, two teens were chased by a man with an axe, and two other teens were sprayed with tear gas. Tablet Magazine reports on these and other attacks in Paris so far this year:
• In May, a Jewish woman with a baby was attacked at a Paris bus station by a man who shouted "Dirty Jewess" at her.

• In March, a Jewish teacher leaving a kosher restaurant in Paris had his nose broken by a group of assailants who also drew a swastika on his chest.

• One week earlier in March, an Israeli man was attacked with a stun gun outside a Paris synagogue,

• A week before that in March, a 28-year-old Jewish man was beaten on the Paris metro to chants of "Jew, we are going to lay into you, you have no country."

In January, anti-government demonstrators shouted "Jew, France is Not Yours" as they marched through the streets of Paris.
Other attacks have occurred elsewhere in France, and no one should forget the Toulouse massacre of a rabbi and three Jewish children only two years ago. Days ago, the fourth victim of the vicious attack on the Jewish Museum in Brussels passed away.
Far right wing political parties appear to be on the rise across Europe, with some leaders openly expressing anti-Semitic attitudes. In Ukraine, pamphlets were passed out demanding that Jews register. Calls for boycott are heard across the continent. It's no wonder that many are reminded of the Europe of the 1930s.
It is fitting then that the President of the Czech Republic has spoken out. Czechoslovakia was famously sacrificed on the altar of appeasement by the cowardly leaders of Europe to avoid the unavoidable war with Hitler and the Axis powers. Given this history and recent events, Czech President Milos Zeman's statement in honor of Israel's Independence Day is powerful. An excerpt:
The only holiday of independence which I can never leave out is the celebration of the independence of the Jewish State of Israel. There are other nations with whom we share the same values, whether it's free elections or a free market economy, but no one is threatening to delete those states from the map. No one shoots at their border towns and no one wants to see the citizens of those nations driven out of their country. There is a term called political correctness and I consider it to be a euphemism for political cowardice. So I refuse to be cowardly.

[…]

Let's throw out political correctness and call a spade, a spade. Yes we have friends in the world to whom we express our solidarity, but this solidarity costs us nothing because these folks are never threatened.

A true sense of solidarity is solidarity with a friend who is in distress and in danger, and so here I am.
But no major American media outlets reported on this speech. Wouldn't it be something if mainstream media outlets threw out political correctness and reported news that didn't fit with their pre-determined narratives? Until then, readers will continue to ask… Where's the coverage?

Milos Zeman, left, and Benjamin Netanyahu in Israel
(photo credit: Kobi Gideon/GPO/Flash90)
Posted by SC at 07:01 PM | Comments (3)
June 09, 2014
Churches for Middle East Peace Downplays Hamas' Hostility
Churches for Middle East Peace is doing one of the two things it does best – portraying Arab and Muslim hostility toward Israel as something other than … Arab and Muslim hostility toward Israel!
(The other thing it does best is assisting Palestinians in their effort to portray Israeli officials, soldiers especially, in a harsh light. Here it takes its cue from organizations like B'Tselem and other organizations supported by the New Israel Fund.)
In a bulletin that it distributed to its supporters on June 6, 2014, CMEP, an umbrella organization that speaks for approximately two dozen churches and para-church organizations in the United States, soft-pedaled Hamas' hostility toward the Jewish state.
After recounting some of the events that preceded the Palestinian Authority's decision to reconcile with Hamas, the bulletin states: "Contrary to its charter, Hamas has now given its endorsement to a government that recognizes and cooperates with Israel."
With this statement, the organization is implying that Hamas has somehow changed its tune regarding Israel's right to exist. What the folks at CMEP omit from their bulletin is that Hamas leaders have stated explicitly that they continue to reject Israel's right to exist.

In an interview published in Al Monitor on May 6, 2014, Abu Marzouk, Deputy Chairman of Hamas' political bureau, made it perfectly clear where Hamas stands. He said:
Hamas will not recognize Israel. This is a red line that cannot be crossed. The future government is not interested in providing Israel with recognition, and the conditions set by the Quartet committee do not concern us one bit. We would have spared ourselves seven years of misery under the siege and two wars in 2008 and 2012 had we wanted to recognize Israel. Hamas underwent great political pressure and suffering during the past years, and yet it did not recognize Israel.
Despite this and numerous other statements, CMEP is suggesting to its supporters indicating that somehow Hamas is ready to make peace with Israel as a result of its agreement with the Palestinian Authority.
Why is CMEP broadcasting a distorted view of Hamas to its supporters?
What is to be gained by such efforts?
Posted by dvz at 04:36 PM | Comments (0)
Times of Israel Rewrites (Its Own) History on Lenny Kravitz Cancellation
In 2012, Times of Israel was one of several media outlets to report that it was an extended filming schedule which led to Lenny Kravitz's planned concert that October in Tel Aviv, as well as some other nine concerts in European cities. So why does the Israeli media outlet now falsely report that Lenny Kravitz had "bowed to boycott pressure"?
This was the Times of Israel headline in 2012:

The accompanying article reported:
Dispelling rumors that singer Lenny Kravitz may have canceled his planned October 6 Tel Aviv show due to political reasons or poor ticket sales, producer Gad Oron told The Times of Israel that a total of 10 September and October shows — in Russia, the Ukraine, Finland, Serbia, Romania, Bulgaria, Macedonia and Turkey — were canceled because of Kravitz's extended filming schedule.
Contradicting its reporting from the time of the cancellation, The Times of Israel this month erred in an article about the Rolling Stones performance:
In addition to the 2012 Times of Israel article which noted that Kravitz's Tel Aviv cancellation was one of many, and was unrelated to any boycott effort, The Jerusalem Post had likewise reported:
Rocker Lenny Kravitz quashed speculation that the cancelationof his Tel Aviv concert, slated for October 6, was politically motivated, and promised to come to the Holy Land in 2013.

"I have been looking forward to performing in Israel for some time. The idea of ending my world tour there was also extremely meaningful to me. As a result I am personally disappointed and very sorry that my concert in Tel Aviv had to be postponed," Kravitz wrote in a Facebook post on Wednesday. "I promise that I will be in Israel next year. Looking forward to seeing you all in 2013."

In the post, the rocker said he had to cancel the concert because the historical film The Butler, which he is currently filming in New Orleans, extended its shooting schedule. Kravitz said he was contractually bound to complete the film.

Kravitz also cancelled European tour dates including in Kiev, Bucharest, Zagreb and Istanbul, according to Channel 2.
And, as CAMERA reported in 2013:
Ynet also reported that Kravitz canceled his European performances, in addition to his Tel Aviv show, due to a scheduling problem. Google translate of a Turkish site confirms that he canceled his Oct. 4, 2012 Istanbul show. Likewise, Concierge Group confirms that Kravitz postponed the Kiev show, and the Diplomat (Bucharest) reports on the star's postponement of his performance in that city.
CAMERA has notified Times of Israel of the error. Stay tuned for news of a correction.
Posted by TS at 07:40 AM | Comments (0)
NYT: Biblical Quote Evokes Gaza Rockets
President Peres calls for peace at the Vatican (photo by Haim Zach/GPO)
As it is wont to do, The New York Times egregiously editorializes today in its coverage of President Shimon Peres' remarks at the Vatican yesterday ("At Vatican, Day of Prayer with Focus on Uniting"). Jim Yardley and Jodi Rudoren write:
Mr. Peres, for his part, did not mention rockets fired from the Gaza Strip, but evoked it with the Biblical quotation, "nation will not take up sword against nation, nor will they train for war anymore.
How do The Times' writers conclude from Peres' citation of the oft quoted Isaiah 2:4 verse, which is also sung as a popular Hebrew song, that he was speaking in code about rocket fire from Gaza? And once Times writers are employing sheer speculation, why stop just at rocket fire? How do they divine that President Peres was not evoking suicide bombings, rock-throwing, stabbings, shootings?
In a separate noteworthy point, the same article refers to Jerusalem as "considered by both Israelis and Palestinians as their capital," as if the city holds an identical status for both nations. In fact, Jerusalem is the capital of Israel (despite occasional New York Times slippage on this point), will Palestinians would like it to be their capital. That's a critical distinction that exists in the real world, and therefore one that ought to be made clear in news stories.
By treating sheer speculation as news, and by obscuring concrete facts, The Times once again turns journalism's traditional mandate on its head.
Posted by TS at 06:27 AM | Comments (2)
June 05, 2014
Where's the Coverage? Many Nations Have State Religions… Not Israel

Members of Israel's coalition government are currently promoting a proposed new "Basic Law: Israel as the Nation-State of the Jewish People." Ynet News reports:
The proposal is expected to be presented to the Ministerial Committee for Legislation on Sunday but will not be brought to a vote. Instead, the special committee, composed of representatives of the coalition, will work to reach an agreed wording for the controversial bill, and push the proposal through the approval process by the end of the summer session in July.
This proposed law states in part:
The State of Israel is the National Home of the Jewish People; wherein the Jewish People fulfills its yearning for self-determination in accordance with its historical and cultural heritage.
While the proposed new law establishes national symbols and holidays, it does not establish a state religion. It seeks only to establish in Basic Law the status of Israel as the nation-state of the Jewish people. Nonetheless, it has attracted a great deal of controversy and even criticism within Israel as well as abroad, among enemies of Israel, and within the Jewish community in the Diaspora. The refusal of Palestinian leadership to recognize Israel as a Jewish state had been characterized as one of the major sticking points in the recently-ended negotiations.
The Jerusalem Post has reported on Prime Minister Netanyahu's reaction to the criticism:
Netanyahu said it is "astonishing" to him why there should be any opposition to recognizing Israel as a Jewish state.

"One cannot favor the establishment of a Palestinian nation-state in order to maintain the Jewish character of the State of Israel and – at the same time – oppose recognizing that the State of Israel is the nation-state of the Jewish People," he said. "Supporting the establishment of a Palestinian nation-state and opposing the recognition of the Jewish nation-state undermines – over the long-term – the State of Israel's very right to exist."
Strikingly, a majority of Israeli Arabs accept Israel's right to exist as a Jewish and democratic state. Still, many critics believe that Israel simply cannot be a Jewish and democratic state, perhaps believing that democratic states don't reference any religion. This is simply an uninformed view. Israel has no written constitution, but the Basic Laws have been given that status by the courts. Yet many other countries recognize and even sanction various religions in their very constitutions and attract no criticism whatsoever.
For example, the preamble to Ireland's constitution begins:
In the name of the Most Holy Trinity, from Whom is all authority and to Whom, as our final end, all actions both of men and States must be referred,

We, the people of Eire, humbly acknowledging all our obligations to our Divine Lord, Jesus Christ, Who sustained our fathers through centuries of trial…
Article three of Greece's constitution declares:
The prevailing religion in Greece is that of the Eastern Orthodox Church of Christ. The Orthodox Church of Greece, acknowledging our Lord Jesus Christ as its head, is inseparably united in doctrine with the Great Church of Christ in Constantinople and with every other Church of Christ of the same doctrine, observing unwaveringly, as they do, the holy apostolic and synodal canons and sacred traditions.
Section two of Norway's constitution affirms:
The Evangelical-Lutheran religion shall remain the official religion of the State. The inhabitants professing it are bound to bring up their children in the same.
Malaysia's constitution states:
Islam is the religion of the Federation.
Section two of Argentina's constitution declares:
The Federal Government supports the Roman Catholic Apostolic religion.
In Switzerland, Article 72 section 3 of the constitution even states:
The building of minarets is prohibited.
Even with this constitutional infringement on a particular religion, in this case Islam, does anyone argue that Switzerland is not a democracy? Or Ireland, Norway or Greece? And there are many more nations with a state-sanctioned or state supported religion, or a state church. In America's great ally, the United Kingdom, according to the U.S. State Department:
There is one state church, the Church of England, and one national church, the Church of Scotland. Scotland, Wales, and Northern Ireland do not have "official" religions. Legislation establishes the Church of Scotland as Scotland's national church.
Of course there are many states that are nominally democracies but persecute religious, ethnic and other minorities such as the Islamic Republic of Pakistan, the constitution of which declares:
Islam shall be the State religion of Pakistan.
And the Islamic Republic of Afghanistan, where the constitution states:
The religion of the state of the Islamic Republic of Afghanistan is the sacred religion of Islam.

[…]

Followers of other religions are free to exercise their faith and perform their religious rites within the limits of the provisions of law. (emphasis added)

[…]

In Afghanistan, no law can be contrary to the beliefs and provisions of the sacred religion of Islam.
And of course there are many states that are clearly undemocratic and make no pretense of not having a state religion such as Saudi Arabia and the Islamic Republic of Iran.
But even these do not attract the scrutiny and criticism that Israel does on college campuses, in the United Nations and certainly in the media. Unlike Israel, many nations do have official state religions and yet… Where's the coverage?
Posted by SC at 09:54 PM | Comments (5)
June 03, 2014
CAMERA Op-Ed "'The New York Times' and Israel" Published in Jerusalem Post
CAMERA Senior Research Analyst Gilead Ini's op-ed "'The New York Times' and Israel" is published in the Jerusalem Post. The online version can be viewed here.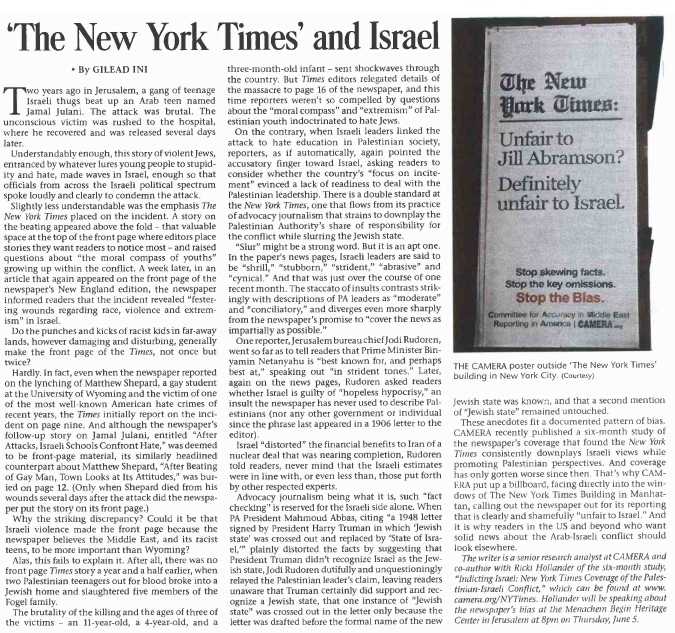 See here to read about CAMERA's ongoing campaign that calls out New York Times bias against Israel.
Posted by at 09:59 AM | Comments (2)