« Syrian Rebel Leader Speaks of Peace With Israel | Main | National Post Columnist Lauds Scarlett Johansson »
April 17, 2014
Misinformation and Moral Stupidity from World Council of Churches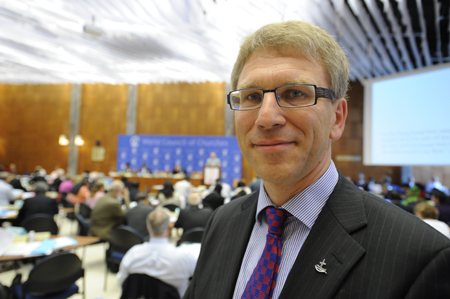 WCC General Secretary Rev. Dr Olav Fykse Tveit
The World Council of Churches has a long history of inciting hostility toward Israel. It has demonized Israel while remaining relatively silent about the misdeeds of its Arab and Muslim adversaries, even when these adversaries are responsible for murdering and oppressing Christians in the Middle East. For some background about the WCC's antipathy toward the Jewish state (and tendency to appease totalitarian countries and political movements, go here).
For people who know the WCC's feckless history when dealing with issues related to Israel, it's hard to be surprised at the pronouncements that come out of the organization's headquarters in Geneva.
But today, April 17, 2014, the WCC issued a statement that is a surprise.
The statement, signed by the WCC's General Secretary, Rev. Dr. Olav Fyske Tveit, expresses "solidarity with the nearly 5000 Palestinian men, women and children languishing in Israeli prisons." The statement says that this decision will disrupt "an already fragile peace process," and that it has "deepened heartache for many families, relatives, friends and indeed, the entire Palestinian people."
Predictably, Tveit offered no gesture indicating that he understood the suffering and heartache that some of these prisoners, especially those convicted of murder and terrorism, have caused to Israelis.
But that's no surprise. While the people who organized the WCC did express some shock over the Holocaust in the 1940s, the organization has always been more bothered by Israeli efforts to defend Jewish lives than it has been by attempts to end them.
The statement also expresses disappointment that Israel cancelled a hoped-for release of prisoners who had been in jail since before the Oslo Agreement of 1993.
But that's no surprise either. The organization has always had a soft-spot for "liberation" movements no matter how violent or totalitarian.
The surprise comes when the statement declares "Some prisoners have been in Israeli jails since 1948."
With this statement, Tveit indirectly asserts that there are Palestinians who have been in Israeli jails for the past 66 years!
Now that's a surprise!
But surprise, surprise it's not true.

In December 2013, Haaretz reported that two Palestinians, "Karim Younis and Maher Younis, will begin their 31st year in prison next week, making them the longest-serving of all the Palestinians currently doing time for terrorism in Israeli jails." Haaretz also reports that the two "were convicted of involvement in the murder of soldier Avraham Bromberg of Zichron Yaakov in 1980. In July 2012, a parole board recommended commuting their life sentences to 35 to 40 years."
So there it is. In addition to lamenting that Israel did not release terrorists and murderers, the WCC's General Secretary falsely stated that some Palestinians have been in Israeli jailes since the middle of the last century.
After today's statement, no one is going to mistake the Reverend Dr. Olav Fykse Tveit as a responsible or knowledgeable religious leader. They will see him for what he is – a pro-Palestinian partisan who will sign off on whatever statement is handed to him.
Posted by dvz at April 17, 2014 03:58 PM
Comments
Does Dr. Tviet have any concerns for the people of southern Israel near Gaza for the continuous rocket and mortar barrages?
Posted by: Gerry Moskowitz at April 24, 2014 11:32 AM
Some perceptive sage said the following. Prejudice, which sees what it pleases, cannot see. Hopefully Dr. Tviet will, in the name of truth and moral standards, find help for his poor vision. Norma Wolens, 1306 Douglas Dr. Sterlling, Ill. 61081
Posted by: Norma Wolens at April 24, 2014 07:52 PM
Just wondering whether the esteemed Dr. Tviet has ever said anything about persecution of Christians in: Egypt, Syria, Saudi Arabia, Iran, Pakistan, and just about every other Muslim country. Does he know islamic ideology that decrees that both Christianity and Judaism are extinct religions replaced by islam, making it impossible for muslims to accept the existence of all those who are not muslims? Is he aware that Surah 5:51 puts Christians in the same status as Jews when it says: "Take not the Jews and the Christians for your allies and protectors. They are but allies and protectors to each other"
Posted by: Warren at April 24, 2014 10:31 PM
Th world Council of Nations should know that we are used to slander from people like them.
What has changed is that we Jews now have the confidence to object and we are secure in the knowledge that if the push comes to shove we now have the a sure friend -ISRAEL- that will insure that we will come out well in the shoving contest-I suspect it is this knowledge which angers the members of the World Council of Churches.
Dr.George Zilbergeld
Posted by: Dr. Zilbergeld at April 30, 2014 12:05 PM
Guidelines for posting
This is a moderated blog. We will not post comments that include racism, bigotry, threats, or factually inaccurate material.
Post a comment