« Location, Location (And Where the Media Got it Wrong) | Main | Emmaus Group Responds to Intimidation »
April 28, 2014
Christy Anastas On the Stone Pavement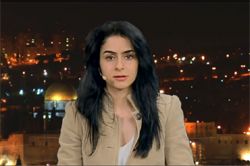 This article has been corrected. See note at bottom. Also, Christy has visited the police station without incident.
Christy Anastas, the 24-year-old woman who has fled the West Bank (where a journalist was recently sentenced to a year in prison for mocking Palestinian Authority Prime Minister Mahmoud Abbas on Facebook), will present herself for inspection at a police station in England on the morning of April 29, 2014.
Why?
Because a self-styled "peace and justice� activist has called the police in England, informing the authorities that she may be a "missing person.� Consequently, Christy will present herself at a police station somewhere in England this morning to assure them that she is not being held against her will.
That's the report from Howard Stern, who along with Christy, is a co-founder of the Emmaus Group, an activist organization that promotes awareness of the mistreatment of Christians in Muslim-majority environments. Stern reports the following:
Christy has lived with my wife and I and our other two grown up kids for two years. We are family. We love her dearly. She is totally part of the family, free to come and go as she pleases. She has friends, drives a car and enjoys church where she helps at youth club. As a family we are all upset by his actions and words as Christy has, is and never will be coerced and forced to do anything she does not want to. We are a Christian household. We are all protective of her and I do chaperone her a lot and speak with her where appropriate but she is strong-minded kid and knows what she wants and what she believes in - taken after her mother in that dept!! [Author's Note: Christy's mother, Claire Anastas, is an ardent anti-Zionist activist. More about this below.]
When the dust settles, Stern hopes to obtain a formal apology from the self-styled "peace and human rights' activist who called the police in an attempt to "help� Christy.
In the meantime, Stern writes, "We have reported the matter of his reporting to MPs, our lawyers and senior church officials who we liaise with. Christy will attend a local police station in the morning to confirm all is ok and well.�
One has to wonder why so-called "human rights� activists have not expressed any concern over the possibility that Christy's mother, Claire, has been testifying under duress on behalf of the Palestinian Authority.
It's a real possibility. Claire has been pretty energetic – if not frantic – in her efforts to focus attention on Israel and legitimize the Palestinian Authority. If she has ever said anything critical of the PA or Hamas – two institutions clearly worthy of criticism – it hasn't gotten much attention.
In addition to being a favorite of the "peace and justice� types on Twitter, Claire Anastas was a centerpiece in the now notorious 60 Minutes episode that demonized Israel in 2012 and was a prominent source in Yasmine Perni's 2013 movie, "The Stones Cry Out," which offers a distorted view of the Arab-Israeli conflict.
Claire has also spoken at a number of conferences in the U.S. where she has condemned Israel.
Given the dependence of Palestinian Christians on the Palestinian Authority for their safety, why isn't anyone asking if maybe Claire's testimony is being coerced or offered under duress?
The reason is simple. Christy Anastas's testimony is a threat to the narrative embraced by Western "human rights� activists who have been serving the interests of a combine of theocrats and kleptocrats in their fight against a self-critical democracy, Israel, for the past few decades.
Claire's testimony is exactly what these activists want to hear. Christy's testimony, by way of comparison, raises the possibility that maybe they have picked the wrong horse in the Arab-Israeli conflict.
No doubt about it, the different treatment received by Christy and Claire Anastas reveals an interesting dichotomy. Palestinian Christian testimony, when it cuts against Israel, is immediately accepted as reliable.
But now that Christy Anastas, a Palestinian Christian, has done the unthinkable by calling out for the PA for its corruption, violence and ineptitude – which no one really doubts – so-called human rights activists question her mental competence and treat her like she's a modern-day incarnation of Patty Hearst.
In the minds of the pro-Palestinian activists who want to "help" her and in the minds of the Palestinian Christians who denounce her, it's just unthinkable that a sane and rational person could honestly believe what Christy says. And so they describe her testimony as "dodgy." They imply she has been kidnapped and is being held against her will by evil manipulative Zionists. And if these explanations don't work, Palestinian Christians come right out and say she has been bought and paid for.
It's a form of hysteria, actually. This hysteria is patently evident on the Facebook page of the Ecumenical Accompaniment Program in Palestine and Israel, where EAPPI's "peace and justice� activists have shown they have bought hook line and sinker, the story offered by news outlets in the West Bank. The story told in these outlets is that Christy Anastas was spirited away by operatives working on behalf of a vast Zionist conspiracy who have corrupted her mind and soul.
One poster offers his version of this narrative as follows:
If this is as it seems a case of a confused young woman and a zionist organisation showering her with attention and money to undermine the Palestinian story I think this can be exposed to scrutiny. At same time very worrying for family that has ongoing problems. What is being called ongoing stress syndrome as no end in view. If what she needs is other friends and contacts then contact needs to be established if they are operating like a cult. More info needed. Family thinks she is being abused.
The comments posted by Western activists on EAPPI's Facebook page walk a fine line between expressions of "concern� for Christy and a desire to portray her as mentally and emotionally incompetent, but the comments apparently posted by residents of the West Bank in response to Christy's original video on Youtube are downright hateful.
One of her former school teachers has denounced her.
Why the violent denunciations from the Palestinian Christians? Why the questions regarding Christy's mental competence from "human rights" activists?
Christy Anastas has committed two unforgivable sins.
First, she has spoken publicly about the ineptitude and corruption of the Palestinian Authority. This is something that Palestinian Christians simply do not do.
Second, she has exposed the manner in which so-called "human-rights� activists have served the interests of a gaggle of theocratic thugs and kleptocrats who have dominated Palestinian politics for far too long and who sadly, will not be replaced by anyone more competent and honest for the foreseeable future. In a functioning democracy, which the PA's chief negotiator Saeb Erekat promised Christy that the Palestinians will have, the current crop of leaders would be thrown out of power. But who is there to replace them? Really?
For her sins, Christy Anastas has been placed before the seat of judgment where she is being denounced by her family and excoriated by Palestinian Christians in the West Bank. And now her friends in the United Kingdom are being subjected to an act of thinly veiled harassment by a "human rights� activist in the United Kingdom.
When Christy started speaking honestly about the problems in Palestinian society to audiences in Europe (quietly at first and then more publicly), she probably had no idea that she would be scapegoated the way she has been, but now that she has been placed on the stone pavement, the people who have put her there – her fellow Palestinian Christians and "human rights" activists in the West – should hang their heads in shame.
Note 1:08 p.m., April 29, 2014: This article has been corrected to report Christy Anastas's correct age. It is 24, not 26 as originally reported. The author regrets the error.
Posted by dvz at April 28, 2014 11:39 PM
Comments
What an articulate, courageuos and lovely young woman! What can we do to help her?
Posted by: David Nathanson at April 29, 2014 10:59 AM
Very courageous! God bless you Christy! I pray for you, for strength and endurance.
Posted by: M.DelaHaye at April 30, 2014 10:23 AM
We have to change the narrative of this conflict. More brave souls, like Christy, will have to step forward in order to accomplish that. Those who are not so courageous but still wish to have their voices heard, may help anonymously by contributing their best ideas to APoJi's collaborative peace initiative. Participation is open to all.
Posted by: Shai at April 30, 2014 02:17 PM
A genuinely courageous young lady.
Our family will remembering her in prayer for strength, peace within and protection.
Hers is a voice that has dared to speak, and simply must be heard.
The LORD bless you Christy.
Posted by: Simon Ferguson at May 2, 2014 01:50 PM
As a jew and israeli who belives in to states
one for the jews
one for the palestiniens
I want to thank Christy for made me understand things different.
And giving me a total new prespective
Posted by: ramy at May 2, 2014 06:44 PM
The original Christy Anastas video was taken down from Youtube due to threats from Fatah leaders.
Christy now is having her life threatened by Fatah leaders.
I think its urgent more then ever that Bob Simon of 60 Minutes do a story how the Fatah terror regime works with people who criticize it.
You can still see the original Christy video and a great article about Christy on here.
http://thefederalist.com/2014/05/01/what-happens-when-a-palestinian-doesnt-hate-israel-enough/
Posted by: Ken Kelso at May 3, 2014 09:46 PM
What can we do to help this great Christian woman?
Posted by: Thoma at May 7, 2014 12:32 AM
What a very brave young christian women. I will be praying for the God of Israel to send his angels to protect Christy. She sets a amazing example of courage in face of adversity. May the Lord bless you.
Posted by: Tony Rolt at May 22, 2014 02:24 AM
Thank you Christy not just Christians in Palestine but all believers worldwide.
Posted by: Matthew David Landberg at May 17, 2015 10:56 PM
God Bless Christy! You are very brave. You will stay in my prayers.
Posted by: John Honore at February 2, 2016 12:13 AM
Very impressive young lady ..brave and utterly sincere in her stand . Wish that there was something that i could for her future well being
Posted by: mahendra patel at April 5, 2016 10:08 AM
Guidelines for posting
This is a moderated blog. We will not post comments that include racism, bigotry, threats, or factually inaccurate material.
Post a comment