« Munther Isaac Tells Antisemitic Joke at CATC Peacemaking Conference, Gets Laugh | Main | Ha'aretz Correction on Palestinian Fatality »
March 31, 2014
NY Times, Who is Demonizing?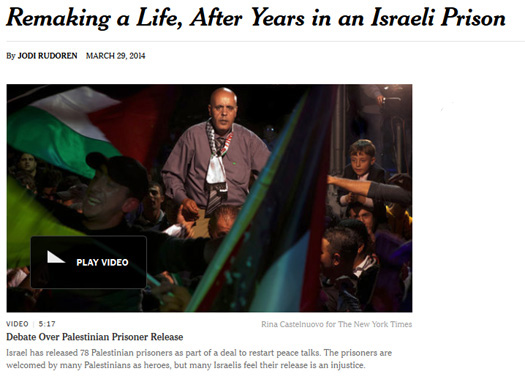 The New York Times coverage today of released Palestinian prisoners embodies all that is wrong with Times coverage of Israel and the Palestinians ("Remaking a Life, After Years in an Israeli Prison,").
About Muqdad Salah, released seven months ago after serving 24 years for the murder of 72-year-old Holocaust survivor Israel Tenenbaum, Jerusalem bureau chief Jodi Rudoren writes:
Demonized as terrorists by Israelis and lionized as freedom fighters by Palestinians, prisoners like Mr. Salah have become a flash point in the troubled peace talks . . . (Emphasis added.)
Rudoren has constructed a very neat symmetry in which two sides possess their diametrically opposed perceptions, valid or not, of the Palestinian who murdered a 72-year-old security guard.
Yes, Palestinians do lionize murderers of innocent civilians like Salah and others as "freedom fighters." But when Israelis regard the murderer of an elderly man for nationalistic reasons as a "terrorist," is this "demonization"? Or is it just calling it like it is?
Rudoren herself reports on the circumstances of the cold-blooded murder:
Israeli court records show Mr. Tenenbaum was found about 7:30 a.m. on June 14, 1993, lying on his back in a bed near the hotel bar, a pillow covering his bloodied face. According to the 29-page verdict convicting him of murder, Mr. Salah told investigators that he and another man had gone to Netanya in search of a Palestinian suspected of collaborating with Israel, and happened upon the guard.

The other man said, β€œLet's kill him so that we did not make the trip for nothing,β€? the verdict quotes Mr. Salah having said. β€œOnly when we saw the guard sleeping did we decide to kill him as a protest against the occupation.β€?
Perhaps the newspaper, which in its news articles routinely labels Israeli leaders (but never Palestinian leaders) "shrill," "stubborn," "abrasive," "derisive," "cynical," ought to reflect on the meaning of "demonizing."
Also remarkable is the detail that Rudoren provides of the trials and tribulations of Salah and other released prisoners -- the fact that dental care is not covered, the boredom, the unsteady driving, the insufficient grants from the Palestinian Authority, and more.
Will The Times be publishing a story going into tremendous detail about the trials and tribulations of the mothers, fathers, sisters, brothers and children left behind by those, old and young, murdered by Palestinian terrorists? Are articles dedicated to the humanization of these Israeli victims off-bounds to Times journalists, lest they themselves become complicit in Israeli "demonizing" of Palestinian murderers?
Posted by TS at March 31, 2014 03:09 AM
Comments
Posted by: YairH at March 31, 2014 02:33 PM
In WW2, the Times covered up the mass murder of the Jews by the Nazis.
There's a great video on youtube about this.
Downplaying the Holocaust -- Sulzberger & NY Times: Anna Blech
http://www.youtube.com/watch?v=Q2PQCNQH2lY
70 years later Jodi Rudoren follows in the footsteps of Sulzberger by glorifying this Arab terrorist Muqdad Salah who murdered Holocaust survivor Israel Tenenbaum.
The Nazis would be so proud of you Jodi.
Posted by: Ed Frias at April 2, 2014 02:15 PM
Posted by: Ken Kelso at April 9, 2014 11:27 AM
Guidelines for posting
This is a moderated blog. We will not post comments that include racism, bigotry, threats, or factually inaccurate material.
Post a comment