« Israeli Hospitals Treat Syrian Victims of Civil War | Main | Dennis Ross Comment Highlights NY Times Error »
March 23, 2014
Touring the Israeli-Palestinian Conundrum with the NYT (Updated)
March 24 update: The New York Times has updated its post so that it no longer describes Tel Aviv as Israel's capital.

With alluring photographs and intriguing itineraries, The New York Times urges travelers to join its Times Journeys abroad: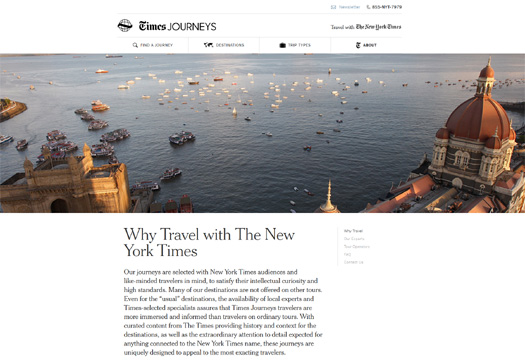 Given The Times' troubling record on the Israeli-Palestinian conflict, including inconsistent reporting standards and uncorrected errors, the paper's promise of "curated content from The Times providing history and context for the destinations" is cause for concern when it comes to The Times' trip to Israel and the West Bank.
Indeed, already in Day 1 of the itinerary for the "The Israeli-Palestinian Conundrum," The Times' notoriously factually-challenged coverage makes an appearance:
Yesterday, The Washington Post commendably published a timely correction on the very same topic, making clear that Jerusalem, not Tel Aviv, is Israel's capital.
Will The Times follow The Post's lead and set the record straight? Even if it does, it's probably not realistic to hope that trip participants can expect more accurate "history and context" than that delivered up on a routine basis at the "Paper of Record."
Posted by TS at March 23, 2014 05:02 AM
Comments
It's not surprising that the author of this biased / error prone page is anonymous.
One of their travel "experts" is the extremely biased and anti-Semitic Hanan Ashrawi.
Their "Brief history of the Israeli-Palestinian Conflict" PDF makes false claims that Jewish Israelis began to migrate to the area in the 1880's. In fact Jewish people have had a continuous presence in the area for thousands of years.
Posted by: Craig at March 24, 2014 07:10 AM
Guidelines for posting
This is a moderated blog. We will not post comments that include racism, bigotry, threats, or factually inaccurate material.
Post a comment