« Jimmy Carter, History and the Jewish State | Main | NY Times, Who is Demonizing? »
March 26, 2014
Munther Isaac Tells Antisemitic Joke at CATC Peacemaking Conference, Gets Laugh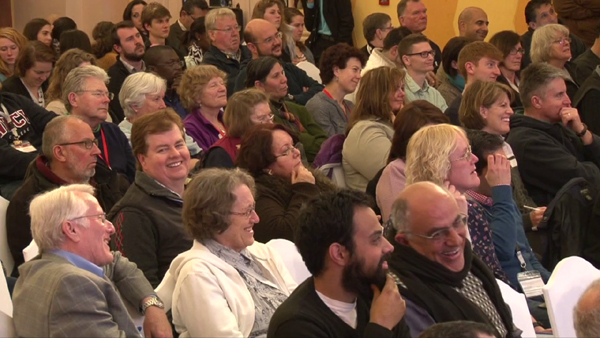 The audience at Christ at the Checkpoint, held in Bethlehem during the second week of March 2014, responds to a joke about Jews and money told by Palestinian Christian Munther Isaac. (Screenshot.)
Munther Isaac is a clever and well-educated man who did a very stupid thing at the Christ at the Checkpoint Conference that took place in Bethlehem a couple of weeks ago.
He told an antisemitic joke that, sickeningly enough, elicited laughter from Evangelical Protestants in attendance at the conference. The joke is easy to follow for people who know their New Testament.
What is most astonishing is that Munther's joke, and the audience's response, is all there for people to see on video here. (The joke is told at about 17 minutes and 20 seconds into the video.)
Here's the set up.
Isaac, a Palestinian Christian and CATC conference organizer who is about to receive his Ph.D. from the Oxford Center for Mission Studies, spoke on the night of Thursday, March 13, 2014, the second to last day of the conference. The scripture he was using in his talk was the parable of the Good Samaritan (Luke 10:29-37), which tells the story of a man being robbed and left for dead by the side of the road.
According to the parable, two religious men a priest and a Levite (Jews) walk passed him ignoring his plight. Finally, a man (known as the Good Samaritan), stops and helps him. Isaac then says the following:
By the way, the two religious people, why did they not stop? This question was asked to a Sunday school boy and the boy answered, "Well because he had no money left."
The implication is that if the man suffering by the side of the road, the priest and the Levite, both Jews, would have stopped to help the man if he had ... money. A slight smirk can be seen on Isaac's face before the camera cuts to the audience to show many (but not all) of them laughing.
Isaac elicits more laughter when he jokes that the reason why the two religious men did not stop was that they were on their way to a Christian conference.
Nice try, Munther, but the whole premise of the joke is based on the association of Jews with greed and money.
It was an inappropriate joke for Isaac to tell at a peacemaking conference, especially after he himself condemned the antisemitic words his fellow Palestinians have used to describe Jews. "Many [Palestinians] call Jews by names that I am ashamed to utter and sometimes it comes from religious people I call preachers of hate."
It doesn't help that in this same speech, Isaac stated that Israel is unreasonable in its demand that the Palestinians recognize Israel as the Jewish state. And it doesn't help that Isaac told this story at a conference where three of his countrymen lied about the security barrier.
But there it is.
Munther Isaac, a Palestinian Christian leader, and peacemaker, told an antisemitic joke about Jews and money to an audience of Evangelical Protestants 20 different countries around the world.
And he got a laugh.
Posted by dvz at March 26, 2014 04:28 PM
Comments
The best response to antisemitism, racism, or anything else abhorrent and offensive, is to voice disapproval. To laugh is to give overt approval. To be quiet is to give tacit approval. The state this is offensive is the only correct response.
Posted by: Mark Schneider at March 27, 2014 10:08 AM
Munther Isaac is a Palestinian evangelical whose church is not considered legitimate by the PA (CATC 2012). Has that situation changed?
EL
DVZ RESPONDS: Not yet, but both the local council of Evangelical Churches and the World Evangelical Alliance have appealed to the PA for recognition. The WEA has appealed to Israel for recognition for Evangelicals as well.
Posted by: EL at March 27, 2014 10:39 AM
I am constantly impressed by the service CAMERA is rendering to Israel and its friends, Jewish and non-Jewish. Its careful monitoring of a broad spectrum of media arms us with the information necessary to counter the often blatant, shameless hate-Israel propaganda disseminated by sources from Hamas/BDS-type supporters to hypocrites who hide their hatred behind a religious façade.
Kol HaKavod, CAMERA!
Posted by: Hypatia at March 27, 2014 02:12 PM
Wouldn't put too much stock in this joke as being more anti-Semitic than the criticism politically correct. The pastor did make two stereotypical jokes: one pointing toward Jewish avarice and the other Christian idolatry of meeting versus needs. There is a reason why these jokes went over well and it would be better to do our best to diminish cultural prejudices by not letting these barbs stick but to love our neighbor as the Good Samaritan did.
Posted by: Jeff at March 28, 2014 08:11 AM
Awful. Disgusting. Thank you Camera for publicizing subsurface antisemitism that simmers to the surface in such instances. read The Devil That Never Dies by Goldhagen.
Posted by: Louis Daily at March 28, 2014 11:42 AM
When a person or a group is eager to make enemies, they will twist words and sentences to achieve their purpose. This is what Dexter is actually doing. CAMERA should publish all of Dr. Munther's speech so the reader, who seeks the truth will come to the conclusion that the joke has no anti-Semitic intentions. We are called to reconcile and not to be zealos in searching for enemies. I urge the reader to go to, www.christatthechecoint.com and read the entire article.
DVZ Responds: I stand by the post.
I have already offered Dr. Isaac a chance to respond and he has not taken me up on this offer.
The post also provides a link to Dr. Isaac's talk. Readers can decide for themselves. Jews who have seen the video are repulsed by the joke. The association between Jews and money is well known.
Hopefully, Dr. Isaac will refrain from making similar jokes in the future.
Posted by: Alex Awad at April 6, 2014 01:35 AM
Three cheers for the very important work that CAMERA does in rooting out anti-Semitism, and the inaccuracies in the media that lead to anti-Semitism, wherever they are found. There is no question that this vile and disgusting disease of the human soul is still alive today. I'm glad CAMERA does what it does. Please keep holding people's--and especially the media's--feet to the fire, and keep them accountable!
Three cheers also to the Christ at the Checkpoint organizers and speakers--and especially the Messianic Jewish speakers who came--for presenting a week-long conference emphasizing and exhibiting true humility and Christian love in a genuine effort to bring about understanding and reconciliation in the context of a very difficult situation. Keep doing what you're doing, brothers, and thank you for giving me hope.
Posted by: Nathan Bech at April 6, 2014 01:22 PM
This is a travesty of an interpretation. he is associating religious people in general, even Christians as too busy to stop to help the afflicted. You are just making up a story about a very decent guy who in his upbringing has much cause to detest the apartheid state of Israel. Clearly we need a website to expose your falsehoods.
Posted by: ken at April 8, 2014 02:59 AM
Guidelines for posting
This is a moderated blog. We will not post comments that include racism, bigotry, threats, or factually inaccurate material.
Post a comment