« When Media Cover for Palestinian Terror Groups | Main | The New York Times Persists in Emphasizing IDF Defensive Strikes While Downplaying Palestinian Terrorism »
March 04, 2014
Ha'aretz Lost in Translation on Strip Search
Yesterday we described how Ha'aretz headlines (in English Feb. 26 online and Feb. 28 in print), an editorial (in Hebrew and English, Feb. 28) and an Op-Ed (Uri Misgav, English and Hebrew) all reported as fact that Israeli Arab teacher Ezies Elias Shehadeh was subjected to a strip search in the Eilat airport although Ha'aretz's own Orly Vilnai earlier reported that the Israel Airport Authority emphatically has denied the allegation, agreeing that she received a body search, but not a strip search.
Earlier this week, CAMERA's Israel office asked Ha'aretz editors to either produce substantiation confirming Shehadeh's or to publish a clarification noting that the Israel Airport Authority rejects the allegation. Editors yesterday said they would follow up.
Meanwhile, today, in an apparent case of "lost in translation," the English edition repeats the disputed claim as fact. A page-one Jonathan Lis story in English reports: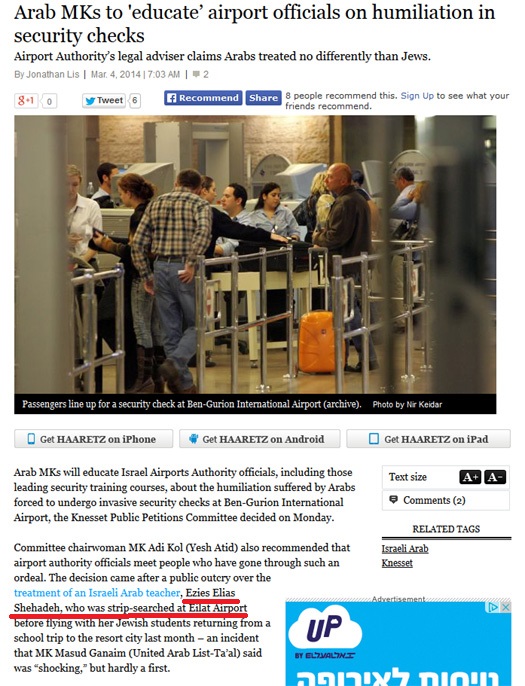 The Hebrew edition, to its credit, did not claim that she had been forced to strip, referring vaguely to the "incident involving the teacher Ezies Shehada."
CAMERA continues to call on Ha'aretz to either substantiate Shehada's claim or clarify that the airport authority disputes her account of a strip search.
Posted by TS at March 4, 2014 05:34 AM
Comments
Of course, the Hebrew version is more careful. They know the English readership will not feel it has the moral authority to challenge Israelis nor is it as proximate to the event. Moreover, most of the readership reads Haaretz for precisely this type of coverage.
Posted by: judith bell at March 6, 2014 12:00 PM
Guidelines for posting
This is a moderated blog. We will not post comments that include racism, bigotry, threats, or factually inaccurate material.
Post a comment