« Touring the Israeli-Palestinian Conundrum with the NYT (Updated) | Main | Jimmy Carter, History and the Jewish State »
March 24, 2014
Dennis Ross Comment Highlights NY Times Error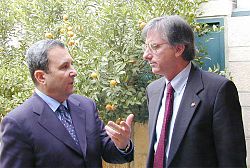 While The New York Times refuses to correct factual errors that appeared in an Op-Ed by former Palestinian official Ali Jarbawi, a former senior US official has provided even more evidence that the newspaper published patently false assertions.
Jarbawi claimed in his Op-Ed that Israel's demand to be recognized as a Jewish state "did not exist in past talks; in fact, it didn't exist until the thought occurred to Prime Minister Benjamin Netanyahu."

This is flatly inaccurate, as CAMERA has pointed out. Israel's call for recognition as a Jewish state was appended as an Israeli reservation to the Road Map peace plan in 2003. It was raised, and argued over, during talks between high level Israeli and Palestinian negotiators in 2007. It has been discussed in internal Palestinian memoranda.
And according to a report in Commentary, former chief US negotiator Dennis Ross suggested a few days ago that those claiming Netanyahu was the first to raise the issue in peace talks are lying. (His language was just slightly more diplomatic.)
About Israel's call for recognition as a Jewish state, Ross said,
When I hear it said that this is the first time this issue has been raised – the people who say that think that no one knows history. Now maybe it's true that most people don't know history. But they should never say it to me. When we were at Camp David, this issue was raised. In the period after Camp David, before we did the Clinton Parameters, this issue was raised. This issue has been raised for obvious reasons. From the Israeli standpoint, there is a need to know that the Palestinians are committed to two states, meaning in fact that one state is Palestinian and one is the state of the Jewish people. They need to know the Palestinians are not about two states, one Palestinian and one bi-national.
Jarbawi is one of those who apparently thinks that "no one knows history." Or perhaps he knows he can count on The New York Times to help him rewrite it.
Posted by GI at March 24, 2014 12:22 PM
Comments
Guidelines for posting
This is a moderated blog. We will not post comments that include racism, bigotry, threats, or factually inaccurate material.
Post a comment