« February 2014 | Main | April 2014 »
March 31, 2014
Ha'aretz Correction on Palestinian Fatality
Ha'aretz published the following correction today on page 2: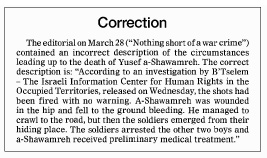 The March 28 editorial (now edited online, but without any note indicating that a change was made) had originally alleged (see below) that the soldiers had shot Shawamreh a second time, after they emerged from hiding: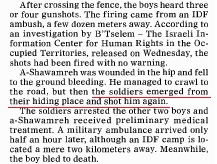 Posted by TS at 04:41 AM | Comments (0)
NY Times, Who is Demonizing?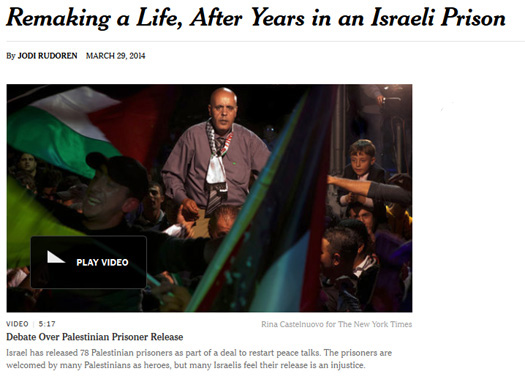 The New York Times coverage today of released Palestinian prisoners embodies all that is wrong with Times coverage of Israel and the Palestinians ("Remaking a Life, After Years in an Israeli Prison,").
About Muqdad Salah, released seven months ago after serving 24 years for the murder of 72-year-old Holocaust survivor Israel Tenenbaum, Jerusalem bureau chief Jodi Rudoren writes:
Demonized as terrorists by Israelis and lionized as freedom fighters by Palestinians, prisoners like Mr. Salah have become a flash point in the troubled peace talks . . . (Emphasis added.)
Rudoren has constructed a very neat symmetry in which two sides possess their diametrically opposed perceptions, valid or not, of the Palestinian who murdered a 72-year-old security guard.
Yes, Palestinians do lionize murderers of innocent civilians like Salah and others as "freedom fighters." But when Israelis regard the murderer of an elderly man for nationalistic reasons as a "terrorist," is this "demonization"? Or is it just calling it like it is?
Rudoren herself reports on the circumstances of the cold-blooded murder:
Israeli court records show Mr. Tenenbaum was found about 7:30 a.m. on June 14, 1993, lying on his back in a bed near the hotel bar, a pillow covering his bloodied face. According to the 29-page verdict convicting him of murder, Mr. Salah told investigators that he and another man had gone to Netanya in search of a Palestinian suspected of collaborating with Israel, and happened upon the guard.

The other man said, "Let's kill him so that we did not make the trip for nothing," the verdict quotes Mr. Salah having said. "Only when we saw the guard sleeping did we decide to kill him as a protest against the occupation."
Perhaps the newspaper, which in its news articles routinely labels Israeli leaders (but never Palestinian leaders) "shrill," "stubborn," "abrasive," "derisive," "cynical," ought to reflect on the meaning of "demonizing."
Also remarkable is the detail that Rudoren provides of the trials and tribulations of Salah and other released prisoners -- the fact that dental care is not covered, the boredom, the unsteady driving, the insufficient grants from the Palestinian Authority, and more.
Will The Times be publishing a story going into tremendous detail about the trials and tribulations of the mothers, fathers, sisters, brothers and children left behind by those, old and young, murdered by Palestinian terrorists? Are articles dedicated to the humanization of these Israeli victims off-bounds to Times journalists, lest they themselves become complicit in Israeli "demonizing" of Palestinian murderers?
Posted by TS at 03:09 AM | Comments (3)
March 26, 2014
Munther Isaac Tells Antisemitic Joke at CATC Peacemaking Conference, Gets Laugh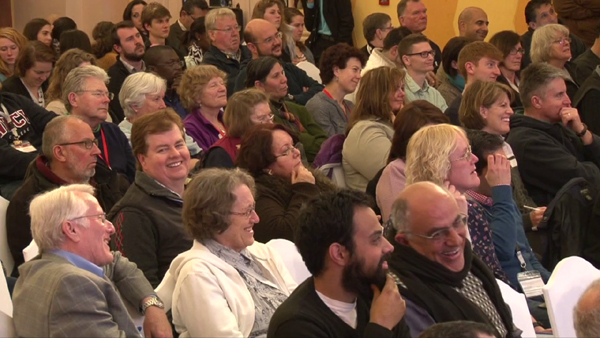 The audience at Christ at the Checkpoint, held in Bethlehem during the second week of March 2014, responds to a joke about Jews and money told by Palestinian Christian Munther Isaac. (Screenshot.)
Munther Isaac is a clever and well-educated man who did a very stupid thing at the Christ at the Checkpoint Conference that took place in Bethlehem a couple of weeks ago.
He told an antisemitic joke that, sickeningly enough, elicited laughter from Evangelical Protestants in attendance at the conference. The joke is easy to follow for people who know their New Testament.
What is most astonishing is that Munther's joke, and the audience's response, is all there for people to see on video here. (The joke is told at about 17 minutes and 20 seconds into the video.)
Here's the set up.
Isaac, a Palestinian Christian and CATC conference organizer who is about to receive his Ph.D. from the Oxford Center for Mission Studies, spoke on the night of Thursday, March 13, 2014, the second to last day of the conference. The scripture he was using in his talk was the parable of the Good Samaritan (Luke 10:29-37), which tells the story of a man being robbed and left for dead by the side of the road.
According to the parable, two religious men a priest and a Levite (Jews) walk passed him ignoring his plight. Finally, a man (known as the Good Samaritan), stops and helps him. Isaac then says the following:
By the way, the two religious people, why did they not stop? This question was asked to a Sunday school boy and the boy answered, "Well because he had no money left."
The implication is that if the man suffering by the side of the road, the priest and the Levite, both Jews, would have stopped to help the man if he had ... money. A slight smirk can be seen on Isaac's face before the camera cuts to the audience to show many (but not all) of them laughing.
Isaac elicits more laughter when he jokes that the reason why the two religious men did not stop was that they were on their way to a Christian conference.
Nice try, Munther, but the whole premise of the joke is based on the association of Jews with greed and money.
It was an inappropriate joke for Isaac to tell at a peacemaking conference, especially after he himself condemned the antisemitic words his fellow Palestinians have used to describe Jews. "Many [Palestinians] call Jews by names that I am ashamed to utter and sometimes it comes from religious people I call preachers of hate."
It doesn't help that in this same speech, Isaac stated that Israel is unreasonable in its demand that the Palestinians recognize Israel as the Jewish state. And it doesn't help that Isaac told this story at a conference where three of his countrymen lied about the security barrier.
But there it is.
Munther Isaac, a Palestinian Christian leader, and peacemaker, told an antisemitic joke about Jews and money to an audience of Evangelical Protestants 20 different countries around the world.
And he got a laugh.
Posted by dvz at 04:28 PM | Comments (8)
March 25, 2014
Jimmy Carter, History and the Jewish State
Former President Jimmy Carter is apparently confused about the Israeli demand for Palestinian recognition of Israel as the Jewish state. And the historical record seems to elude him as well. The Associated Press reports on an interview with President Carter:
Various Israeli politicians have been declaring the "two-state" solution of a separate Palestinian and Israeli nations dead, and many are demanding that the Palestinians and Arabs formally recognize Israel as a Jewish state in order to discuss the Palestinian issue.

"I don't see how the Palestinians or the Arab world can accept that premise, that Israel is an exclusively Jewish state," Carter said.

"This has never been put forward in any of the negotiations in which I was involved as president, or any president, before (Benjamin) Netanyahu became prime minister this time. And now it has been put into the forefront of consideration," he added.

About a fourth of Israel's people are Arab or other non-Jewish citizens.

"Israel can claim 'We are a Jewish state.' I don't think the Arab countries will contradict that Jewish statement. But to force the Arab people to say that all the Arab people that they have in Israel have to be Jews, I think that's going too far," Carter said.
Both President Clinton and President George W. Bush have encountered the Israeli demand for Palestinian recognition of Israel as a Jewish state put forward by the administrations of three Israeli prime ministers prior to Netanyahu.
First, a few days ago, American negotiator Dennis Ross noted that the Israeli demand for Palestinian recognition of Israel as the Jewish state came up during and immediately following the Camp David negotiations. Later, in 2003, Prime Minister Ariel Sharon listed Palestinian recognition of the Jewish state as his sixth reservation to President Bush's Mideast "road map." Finally, during the Annapolis talks in 2007 under Prime Minister Ehud Olmert, the Israelis again raised the issue with President Bush.
Likewise, the presumption that recognition of Israel as the Jewish state is tantamount to an "exclusively Jewish state" is equally baseless.
Posted by TS at 07:48 AM | Comments (3)
March 24, 2014
Dennis Ross Comment Highlights NY Times Error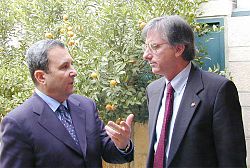 While The New York Times refuses to correct factual errors that appeared in an Op-Ed by former Palestinian official Ali Jarbawi, a former senior US official has provided even more evidence that the newspaper published patently false assertions.
Jarbawi claimed in his Op-Ed that Israel's demand to be recognized as a Jewish state "did not exist in past talks; in fact, it didn't exist until the thought occurred to Prime Minister Benjamin Netanyahu."

This is flatly inaccurate, as CAMERA has pointed out. Israel's call for recognition as a Jewish state was appended as an Israeli reservation to the Road Map peace plan in 2003. It was raised, and argued over, during talks between high level Israeli and Palestinian negotiators in 2007. It has been discussed in internal Palestinian memoranda.
And according to a report in Commentary, former chief US negotiator Dennis Ross suggested a few days ago that those claiming Netanyahu was the first to raise the issue in peace talks are lying. (His language was just slightly more diplomatic.)
About Israel's call for recognition as a Jewish state, Ross said,
When I hear it said that this is the first time this issue has been raised – the people who say that think that no one knows history. Now maybe it's true that most people don't know history. But they should never say it to me. When we were at Camp David, this issue was raised. In the period after Camp David, before we did the Clinton Parameters, this issue was raised. This issue has been raised for obvious reasons. From the Israeli standpoint, there is a need to know that the Palestinians are committed to two states, meaning in fact that one state is Palestinian and one is the state of the Jewish people. They need to know the Palestinians are not about two states, one Palestinian and one bi-national.
Jarbawi is one of those who apparently thinks that "no one knows history." Or perhaps he knows he can count on The New York Times to help him rewrite it.
Posted by GI at 12:22 PM | Comments (0)
March 23, 2014
Touring the Israeli-Palestinian Conundrum with the NYT (Updated)
March 24 update: The New York Times has updated its post so that it no longer describes Tel Aviv as Israel's capital.

With alluring photographs and intriguing itineraries, The New York Times urges travelers to join its Times Journeys abroad: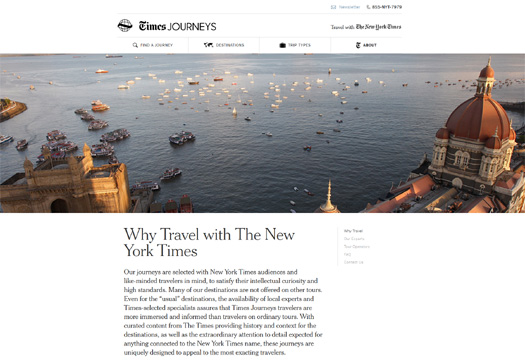 Given The Times' troubling record on the Israeli-Palestinian conflict, including inconsistent reporting standards and uncorrected errors, the paper's promise of "curated content from The Times providing history and context for the destinations" is cause for concern when it comes to The Times' trip to Israel and the West Bank.
Indeed, already in Day 1 of the itinerary for the "The Israeli-Palestinian Conundrum," The Times' notoriously factually-challenged coverage makes an appearance:
Yesterday, The Washington Post commendably published a timely correction on the very same topic, making clear that Jerusalem, not Tel Aviv, is Israel's capital.
Will The Times follow The Post's lead and set the record straight? Even if it does, it's probably not realistic to hope that trip participants can expect more accurate "history and context" than that delivered up on a routine basis at the "Paper of Record."
Posted by TS at 05:02 AM | Comments (1)
March 13, 2014
Israeli Hospitals Treat Syrian Victims of Civil War
The Christian Science Monitor published a feature article on March 12, 2014, "Enemies, no, patients, say Israeli doctors treating Syrians," describing the lifesaving treatment provided to wounded and ill Syrians at Western Galilee Hospital in Nahariya. In less than a year, 220 Syrians, a third of them children, have been treated at the Israeli hospital, mainly for injuries sustained in the Syrian civil war.
What is so extraordinary about this humanitarian effort is that Israel is technically at war with Syria.
The article establishes,
"Israel has a tradition of offering humanitarian assistance in war zones and natural disasters around the world, even where it is not particularly welcome. But treating Syrians, whose country is still officially at war with Israel, is not only a logistical miracle but an extraordinary exercise in humanity trumping hate."

This Israeli humanitarian effort contrasts with the media's frequent showcasing of the empty moral preening of so-called humanitarian groups like Amnesty International, that recently published yet another lengthy report filled with dubious accusations against Israel and academic groups like the American Studies Association who advocate boycotts of the Jewish state and its scholars. Like peacocks flashing their colorful feathers, these groups parade their so-called moral indignation to garner attention, but contribute nothing positive for either Arabs or Jews.
Meanwhile, the Israeli medical staff at Western Galilee Hospital expend time, resources and sweat to alleviate the suffering of their Arab neighbors. The Christian Science Monitor is to be commended for providing tangible evidence of the humanitarian impulse to its readers.
Posted by SS at 01:48 PM | Comments (3)
March 12, 2014
Where's the Coverage? "Jews Have Not Taken Anything by Force"

In 1936, a national leader wrote a letter. This is an excerpt:
…The situation of the Jews in Palestine being the strongest and most concrete proof of the importance of the religious problem among the Muslim Arabs toward anyone who does not belong to Islam. Those good Jews, who have brought to the Muslim Arabs civilization and peace, and have spread wealth and prosperity to the land of Palestine, have not hurt anyone and have not taken anything by force, and nevertheless the Muslims have declared holy war against them and have not hesitated to slaughter their children and their women despite the fact that England is in Palestine and France is in Syria. Therefore a black future awaits the Jews and the other minorities if the Mandate is cancelled and Muslim Syria is unified with Muslim Palestine. This union is the ultimate goal of the Muslim Arabs…
Who wrote this?
Suleiman Assad, the grandfather of Syria's dictator Bashir al Assad, father of the previous dictator Hafez al Assad.
He and other Alawite leaders wrote to the Foreign Minister of France, asking the French not to end the mandate of Syria because they feared being massacred as a religious minority.
The letter sits today in the French Foreign Ministry.
Posted by SC at 06:31 PM | Comments (2)
March 11, 2014
AFP Forced to Correct False Story Based on PA Security Sources
AFP ran with a story citing Palestinian security forces who claimed a Palestinian from the Tulkarem area died after Israeli troops shot at his car. The media outlet, however, was forced to pull the story when PA security forces acknowledged the information was incorrect:
KILL our URGENT story Israel-Palestinians-conflict-toll,urgent "Palestinian dies after Israel troops fire on his car: Palestinians". Palestinian security sources say their information on army gunfire was incorrect.
The Palestinian Ma'an news agency, basing its report of the car crash in part on the AFP article, included more information but still blamed Israel for the fatal car accident. near Tulkarem . According to Ma'an, the Palestinian died in car wreck due to an 'Israeli police chase'. The Palestinian news agency did not correct.
Posted by RH at 11:43 AM | Comments (2)
March 10, 2014
The Tripod: CAMERA Links in 3 Languages Feb. 26 - March 10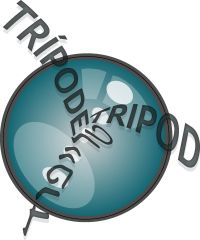 Spanish Posts

ABC: ¿Por qué fue Merkel a Israel?
El diario español ABC se encarga de que los palestinos estén en el titular de la noticia sobre la visita de Merkel a Israel, que era relevante por otros motivos. (ReVista de Medio Oriente)
¿Dónde está la cobertura?
La prensa en español suele recoger y reproducir noticias provenientes de periódicos israelíes, siempre y cuando los hechos que relate esa noticia sirvan para reforzar la imagen de Israel que se pretenden instalar entre el público lector. (ReVista de Medio Oriente)
La agencia EFE: acusación particular contra Israel
La agencia gubernamental española presenta los argumentos de la acusación, pero en ningún momento nos permite conocer qué alega el acusado en su defensa. (ReVista de Medio Oriente)
Un elefante rosa
Es grande, ruidoso, muy visible en un lugar pequeño y, aún así, nadie quiere verlo. Lo mismo sucede con Hamas, y con los grupos terroristas que operan desde Gaza, en el marco de las conversaciones de paz entre Israel y la AP. (ReVista de Medio Oriente)
Pincelada propia
La agencia española de noticias Europa Press, tomaba el material deReuters y no podría evitar darle un giro muy propio. (ReVista de Medio Oriente)
Hamás condena la enseñanza de los DDHH en Gaza
La organización terrorista condena el curricula de la UNWRA por incluir asignaturas sobre derechos humanos. (ReVista de Medio Oriente)
5 razones que alejan a los palestinos de la paz
Utilizar los medios de comunicación para difamar a Israel y difundir odio gratuito desde la cúpula de la Autoridad Palestina, son razones de peso que alejan a los palestinos de la paz y que usan como plataforma de difusión los medios de comunicación masiva. (ReVista de Medio Oriente)
English Posts
Al-Jazeera America TV News Aims Against Israel
Twisted coverage of Israel is consistent with the network's indirect connection through its owner to the creation of the Palestinian Hamas terrorist entity sworn to Israel's destruction. The CEO, aiming at the opinion makers, admits to unconcern about profits and viewer ratings. (CAMERA)
Where's the Coverage? The Truth about "Israel Apartheid Week"
The latest untold story. (CAMERA Snapshots)
Ha'aretz Veers Off Course with Ports Story
In the latest false media account of a supposed anti-Israel BDS victory, Ha'aretz incorrectly reports that two foreign companies withdrew from a ports tender due to boycott fears. (CAMERA)
When Media Cover for Palestinian Terror Groups
Martin Kramer has excellently exposed how The New York Times covers for Rashid Khalidi. (In case it's not clear, the job of a serious newspaper is to cover the PLO spokesman-cum-professor, not cover for him.). (Snapshots)
Just the Facts: Stripping Down Ha'aretz Coverage on Airport Search
A Ha'aretz news article describes a "he said/she said" dispute about the alleged strip search of an Israeli Arab teacher. Ha'aretz headlines and opinion pieces upgrade the disputed claim to fact. (CAMERA)
Ha'aretz Lost in Translation on Strip Search
Today, in an apparent case of "lost in translation," the Ha'aretz English edition continues to report as fact the disputed claim that Israeli Arab teacher Ezies Elias Shehada was subjected to a strip search. (Snapshots)
Mitnick, the U.S., and "Illegal" Settlements
American policy on the legality of the settlements has been consistent for decades. And Joshua Mitnick's coverage of that policy has also been consistent. Consistently wrong, that is. (Snapshots)
Did Mahmoud Abbas outrage Syria's Palestinian refugees by waiving their right to live?
The Guardian failed to report news that Palestinian President Mahmoud Abbas had rejected an Israeli offer to allow thousands of Palestinian refugees, caught in war-torn Syria, safe travel into the West Bank and Gaza - citing his fear that they may be forced to forfeit their "right of return". (CiF Watch)

Hebrew Posts
Yossi Sarid's Boycott
What are the aims of the BDS Movement?. (Presspectiva)
The Media is a little too fast in reporting BDS successes
Did Dutch and Italian companies really withdraw tender application to build new ports in Israel, due to political reasons?. (Presspectiva)
Abu-Mazen's True Position
What Abu Mazen says in English is not always identical to what he says in Arabic . (Presspectiva)
Ha'aretz No Longer a Newspaper
Has Ha'aretz decided to come out of the closet, shrugging off any pretense of being a news organization? What other explanation is there for publication of the full text of a petition by Rashid Khalidi and Judith Butler without any comment or context? (Presspectiva)
Portraying Israel as if it was North Korea
A Ha'aretz Op-ed is too happy to grossly mischarecterize and declare as a fact, incidents which are very much in dispute. (Presspectiva)
Ma'ariv Finally Corrects!
Days before an ethics committee hearing on Presspectiva's complaint, Ma'ariv finally corrects a six month old story. (Presspectiva)
Posted by RH at 03:34 PM | Comments (0)
March 09, 2014
Ha'aretz No Longer a Newspaper
Ha'aretz has now completely crossed the line from a newspaper to a propaganda mouthpiece.
Judith Butler, a Berkeley professor, and Rashid Khalidi, PLO spokesman-cum-Columbia professor, published an Internet petition in which they condemn what they call attempts to silence, intimidate and threaten critics of Israel. Israel's "critics," they emphasize, are those who support the anti-Israel BDS (boycott, divest, sanctions) campaign. BDS advocates, as have been previously demonstrated, are not pro-Palestinians, they are anti-Israel. They are not in favor of a two-state solution. Rather they advocate for a one-state solution -- a Palestinian state from the river to the sea.
There is nothing particularly remarkable about this anti-Israel petition. Such initiatives are commonplace. Noteworthy, however, was Ha'aretz's decision Thursday evening to post the Khalidi/Butler petition in full on its English Web site under the headline: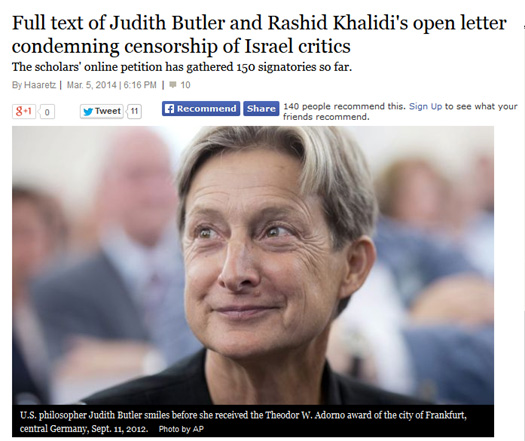 Ha'aretz published the petition without any preface or explanation. It appeared as a full, bona fide article, with a headline, a subheadline and text (the petition), including the 150 names that signed on to the document. Had editors linked to the petition as part of an article about the document, the item would have carried some news value. The current item, however, which contains absolutely zero reporting, analysis or context, is not journalism. It is free publicity for prominent anti-Israel polemicists who support the boycott of the Jewish state. Ha'aretz is blatantly carrying out the work of anti-Israel organizations.
Has Ha'aretz decided to come out of the closet, shrugging off any pretense of being a news organization? What other explanation is there for this very bizarre and very un-journalistic act? Pro-Israel and anti-Israel groups routinely publish petitions. Why did Ha'aretz pick this petition in particular, publishing its "full text" as if it were a speech by the Prime Minister at the United Nations? Could it possibly be because Ha'aretz editors support the petition penned by two anti-Israel activists calling for the boycott of Israel (not settlements)?
Furthermore, six hours after the "full text" appeared, Ha'aretz's English site posted a news article about the boycott petition. Why wasn't the news article published six hours earlier? Was it added after an editor realized that there is no justification for publication of the "full text" of any petition, for any cause, without providing context? More importantly: why does the petition still appear as a standalone item on Ha'aretz's Web site?
Ha'aretz, apparently, is not at all ashamed that it has abandoned journalism in favor of blatant anti-Israel activism.
-- By Yishai Goldflam
(For the Hebrew version of this post, see Presspectiva.)
Posted by TS at 04:53 AM | Comments (1)
March 06, 2014
Fact Check: Netanyahu Did Not Invent Expectation of Recognition of Jewish State
Last time The New York Times published an Op-Ed by Ali Jarbawi, the author's overzealous attack on Israel put the newspaper in the unwelcome position of having to correct a factual error. (No, The Times admitted in a Feb. 5 correction, Ariel Sharon did not actually enter the al Aqsa mosque.)
It's a shame the newspaper had to publish a correction, but one might expect that the editors have learned from the mistake — "fool me twice," the saying goes — and now more carefully check Jarbawi's facts.
Any such expectations were dashed today, when The Times published a new Op-Ed by Jarbawi. Speaking of the Israeli expectation that Palestinian negotiating partners will accept the principle of two states for two peoples — the Palestinian and the Jewish peoples — Jarbawi, a former Palestinian Authority official, stated:
This demand did not exist in past talks; in fact, it didn't exist until the thought occurred to Prime Minister Benjamin Netanyahu, most likely because he was looking for a way to sabotage the peace process, which he could then blame on the Palestinians while continuing to usurp our land.
But this simply isn't true. As Tablet Magazine recently pointed out, the expectation that Palestinians would reciprocate Israeli recognition of a Palestinian state by recognizing a Jewish state is hardly new:
In fact, according to the Palestine Papers — a massive trove of leaked documents published by Al Jazeera, which record a decade of Israeli-Palestinian negotiations–the demand was broached by none other than Tzipi Livni…in 2007.

Representing Israel's liberal Kadima-led coalition in Annapolis prior to Netanyahu's election in 2009, Livni raised the subject of Israel's Jewish character with the Palestinian negotiating team. ...

...the Palestine Papers are in the public domain, and available to any reporters seeking to fact-check whether Netanyahu was the first to ask that the Palestinians recognize Israel as the nation-state of the Jewish people, just as Israel will recognize Palestine as the nation-state of the Palestinian people.

But the chain reaches even further back than 2007.
Read the entire Tablet piece here.
As to Jarbawi's list of reasons why Palestinians shouldn't be expected to acknowledge the national rights of the other party to the conflict — basically non-issues such as the question of what will happen to the citizenship of Israeli Arabs if Palestinians accept the legitimacy of the Jewish state (the short answer: nothing will happen) — we've already discussed that here.
Posted by GI at 05:21 PM | Comments (2)
Christian Science Monitor Photo Caption Misleads
The March 10, 2014 edition of the Christian Science Monitor Weekly [CSM] carries an upbeat article "Go-getters in Gaza" which highlights the entrepreneurial ambitions and striving for normalcy of young Gazans. Eight photographs are shown. One of the photographs shows a young girl in a scout uniform. The caption reads,
PROUD A Girl Guide shows off her uniform. Girl Guides of Palestine, established in 1919 under British rule, aims to promote positive behaviour among young women.
The problem is the history this caption conceals. The first troops of the Girl Guides of Palestine were established by Annie Landau and Helen Bentwich at the Evelina School for Girls in Jerusalem. Landau, a British Zionist, ran the school for many years. The school was named after Evelina Rothschild, who belonged to the Rothschild family that funded Jewish settlement projects in what was to become Israel. This is confirmed in a book published in 1922, The Handbook of Palestine edited by Sir Harry Luke, Edward Keith-Roach. The CSM caption implicitly expropriates for the Palestinian Arab legacy what was actually, initially, a British-Jewish legacy and then expanded to include Arabs.
For more information on the school and the founding of the Girls Guides of Palestine, see
The Best School in Jerusalem: Annie Landau's School for Girls, 1900-1960 By Laura S. Schor
Posted by SS at 04:11 PM | Comments (0)
March 05, 2014
Where's the Coverage? "Settlements" Not an Obstacle to Peace

In a recent interview with Jeffrey Goldberg, widely perceived as blaming Israel for the Israeli-Palestinian conflict, President Obama never addressed the issue of incitement by Palestinian Authority leaders, media and educational materials to hatred of and violence against Jews and Israelis. He never mentioned the PA policy to celebrate terrorists as heroes and to glorify killers by naming public squares and soccer tournaments after them.
President Obama did, however, refer a number of times to Israeli "settlements." He agreed that "settlements are illegitimate" and even threatened:
But what I do believe is that if you see no peace deal and continued aggressive settlement construction -- and we have seen more aggressive settlement construction over the last couple years than we've seen in a very long time -- if Palestinians come to believe that the possibility of a contiguous sovereign Palestinian state is no longer within reach, then our ability to manage the international fallout is going to be limited.
However, as Evelyn Gordon points out in Commentary, "on this issue, Obama's 'facts' are flat-out wrong." The article continues:
In reality, as a simple glance at the annual data published by Israel's Central Bureau of Statistics reveals, there has been less settlement construction during Benjamin Netanyahu's five years as Israeli premier (2009-13) than under any of his recent predecessors.

During those five years, housing starts in the settlements averaged 1,443 a year (all data is from the charts here, here and here plus this news report). That's less than the 1,702 a year they averaged under Ehud Olmert in 2006-08, who is nevertheless internationally acclaimed as a peacemaker (having made the Palestinians an offer so generous that then-Secretary of State Condoleezza Rice couldn't believe she was hearing it). It's also less than the 1,652 per year they averaged under Ariel Sharon in 2001-05, who is similarly lauded internationally as a peacemaker (for having left Gaza); the fact that even Sharon out-built Netanyahu is particularly remarkable, because his term coincided with the second intifada, when demand for housing in the settlements plummeted. And it's far less than under Ehud Barak, who is also internationally acclaimed as a peacemaker (for his generous offer at Camp David in 2000): One single year under Barak, 2000, produced more housing starts in the settlements (4,683) than the entire first four years of Netanyahu's term (4,679).
Whether settlement construction is "aggressive" or not, it is certainly not an obstacle to peace.
Imagine a deal is negotiated and a border is established somewhere. Put it anywhere. Put it on the 1949 armistice line. Put it right through the middle of Ma'ale Adumim, if you want. Then some new Israeli towns will be on the Israeli side of the border and some will be on the Palestinian side. So what? What is the problem with that?
"Settlements" are only an obstacle if you accept that no Jews can live in a Palestinian state; that Palestine must be, as the Nazis wanted Europe to be, Judenrein (Jew-free). Twenty percent of Israelis are not Jewish – most of them Arabs – yet zero percent of Palestinians can be Jewish? That would be crazy. But none other than the "moderate" Mahmoud Abbas himself, among other Palestinian officials, have said just that. Abbas declared, "I would not agree to having Jews among the NATO forces [that might secure a peace agreement], or that there will live among us even a single Israeli on Palestinian land."
That kind of hatred and bigotry…? THAT is an obstacle to peace. Yet… Where's the coverage?

Posted by SC at 06:21 PM | Comments (2)
Can We Trust The Images We See in Relevant?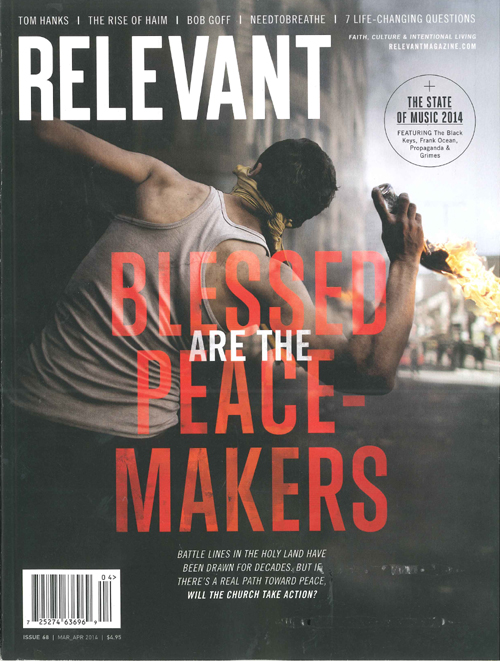 Relevant, a magazine that bills itself as a lifestyle magazine for young Evangelicals in the United States, has published a cover story about violence in the Holy Land and what Christians can do to bring it to an end. It arrived in the mailboxes a week before the upcoming Christ at the Checkpoint Conference in Bethlehem.
There's no arguing that the magazine's cover (shown above) is compelling, even if it offers a mixed message.
The text includes a passage from the Beatitudes, "Blessed Are the Peacemakers." This text, interestingly enough, is a bit faded so as to allow consumers to have a fuller view of a young Palestinian man throwing a firebomb.
He's a bit dirty and scruffy, but otherwise he looks, well, pretty cool. The way Relevant depicts him, the firebomb thrower is imbued with an danger, drama and glamour.
It's like he's a rock star or something. It's radical chic revisited.
We contacted Relevant's founder, Cameron Strang, and challenged him on the appropriateness of using a photo such as this for the cover.
Relevant, like a lot of magazines, such as Esquire or Cigar Aficionado, is aspirational, meaning it gives readers a view of the life that they want to live or aspire to. Aspirational magazines give readers a view of what they – and their lives – are supposed to look like.
Clearly, Relevant falls into this category. Peruse its pages and you'll see lots of images of rock stars and celebrities that have either grown up in the Evangelical community or who are willing to talk, at least a little, about their religious faith with the editors of the magazine that serves this community. The magazine's motto is "Faith, Culture & Intentional Living." It's Rolling Stone for young Evangelicals.
The advertising of the magazine shows a lot of scruffy-looking but earnest young Evangelical men who are trying to make their way in the world. In fact, they look a lot like the protagonist/narrator in Porter Speakman's movie, With God on Our Side.
Relevant is filled with articles giving career and spiritual advice to young Evangelicals. One article chides young people, ("millenials") to choose "gratefulness over entitlement." Another writer advises readers "When you are in your twenties, your first three jobs should be considered your master's program."
Against this backdrop, it seemed irresponsible to publish a photo like that glamorizes someone throwing a firebomb.
In response to CAMERA's challenge, Strang told us to read the article (which he wrote). The article, Strang said, is about ending the violence that was being depicted. (There are problems with the article, too, which CAMERA will get to in a subsequent article.)
Even if the article in question were a fair and comprehensive assessment of the Arab-Israeli conflict (which it isn't), Strang's response doesn't cut it. Imagery and text both tell their own stories, and in this instance, the glamour attributed to the firebomb thrower on the magazine's front cover threatens to overwhelm the message of peace offered in the text.
CAMERA raised another concern. At first glance, the photo on the front cover seemed staged because it seemed more like a work of art than an act of journalism (and yes sometimes, the two overlap). But the timing and positioning of the photo seemed too perfect. (As events progressed, our concern shifted from whether or not the photo was staged, but whether or not it was altered by Relevant. More about that below.)
Blessed Are the Stone Throwers?
The photo used to open the article itself shows young Palestinian boys throwing rocks. Two of the young boys are looking straight at the camera.
In response, Strang wrote that the photos were both licensed from a professional news agency (and "were credited as such").
Strang also wrote that the two photos in question were shot by news photographers and that the magazine had no reason to think they were staged and that there was no proof that they were. All the other photos associated with the story, Strang reported, were taken by himself and Relevant's photographer.
Strang is correct that CAMERA has no proof that the two photos in question were staged.
Fair enough.
Nevertheless, there is good reason to ask in general if photos depicting acts of Palestinian "resistance" are staged, because they often areb as this video by Ruben Salvadori reveals.
Pallywood is a reality that responsible journalists have to take into account.
But there is another concern.
As stated above, Strang said that both the cover photo and the photo that opens the story were taken by professional news photographers (and were "credited as such"). It appears however, that the only photo in the entire magazine that is credited is the cover photo.
There doesn't seem to be any a section that provides the credits for any of the other photos in the magazine. We sent an email to Cameron Strang asking where the credits are located in the magazine, and he hasn't responded. (If anyone can find it, please post the page number in the comments below.)
But let's not get sidetracked. Take a look at the photo of the young boys throwing stones. Two of the boys are looking directly at the camera, raising an obvious question: was it posed?
It's a serious question. The National Press Photographers Association's Code of Ethics calls on photojournalists to "Resist being manipulated by staged photo opportunities."
It also warns photographers to "not intentionally contribute to, alter, or seek to alter or influence events."
If the rock throwers are posing for the camera, and it sure looks like it to us, it seems reasonable to ask: "Who is manipulating whom?"
Either way, the answer is not good. One way or another, the boys in that photo have been given reason to believe that throwing rocks is a good way to get the attention of Western journalists. Is that a message Relevant wants to send?

Relevant Questions about the Cover Photo
We found a very similar photo in three places. The first location was in a Slate article. The image was also located at two links at Newscom.com. (The photo identification number is afplivefive027166. Enter this ID into a search engine and it should show up.)
This is where things got weird.
Relevant subscribers who compare the magazine cover photo with the photo at the links shown above will see that the photos seem to be almost exactly the same, but at the same time, quite different.
At first glance, the image of the young man throwing the firebomb seems to be an exact match in the two photos. The wrinkles of his shirt are the same. The shape of the fire emanating from the firebomb is also quite similar, maybe exactly the same. (It's tough to compare exactly.)
But then there are subtle but undeniable differences. The young man's left arm is at a different angle. And get this, the position of the firebomb, and the young man himself is a little bit further to the right of the building in Relevant's cover photo than it is in the AFP/Getty version of the photo.
What's going on here?
We are confronted with some contradictory alternatives.
If we want to explain the differences, we can conclude that they are two different photos. (But then how do we explain the eerie similarities?)
If we want to explain the similarities, we conclude that they are the same photo. (But then how do we explain those niggling differences?)
It's a paradox!
Maybe there is another explanation. Given the powers of Photoshop, it's entirely reasonable to ask if Relevant magazine somehow altered the photo it obtained from AFP.
Fashion magazines do it all the time.
But Relevant? Why would Relevant do such a thing on its cover photo?
At this point, Snapshots asks you to take another look at the AFP/Getty photo and look under the firebomber's right arm.
What do you see?
At Snapshots, it looks to us that there's a guy sitting on the ground just a few feet from the guy throwing the Molotov cocktail. His presence in the AFP photo kind of undermines the drama associated with a guy throwing a firebomb, but there he sits, undermining our concerns that the photo is posed. (If the photo were staged, you'd think the photographer would ask the guy to get out of his shot.)
And interestingly enough, he's sitting in the position that is obscured by the bomb thrower in the photo that appears on Relevant's cover!
Isn't that convenient!
So what happened? Did Relevant obtain another photo from AFP that is strikingly different and yet eerily similar to the one published in Slate and on Newscom's site?
Or did the magazine manipulate the photo to make the image more compelling than it was in its original?
Strang isn't saying, and didn't resopnd to questions about whether the cover photo was altered.
If Relevant did alter the photo, it wouldn't be the first magazine to engage in this type of behavior. Like we said, it happens all the time in fashion magazines.
But it's generally frowned upon in the realm of photojournalism. The NPPA's Code of Ethics states that "Editing should maintain the integrity of the photographic images' content and context. Do not manipulate images or add or alter sound in any way that can mislead viewers or misrepresent subjects."
Writing on the ethics of Photoshopping in the Huffington Post in 2009, Susan Moeller states that in the world of news, "The rule of thumb is, if you want to change what's in the photo, choose another photo."
Let's be clear. Snapshots is not worried about the body image of bomb throwers in Hebron. We're more worried about the safety of their potential victims.
But it would be nice to know if what is on the magazine's cover and on its pages is not only relevant, but real.

Posted by dvz at 09:14 AM | Comments (6)
Mitnick, the U.S., and 'Illegal' Settlements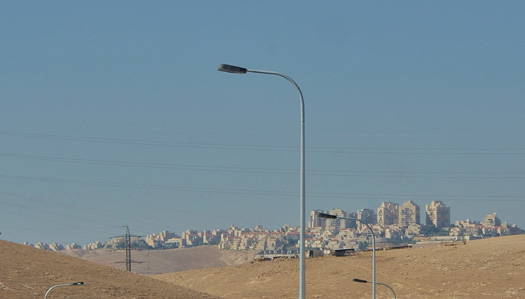 American policy on the legality of the settlements has been consistent for decades. And Joshua Mitnick's coverage of that policy has also been consistent. Consistently wrong, that is. Back in 2006, Mitnick wrote in the Christian Science Monitor:
The US and most countries consider Maaleh Adumim and dozens of other Israeli settlements illegal under international law because they were established on territory under military occupation.
The United States does not consider West Bank and eastern Jerusalem settlements illegal. At the time, the Monitor failed to correct the error. Had it done so, Mitnick may not have written the other day in the Wall Street Journal:
Most of the international community considers Israeli building in the West Bank and East Jerusalem to be illegal, including the U.S. . . .
U.S. policy has not changed since Mitnick's 2006 article. In fact, there has been no change in U.S. policy on the question of the legality of settlements since President Carter's departure from the White House. Although the Carter administration did consider the settlements illegal, subsequent administrations did not. President Reagan had explained: "As to the West Bank, I believe the settlements there - I disagreed when the previous Administration referred to them as illegal, they're not illegal" (New York Times, Feb. 3, 1981). Other presidents, including Bill Clinton and George W. Bush, also did not term settlements "illegal."

In February 2011, the United States vetoed a United Nations Security Council resolution which labeled the settlements "illegal." In the Feb. 20, 2011 "Meet the Press" broadcast, then US Ambassador Susan Rice indicated that the appearance of the word "illegal" was one of the reasons why the US rejected the resolution.
Last August, The New York Times was the most recent media outlet to correct this very same error:
Will The Wall Street Journal follow the commendable lead of The Times and set the record straight?
Posted by TS at 05:22 AM | Comments (2)
March 04, 2014
The New York Times Persists in Emphasizing IDF Defensive Strikes While Downplaying Palestinian Terrorism
CAMERA's monograph, Indicting Israel: New York Times' Coverage of the Palestinian-Israeli Conflict, noted the newspaper's consistent emphasis on Israel's defensive military strikes while downplaying Palestinian violence. During our 6-month study, Palestinian attacks –including those that killed Israelis – were never featured prominently, but the newspaper repeatedly highlighted Israeli military actions or vandalism by radical Israelis. While 12 headlines implicated Israel for killing Palestinians none referred to Palestinians killing Israelis even though 14 Israelis were killed by Palestinians during that time. (See: Indicting Israel, Chapter 4 "Violence Double Standards", page 57)
Well, it seems this pattern of coverage is endemic to The New York Times. Correspondent Jodi Rudoren, recently back from a speaking jaunt in the U.S., just published an item about an IDF air strike on an Islamic Jihad rocket squad about to fire missiles into southern Israel. The problem is, the article was headlined "Israeli Airstrike Kills 2 in Gaza" and introduced as follows:
An Israeli airstrike killed two Palestinian men in the Gaza Strip and wounded two children on Monday evening, according to the Israeli military and Palestinian health officials, continuing the increased violence between Israel and Gaza this year.
"Continuing the increased violence between Israel and Gaza this year?" Who is the party "continuing" the violence, the terrorists trying to launch another attack or the soldiers preventing the attack? The paragraph suggests it is the latter. And how is there any equivalence between the two? Rudoren falsely implies tit-for-tat, morally equivalent violence on both sides. The correspondent further adds to this impression by declaring:
Despite a 15-month cease-fire between Israel and Hamas, the militant Islamic movement that rules the Gaza Strip, the past two months have seen a steady simmer of strikes on both sides.
Surely a defensive air strike to thwart an imminent attack on Israeli territory cannot be considered equivalent in any way to terrorists targeting civilians, and the IDF's protection of its civilians is certainly not the same as the Islamic Jihad terrorist group trying to inflict as many deaths and as much damage as possible on Israelis.
But with its emphasis on Israeli actions--both in the headline and lede paragraph-- and by equating the terrorist attacks with Israeli defensive actions, the newspaper distorts the story of Palestinian aggression and Israeli defense.
Posted by RH at 05:46 PM | Comments (6)
Ha'aretz Lost in Translation on Strip Search
Yesterday we described how Ha'aretz headlines (in English Feb. 26 online and Feb. 28 in print), an editorial (in Hebrew and English, Feb. 28) and an Op-Ed (Uri Misgav, English and Hebrew) all reported as fact that Israeli Arab teacher Ezies Elias Shehadeh was subjected to a strip search in the Eilat airport although Ha'aretz's own Orly Vilnai earlier reported that the Israel Airport Authority emphatically has denied the allegation, agreeing that she received a body search, but not a strip search.
Earlier this week, CAMERA's Israel office asked Ha'aretz editors to either produce substantiation confirming Shehadeh's or to publish a clarification noting that the Israel Airport Authority rejects the allegation. Editors yesterday said they would follow up.
Meanwhile, today, in an apparent case of "lost in translation," the English edition repeats the disputed claim as fact. A page-one Jonathan Lis story in English reports: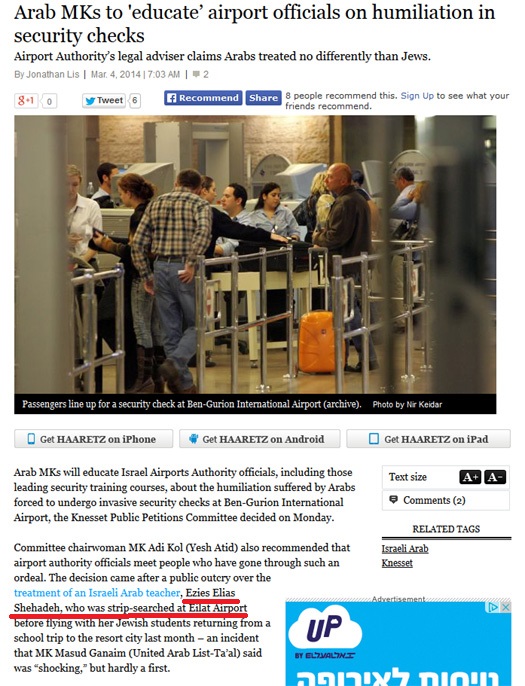 The Hebrew edition, to its credit, did not claim that she had been forced to strip, referring vaguely to the "incident involving the teacher Ezies Shehada."
CAMERA continues to call on Ha'aretz to either substantiate Shehada's claim or clarify that the airport authority disputes her account of a strip search.
Posted by TS at 05:34 AM | Comments (1)
March 02, 2014
When Media Cover for Palestinian Terror Groups
A Swiss Air flight hijacked in 1970 by the PFLP
Martin Kramer has excellently exposed how The New York Times covers for Rashid Khalidi ("New York Times: soft spot for Rashid Khalidi?"). (In case it's not clear, the job of a serious newspaper is to cover the PLO spokesman-cum-professor, not cover for him.)
On the other side of the Atlantic, another major media outlet was likewise busy covering for some not-so-nice types. Reporting on the killing of a Palestinian suspected of involvement with a series of a terror attacks, who was shot to death when he refused to surrender during an arrest operation, Agence France Presse stated on Friday:
Neighbours said the dead man was a member of the leftist Popular Front for the Liberation of Palestine.
Leftist as in the Israeli Meretz-types who advocate for an immediate Israeli-Palestinian peace deal? No, not so much like that.
The PFLP spearheaded international airlines hijackings in the 1960 and 1970s, carried out hundreds of terror attacks against Israel including the assassination of Israeli Tourism Minister Rechavam Ze'evi, calls for the destruction of Israel, and has been designated a terrorist organization by the European Union as well as the United States.
Posted by TS at 05:18 AM | Comments (1)