« Where's the Coverage? Muslim Scholar Says Israel Belongs to the Jews | Main | Oxfam on the Israel-Palestinian Conflict »
February 06, 2014
UN Group Compares ASA Boycott to Nazi Boycott of Jews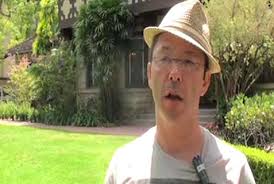 Curtis Marez, spokesman for the ASA boycott
An official body within UNESCO (United Nations Educational, Scientific and Cultural Organization) labeled the recent American Studies Association [ASA] boycott resolution against Israel as comparable to Nazi boycotts against Jewish academics.
According to an article in the Jewish Press
The statement comes from the Board of Trustees of the American Unit of the International Network of the UNESCO Chair in Bioethics, also known as the American Bioethics Culture Institute.
The official statement by the Board of Trustees contains the following:
While ASA may make the misleading claim that its actions are an exercise of academic freedom, in singling out Israeli academics for such a boycott, our Unit's work indicated that this immoral boycott, though not intended, is far more akin to actions of prominent Nazi academics in the early 1930′s, such as those German physicians who took leadership positions in the Nazi party and singled out their Jewish colleagues for boycott and expulsion from academic life and professional societies.
Dr. Omar Sultan Haque, a leading expert on why so many German physicians supported the Nazi boycott against Jews, asserted,
drawing an analogy between American academics and German physicians is not too much of a stretch, as both suggest deep Anti-Semitism.
Posted by SS at February 6, 2014 12:37 PM
Comments
Guidelines for posting
This is a moderated blog. We will not post comments that include racism, bigotry, threats, or factually inaccurate material.
Post a comment