« The Tripod: CAMERA Links in 3 Languages Dec.19--31 | Main | Facebook Admits the Obvious »
January 08, 2014
Where's the Coverage? The Truth about "The Wall"

St. James Church Piccadilly, in the heart of London, hosted an event called "Bethlehem Unwrapped," December 23 - January 5. According to the Web site, "Through music, food, art, poetry, debate and more Bethlehem Unwrapped goes behind the romanticised Christmas card images of the ancient city to show what life is like for people in Bethlehem today." Nothing wrong with that, you say?
The festival included an art installation, "The Wall," in the courtyard of the church, which it describes as "a life-size replica section of the 8 metre high Separation Wall that surrounds Bethlehem." Of course, the security barrier does not surround Bethlehem as the map below shows: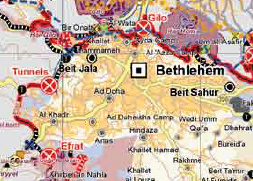 (This is an issue CAMERA is still pursuing with CBS News and "60 Minutes.")
In addition, the security barrier was erected to protect civilians in the wake of the terrorist onslaught known as the second intifada. In fact, the barrier has greatly reduced terrorist attacks, saving untold numbers of lives. The church does not belabor those facts, but does "acknowledge the government position that the wall was built for security reasons." See, that's the Israeli government position. Yet, church leaders claim not to be "taking sides."
The Israeli, Jewish and British press covered this "festival" but the mainstream American news media did not. That's fine. The Gatestone Institute published a tremendous open letter to the clergy of St. James by Denis MacEoin:
Your church has constructed a mendacious wall on its premises in order to make an ignominious political point, something I would not have believed you capable of. It is mendacious because it pretends that the entire separation barrier is a wall, when the wall actually covers about 1%. It is mendacious because it does not mention the 30 or so security walls and fences that have been built by other countries, many much longer than Israel's. It is mendacious because it carries no message to explain why it is there, when it is explicitly there to deter violent attacks from the West Bank into Israel. It is mendacious because it carries no statement alerting onlookers to the fact that the barrier has already saved thousands of lives. Or does saving lives really not matter to Christians? Or are Jewish lives not as important as the lives of suicide bombers and other terrorists? If you seek fairness — and I suspect that in a muddled way you do — why did you not contact the Israeli embassy, who could have loaned you something apposite: a bus on board which passengers died when a suicide bomber detonated himself?
And this is what few outlets cover: the feelings of terror victims.
In 2010, Kay Wilson was viciously stabbed by Palestinian Arabs in an attack that killed her friend, Kristine Luken. She wrote an open letter to St. James Church:
A true story…

"And it came to pass that in December 2010, two Palestinian shepherds left their little town near Bethlehem and set out to walk ten miles across the Judean Hills. There in the forest, they kept watch by night. The following day, at about the 6th hour (3pm) the shepherds saw two women walking along the Israel National Trail. With great fervour they took out their knives and attacked the women.

[…]

Thirteen times the shepherds thrust their knives into the women, breaking bones, tearing flesh, even impaling one to the ground. As the Jew played dead, she watched the Christian friend hacked to death before her very eyes…"

[…]

I would like to think that as Christians, you would never condone Kristine Luken's heinous murder or the attack on myself. I suspect however that you may rationalise this savagery as an inevitable result of the "Israeli occupation."

[…]

If your wall was scrutinised, one would see that underneath the whitewashed surface that concerns itself with Israeli policies, there are blocks of anti-Semitism. These bricks stand high.

[…]

Your wall is an affront to Kristine Luken and other victims of terror who may well have been alive today had there have been a wall erected on the other 90% of land that separates us from our Palestinian neighbours.

Your wall is an injustice to Christians living under Muslim despotism. Ironically it is the State of Israel, that you deem pariah and unjust, that is unique in the Middle East because unlike all of our neighbours, our Christian population is flourishing and our Christians have full religious rights.

Please write on your wall, under the cross, now obscured by the crescent…. "R.I.P Kristine Luken."

Sincerely
Kay Wilson
Certainly readers, viewers and listeners can only benefit from hearing this important point of view. So… where's the coverage?
Posted by SC at January 8, 2014 05:53 PM
Comments
well said by the lady. her friend was slaughtered by people who DO lock their houses even during the day, and their cars, for fear of harm. israel wants to keep its residents safe so the wall is there. people telling untruths or exaggerating the problem should come to israel to see for themselves BUT they won't because their lives thrive on hate and hurt. they have a vested interest in hate. their motto may well be "well, we have to have SOMEONE TO HATE. never mind what other countries are doing to our Christian brothers.our co-religionists, let's get the Jews" YOU CHURCH PEOPLE OUT THERE, LEARN HOW TO MAKE PEACE. IS THAT NOT WHAT JESUS TAUGHT. are you FOR Him or AGAINST Him.? HONEST NOW.
HONEST NOW, DO YOUR RELIGIOUS DUTY !!! or don't call yourselves Christians. PROMOTE PEACE AND UNDERSTANDING, ISN'T THAT WHAT YOUR CHURCH IS FOR? AND DON'T TELL LIES. THAT SAFETY WALL does not, does not, does not surround Bethlehem. but it sure saves lives.

' we ha
Posted by: sue desheh at January 9, 2014 02:47 PM
The Church obviously chooses to ignore the reality that the problems in the Arab/Palestine world would exist regardless of the existence of Israel. Arab/Palestine peoples live under tyrannical regimes. They lack freedom and human rights. Rulers have maintained control by pointing their fingers at a fabricated enemy, Israel. Why has the Church refused to recognize that Israel is a liberation movement of scapegoated Jews who have been persecuted for over 2,000 years in the European Christian world and now in the Middle Eastern world as well as the larger world, the United Nations.
Posted by: Norma Wolens at January 9, 2014 05:14 PM
Excellent comments by Mr. McEoin and Ms. Wilson. It is a sad fact that the less factual information people have the easier they are swayed by lies and hate. It is most unfortunately that the parishioners of St. James Church Piccadilly have allowed this abomination to be approved and constructed. It's also a shame that they are clearly unaware that some 25 years ago Bethlehem was more than 50% Christian, but under the so-called Palestinians only 5-10% of the Christian population remains—and they greatly fear for their safety.
Posted by: Barry Goldberg at January 9, 2014 06:22 PM
Guidelines for posting
This is a moderated blog. We will not post comments that include racism, bigotry, threats, or factually inaccurate material.
Post a comment