« CAMERA Analyst Appears on Michael Coren Show | Main | Video: Martin Luther King on Israel »
January 19, 2014
Clyde Haberman and the Siege Mentality
Ha'aretz's Chemi Shalev interviews departing New York Times journalist Clyde Haberman, who served as the paper's Jerusalem bureau chief in the 1990s.
Telling readers what he really thinks about Israel, Haberman does not hold back:
"All there is today is 'we're under siege, we're under siege.' Israel has built fences and barriers and walls all around it. It has basically built its own ghetto, its own Warsaw Ghetto, to keep everybody out." To which he adds, almost instinctively: "I know I'm going to get into trouble over that."
That a longtime New York Times reporter would compare the Warsaw Ghetto to Israeli security measures to protect its borders is astounding.
Also remarkable are Haberman's own intensive sentiments of siege, expressed alongside his rebuke of Israel for its siege mentality.
"Israel is the only assignment I ever had in which in four years I never once got a letter that said 'nice job.' If I would have gotten one, I would have had it embossed and put it on a wall, like a business does with the first dollar bill it makes" he said of his four-year stint in Jerusalem. Later, he adds: "Every Times person in Israel has been subjected to non-stop assault. People realize that it entails a lot of scrutiny, grief and verbal abuse."
He goes on:
We've had decades of correspondents that, no matter how different they've been one from the other, no matter how talented they are or how many Pulitzer Prizes they have to their name, always end up being accused of being either anti-Semites or self-hating Jews. At some point, this seeps into the DNA of the newspaper: This is what you can expect if you go there - to have your integrity hurled back in your face every single day.
Regarding Haberman's musings on Israel coverage, criticism and sieges, CAMERA's Gilead Ini tweets:
Curious about CAMERA's record on the reporter, this researcher visited the organization's paper archives, which predated our Web site, and covered the period when Haberman was Jerusalem bureau chief.
Though I did not find a single instance in which we called him an "idiot," "self-hating Jew," or "anti-Semite," the Winter 1994 CAMERA Media Report article reported, in part:
Haberman's patronizing tone toward Israeli security concerns tinges his entire perspective on relations between individual Jews and Arab and between Israel and neighboring states. He views Israel as suffering from an unwarranted siege mentality and "a streak of self-righteousness" (7/11/93) and he has ridiculed the nation's uneasiness about, for example, Syrian testing of advanced Scud missiles. He called these Israeli statements of concerns, "anti-Syria accusation" (8/92).
As for the CAMERA Web site, there is exactly one entry regarding the former bureau chief: A Sept. 12, 2001 "Thumbs Up" "for his recent reports from Israel and the Palestinian areas which give voice to the fears that Israelis live with daily."
So, Mr. Haberman, since you apparently missed it: Here's a parting gift from CAMERA: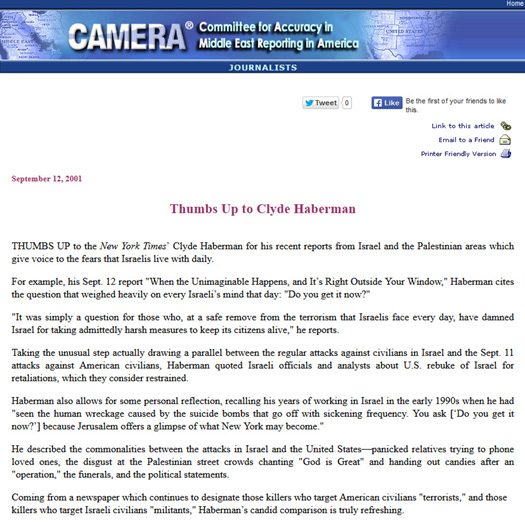 Feel free to emboss it and hang it on the wall. May it remind you, that at least at for one day, however fleeting, you did briefly recognize Israel's very real security concerns. And for that you were praised.
Posted by TS at January 19, 2014 04:55 AM
Comments
Come on, Clyde. We don't hate you; we're just being critical.

Posted by: Asher Garber at January 20, 2014 10:42 AM
Haberman follows the time-tested NYTimes method of concealing unsuitable,unfitting facts. For instance, he went to a news conference in Bagdad circa 1988 or 1989 in which he failed to report that the Iraqi defense minister of the time [Adnan Khairallah] frankly admitted or even boasted that Iraq was carrying out ethnic cleansing or, if you will, transfer of population from Kurdish areas bordering on foreign states like Turkey, Iran and Syria.
So Haberman follows the NYT rule of only the news that fits we print.
Posted by: Jack Schwartz at January 20, 2014 02:14 PM
Posted by: Craig at January 23, 2014 09:03 AM
Jack Schwartz, Haberman was following the New York Slimes' time-honored rule of writing only that "news" that fits his preconceived bias. Little or no difference between him and his editorial page editors! No doubt he'll be "elevated to that "exalted" status.
Posted by: Barry Goldberg at January 23, 2014 06:30 PM
Guidelines for posting
This is a moderated blog. We will not post comments that include racism, bigotry, threats, or factually inaccurate material.
Post a comment