« The Economist Publishes - Then Pulls - Anti-Semitic Cartoon | Main | Where's the Coverage? Gaza Sniper Sought Medical Treatment in Israel to Improve Sniping Ability »
January 22, 2014
Latest NY Times Anti-Israel Hit Piece Requires Corrections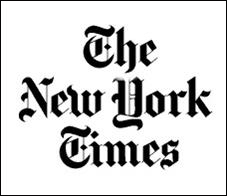 The New York Times' most recent hit piece against Israel is an Op-Ed today by former Palestinian Authority official Ali Jarbawi, now a contributing writer at the Times. Writing in the Times of Israel, Tamar Sternthal, director of CAMERA's Israel office, examines Jarbawi's falsehoods along with many other media falsehoods about Ariel Sharon:
. . . Falsehoods were not limited to Iran's Press TV, which unearthed long ago debunked bogus quotes attributed to Ariel Sharon, such as "We, the Jews, control America" and "Even today I volunteer to do the dirty work for Israel, to kill as many Arabs as necessary, to deport them, to expel and burn them . . . "

An op-ed today in The New York Times also attributes ambitions of ethnic cleansing to Sharon, although it doesn't bother with a supporting quote, real or otherwise. Ali Jarbawi, a political scientist at Birzeit University and a former minister of the Palestinian Authority, alleges that Sharon "wanted an ethnically pure Jewish state from the Jordan River to the Mediterranean Sea" ("The man who made peace impossible").

And basic factual issues are only modestly more reliable in the esteemed Gray Lady as opposed to the rabidly anti-Israel Iranian outlet. For instance, in an outright factual error which must be corrected, Jarbawi writes in the Times: "In 2000, he entered Al Aqsa mosque in Jerusalem, a holy Muslim site, which triggered the second intifada." In fact, Sharon had visited the Temple Mount, Judaism's most sacred site, and the plaza upon which the mosque sits. He did not "enter" the mosque.

In a second blatant error which the Times must correct, Jarbawi falsely states: "When he decided to withdraw from Gaza, Mr. Sharon was able to retain absolute Israeli control over the terrestrial, aerial and maritime borders of the Gaza Strip. . . " Times editors apparently overlooked the fact that Egypt, not Israel, controls its land border with the Gaza Strip.
Read the whole piece here.
Posted by TS at January 22, 2014 08:13 AM
Comments
Its the Palestinians led by their Munich Massacre war criminal president Abbas who wants a Jew Free state and who hopes to destroy all Jewish history in Jerusalem.
http://www.palwatch.org/main.aspx?fi=157&doc_id=5490
PA TV: Western Wall area to be turned into Arab housing neighborhood.
Palestinian Authority TV:
Western Wall area to be turned into Arab housing neighborhood -Jewish presence in Jerusalem will be erased from history.
Aug. 17, 2011
http://www.palwatch.org/main.aspx?fi=157&doc_id=3351
PA continues to teach denial of Israel's existence
Oct 5, 2010
Itamar Marcus and Nan Jacques Zilberdik
Last week, PA TV rebroadcast an educational documentary that has been broadcast numerous times since 2007. The documentary describes the Israeli cities of Haifa, Acre, Ashkelon, Jaffa and the Sea of Galilee as Palestinian.
Then this Palestinian liar Jarbawi tries to say Jews living in Liberated Jerusalem is colonialism.
Dr. Mordechai Kedar has a great video on Youtube which reveals: "Moslems fabricated myths to make Jerusalem holy for politics
http://www.youtube.com/watch?v=RrqnxYbi2P4
My comments.
Jerusalem has had a Jewish population majority since the late 1850s - that's 130 years already, before 'Palestinianism' was invented:
Jews were expelled from East-Jerusalem by the Jordanian occupation at 1948. They lived in East-Jerusalem for thousands of years. They returned to their homes after Israel liberated the city in 67.
Jerusalem was never in history the capitol of any Arab country.
ISRAEL which is defending itself against Pan-Arabism, Arab imperialism and Arabization of the Middle East - that is the "problem Ali Jarbawi don't like.
The real problem is global Arab/Moslem insistence to spread hate, violence, wars, terrorism, lies, false accusations against Jews and reducing Jews to subhumans or second class citizens - slaves or servants - without any human rights.
Posted by: Ken Kelso at January 22, 2014 05:58 PM
Guidelines for posting
This is a moderated blog. We will not post comments that include racism, bigotry, threats, or factually inaccurate material.
Post a comment