« December 2013 | Main | February 2014 »
January 30, 2014
UPDATED: Reuters Headline Falsely Accuses Israel of Threatening Civilians
A Reuters article about an Israeli military general's warning to Hezbollah over its establishment of thousands of terrorist bases within residential buildings was published under the following erroneous headline: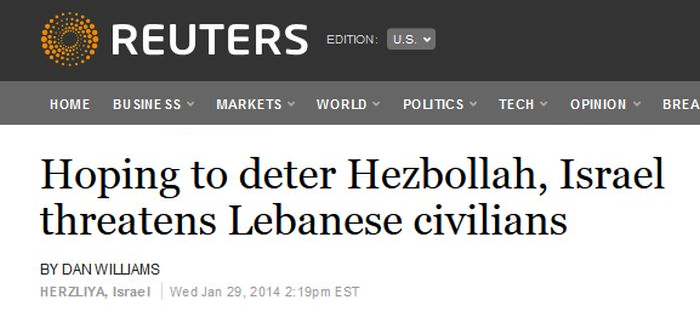 In fact, the article makes clear that Israel did not threaten any Lebanese civilians. Rather, Israel's Air Force chief, Major General Amir Eshel called out Hezbollah for establishing thousands of terrorist bases within residential buildings and warned that the Israeli army would not be deterred from retaliating for attacks launched from within these quarters. The article quotes Maj.-Gen. Eshel:
"We will have to deal aggressively with thousands of Hezbollah bases which threaten the State of Israel and mainly our interior," Eshel said in a speech, citing Beirut, the Bekaa Valley and southern Lebanon among the locations of the bases.
Compare Reuter's erroneous headline with the Jerusalem Post headline on the same topic:
CAMERA contacted Reuters to change the erroneous headline to one that reflects the content of the story, but thus far, the misleading headline still remains. Can it be that Reuters editors prefer to defame Israel with false innuendo or is this merely a sloppy oversight?
UPDATE: CAMERA heard back from a Reuters editor who refuses to change the headline and suggests it is not "misleading" because the warning to Hezbollah does not "exclude" a threat against civilians, so no, this is not merely a sloppy oversight.
Posted by RH at 11:33 AM | Comments (1)
Malcolm Lowe Lifts the Veil on the Heads of Churches in Jerusalem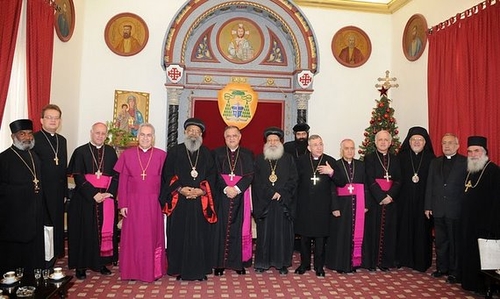 Christian Clergy in Jerusalem. (Latin Patriarchate)

Malcolm Lowe, a New Testament scholar living in Jerusalem, pays very close attention to Christian leaders in the Holy City. In his latest piece in the Gatestone Institute, Lowe provides some very funny detail about how statements have previously been issued by the Heads of Churches in Jerusalem, who are oftentimes put forth as the voice of the Palestinian Christians despite the fact that some of these leaders are not Palestinian. Lowe reports the following about the churches in question:
Seven of them are not Palestinian churches: the (two) Armenian, Coptic, (two) Syrian, Ethiopian and Maronite ones. They are headed by non-Palestinians and their members are not Palestinians or even ethnic Arabs. The Copts, for example, are descendents of the pre-Islamic population of Egypt, since Islamic law forbids the marriage of Muslim women to Christian men, while reckoning as Muslims the children of a Muslim man and a Christian woman. The Armenians and Syrians are descendants of refugees from the genocides of World War I in Turkey; there were massive killings of Syrian and Greek Christians in Turkey as well as of Armenians. The Maronites, as one of their Heads once charmingly explained to us, call themselves "Arabs" when they are politically weak but "Phoenicians" when they are politically strong.

The other six bodies include Palestinians, but the Greek Orthodox Patriarch is always Greek (together with most of the upper hierarchy), the Franciscan Custos is an Italian, and the Greek Catholics are usually headed by a Syrian, though currently by an Egyptian whose mother was Greek. Thus only three of the thirteen Heads were Palestinians [between 1988-2008], though within living memory even these three always came from Italy (the Latins), the UK (the Episcopals) and Germany (the Lutherans, before the Arab congregations separated from the Germans and became an independent church).

On the other hand, their constituencies are not only Palestinian, but include Israel and Jordan. The Greek Patriarchate stretches as far as the Gulf States, the Latin Patriarchate includes Cyprus, the Episcopal Diocese includes Lebanon and Syria, while the Franciscans come from all over the world. Moreover, with the exception of the Arab Lutherans, the churches that have Arab members have far more of them within the State of Israel than in the territories of the Palestinian Authority.

Thus it is ridiculous to speak of the thirteen as if they were Palestinian churches headed by Palestinian Christians. (Emphasis added.)
But there's more. Lowe also the devious behavior of Michael H. Sellors, a prominent Anglican who made his mark in Jerusalem before his death in 2010. Lowe writes:
During 1997-2002, Sellors was Dean of the Episcopal St. George's Cathedral. Upon his retirement, he decided to stay on in Jerusalem instead of returning to his old diocese in England, where he was rumored to have a wife. His eccentric appearance and manners made him known to some as "Mad Mike." But if you have read the Barsetshire novels of Anthony Trollope, the favorite author of the late British PM Harold Macmillan, you would not be surprised by strange Anglican clerics.

Although Sellors no longer had a mandate, the Heads of Churches let him continue to coordinate their occasional meetings and business, while he continued to style himself "Very Rev'd." He found lodging through the generosity of one monastery or another. Only now there were fewer restraints on his composition of messages. One hopes that one or more of the Heads of Churches scrutinized his Christmas and Easter messages, but other messages were prompted by sudden turns of event. The messages went out by what might be called the "Mad Mike maneuver." That is, they were sent to the offices of all the Heads of Churches with a note to the effect that "this will go out at midday if I do not hear from you." Never mind if, as happens to prelates with widespread dioceses, some of the Heads of Churches were out of the country.
Read the whole thing.
Posted by dvz at 11:30 AM | Comments (0)
Scarlett Johansson Ends Her Connection With Oxfam
Movie star Scarlett Johansson has dealt decisively with the controversy surrounding her serving as the global brand ambassador for the Israeli company Sodastream and as goodwill ambassador for Oxfam. She has given Oxfam the boot, graciously, of course.
Sodastream has a factory in the West Bank that employs more than 500 Palestinian Arabs, making it the largest employer of Palestinians in the West Bank outside of the Palestinian Authority. It pays higher wages than other comparable jobs in the West Bank. But none of that matters to Oxfam. Sodastream has become a visible target of the anti-Israel boycott, divestment and sanctions campaign [BDS]. Oxfam supports the BDS campaign. The British-based charity has long been antagonistic toward the Jewish state.
Johansson's spokesman said of the 29-year-old actress,
She and Oxfam have a fundamental difference of opinion in regards to the boycott, divestment and sanctions movement... Scarlett Johansson has respectfully decided to end her ambassador role with Oxfam after eight years.
Oxfam for its part released a statement claiming,
Oxfam believes that businesses, such as SodaStream, that operate in settlements further the ongoing poverty and denial of rights of the Palestinian communities that we work to support. Oxfam is opposed to all trade from Israeli settlements, which are illegal under international law.
Johansson, who has repeatedly topped a number of polls as the sexiest woman alive, is part Jewish by heritage. Her mother is Jewish.

Posted by SS at 10:12 AM | Comments (3)
January 29, 2014
News You Might Have Missed
On Jan. 31, the annual Munich Security Conference will resume. This year, Iranian Foreign Minister Mohammad Javad Zarif has been invited to attend. He will hold discussions with Carl Bildt, the former Prime Minister of Sweden and others to discuss Iran's nuclear program. This was reported by the Iranian news agency Farsnews and announced in the official Munich conference press release. But it received scant attention in the U.S. media.
The New York Times did carry a report on Jan. 28 announcing the convening of the conference, but made no mention of Zarif's planned attendance.
Also, on Jan. 14, National Security Council spokesman Caitlin Hayden issued the following statement:

The United States condemns the decision taken by Iranian Foreign Minister Mohammad Javad Zarif Khonsari to place a wreath at the grave of Imad Mugniyah, a former leader of Lebanese Hezbollah responsible for heinous acts of terrorism that killed hundreds of innocent people, including Americans. The inhumane violence that Mugniyah perpetrated and that Lebanese Hezbollah continues to perpetrate in the region with Iran's financial and material support -- has had profoundly destabilizing and deadly effects for Lebanon and the region.

The decision to commemorate an individual who has participated in such vicious acts, and whose organization continues to actively support terrorism worldwide, sends the wrong message and will only exacerbate tensions in the region.
The reason you might not have heard about this is that it got little coverage. It was briefly noted by The New York Times, buried in the middle of an article on U.S. and Iranian relations by Mark Landler on Jan. 17 and at the end of a piece by Rick Gladstone on proposed Iranian sanctions legislation on Jan. 14. This was how Gladstone's piece introduced the topic:
The Foundation for Defense of Democracies, a Washington-based group that supports tough sanctions, criticized Mr. Zarif on Tuesday for paying respects on Monday in Beirut, Lebanon, at the grave of Imad Mughniyeh, an assassinated commander in the military wing of Hezbollah, the Shiite political organization allied with Iran.
The placement of the Foundation for Defense of Democracies, which is tainted by the fact that it is lobbying for sanctions against Iran, in front of the statement by the U.S. government, is interesting. The Times can't quite get themselves to describe this arch-terrorist as a terrorist and they have to let us know that the people who brought the story to our attention - and do describe Mugniyah as a terrorist - are supporters of tough sanctions. Mugniyah is unambiguously a terrorist and that is what he is known for, not for being a military commander.
The man the Iranian Foreign Minister was paying homage to, Imad Mugniyah, was Hezbollah's chief planner of terrorist attacks. He was widely suspected of being behind such acts as the U.S. embassy bombing in 1983 that killed 63 and the bombing of the U.S. Marine barracks that killed 241 Marines stationed in Beirut as peacekeepers. He was tied to the kidnapping and torture of CIA station chief William Buckley, and the hijacking of TWA flight 847 in 1985 during which navy diver Robert Steetham was murdered. He is also strongly suspected to have been involved in the terrorist bombings against Jewish targets in Argentina that caused the deaths of over a hundred people.
He was also suspected of involvement in the cross-border attack that resulted in the deaths of eight Israeli soldiers and kidnapping of two more in 2006. He was assassinated in Syria in 2008.


Posted by SS at 03:04 PM | Comments (0)
Wikipedia's "Lion of God" Bites Journos
Fittingly for a man with such a varied life, Ariel Sharon was known by many nicknames. The troops under his command in the Yom Kippur War famously dubbed him "Arik, King of Israel." Supporters and critics alike referred to Sharon as "the Bulldozer." Following the massacres by Lebanese Christian militia at Sabra and Shatilla, many in Arab world called him the "Butcher of Beirut."
But numerous recent news reports cited a nickname which appears to have no historical basis:
CNN:
During the 1973 Yom Kippur War, Sharon earned the nickname "The Lion of God" among Israelis for surrounding Egypt's Third Army and, defying orders, leading 200 tanks and 5,000 men across the Suez Canal -- roughly 100 miles from Cairo.
Dubbed the "Lion of God," Sharon, 85, goes down in history as a maverick military leader
On January 4, 2006 Ariel Sharon, the former prime minister of Israel, one of the founding fathers of the state and a warrior known as "the Lion of God", suffered a massive stroke and cerebral haemorrhage that would have killed a weaker man.
BBC:
Such was his reputation as a military commander that some accounts of his army career say he was nicknamed the Lion of God after a particularly daring tactical parachute operation against Egypt in 1967 in the Sinai desert.
During the 1973 Yom Kippur War, he earned the nickname 'The Lion of God'
Lion of God is an unlikely nickname for a man whose Hebrew first name is Ariel. The name Ariel could and has been interpreted as meaning lion of God, (Ari=Lion El=God) though it is more commonly associated with Jerusalem. In other words, in Hebrew, Sharon's given name is indistinguishable from the supposed "Lion of God" nickname.
Moreover, comprehensive searches for historic references to Sharon as "Lion of God" did not turn up any results prior to 2012. Exhaustive online searches in Hebrew and English and in various biographies did not yield a single example of anyone ever having referred to him as the "Lion of God." Likewise, the head of Israel's state archives, a historian in his own right, had never heard of this moniker for Sharon.
The earliest known reference to "Lion of God" as a nickname for the late prime minister is Wikipedia's entry for "Ariel Sharon." According to the edit history, the reference to "Lion of God" was added on March 2, 2012:
Sharon was considered the greatest field commander in Israel's history, and one of the country's greatest military strategists.[2] After his assault of the Sinai in the Six-Day War and his encirclement of the Egyptian Third Army in the Yom Kippur War, the Israeli public nicknamed him "The King of Israel," and "The Lion of God",[2] a pun on his given name.
Wikipedia's supposed source for the nickname, a 1982 New York Magazine article on Sharon, does not at all mention "Lion of God." In response to CAMERA's query, the Wikipedia editor responsible for the "Lion of God" addition could not cite any other source. The Wikipedia page has yet to be corrected.
Whether or not Ariel Sharon was known as the "Lion of God" is of little historical consequence.
What is notable, however, is that all too many respectable media outlets (and Al-Jazeera) have apparently not drawn the necessary conclusions about relying on Wikipedia following the 2009 phony quote fiasco.
-- By Gidon Shaviv
Posted by TS at 05:21 AM | Comments (1)
January 28, 2014
The Tripod: CAMERA Links in 3 Languages Jan. 10-27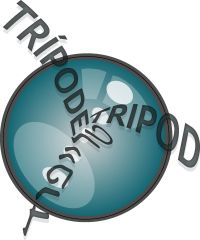 Spanish Posts
Journalistic reaction: voluntary or involuntary?
A chain of events becomes news whenever Israel is involved. Israel's involvement seems to spur journalists into action. (ReVista de Medio Oriente)
Based on reality
Taking off from an actual event, Euronews created a story that was more fictional than true. (ReVista de Medio Oriente)
The importance of a headline
The Mexican newspaper El Informador apparently tried to create an alternative reality regarding the Israeli-Palestinian conflict with the use of a biased headline. (ReVista de Medio Oriente)
Who does not want to negotiate?
The Spanish-speaking media seems to prefer to present a false scenario in which Israel , a priori, is the very "cause" of the conflict and, therefore, the "obstacle" to peace. (ReVista de Medio Oriente)
Negev Bedouin: what the Spanish speaking press didn't tell
A backgrounder about the historical, legal and socio-economic context of the existing problem between the Bedouin of the Negev and the State of Israel. (ReVista de Medio Oriente)
How to write an inaccurate text in a few steps
The headline of a report by the Argentinean news agency Télam presented as fact an allegation by the partisan NGO Peace Now that was refuted by official sources. (ReVista de Medio Oriente)
Middle East headlines in the Spanish speaking press
Read the headlines of the week in papers from Argentina, Chile, Colombia, Mexico, Spain, Venezuela and others.(ReVista de Medio Oriente)
Palestinian terrorists receive monthly salaries from Palestinian Authority, while the press remains silent
Palestinian terrorists with "blood in their hands" imprisioned in Israel receive a higher monthly income than Palestinian civil servants, but this doesn't seem to be an interesting subject for any of the Spanish speaking media when they talk about Palestinian prisioners. (ReVista de Medio Oriente)
Silence of the journalists
When it comes to reporting on the Israeli-Palestinian conflict, there seems to exist a non-written canon among Spanish media, stipulating that nothing should be published that questions the "victimhood" of the Palestinians. (ReVista de Medio Oriente)
Definition and verdict
The Spanish speaking media, self-appointed judges, designate the disputed territories as "Palestinian territories", feigning ignorance of the historical and legal facts. (ReVista de Medio Oriente)
The Trial
The media coverage of Ariel Sharon's death reveals that Israel, and its leaders, can always be blamed -- even when the matter if accusations are completely false, as in Kafka's novel. (ReVista de Medio Oriente)
Imagine
A journalist must tell readers what has actually happened, not what he believes should happen. But the latter is precisely the case in the Spanish newspaper El País, reporting on the death of former Prime Minister Ariel Sharon. (ReVista de Medio Oriente)
So what does Mahmoud Abbas want to discuss with Israeli Leaders?
In recent statements, PA President Mahmoud Abbas has made it clear that he has no authority to negotiate peace with Israel. (ReVista de Medio Oriente)
Rewriting History
Spanish News Agency Europa Press shapes the facts surrounding the Arab-Israeli Conflict according to the Palestinian narrative. (ReVista de Medio Oriente)
Simplification and misrepresentation
Argentinean news agency Télam whitewashes the actions of Palestinian terrorist groups, while simultaneously labeling the State of Israel as having "aggressive policies of reprisal". (ReVista de Medio Oriente)
Where's the coverage?
Spanish speaking journalists have had enough time to notice the constant incitement against Israel by the Palestinians. This contradicts the notion that they are seeking peace with their neighbor. But the media prefers not to hear. (ReVista de Medio Oriente)
Taking sides
The Argentine news agency Télam has endorsed the Palestinian speech on the disputed territories, leaving aside the journalistic professionalism. (ReVista de Medio Oriente)
For Europa Press, the Israeli version is unnecessary
The Spanish news agency reproduced as an unquestionable fact the statements of a Jordanian official regarding the rejection of Israel's plans to build an airport in Israeli territory, while obviating the version of the Jewish State. (ReVista de Medio Oriente)

English Posts
Review of Fall Semester 2013: Sgt. Benjamin Anthony at the University of Delaware
Read on to learn about Sgt. Benjamin Anthony's Lecture at the University of Delaware. (in Focus)
Brooke Goldstein at CUNY Baruch College
Read on to learn about Brooke Goldstein's Lecture at CUNY Baruch College. She is a human rights lawyer committed to raising awareness about and combating the indoctrination and recruitment of children for suicide terror operations, as well as other violent activities. Brooke also produced an award-winning movie entitled Martyr, which investigates juvenile suicide terror. (in Focus)
Building Peace at USF
A piece by the CAMERA Fellow at the University of South Florida, Danielle Haberer. (in Focus)
United Nations Human Rights Council: Is it legitimate?
The United Nations Human Rights Council doesn't seem to care too much about the plight of the Syrians. Our CAMERA Fellow at UMass-Amherst writes about the legitimacy of this branch of the UN. (in Focus)
BBC exploits Sharon's death for more promotion of second Intifada falsehood
BBC coverage both before and after the death of Ariel Sharon showed intensive promotion of the myth that his Temple Mount visit started the second Intifada. (BBC Watch)
Breaches of editorial guidelines in BBC WS 'Newshour' special Sharon broadcast
Just one hour after the announcement of the death of Ariel Sharon, the BBC World Service opened its coverage with defamatory remarks from Mustafa Barghouti. (BBC Watch)
Goodbye, Harriet Sherwood: Three years covering Gaza and no lessons learned.
Harriet Sherwood's latest 'love letter' to Gaza perfectly illustrates the egregious pro-Palestinian bias in her coverage of the region during her three years as the Guardian's Jerusalem correspondent. (CiF Watch)
CAMERA Partners with Drexel Hillel on Birthright Trip
CAMERA partners with Drexel Hillel to encourage Birthright students to get involved with Israel activity on campus. (in Focus)
Who is Edward Said and why is his picture on a mural at Cesar Chavez Center?
Kayla Wold, our Fellow at San Francisco State University, writes about the mural on her campus devoted to a man who wanted Israel destroyed. (in Focus)
Hebrew Posts
Ma'ariv's Archeological Discovery
Ma'ariv publishes a story on a newly found water tunnel. They apparently forgot that they already "just found" the same tunnel nine months ago. (Presspectiva)
Every Paper Has Their Own "Nazi"
The pictures used to illustrate the coverage of a suggested bill to prohibit some uses of the word "Nazi" reveal each paper's own bias (Presspectiva)
Israeli Demography 101
What are the actual statistics about the Israeli birthrate? (Presspectiva)
Did Ariel Sharon Ignite the Second Intifada
Examining the claim that Sharon's visit to the Temple Mount is to blame for the Second Intifada (Presspectiva)
Ha'aretz Buys Into Palestinian Double Speak
Is a Ha'aretz editorial correct in claiming that no senior member of the Palestinian Authority has called for the destruction of Israel? (Presspectiva)
Did Netanyahu invent the demand that Israel be recognized as a Jewish state?
The short answer is no. The longer answer is still no. (Presspectiva)
What was the update to the Canadian policy paper regarding Israel?
Ha'aretz stresses the fact that Canada had just updated their policy paper on Israel. We checked what the changes were. The result may surprise you. (Presspectiva)
Why did President Truman cross out the words "Jewish State" from the USA recognition of Israel
The Palestinian Authority claims President Truman intentionally removed the words "Jewish State" from the US recognition of Israel. An Israeli paper repeated the lie without any fact-checking. The truth is a charming story from the first minutes of the new Israeli state. (Presspectiva)
Posted by RH at 11:48 AM | Comments (0)
EU Statement Commemorating the Holocaust Omits Mentioning the Jews
An official statement on Holocaust Remembrance Day commemorating the victims of the Holocaust issued by EU High Representative Lady Catherine Ashton, does not identify who those victims were. The brief statement reads,

The High Representative of the European Union for Foreign Affairs and Security Policy and Vice President of the Commission, issued the following statement today:

Today the international community remembers the victims of the Holocaust. We honour every one of those brutally murdered in the darkest period of European history. We also want to pay a special tribute to all those who acted with courage and sacrifice to protect their fellow citizens against persecution.

On Holocaust Remembrance Day, we must keep alive the memory of this tragedy. It is an occasion to remind us all of the need to continue fighting prejudice and racism in our own time. We must remain vigilant against the dangers of hate speech and redouble our commitment to prevent any form of intolerance. The respect of human rights and diversity lies at the heart of what the European Union stands for.
Could it have been a simple oversight, or is there something more sinister going on?
Intolerance, racism and prejudice are found in all societies. And mass murder has occurred before and since the Holocaust. But the Holocaust specifically refers to the use of modern technology and killing factories to erase the Jewish people. On the day specifically named Holocaust Remembrance Day it might be appropriate to specify who the victims were.
Lady Ashton's strangely vague statement might not have raised questions had it not been for her reputation as being less than sympathetic toward Israel. Also, recent years have witnessed attempts to twist remembrance of the Holocaust into a weapon to defame Israel by turning the Palestinians into the victims of a Zionist "genocide." The film Defamation is one example of this trend.
Elder of Ziyon points out some other disturbing examples of the transformation of Holocaust Remembrance Day. In England, a Muslim educator with links to an Islamic network that includes extremists gave an invocation at London's City Hall. In France, a "Day of Anger" march featured demonstrators chanting "Jews go Home" and "Jews, France is not your country". The chants are ironically reminiscent of the chants heard many years ago in Germany, "Juden raus."
Posted by SS at 11:45 AM | Comments (3)
AFP Gives New Life to Old Settlements (and Neighborhoods)
In the alternate reality in which Agence France Presse lives, Tel Aviv advocates settlement expansion, Israel approved the "new" settlements of Pisgat Zeev, Ariel, Har Homa, Efrat, Gilo, Beitar Illit and Ramat Shlomo. AFP, the French wire service, tweeted this Infographic yesterday:
The graphic's creator, John Saeki, AFP's graphics editor in Hong Kong, also tweeted:
Of course, Israel did not approve a single new settlement in 2013, though it did approve additional homes in well established West Bank locations like Ariel, Maale Adumim and Efrat, as well as Jerusalem neighborhoods over the Green Line, such as Ramat Shlomo, Gilo and Har Homa.
The New York Times recently corrected a virtually identical error: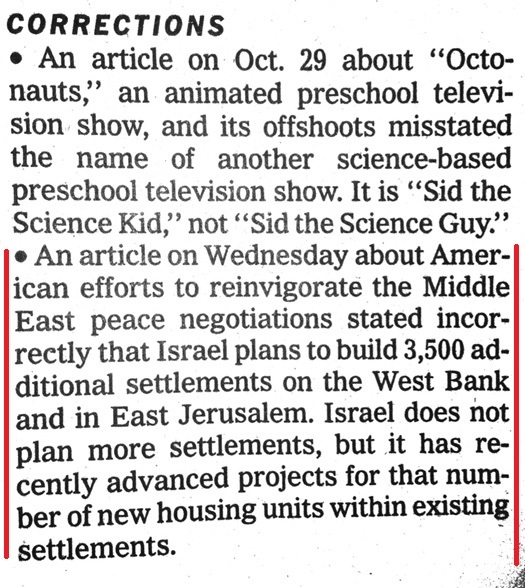 Hat tip: Judge Dan
Posted by TS at 07:31 AM | Comments (0)
CAMERA Wins Hasby Award
CAMERA is delighted that popular blogger Elder of Ziyon has selected CAMERA as the 2014 winner of the Hasby Award in the category of Best Mainstream Media Watchdog. Elder writes:
Besides having a stellar year with dozens of articles showing bias in the New York Times alone (and forcing many corrections), CAMERA also freely released its monograph on that paper detailing its bias during 2011. They were in the forefront of identifying systemic Christian anti-Zionist trends. And they also oversee their fellow nominees, the excellent CiFWatch and BBCWatch, as well as Presspectiva and a couple of other specific sites for Spanish speakers and college students.
In addition to our successful Spanish site, ReVista de Medio Oriente, and our popular student site, CAMERA On Campus, CAMERA also has a Six Day War site, another valuable resource. New York Times corrections prompted by CAMERA are available here.
CAMERA wishes Elder of Ziyon continued success with his influential blog.
Posted by TS at 04:58 AM | Comments (0)
January 27, 2014
Where's the Coverage? Fatah Official Calls for 'Resistance'

Western media, which have demonstrated a keen interest when Israeli officials have criticized American efforts to advance a peace agreement between Israel and the Palestinians, have reacted to a Palestinian official's rejection of Secretary of State John Kerry's efforts with . . . . resounding silence.
The Palestinian Maan News Agency and Ha'aretz both reported what you can't read in the international media.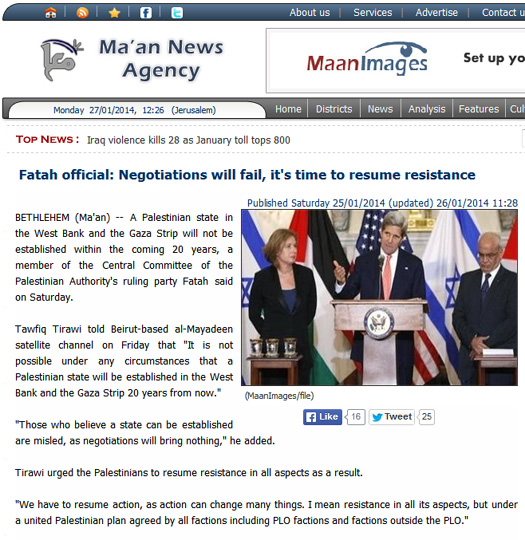 Where's the coverage?
Posted by TS at 05:22 AM | Comments (2)
January 26, 2014
U.S. Congress Letter Condemns ASA Boycott
134 representatives of the United States Congress signed a letter to Curtis Marez, former President of the American Studies Association [ASA], condemning the ASA Boycott of Israeli academic institutions.
The letter states that the "decision to blacklist Israeli institutions... demonstrates a blatant disregard for academic freedom." It also protests the decision to single out Israel as "thinly veiled bigotry and bias against the Jewish state." It praised the more than 100 university presidents for rejecting what it calls "this morally dishonest double-standard..."
The signers of the letter were a notably bipartisan group.
Posted by SS at 05:02 PM | Comments (0)
AFP: Tel Aviv Pushes Settlement Expansion
Tel Aviv Mayor Ron Huldai, a closet advocate of settlement expansion?
Is the secular, liberal city of Tel Aviv, and Mayor Ron Huldai of the leftist Labor Party, secretly advocating settlement expansion? If so, Agence France Presse has a scoop!
According to an AFP article last week ("Israel PM urges European 'fairness' in Mideast," Jan. 23):
Netanyahu's comments came after a diplomatic row sparked by four EU states lodging a formal protest against Tel Aviv's drive to expand settlements on the West Bank.
Unfortunately for the French wire service, this is no scoop. Rather, it's an erroneous identification of Israel's capital. Journalists frequently use the capital as shorthand to refer to a nation's government.
The seat of Israel's government, its capital, is Jerusalem. The Prime Minister's bureau is located in Jerusalem, next to the Foreign Ministry, the Bank of Israel, and across the street from the Supreme Court and the Knesset.

Other media outlets which erroneously referred to Tel Aviv as Israel's capital have corrected. For instance, The Washington Post commendably corrected on March 30, 2012:
A March 21 A-section article about President Obama's annual message to the Iranian people incorrectly referred to Tel Aviv as the capital of Israel. Israel designated Jerusalem as its capital in 1950, although many countries maintain embassies and other diplomatic missions in Tel Aviv because of the Palestinians' competing claim on Jerusalem as their capital.
Posted by TS at 07:59 AM | Comments (1)
The NYT and the Facts on the Wall
Not a "wall": More than 91 percent of the barrier is made of fences, ditches and barbed wire. (Image from Israeli Defense Ministry)
We were still waiting for The New York Times to correct factual errors in the Jan. 22 Op-Ed about Ariel Sharon by former Palestinian Authority official Ali Jarbawi, when we spotted yet another Times Op-Ed which botched the facts on Israel.
In "The walls that hurt us," Marcello Di Cintio writes:
Israel built a wall around Palestine and recently completed a fence along its Egyptian border.
While it is unclear exactly territory Di Cintio has in mind when he writes "Palestine" -- does this mean the West Bank, the West Bank and Gaza, Palestinian controlled territory in the West Bank? -- he is incorrect regardless.
With respect to the Gaza Strip, a fence, not a wall, separates Israel from Gaza. In her Jan. 3, 2014 article, for instance, The Times' Isabel Kershner correctly refers to the Gaza "border fence" repeatedly.
As for the separation barrier, which runs roughly along the Green Line between Israel and the West Bank, and at times dips more deeply into the West Bank, it is largely a fence. As the United Nations' Office for the Coordination of Humanitarian Affairs reported in July 2011, the barrier's total length is approximately 708 km, and around 61 km of the barrier consists of 8-9 meter high concrete wall. In other words, according to the United Nations, just 8.6 percent of the barrier is a wall. The rest consists of "fences, ditches, razor wire, groomed sand paths, an electronic monitoring system, patrol roads, and a buffer zone."
According to Dany Tirza, who was the IDF's chief architect for the barrier, "less than 5% percent of the project is a concrete wall" (Al Monitor, July 1, 2012, emphasis added).
Again, Kershner accurately reported that Israel's West Bank separation barrier "is made up mostly of a fence, barbed wire and ditches" (Oct. 29, 2009). Similarly, she commendably reported March 21, 2009, "Most of the barrier is made up of a wire fence flanked by barbed wire, a trench and patrol roads. In some urban areas, particularly around Jerusalem, it takes the form of a looming concrete wall."
CAMERA has contacted Times editors to request the correction. Meanwhile, CAMERA employs multi-media to communicate its concerns regarding the paper's systemic slant against Israel. The latest venue: a large billboard on a looming concrete wall opposite The New York Times building.

Posted by TS at 05:59 AM | Comments (0)
January 24, 2014
Where's the Coverage? War Looms in Gaza
Three recent reports warn of the potential for new warfare between Israel and Palestinian terrorists in the Gaza Strip led by Hamas. But the material—two news reports and one transcript with video—comes from two non-American news media and a research institute, respectively. It has yet to appear, except fragmented in news briefs, in U.S. news outlets.
"Recent history seems to be repeating itself in the Gaza Strip. The clocks have been wound back to the weeks prior to the destructive eight-day conflict fought between Israel and Hamas in November, 2012 .… Just three weeks into 2014, Palestinian militants have fired more than 20 rockets into Israel, compared with roughly 40 total during 2013," writes Daniel Nisman in The Wall Street Journal—Europe ("War Looms in Gaza; Hamas and its partners in Tehran are setting the stage for the next conflict," January 23).
"Hamas has made preparations to outdo itself during the next conflict with Israel. It has test-fired numerous long-range, homemade T-75 rockets, which can reach Tel-Aviv's high tech center and Jerusalem's holy sites."
Ynetnews.com's Elior Levy examined Hamas' preparations, including an extensive tunnel system below the Strip and cameras and other intelligence-gathering devices above it on mosque minarets and other buildings. In addition, Levy reported, rocket launchers are being hidden more thoroughly than before, including in and under buildings in residential areas ("Rockets and tunnels: Hamas preparing for next conflict," January 24).
A week before, at graduation from Hamas camps in which thousands of young people apparently were trained for war against Israel, Hamas' minister of education, Fathi Hammid, congratulated them "on your coming future victory, and on the annihilation of Israel …. You will harvest the enemies of Allah in the battle to come" (Hamas' Al-Aqsa TV, January 16, from a clip provided by MEMRI, Middle East Media Research Institute, the same day).
Ismail Haniyeh, prime minister of the Hamas government in Gaza, told the graduates "we shall walk in [Mohammed's] footsteps in educating the future generation to love death for the sake of Allah as much as our enemies love life. This is the generation that will be qualified for liberation, victory, return and independence."
Hamas, reportedly in renewed partnership with Iran, and smaller terrorist groups in the Gaza Strip including Palestinian Islamic Jihad, may wish to reopen war with Israel for its own sake. It may seek to block any potential achievements in talks between Israel and the Fatah-led Palestinian Authority on the West Bank. And it may wish to help divert international attention from Iranian military support for Syrian dictator Bashar al-Assad and Iran's insistence that agreement with Western countries over its nuclear program is a victory for Tehran.
If so, renewed combat with Israel might make sense. Developments seem newsworthy, so where is the coverage?

Posted by ER at 03:37 PM | Comments (0)
Angela Davis Uses MLK Day Speech to Defame Israel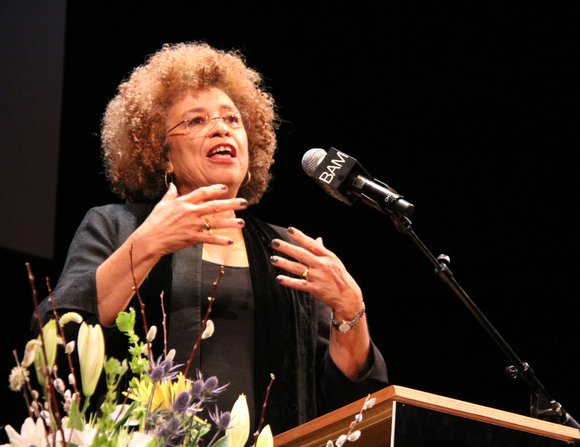 Angela Davis, once associated with the Black Panther Party, gave the keynote address for the 28th annual celebration of the Rev. Martin Luther King Jr. at the Brooklyn Academy of Music. In attendance were newly elected New York City Mayor Bill de Blasio and first lady Chirlane McCray, Brooklyn Congressman Hakeem Jeffries, and Brooklyn Borough President Eric Adams. Also present according to the Amsterdam News was Police Commissioner Bill Bratton.
Davis gained notoriety and icon status among many on the far left in 1970 because she had purchased the weapons used in a courtroom hostage-taking incident that resulted in the deaths of a judge and three black convicts and serious injuries to several female hostages. She traveled to Cuba and later became a Vice-Presidential candidate for the Communist Party of the United States. She was a Professor of the History of Consciousness and Feminist Studies at the University of California at Santa Cruz for many years and is now a distinguished Professor Emerita.
Davis is an outspoken advocate of the Boycott, Divestment and Sanctions campaign against Israel. Toward the end of her address to the students, Davis offered some comments about Israel:
So it should be pointed out that countries like Israel use carceral technologies developed by the prison industrial complex not only to control the thousands of Palestinians and prisoners behind bars, but also to control the everyday lives of Palestinians who live on the West Bank and in Gaza and inside Israel. These carceral technologies, separation walls for example, are material constructs of Israeli apartheid.
Posted by SS at 03:32 PM | Comments (4)
January 22, 2014
Where's the Coverage? Gaza Sniper Sought Medical Treatment in Israel to Improve Sniping Ability

Last month, The Algemeiner reported:
Israel's General Security Service (Shin Bet), with the assistance of the country's police department, arrested a Gazan terrorist sniper earlier this month who had requested to enter Israel on humanitarian grounds, for medical treatment that would improve his sniping ability.

[…]

The detainee, Mohammed Saber Abu Amsha, – a member of the Gaza al-Aqsa Martyrs Brigades from Beit Hanun - was planning "an elaborate sniping attack against an IDF patrol along the Israel-Gaza security fence in which he would act as the sniper," the IDF said.

Suffering from "an eye condition which impaired his sniping ability," he requested to enter Israel by way of a special humanitarian entry permit. "The attack was postponed until his return to Gaza once his eyesight was to be restored," the IDF said.
The technical term for this is "chutzpah." The same term applies to the media completely ignoring this news.
Strikingly, at that very time, news outlets were covering the fact that a sniper from Gaza killed an Israeli repairing the security barrier yet found no space or airtime to mention Abu Amsha, who was reportedly "the original sniper chosen to carry out the attack."
The Israel Defense Forces blog reported on the incident:
"Israel authorizes the entrance of thousands of Gaza residents monthly for humanitarian and medical purposes," said Lt. Col. Peter Lerner. "This instance of abuse of a permit for terrorist intentions, is loathsome, and poses a violation that jeopardizes the access for medical aid in Israel and Judea and Samaria so many Palestinians enjoy".
In fact, according to an Israeli Coordination of Government Activities in the Territories (COGAT) report:
Nearly 220,000 Palestinian Arabs were admitted into Israel for treatment in 2012. That in itself is worth reporting. But the fact that such a humanitarian gesture was exploited for the purposes of terrorism is highly newsworthy. Yet… Where's the coverage?
A Palestinian patient crosses through Erez Crossing to receive medical treatment in Israel.
Posted by SC at 04:56 PM | Comments (1)
Latest NY Times Anti-Israel Hit Piece Requires Corrections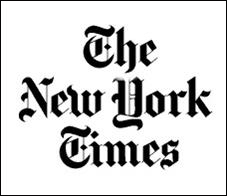 The New York Times' most recent hit piece against Israel is an Op-Ed today by former Palestinian Authority official Ali Jarbawi, now a contributing writer at the Times. Writing in the Times of Israel, Tamar Sternthal, director of CAMERA's Israel office, examines Jarbawi's falsehoods along with many other media falsehoods about Ariel Sharon:
. . . Falsehoods were not limited to Iran's Press TV, which unearthed long ago debunked bogus quotes attributed to Ariel Sharon, such as "We, the Jews, control America" and "Even today I volunteer to do the dirty work for Israel, to kill as many Arabs as necessary, to deport them, to expel and burn them . . . "

An op-ed today in The New York Times also attributes ambitions of ethnic cleansing to Sharon, although it doesn't bother with a supporting quote, real or otherwise. Ali Jarbawi, a political scientist at Birzeit University and a former minister of the Palestinian Authority, alleges that Sharon "wanted an ethnically pure Jewish state from the Jordan River to the Mediterranean Sea" ("The man who made peace impossible").

And basic factual issues are only modestly more reliable in the esteemed Gray Lady as opposed to the rabidly anti-Israel Iranian outlet. For instance, in an outright factual error which must be corrected, Jarbawi writes in the Times: "In 2000, he entered Al Aqsa mosque in Jerusalem, a holy Muslim site, which triggered the second intifada." In fact, Sharon had visited the Temple Mount, Judaism's most sacred site, and the plaza upon which the mosque sits. He did not "enter" the mosque.

In a second blatant error which the Times must correct, Jarbawi falsely states: "When he decided to withdraw from Gaza, Mr. Sharon was able to retain absolute Israeli control over the terrestrial, aerial and maritime borders of the Gaza Strip. . . " Times editors apparently overlooked the fact that Egypt, not Israel, controls its land border with the Gaza Strip.
Read the whole piece here.
Posted by TS at 08:13 AM | Comments (1)
January 21, 2014
The Economist Publishes - Then Pulls - Anti-Semitic Cartoon
CAMERA's sister organization CiF Watch wrote about a shocking cartoon that was published in The Economist on January 18:
The Protocols of the Elders of Zion, the czarist forgery purporting to reveal a Jewish conspiracy to control the world, may not, argued Andrew Baker of the American Jewish Committee, "be acceptable dinner conversation any more". However, he added, "repackage the sentiment as criticism of Israel, and say that the Jewish lobby controls U.S. foreign policy against 'true' American interests, and voilà, you are no longer dabbling in nasty old tropes about sinister Jewish power, but in bold political analysis."

[…]

Political cartoons represent an efficient way to transmit such prejudices, and often have a more immediate impact in reinforcing negative stereotypes about Jews than lengthy essays. And, though the largest output of antisemitic cartoons nowadays come from the Arab and Muslim world, antisemitic motifs advancing canards about Jewish power also appear in Western, putatively liberal, publications.
Cartoonist Peter Schrank inserts the Star of David into the seal of the Congress of the United States, suggesting that Israel, the pro-Israel lobby, and/or Jews control Congress and are holding President Obama back from achieving an agreement between the U.S. and Iran.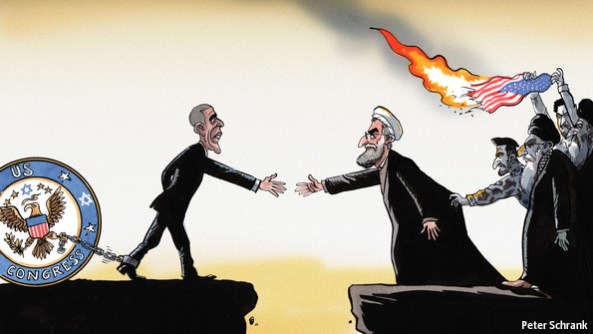 After receiving much criticism, The Economist pulled the cartoon and posted a statement:
Editor's note: The print edition of this story had a cartoon which inadvertently caused offence to some readers, so we have replaced it with a photograph.
This is a positive development. However, one still has to ask how this cartoon was conceived and approved in the first place. Why is it so easy for journalists to fall back on this antisemitic meme? Sadly, The Economist cartoon is part of a terrible tradition of antisemitic imagery, echoing the very themes featured in Der Stürmer, the infamous Nazi propaganda organ:

Title: The Economy and Jewry Source: Der Stürmer, November 1937 (Issue #47)
This issue accuses Jews of every manner of economic misdeed. The cartoon is titled "Demon Money." A Jewish monster, engraved with the Star of David and the symbols for the American dollar and British pound has its claws on the planet.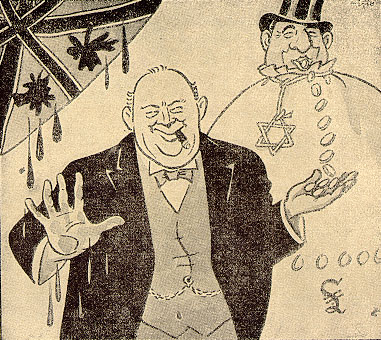 Source: Der Stürmer, November 1939 "Business is business! It makes no difference whether it has to do with the crowning of a king or incitement to war." The fat-cat Jew with his Jewish money controls the government of the United Kingdom.
CAMERA has reported in the past on problematic coverage in The Economist and troubling cartoons. We can only hope this is the last time we will have to address either.

Posted by SC at 02:00 PM | Comments (1)
January 20, 2014
An Appended Correction "From The Straits of Gibraltar to the Cairo Pass"?
On January 18, The New York Times published an article by its chief correspondent in Jerusalem, Jodi Rudoren, claiming Israel has "embraced a castle mentality." Aside from a hint of the customary dismissive tone toward Israeli concerns, the article was not particularly unusual. But it did contain something that raised eyebrows — at least for one day, that is.
At the bottom of the on-line version of the article a correction update was appended.
Correction: January 19, 2014 An earlier version of this article incorrectly quoted Prime Minister Benjamin Netanyahu of Israel. He made reference to the Khyber Pass, not the Cairo Pass.
The correction referred to a quoted statement appearing in the original published version of the article. Israeli Prime Minister Benjamin Netanyahu had said,"From the Straits of Gibraltar to the Khyber Pass, it's very hard to come by a safe and secure area..."
The article, however, substituted the words "Cairo Pass" for "Kyber Pass."
So what's the big deal?
First of all, as far as we know there is no such thing as the "Cairo Pass" although some non-geographic possibilities come to mind. Second of all, even the most rudimentary knowledge of geography would establish that the region from Gibraltar to Cairo only encompasses North Africa and completely leaves out the Middle East and Israel.
That raises the question as to why would the Israeli Prime Minister make a comment about a region of North Africa that did not even touch Israel in a discussion about instability surrounding Israel? In other words, the comment as originally quoted makes no sense at all.
Yet somehow, it got transcribed by the reporter, approved by the editor and published in the newspaper.
Although The Times is to be commended for catching the error and appending a correction, some uncomfortable questions are raised about basic geographic knowledge of the region at the "newspaper of record." The fact that both the reporter and the editor failed to instantly recognize the absurdity of the statement "From the Straits of Gibraltar to the Cairo Pass" in an article about instability in the Middle East and the dangers surrounding Israel is disconcerting.

Posted by SS at 02:58 PM | Comments (1)
Canadian Prime Minister Stephen Harper's Moral Clarity
In his address to the Israeli Knesset on Jan. 20, 2014, Canadian Prime Minister Stephen Harper offered moral clarity. To the anti-Israel cult that has taken root in academic circles and most recently passed a boycott resolution under the aegis of the American Studies Association, Harper provided an unequivocating response:
And so we have witnessed, in recent years, the mutation of the old disease of anti-Semitism and the emergence of a new strain... in much of the western world, the old hatred has been translated into more sophisticated language for use in polite society.

As once Jewish businesses were boycotted, some civil-society leaders today call for a boycott of Israel. On some campuses, intellectualized arguments against Israeli policies thinly mask the underlying realities, such as the shunning of Israeli academics and the harassment of Jewish students. Most disgracefully of all, some openly call Israel an apartheid state. Think about that. Think about the twisted logic and outright malice behind that: A state, based on freedom, democracy and the rule of law, that was founded so Jews can flourish, as Jews, and seek shelter from the shadow of the worst racist experiment in history, that is condemned, and that condemnation is masked in the language of anti-racism. It is nothing short of sickening.
Harper bluntly explains why so many nations endlessly chastise Israel:
One must look beyond Israel's borders to find the causes of the relentless oppression, poverty and violence in much of the region, of the heartbreaking suffering of Syrian refugees, of sectarian violence and the fears of religious minorities, especially Christians, and of the current domestic turmoil in so many states.

It is easier to foster resentment and hatred of Israel's democracy than it is to provide the same rights and freedoms to their own people.
He concludes with a statement of what Israel means to his own worldview:
I believe the story of Israel is a great example to the world. It is a story, essentially, of a people whose response to suffering has been to move beyond resentment and build a most extraordinary society, a vibrant democracy, a freedom-loving country with an independent and rights-affirming judiciary. An innovative, world-leading "start-up" nation...
Posted by SS at 12:37 PM | Comments (2)
Video: Martin Luther King on Israel
For anti-Israel extremists who try to remake history with Martin Luther King as their fellow traveler, this video must be rather inconvenient:
Posted by GI at 12:04 PM | Comments (0)
January 19, 2014
Clyde Haberman and the Siege Mentality
Ha'aretz's Chemi Shalev interviews departing New York Times journalist Clyde Haberman, who served as the paper's Jerusalem bureau chief in the 1990s.
Telling readers what he really thinks about Israel, Haberman does not hold back:
"All there is today is 'we're under siege, we're under siege.' Israel has built fences and barriers and walls all around it. It has basically built its own ghetto, its own Warsaw Ghetto, to keep everybody out." To which he adds, almost instinctively: "I know I'm going to get into trouble over that."
That a longtime New York Times reporter would compare the Warsaw Ghetto to Israeli security measures to protect its borders is astounding.
Also remarkable are Haberman's own intensive sentiments of siege, expressed alongside his rebuke of Israel for its siege mentality.
"Israel is the only assignment I ever had in which in four years I never once got a letter that said 'nice job.' If I would have gotten one, I would have had it embossed and put it on a wall, like a business does with the first dollar bill it makes" he said of his four-year stint in Jerusalem. Later, he adds: "Every Times person in Israel has been subjected to non-stop assault. People realize that it entails a lot of scrutiny, grief and verbal abuse."
He goes on:
We've had decades of correspondents that, no matter how different they've been one from the other, no matter how talented they are or how many Pulitzer Prizes they have to their name, always end up being accused of being either anti-Semites or self-hating Jews. At some point, this seeps into the DNA of the newspaper: This is what you can expect if you go there - to have your integrity hurled back in your face every single day.
Regarding Haberman's musings on Israel coverage, criticism and sieges, CAMERA's Gilead Ini tweets:
Curious about CAMERA's record on the reporter, this researcher visited the organization's paper archives, which predated our Web site, and covered the period when Haberman was Jerusalem bureau chief.
Though I did not find a single instance in which we called him an "idiot," "self-hating Jew," or "anti-Semite," the Winter 1994 CAMERA Media Report article reported, in part:
Haberman's patronizing tone toward Israeli security concerns tinges his entire perspective on relations between individual Jews and Arab and between Israel and neighboring states. He views Israel as suffering from an unwarranted siege mentality and "a streak of self-righteousness" (7/11/93) and he has ridiculed the nation's uneasiness about, for example, Syrian testing of advanced Scud missiles. He called these Israeli statements of concerns, "anti-Syria accusation" (8/92).
As for the CAMERA Web site, there is exactly one entry regarding the former bureau chief: A Sept. 12, 2001 "Thumbs Up" "for his recent reports from Israel and the Palestinian areas which give voice to the fears that Israelis live with daily."
So, Mr. Haberman, since you apparently missed it: Here's a parting gift from CAMERA: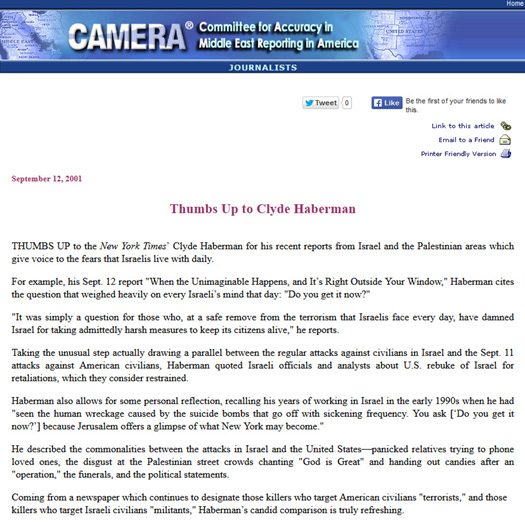 Feel free to emboss it and hang it on the wall. May it remind you, that at least at for one day, however fleeting, you did briefly recognize Israel's very real security concerns. And for that you were praised.
Posted by TS at 04:55 AM | Comments (4)
January 16, 2014
CAMERA Analyst Appears on Michael Coren Show
CAMERA's Christian Media Analyst Dexter Van Zile appeared on Michael Coren's show The Arena on Canada's Sun News Network on Jan. 15, 2014. He spoke about media bias against Israel.
Posted by dvz at 10:10 AM | Comments (0)
January 15, 2014
Where's the Coverage? Iran's Supreme Leader Hates America

Today, Iran's supreme leader Ayatollah Khamenei called America an "arrogant power," tweeting "Americans, Zionists and global arrogant powers are interested in neither the #Shia nor the #Sunni. 20/3/08". The other day, he accused the U.S. and U.K. of fomenting ethnic hatred, "The British r specialists on creating sectarian conflicts among religious sects;they taught the Americans how 2 do so."
This charge that the US is using undercover mercenaries to incite sectarian violence repeated a similar sentiment from the day before. And January 9 was a banner day for the supreme leader, who on that single day:
• Accused the United States of crimes against humanity: "Drone attacks on ppl of #Afghanistan/ #Pakistan &1000s unknown crime means agnst humanity that'll B exposed 2posterity,r listed on US's log."


• Characterized the U.S. as the world's biggest violator of human rights: "#US has no right to talk abt #HumanRights!US govt's the biggest violator of human rights in the world.Aren't they ashamed of talking abt it?"


• Called America a Satan: "We had announced previously that on certain issues, if we deem it proper we would negotiate with this #Satan to deter its evil."


• Described the U.S. as Iran's enemy: "The enemies think that they imposed #sanctions and #Iran had to negotiate. No! This is not true!"


• Twice!: "1 of the boons of the recent #talks was that the enmity of #US authorities w/ #Iran,Iranians & #Islam & Muslims was elucidated to everyone."
Even as the interim nuclear agreement with Iran negotiated by Secretary of State John Kerry is set to go into effect next week, these harsh public comments attracted hardly any media attention and no outrage from the administration.
Contrast this media and political silence with the attention paid to statements made by Israeli Defense Minister Moshe Ya'alon. In a private conversation, he expressed skepticism about the John Kerry-led Israeli-Palestinian negotiations. Ynet news quotes Ya'alon:
The only thing that can 'save us' is for John Kerry to win a Nobel Prize and leave us in peace…. American Secretary of State John Kerry, who turned up here determined and acting out of misplaced obsession and messianic fervor, cannot teach me anything about the conflict with the Palestinians…. There are no actual negotiations with the Palestinians. The Americans are holding negotiations with us and in parallel with the Palestinians. So far, we are the only side to have given anything – the release of murderers – and the Palestinians have given nothing.
These comments attracted a lot of media coverage and criticism from the American administration. State Department Spokesperson Jen Psaki called the remarks "offensive and inappropriate," and the United States demanded an apology. The Israeli Ministry of Defense subsequently issued an apology:
The defense minister had no intention to cause any offense to the secretary, and he apologizes if the secretary was offended by words attributed to the minister.

Israel and the United States share a common goal to advance the peace talks between Israel and the Palestinians led by Secretary Kerry. We appreciate Secretary Kerry's many efforts towards that end.
Ya'alon's comments may be "offensive and inappropriate" but calling America an arrogant human rights-violating Satan that foments ethnic violence and commits crimes against humanity is certainly worse.
Where's Ayatollah Khamenei's apology? And… where's the coverage?
Posted by SC at 09:21 PM | Comments (1)
Iran's Press TV Exposes Stuff
Iran's English language Press TV, which last November exposed that Israel killed John F. Kennedy, and several days earlier revealed that the CIA killed John F. Kennedy, has now outed CAMERA as a Mossad spin-off.
In its article, which was largely about how fake Ariel Sharon quotes are really, really real, goes on to explain how the world has come to believe that the fake quotes are fake:
The Zionist propaganda machine, which dominates Western media, works overtime to "scrub" such facts from public consciousness, just as it works to scrub the public record clean of Ariel Sharon's too-revealing words. An apparent Mossad spin-off called CAMERA does much of the dirty work.

CAMERA has published outrageous lies about Sharon's "Z" interview with Amos Oz. Now it is offering an even more ridiculous lie about Sharon's notorious post-9/11 "We Jews control America" outburst.
CAMERA's history of successfully debunking hoax quotes attributed to Ariel Sharon and others clearly got under Press TV's skin.
The piece, by Holocaust denier and 9/11 truther Kevin Barrett, raised some alarms within CAMERA.
One researcher seemed to tacitly admit she worked for the Mossad — after all, they work overtime and she also works overtime.
.@PressTV: @CAMERAorg, 'the Zionist propaganda machine, which dominates Western media, works overtime' Tell me about it. Look at the time!

— Tamar Sternthal (@TamarSternthal) January 15, 2014
Another sent some encrypted code back to Mossad headquarters:
*BEGIN CODED MOSSAD MESSAGE FROM @CAMERAorg ABOUT @PressTV* Wi8yFGnP89nnnJEWS!xmnx9Pwp49xcl *END CODED MESSAGE* http://t.co/F3RqRqWqSJ

— Gilead Ini (@GileadIni) January 15, 2014
We don't know what it means. But hopefully Press TV will decode the message and report on it tomorrow.
Posted by GI at 04:05 PM | Comments (1)
January 14, 2014
Pop Quiz on "Apartheid" Allegation
It's pop quiz time. Take the test at the LA Times. Then rest assured that you got a better score than a number of American Studies Association-affiliated professors.
(More on the "apartheid" allegation can be found at www.israeliapartheidweek.com)
Posted by GI at 05:28 PM | Comments (0)
Fox Error: Sharon Entered Al Aqsa Mosque
In a blatant factual error which Fox News must correct, Conor Powell erroneously reported Jan. 11 that Ariel Sharon entered the Al Aqsa Mosque in September 2000:
His actions helped spark the second Palestinian uprising in 2000 when he pushed past security and entered the Al Aqsa Mosque, one of Islam's most sacred places.
Sharon did not enter the Al Aqsa Mosque. He visited the Temple Mount, the most sacred site in Judaism, the third most sacred site in Islam, and the plaza upon which the Al Aqsa Mosque sits. Nor did he "push past" security; the Israeli security was in place to protect him as he visited Judaism's most holy site.
Posted by TS at 07:36 AM | Comments (0)
PBS, 'Resistance Fighters,' Women and Children
Image from Martin Gilbert's Atlas of the Arab-Israeli Conflict
In an otherwise balanced report about Ariel Sharon, Margaret Warner reported Jan. 11 on PBS' "Newshour":
In the years after independence he earned the enmity of Palestinians and Arabs, by leading a special army commando unit, Unit 101, in sometimes brutal reprisal attacks against Palestinian resistance fighters and civilians.

In 1953, Unit 101 responded to the killing of the three Israeli civilians with a revenge attack on the West Bank town, Kibya, leaving 69 Palestinians dead, including many women and children. "Kibya was to be a lesson," he wrote years later in his autobiography. "I was to inflict as many causalities as I could on the Arab home guard. I was to blow up every major building in the town."
The "Palestinian resistance fighters," as Warner calls them, were responsible for the killing of 137 Israelis, almost all civilians, in 1951, and 162 slain Israelis in 1952. The following year saw a spike in violent incidents against Israel, and 160 Israelis were killed.
Notably, Warner identifies women and children among the casualties at Kibya. She does not say that the "three Israeli civilians" killed (by Palestinians who set out from Kibya) were also a woman and children -- namely Susan Kanias and her two sons, ages one and three.
In his autobiography, from which Warner selectively quotes, Sharon describes how his forces believed the buildings of Kibya had been evacuated. He wrote:
A report came in from one of the roadblocks that hundreds of villagers were streaming by them along the road. Kibbiya seemed completely deserted.

At midnight we began to demolish the village's big stone buildings. Working from the far side of the town inward, soldiers were sent to look through each house to make sure no one was inside; then the charges were placed and set off. We found a young boy cowering in a corner of one of the house and took him out to safety. Then we heard a cry, and Shlomo Hefer ran into one of the other houses where the TNT fuse had already been lit and emerged with a little girl in his arms. Those two, the boy and the girl, were the only signs of life.

A few hours later I was awake, listening to Jordanian radio. Already they were announcing news of the raid. According to the radio, sixty-nine people had been killed, mostly civilians and many of them women and children. I couldn't believe my ears. As I went back over each step of the operation, I began to understand what must have happened. For years Israeli reprisal raids had never succeeded in doing more than blowing up a few outlying buildings, if that. Expecting the same, some Arab families must have stayed in their houses rather than running away. In those big stone houses where three generations of a family might live together, some could easily have hidden in the cellars and back rooms, keeping quiet when the paratroopers went in to check and yell out a warning. The result was this tragedy that had happened. (Warrior, p 89)
Posted by TS at 06:07 AM | Comments (1)
January 13, 2014
In Sharon Coverage, NPR Skews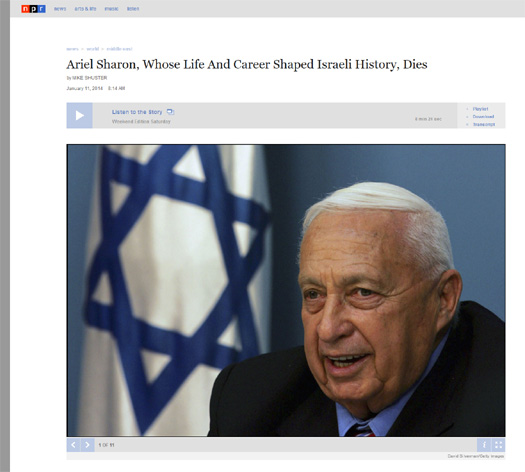 In a Jan. 11 NPR Weekend Edition Saturday broadcast on Ariel Sharon, Mike Shuster whitewashes the relentless Palestinian attacks against Israel emanating from Lebanon leading up to the first Lebanon war. Shuster reported:
Sharon became defense minister in 1981, and from the moment he took that post, it appeared that he was planning Israel's next war. The Palestinians in Lebanon, to Israel's north, were threatening Israeli territory, and Sharon wanted to end it. (Emphasis added.)
Palestinians in Lebanon did more than "threaten" Israeli territory. They also frequently attacked Israeli territory, killing civilians, including many children. For instance, Palestinian terrorists from Lebanon carried out the massacre of Maalot school children in 1974, murdering 22 children; the May 20, 1970 assault on a school bus in Avivim near the Lebanon border, killing 12 Israeli civilians, including nine children; and the March 11, 1978 attack of a tour bus on the coast south of Haifa, killing 34, including mothers and children; in addition to the ongoing bombardment of the Galilee. In the week of July 14-21, 1981, 33 towns and villages in northern Israel were hit by more than 1,000 shells and rockets, forcing residents of Kiryat Shemona, Metulla, Nahariya, and Kibbutz Dan, and dozens of other communities, to live in shelters for days on end. (Ariel Sharon, "Warrior," p 430-431).
In a separate NPR broadcast on Sharon, Jan. 11 edition of NPR's "All Things Considered," Emily Harris grossly misleads:
Palestinians remember Sharon's visit to Islam's holiest spot in Jerusalem, widely credited with triggering the second intifada, his building of the separation barrier in and around the West Bank, and Israel's 1982 invasion of Lebanon led by Sharon, which included massacres in two Palestinian refugee camps.
While Palestinians, who routinely deny Jewish ties to the Temple Mount, likely view events through that lens, NPR has an obligation to inform listeners that, in fact, the site in question is also Judaism's holiest site in the world.
Secondly, uninformed listeners would reasonably, and erroneously, understand from Harris' report that the massacres in two Palestinian refugee camps were carried out by Israeli forces, and not the Christian Lebanese Phanlange militia.
Posted by TS at 05:42 AM | Comments (0)
January 12, 2014
Predictably, Sharon-Related Falsehoods Under Way
As anticipated, the passing of former Israeli Prime Minister Ariel Sharon has unearthed many old falsehoods.
In New York Magazine, for instance, Caroline Bankoff claims that Israeli soldiers, not the Phalange militia, killed hundreds of Palestinian refugees in Sabra and Shatilla:
Stay tuned for news about a correction.
Jan. 22 Update: CAMERA Prompts NY Magazine Correction on Sabra, Shatilla
Posted by TS at 06:47 AM | Comments (2)
January 10, 2014
CPB Ombudsman Agrees with CAMERA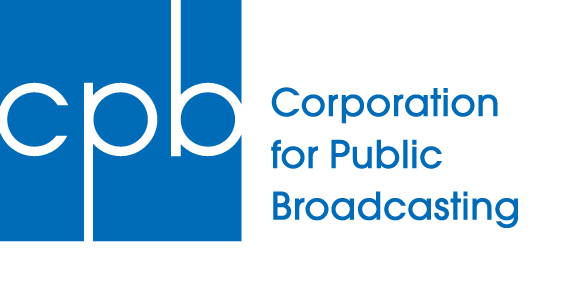 During the dog days of summer, PBS aired two anti-Israel documentaries, back to back, as part of its POV series. CAMERA analyzed them in the article, "PBS Doubles Down on Anti-Israel Films." Many letter writers and callers contacted their local PBS stations, the PBS ombudsman and the ombudsman of the Corporation for Public Broadcasting (CPB), which administers your tax dollars for public broadcasting.
In October, CPB Ombudsman Joel Kaplan addressed viewers' concerns:
In August I wrote about numerous complaints I received from PBS viewers who were upset that POV was running two documentaries, "5 Broken Cameras" and "The Law in These Parts" that appeared to be sympathetic to the plight of the Palestinians at the expense of the Israelis. Much of the criticism was prompted from a request by the Committee for Accuracy in Middle East Reporting (CAMERA)---to complain to the CPB ombudsman as well as PBS ombudsman Michael Getler.

At the time I urged those complaining to at least wait until the documentaries were broadcast before lodging any complaints.

[...]

Since I also received so many complaints I too decided to watch the documentaries and must say that I agree with many of those who, in my view, prematurely complained. I found both films to be one-sided, particularly "5 Broken Cameras." That film doesn't even give lip service to the Israeli point of view and its filmed interactions with the Israeli army appear to be edited to place the Israelis in the worst possible light.

In the past I have defended public broadcasting against criticisms that various reports were not objective nor balanced when it comes to the Israeli-Palestinian conflict by pointing out that much of the balance comes in other news reports.

But in the case of POV, that is simply not the case. Of all its documentaries for its new season, there are two that can be portrayed to varying degrees as anti-Israel. But there are no corresponding documentaries that portray the Israeli point of view.

[...]

To select these two films given the ongoing conflict and controversy surrounding the Israeli-Palestinian relationship is only going to provoke those who already feel as though anti-Israel sentiment is the rule rather than the exception when it comes to public broadcasting. There is little to no objectivity and balance in these two films and POV should not be citing a film from three years ago about a Jewish family who travels to China to adopt a child as an example of balance.

To the extent that I was critical of those who complained before the films ran, I now say that I agree with much of that criticism.
Thank you to all the dedicated CAMERA members who made your voices heard. You are making a difference.
Posted by SC at 12:41 PM | Comments (4)
January 09, 2014
The Tripod: CAMERA Links in 3 Languages: Jan. 7-9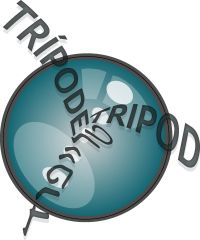 Keeping Pressure on Iran
Our Fellow at Cornell publishes this powerful piece in his campus paper: "The sanctions have hurt. Iran's oil exports have fallen by about 50 percent since 2011. . . " (in Focus)
Indy's wild claim that Israel 'tortures' Palestinian kids continues to unravel
CiF Watch continues to demonstrate that the charge leveled by The Independent that Palestinian kids were tortured and "caged" by the Israeli government appears to be completely without merit. (CiF Watch)
Palestinian Kids In Cages?
How an Israeli NGO, bad fact-checking and a bad translation led to the claim that Israel was torturing Palestinian minors by holding them in cages. (Presspectiva)
Telling only half of the story
The Israeli media failed to report on the backlash to the ASA boycott (Presspectiva)
Review of Fall Semester 2013: Anat Berko at American University
CAMERA helps bring Anat Berko to American University to "increase awareness about the Israeli-Palestinian conflict and challenge prevalent notions about the nature of Palestinian terrorists." (in Focus)
BBC continues to avoid essential 'core issues' of Middle East talks
What isn't the BBC telling its audiences about the peace process? (BBC Watch)
BBC Two's 'Newsnight' breaches editorial guidelines, fudges on anti-Semitism
Why did the BBC fail to inform viewers of an interviewee's Far-Right associations? (BBC Watch)
The Palestinian Authority uses European funds to promote antisemitism and the Spanish speaking press ignores it
A Palestinian youth NGO funded partly with European funds, co-produced an antisemitic video that was broadcasted in the Palestinian Authority TV channel. But none of the main Spanish speaking media reported about it. (ReVista de Medio Oriente)
The Truth Behind Anti-Semitism
A fantastic article by CAMERA fellow at Alabama State University, John Wright: "Throughout the Middle East there are many who feel as though Israel doesn't have the right to exist as a nation and the Jews who inhabit her should be eradicated from the Earth. These sentiments are echoed around the world. . ." (in Focus)

Posted by RH at 04:13 PM | Comments (0)
Facebook Admits the Obvious
A few days ago, Snapshots drew attention to a hateful photo posted on Facebook -- one that lionized Nazi violence against civilians, abused Nike's swoosh logo and slogan, "Just Do it." Initially, Facebook didn't take the photo down even after receiving a number of complaints. The first response said it did not violate Facebook's community standards. Eventually, the photo disappeared.
Today, Facebook sent out a message that stated, "We reviewed your report" and that "We revised our decision on your report of the photo in question." A click in the email takes the reader to the message posted above.
The episode raises a number of questions. Why wasn't the photo taken down immediately? Who first decided the photo was OK? And how many complaints does it take for people to realize there's a problem?
Is Facebook really serious about enforcing its community standards?
1:13 p.m. update: As it turns out, the user's account has been deleted entirely.
Posted by dvz at 12:55 PM | Comments (1)
January 08, 2014
Where's the Coverage? The Truth about "The Wall"

St. James Church Piccadilly, in the heart of London, hosted an event called "Bethlehem Unwrapped," December 23 - January 5. According to the Web site, "Through music, food, art, poetry, debate and more Bethlehem Unwrapped goes behind the romanticised Christmas card images of the ancient city to show what life is like for people in Bethlehem today." Nothing wrong with that, you say?
The festival included an art installation, "The Wall," in the courtyard of the church, which it describes as "a life-size replica section of the 8 metre high Separation Wall that surrounds Bethlehem." Of course, the security barrier does not surround Bethlehem as the map below shows: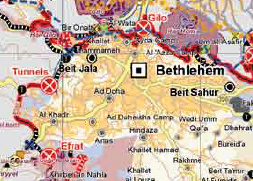 (This is an issue CAMERA is still pursuing with CBS News and "60 Minutes.")
In addition, the security barrier was erected to protect civilians in the wake of the terrorist onslaught known as the second intifada. In fact, the barrier has greatly reduced terrorist attacks, saving untold numbers of lives. The church does not belabor those facts, but does "acknowledge the government position that the wall was built for security reasons." See, that's the Israeli government position. Yet, church leaders claim not to be "taking sides."
The Israeli, Jewish and British press covered this "festival" but the mainstream American news media did not. That's fine. The Gatestone Institute published a tremendous open letter to the clergy of St. James by Denis MacEoin:
Your church has constructed a mendacious wall on its premises in order to make an ignominious political point, something I would not have believed you capable of. It is mendacious because it pretends that the entire separation barrier is a wall, when the wall actually covers about 1%. It is mendacious because it does not mention the 30 or so security walls and fences that have been built by other countries, many much longer than Israel's. It is mendacious because it carries no message to explain why it is there, when it is explicitly there to deter violent attacks from the West Bank into Israel. It is mendacious because it carries no statement alerting onlookers to the fact that the barrier has already saved thousands of lives. Or does saving lives really not matter to Christians? Or are Jewish lives not as important as the lives of suicide bombers and other terrorists? If you seek fairness — and I suspect that in a muddled way you do — why did you not contact the Israeli embassy, who could have loaned you something apposite: a bus on board which passengers died when a suicide bomber detonated himself?
And this is what few outlets cover: the feelings of terror victims.
In 2010, Kay Wilson was viciously stabbed by Palestinian Arabs in an attack that killed her friend, Kristine Luken. She wrote an open letter to St. James Church:
A true story…

"And it came to pass that in December 2010, two Palestinian shepherds left their little town near Bethlehem and set out to walk ten miles across the Judean Hills. There in the forest, they kept watch by night. The following day, at about the 6th hour (3pm) the shepherds saw two women walking along the Israel National Trail. With great fervour they took out their knives and attacked the women.

[…]

Thirteen times the shepherds thrust their knives into the women, breaking bones, tearing flesh, even impaling one to the ground. As the Jew played dead, she watched the Christian friend hacked to death before her very eyes…"

[…]

I would like to think that as Christians, you would never condone Kristine Luken's heinous murder or the attack on myself. I suspect however that you may rationalise this savagery as an inevitable result of the "Israeli occupation."

[…]

If your wall was scrutinised, one would see that underneath the whitewashed surface that concerns itself with Israeli policies, there are blocks of anti-Semitism. These bricks stand high.

[…]

Your wall is an affront to Kristine Luken and other victims of terror who may well have been alive today had there have been a wall erected on the other 90% of land that separates us from our Palestinian neighbours.

Your wall is an injustice to Christians living under Muslim despotism. Ironically it is the State of Israel, that you deem pariah and unjust, that is unique in the Middle East because unlike all of our neighbours, our Christian population is flourishing and our Christians have full religious rights.

Please write on your wall, under the cross, now obscured by the crescent…. "R.I.P Kristine Luken."

Sincerely
Kay Wilson
Certainly readers, viewers and listeners can only benefit from hearing this important point of view. So… where's the coverage?
Posted by SC at 05:53 PM | Comments (3)
January 07, 2014
The Tripod: CAMERA Links in 3 Languages Dec.19--31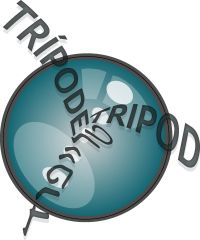 Crude stereotyping of 'expansionist' Israelis in BBC 3 comedy show
BBC guidelines permit national stereotyping "for comic effect" if there are "audience expectations", but does BBC coverage of Israel in fact create such expectations? (BBC Watch)
BBC's Knell amplifies UNRWA's political campaigning on R4′s 'The World Tonight'
BBC reports on the recent flooding in Gaza cite "tight restrictions" on imports of fuel which do not exist . (BBC Watch)
Guardian: Non-Jewish Israelis who live in settlements should not be called 'settlers'
According to the Guardian's 'Style Guide', the term "settler" can only be used to characterize 'Jewish' Israelis who live beyond the green line. So, according to this logic, a Christian or Muslim citizen of Israel living in a "settlement" in the West Bank or "East" Jerusalem would NOT be considered a "settler". (CiF Watch)
¿Who condemns Palestinian terrorism?
In the Spanish speaking press, very few voices were given space to condemn the attack to the 240 bus line near Tel Aviv, while only a handful of papers actually published news about the incident. (ReVista de Medio Oriente)
Brandeis and Penn State Harrisburg Pull Out of ASA Program in Response to Boycott
ASA takes a more extreme stance on Israel than the president of the Palestinian Authority. (in Focus)
Review of the Fall Semester 2013: Israel Awareness Week at the University of Houston
Over 70 students attend event with Israel's highest ranking Muslim diplomat during Israel Awareness Week at the University of Houston, organized with CAMERA's help and support. (in Focus)
Ma'ariv's Misplaced Rage
The cause of a demonstration seems to baffle Ma'ariv (Presspectiva)

Is Israel's Christian Population Really Declining?
A nasty Independent Op-Ed repeats a modern day slander (Presspectiva)
Middle East headlines in the Spanish speaking press
These are the weekly highlights about Israel and the Middle East in the Latin American and Spanish press. (ReVista de Medio Oriente)
The Samer Issawi Test
Released Palestinian prisoner Samer Issawi is an important test case for journalists. His hunger strike continues to garner news coverage. His conviction for multiple attempts of murder, not so much. (CAMERA)
Senior Campus Coordinator at CAMERA Writes to Hampshire College President, Calling on Him to Condemn the ASA Boycott
Read her well written letter here. (in Focus)
Review of Fall Semester 2013: Gil Magen at Ohio State University Photography Under Fire event draws in many people, including adults over age 50, students from a diverse number of academic department such as Middle East Studies, photography, sociology, political science and others. (in Focus)
Review of Fall Semester 2013: Sgt. Benjamin Anthony at George Mason
About 70 students attend event designed to decrease apathy and increase awareness of Israel. Students involved in Greek life, students enrolled in ROTC and others learn about what drove Benjamin Anthony to leave all he knew in his native U.K. and enlist in the IDF. (in Focus)
Professor Rotella, Director of the American Studies Program at Boston College, Speaks Out Against the ASA Boycott of Israel
Read his letter here. So far 55 institutions have condemned the ASA boycott. (in Focus)
Ma'ariv and Makor Rishon Greatly Over report European Anti-semitism
A report on a new poll on European Anti-semitism manages to cite every figure wrong. (Presspectiva)
The Reemergence of the Green Line
Ha'aretz's updated style guide, no longer encourages translators to avoid using the term "The Green Line". (Presspectiva)
Who Needs To Check Facts If You Can Read Ynet?
A scathing op-ed in the "7th eye" against the Simon Weisenthal Center, was completly based on an error published in Ynet (Presspectiva)

Event Held at the University of Miami Celebrates Gay Life in Israel
About 70 students attend event at the University of Miami to learn about the rights that Israel gives gays in Israel. (in Focus)
The Failures of Sam Bahour
J-Street at Brandeis helps bring to campus a speaker that is against Israel's existence, and that suggested that Israel is responsible for chemical weapon use in Syria. J-Street is part of Hillel on that campus. (in Focus)
CAMERA Helps Bring Jeff Jacoby to Florida
Jeff Jacoby connects Zionism to American history and covers the big lies- big truth phenomenon. Our Owls for Israel Board member at Florida Atlantic University writes about it. (in Focus)
Posted by RH at 02:14 PM | Comments (0)
January 06, 2014
Updated: (Image Removed) -- Facebook Tolerates Pro-Nazi Incitement
Update: The image has been removed. See more below.
It's OK to encourage the murder of civilians on Facebook. It is not a violation of the company's community standards or its terms of service. Don't believe it? Take a look at the photo above which appears on the page of a Facebook user writing in Bulgarian. The photo is taken from a massacre of Polish civilians outside the city of Bochnia during World War II. Underneath the photo is the Nike "swoosh" and the tradmark phrase, "Just Do It." The photo can be seen here.
A complaint was filed with Facebook and received the following response, which can be seen below the jump.
"We reviewed the photo you reported for containing hate speech or symbols and found it doesn't violate our Community Standards."
Facebook's community standards includes the following passage:
Facebook does not permit hate speech, but distinguishes between serious and humorous speech. While we encourage you to challenge ideas, institutions, events, and practices, we do not permit individuals or groups to attack others based on their race, ethnicity, national origin, religion, sex, gender, sexual orientation, disability or medical condition.
It also states that "graphic images shared for sadistic effect or to celebrate or glorify violence have no place on our site."
And Facebook's community standards also require users to "respect copyrights, trademarks, and other legal rights."
So why is this photo still acceptable?
UPDATE 2:19 p.m. - The image has been removed from the user's facebook page. Readers who click on the link should find the following image on their screens:

Posted by dvz at 10:54 AM | Comments (0)
January 05, 2014
In Jordan Valley, Ha'aretz Just Lost
On dozens of occasions, we have noted instances of "Ha'aretz, Lost in Translation," in which misinformation finds its way into the English edition of Ha'aretz, while the corresponding, original Hebrew item is correct.
Our latest case, a Jan. 2 photo caption on page 2 of the English print edition, is a variation on the theme that we previously saw a couple of months ago: the original source, the Associated Press, is in English. Yet, the Ha'aretz English edition still gets it wrong. Ha'aretz's caption for the AP photo states:
Palestinians near Jericho protesting the announcement by Israel that it had voted to extend Israeli law over parts of the Jordan Valley
Except, Israel never announced "that it had voted to extend Israeli law over parts of the Jordan Valley," because it never voted to do so. Rather, as recently reported by Ha'aretz itself, the bill passed a vote in the Ministerial Committee for Legislation, but it is far from becoming law:
Following the vote, Justice Minister Tzipi Livni and Science and Technology Minister Jacob Perry appealed the vote. Now, this hot potato will return to Netanyahu, who will have to find a way to freeze the bill and prevent it from reaching the Knesset plenum, where the government would vote on the issue.
The original caption sent out by the Associated Press was factually accurate, citing a "proposed Israeli bill seeking to annex the Jordan valley":
While Ha'aretz's English staff had trouble with the English caption, the Hebrew staff managed just fine. The Hebrew edition ran a similar photograph from the Agence-France Press and is got the caption right, noting that the vote legislation to annex the Jordan Bill was no more than a bill:
It reads (CAMERA's translation):
Palestinians and foreigners demonstrate against the Israeli bill to annex the Jordan Valley settlements, yesterday near Jericho
Posted by TS at 08:01 AM | Comments (0)
Reuters, Garbage and Shuafat
The shortcomings in Noah Browning's Dec. 20, 2013 article ("In bleak Arab hinterland, hints of Jerusalem's partition") are piling up.
Browning reported that Shuafat residents:
pay municipal taxes which bring some health care and insurance benefits, but enjoy few city services, which means locals must burn their trash and dig their own sewers.
He does not bother to inform readers, however, that the municipality and UNRWA have an agreement in which the UN refugee organization provides services to the Shuafat refugee camp, and that UNRWA recently suspended these services due to a labor dispute. Ha'aretz's Nir Hasson reported:
A month-long strike by employees of a United Nations refugee agency has resulted in pileups of garbage and clogged sewers in the Shoafat refugee camp in Jerusalem and left some 51,000 Palestinian children out of school.

The work stoppage by UNRWA, the United Nations Relief and Works Agency for Palestine Refugees in the Near East, has also closed down dozens of health clinics in the West Bank.

The Shoafat refugee camp is part of the Jerusalem municipality, which is responsible for its basic services. The camp is located on the Palestinian side of the separation barrier, however, where the municipality, like all other Israeli service providers, does not operate. According to long-held understandings between UNRWA and the municipality, the UN agency collects the trash in the camp and provides some of the education and health care services for the camp residents.

Since a labor dispute erupted between the agency and its workers a month ago, about 3,000 children in the camp have had no school, UN health clinics have closed and trash collection has ceased. Residents have set fire to piles causing significant air pollution and a stench throughout the camp.
This post was amended on Jan. 6 to reflect the fact that, according to Nir Hasson in Ha'aretz, UNRWA provides services to the Shuafat refugee camp, and not necessarily all Arab neighborhoods within the municipality but beyond the barrier.
Update, Jan. 12: This posted was further edited. See CAMERA Clarifies About Reuters, Shuafat
Posted by TS at 03:18 AM | Comments (1)
January 03, 2014
Western Businesses Rush to Iran

On November 14, 2013 National Public Radio's On Point news discussion program hosted a discussion about the proposed agreement with Iran over its nuclear program that was worked out in Geneva. Mark Dubowitz of the Foundation for the Defense of Democracies, an opponent of the agreement, warned that any relaxation in sanctions would result in a stream of Western companies rushing in to do business with Iran. But the other participants in the program supported the plan. Suzanne Maloney of the Brookings Institute scoffed at Dubowitz's warning, calling it "an absurd assertion." NPR host Tom Ashbrook shared Maloney's assessment and was noticeably annoyed by Dubowitz's skepticism about the proposed accord, interrupting him several times.
On Jan. 2, the German news magazine, Der Spiegel, weighed in with a long piece," 'Chance of a Century': International Investors Flock to Tehran", reporting that "droves of Western business people are already flocking to Tehran." The article's author, Suzanne Koelbl, repeats what the head of the German-Iranian Chamber of Industry and Commerce in Tehran told her:
Not a single top European official came to President Rohani's inauguration, as agreed by the EU member states' representatives in Brussels. But the very next day the government in Rome sent a high-ranking emissary to personally congratulate the new Iranian head of state. Now the planes from Europe are "full of Italians" ...

In a deal worth billions, the French are about to renew their licensing contract for supplying Peugeot conponents to Iranian carmaker Iran Khodro. "And the Americans are already here with ExxonMobil, Chevron Corporation and other US companies"...
The German chamber of commerce official admits, "This here is not a matter of good and evil, or perhaps even the nuclear deal. It's really about a great deal of money."
Posted by SS at 12:25 PM | Comments (0)