« CNN's Amanpour Smears Israel at Mandela Memorial Service | Main | The Tripod: CAMERA Links in 3 Languages Dec.9--19 »
December 18, 2013
Where's the Coverage? Ayatollah Khamenei Tweets "Zionists are Just Like Nazis"

Iran's Supreme Leader, Ayatollah Seyed Ali Khamenei, on Monday tweeted his support for French Holocaust denier and anti-Semite Roger Garaudy, who was convicted in France of hate speech and whose books have been banned there. Garaudy died in 2012 but, as the Ayatollah noted in his tweet, December 16 was the anniversary of his trial. Khamenei accompanied the message with a picture that included a quote from one of the Ayatollah's own speeches, "The Zionists are just like the Nazis":
Put aside for a moment the cognitive dissonance it requires to deny the Holocaust and then compare its victims to Nazis, and the obscenity of such claims, and consider only if this is newsworthy.
Khamenei leads the Islamic Republic of Iran, a country on the threshold of nuclear weapons capability, with which the United States and all major world powers are in negotiations. This matter is the subject of active debate in Congress and the media. But, the press decided not to report Khamenei's tweet. Only the Israeli media, Jewish press, and blogs found this worthy of coverage. Major news outlets were silent.
In case you're thinking editors and producers don't believe tweets from Iranian leaders are news, think again. In September, the media were atwitter, if you will, about a tweet from Iranian President Hassan Rouhani wishing Jews a "blessed Rosh Hashanah":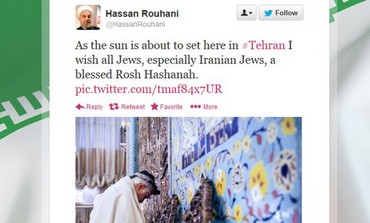 The New York Times, Washington Post, Los Angeles Times, Guardian, ABC, NBC, CBS, BBC, CNN, NPR, Huffington Post, and others covered the tweet, even though Rouhani advisor Mohammad Reza Sadeq told Iran's FARS news agency, "Mr. Rouhani does not have a twitter account." FARS reported:
He reiterated that since Rouhani won the presidential election in Iran in June, all reliable news and information pertaining to the president have been only released by his office, "and only the news released through this conduit is official".
Despite Iran's official denial of the legitimacy of the message, TIME Magazine mentioned the alleged Rosh Hashanah tweet when it recently named "Iran's New Chapter" as its #2 International News Story of 2013:
It was clear the new Iranian President Hassan Rouhani, elected in June, was trying a new strategy when he wished Jews, in a tweet, a "blessed Rosh Hashanah" on the Jewish new year.

In the space of a few months, Rouhani and his new cabinet transformed the atmosphere surrounding Iran, a nation made into something of a pariah by the bellicose rhetoric of previous President Mahmoud Ahmadinejad.
If it supports the narrative of a "new," "moderate," "transformed" Iran, a tweet – even one denied by the Iranian government – warrants reporting. But, when a tweet reveals the true, hateful, face of the racist, Holocaust-denying Iranian regime… Where's the coverage?

Posted by SC at December 18, 2013 06:09 PM
Comments
Guidelines for posting
This is a moderated blog. We will not post comments that include racism, bigotry, threats, or factually inaccurate material.
Post a comment