« The Tripod: CAMERA Links in 3 Languages Nov. 20-26 | Main | Where's the Coverage? Rising Number of Terrorist Attacks in Jerusalem Motivated by "Hatred of Jews" »
December 03, 2013
Toronto Globe and Mail Flouts Its Editorial Code of Conduct

The Globe and Mail introduces its posted editorial code of conduct as follows::
The credibility of the reporting, analysis and opinion in The Globe and Mail rests on solid research, clear, intelligent writing, and maintaining a reputation for honesty, accuracy, objectivity and balance.
Perhaps the newspaper's editors are unaware of their code of conduct, because they certainly made no attempt to fact-check an opinion column condemning Israeli settlers for a crime they did not commit. The Dec. 2nd column, entitled "Israel faces a political conundrum" was premised on the false assumption that Israeli settlers have perpetrated violent crimes against civilians. It was penned by Michael Bell, who served in Canada's Foreign Service as Ambassador to Jordan, Cypress, Egypt and Israel before taking on his present position as Professor of Middle East studies at the University of Windsor. Bell began his article with what he thought was a revealing anecdote:
Two weeks ago, a friend of mine, Danny Seideman, a Jerusalem lawyer who works pro bono on settlement issues respecting Palestinians threatened by displacement, had his car stoned in East Jerusalem. He himself suffered a concussion. No suspects have been identified. Given established patterns, however, the likely perpetrators are ultra-nationalist members of the settler movement, the fulfillment of whose goals would be the displacement of Palestinians and the incorporation of the entire West Bank into a greater Israel.
This anecdote becomes the linchpin of Bell's attack on nationalist Israelis as he discusses what he calls"the problem, illustrated by the 'Seideman incident'."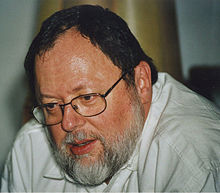 Column author Michael Dougall Bell
The author goes on:
That problem is the willingness of the ultras increasingly to violate Israeli law in pursuit of their vision of a Greater Israel. A kind of theological fervor governs their behavior, albeit a common and pervasive phenomenon elsewhere in the region. For, as they believe, one cannot ignore the will of the Deity?
But, in fact, Seideman was attacked by Palestinian stone throwers, who regularly stone Israelis travelling in eastern Jerusalem. So the professor exposes himself not only as ignorant of the subject about which he rants, but also as extremely biased and unreliable about the situation of which he purports to inform others.
Elder of Ziyon exposed Bell's biased column and Israeli media-watcher, Yisrael Medad, after confirming that Seideman was indeed stoned by Arab perpetrators, contacted Bell about his erroneous column. The author responded that the initial information he received was "incorrect' and that "corrective action" was taken..
Of course, this excuse is ludicrous. To pen an entire column premised on unconfirmed information is certainly unprofessorial, not to say, unjournalistic. It remains to be seen whether or not The Globe and Mail will publish a correction and apology to its readers, or whether it will continue to flout its own editorial guidelines.
Posted by RH at December 3, 2013 11:00 AM
Comments
Guidelines for posting
This is a moderated blog. We will not post comments that include racism, bigotry, threats, or factually inaccurate material.
Post a comment