« Where's the Coverage? Netanyahu Not the Only Leader Absent from Mandela Memorial | Main | NYT Says Israel Lied About Iran Sanctions, But Experts and Insiders Support Claim »
December 12, 2013
Does New York Times Only Correct Errors to Make Rouhani Look Nicer?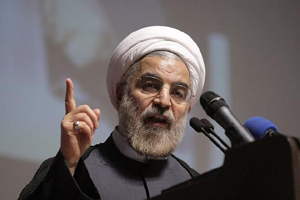 Iran's President Hassan Rouhani
The New York Times yesterday published a correction about Iranian president Hassan Rouhani:
Because of an editing error, an article on Thursday about Iran's efforts to mend ties with Arab neighbors referred incorrectly to Jewish New Year's wishes sent by the Iranian president, Hassan Rouhani, and foreign minister, Mohammad Javad Zarif, that were widely interpreted as another sign of moderation in Tehran. They were sent to Jews worldwide, not to Israelis.
But they have still not corrected their claim that Rouhani, in an interview with Christiane Amanpour, offered "acknowledgment and condemnation of the Holocaust."
Rouhani did not say the word "Holocaust" in that interview, nor did he acknowledge the Holocaust — the Nazi genocide of millions of Jews.
Posted by GI at December 12, 2013 02:12 PM
Comments
Guidelines for posting
This is a moderated blog. We will not post comments that include racism, bigotry, threats, or factually inaccurate material.
Post a comment