« Washington Office Director's Op-Ed: "Arab dispossession — the 'Scarlet Letter' lie" | Main | Despite NYT Admission, Problem Photo Remains »
November 19, 2013
New Issue, Same Old Double Standard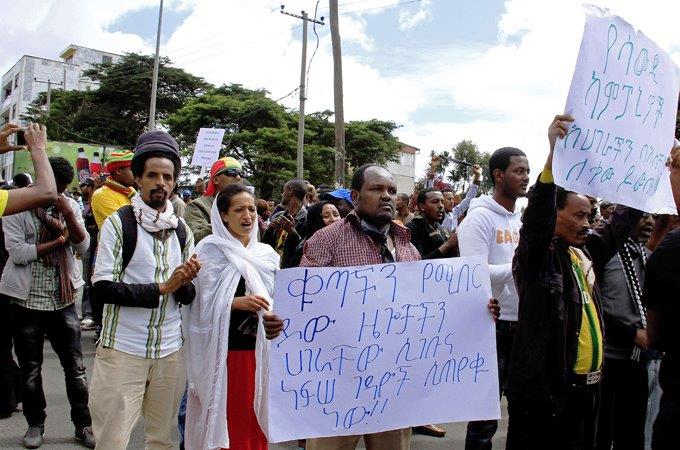 Washington Post reports of deportations of illegal immigrants from Saudi Arabia -- which drew a protest outside the Saudi embassy in Ethiopia, shown above -- and Israel paint very different pictures.
The Post (November 11 print edition) reported in a seven-paragraph brief, by Bloomberg News' Glen Carey, on clashes over undocumented workers in Saudi Arabia. Riots, a result of authorities cracking down and detaining "violators of visa laws," led to 561 people being arrested, 68 injured and two dead. No photograph accompanied the news item. the latest crack down was in addition to the 16,000 illegal immigrants the government already had arrested ("Two Killed as Saudi Police Clash with Foreigners in Riyadh").
"Saudi Arabia, the Arab world's biggest economy, is taking action against illegal workers as it pushes to create more jobs for its citizens and stave off unrest. The kingdom made job creation a priority after uprisings in 2011 toppled leaders in the Middle East and North Africa," the item noted.
The Post's earlier coverage of illegal immigrants in Israel differed markedly. Correspondent Joel Greenberg took a more "photographic" approach: "Daoud Ibrahim, newly arrived from the war-torn Darfur region of Sudan, sleeps for now on a piece of cardboard in a city park in a gritty section of south Tel Aviv…. He is one of tens of thousands of African migrants, mostly from Eritrea and Sudan, who have sneaked across the border into Israel from Egypt's Sinai desert in recent years, seeking asylum, jobs and a better life." ("African Migrants in Israel Face Backlash, Deportations," June 23, 2012).
This human interest feature described a public debate on a highly charged issue—Israel after all was founded in part as a haven for Jewish refugees—with more emotive adjectives and adverbs than one might expect in a news article. Illustrated with photos of distressed migrants, it failed to mention that such a discussion could take place only in a democracy like Israel.
Meanwhile, Greenberg neglected to point out that African and Muslim migrants choose Israel over Egypt and so did not have to answer why.
The Post's more dramatic language and personalized approach toward illegal immigrants in Israel as opposed to its matter-of-fact word choice in dealing with such workers and their families in Saudi Arabia may well have colored the issue for readers.
Greenberg wrote that "a roundup of migrants from South Sudan and the deportation of more than 100 this month has left other newcomers nervous about what lies ahead and residents clamoring for more action…. 'The situation is very bad,' said Merhane Melake, an Eritrean who has been in Israel for five years, as he walked home. 'We don't know what comes next and what solution they will find for us'."
On the other hand, The Post's brief describes the Saudi "crackdown" this way: "Along al-Faryan Street in Manfouha on Sunday, hundreds of East Africans gathered around an intersection, some sitting on stuffed suitcases, as Saudi police watched from outside their vehicles, which blocked the roadways…. Authorities have set up a place to house violators of the visa laws in Manfouha should they surrender voluntarily…"
In Israel the subjects of the news have names and an ambiguous status, in Saudi Arabia they are "violators of visa laws." In Israel their future is anxiously uncertain, in Saudi-Arabia they simply await their transport to be deported. Israel "rounds up" 100 illegal immigrants, Saudi Arabia arrests 16,000, leaving 561 injured and at least two killed. Affluent Saudi Arabia is trying to maintain economic "stability," parochial Israel is trying to retain its Jewish character.
If these reports leave readers with the impression that Saudi Arabia is acting routinely but Israel oppresses struggling African migrants, they might suggest a double standard is at work. -- by Lee Golan Fischgrund, CAMERA Washington research intern.

Posted by ER at November 19, 2013 01:41 PM
Comments
Guidelines for posting
This is a moderated blog. We will not post comments that include racism, bigotry, threats, or factually inaccurate material.
Post a comment